---
Crew
Directors – Phil Nibbelink & Simon Wells, Screenplay – Flint Dille, Story – Charles Swenson, Producers – Robert Watts & Steven Spielberg, Music – James Horner, Songs – Horner & Will Jennings, Animation Supervisors – Nancy Beiman, Kristoff Serrand & Rob Stevenhagen, Art Direction – Neil Ross. Production Company – Amblin/Universal.
Voices
Phillip Glasser (Fievel Mousekewitz), Dom DeLuise (Tiger), John Cleese (Cat R. Waul), James Stewart (Sheriff Wylie Burp), Amy Irving (Miss Kitty), Cathy Cavadini (Tanya Mousekewitz), Nehemiah Persoff (Papa Mousekewitz), Jon Lovitz (Chula the Tarantula)
---
Plot
Driven out of New York by cats, the Mousekewitz family travel west to the town of Green River where Cat R. Waul promises that all their dreams will be fulfilled. However, Fievel discovers Cat R. Waul's real intention is to use them as slave labour to build a giant mousetrap and then serve them up as mouse burgers. Fievel tries to enlist the aid of the legendary but now aging Sheriff Wylie Burp to train Tiger the friendly cat as a dog and stop Cat R. Waul's scheme.
---
An American Tail (1986), Spielberg's team-up with animator Don Bluth, was a bland effort, nevertheless proved popular. Minus Bluth this time, Spielberg's company Amblin return for this sequel, which emerges as a better film.
Fievel Goes West rehashes the plot of the first film – the Mousekewitz family decide to relocate for better pastures which, when arrived at, turn out to be less glamorous than the initial promise; along the way, Fievel falls overboard and is separated from the rest of the family and in so doing discovers a plot by an evil cat to use a device that will kill all mice; he and Tony the friendly cat eventually save the day.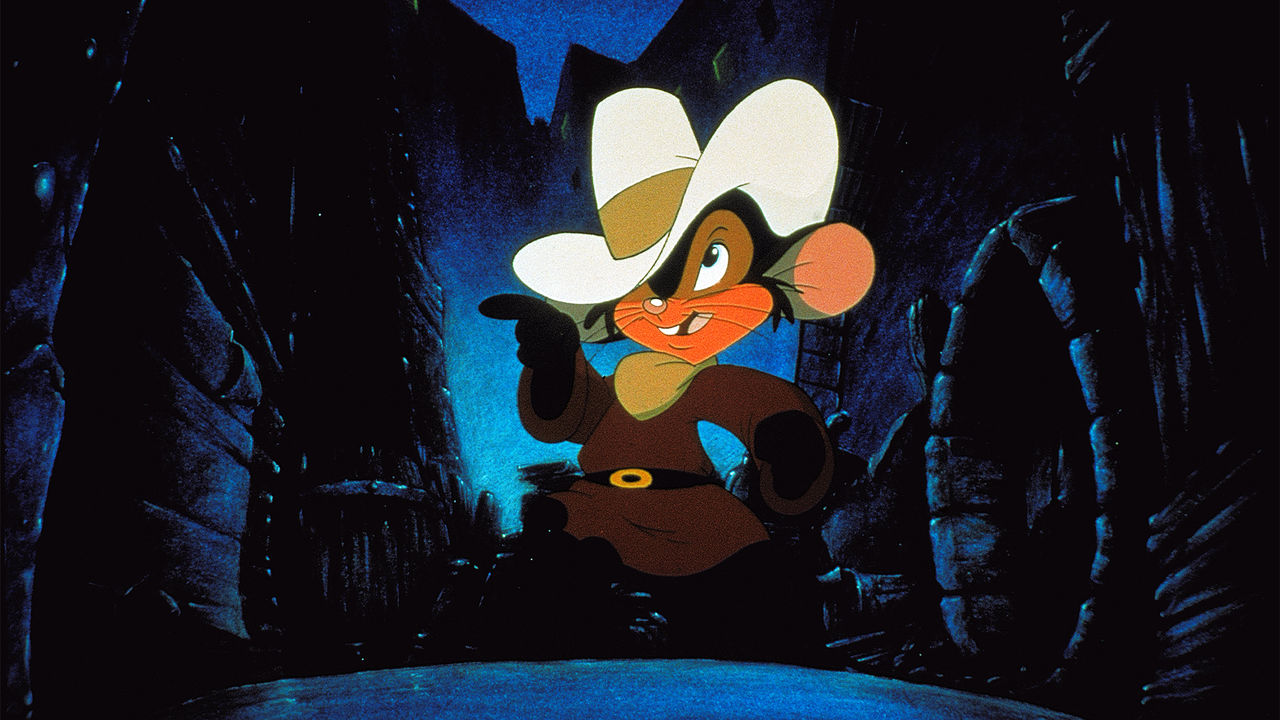 The film is nicely animated and has a likeable sense of humour. Especially amusing are the scenes where Tony the cat is being trained in how to behave like a dog. John Cleese has an enormous amount of fun with his part, his parroting of a Texan accent filled with "y'all"s being rather amusing. There are some terrible puns – "the cat got your tongue," the appearance of a 'dogfish', Fievel riding a 'sagecoach'. A small tendency toward modern cultural quotes – mock Casablanca (1942) scenes, the Rawhide (1959-66) theme playing as Fievel rides across the desert – is the only thing that intrudes on the film's charm.
Universal took over the franchise for two subsequent video sequels An American Tail III: The Treasure of Manhattan Island (1998) and An American Tail: The Mystery of the Night Monster (1999).
Co-director Simon Wells later went on to make a number of other animated films for Spielberg at Amblin and DreamWorks. He and Phil Nibbelink co-directed We're Back! A Dinosaur's Story (1993), Wells then solo directed Balto (1995) and co-directed The Prince of Egypt (1998), before debuting in live-action with The Time Machine (2002) and going onto the motion-capture animated Mars Needs Moms (2011). Phil Nibbelink formed his own studio and has solo directed Puss in Boots (1999), Leif Erickson, Discoverer of North America (2000) and Romeo & Juliet: Sealed with a Kiss (2006).
---
---