aka Basil of Baker Street; Basil – The Great Mouse Detective
---
Crew
Directors – Ron Clements, Bunny Mattinson, Dave Michener & John Musker, Screenplay – Roy O. Disney, Vance Gerry, Mel Shaw & Pete Young, Based on the Novel Basil of Baker Street by Eve Titus, Producer – Bunny Mattinson, Music – Henry Mancini, Production Design – Glen Keane. Production Company – Disney/Silver Screen Partners II
Voices
Barrie Ingham (Basil), Val Bettin (Dr Dawson), Vincent Price (Professor Rattigan), Candy Candido (Fidget), Susanne Pollatschek (Olivia Flaversham), Alan Young (Mr Flaversham)
---
Plot
London, 1897. Just returned from overseas, Dr Dawson finds young mouse child Olivia Flaversham crying in the streets. He aids her in going to 221½ Baker Street to meet Basil, the famous mouse detective, to ask his help in finding her father. Basil realizes that his sworn enemy, the evil Professor Rattigan, has kidnapped Olivia's father who is a toymaker. Dawson and Olivia join Basil as he uncovers Rattigan's nefarious scheme to create an automaton that will replace the mouse Queen during her coming diamond jubilee celebrations.
---
The period following Walt Disney's death in 1966 up until the early 1990s was almost entirely a desert wasteland when it came to Disney animation. During this time, the studio was only releasing one animated film about every three-to-four years. With very occasional exceptions – The Jungle Book (1967), The Aristo Cats (1970) – the studio's animated output during this period was bland and formulaic – as can be seen by the infuriatingly banal likes of Robin Hood (1973), The Rescuers (1977), The Black Cauldron (1985) and Oliver & Company (1988). Most of the time the studio was being kept going by re-releases of their classics and a regular supply of live-action comedies. The Great Mouse Detective, though, is one rare delight that the Disney studio managed to produce during this period.
It is unlikely that Arthur Conan Doyle in his wildest imaginings – and if one reads about some of the spiritualist beliefs that Doyle had, believe me they were wild imaginings – would have produced a version of Sherlock Holmes with cartoon mice. (Mindedly, things became even more outlandish three decades later with Sherlock Gnomes (2018), another animated film that offered up Sherlock Holmes incarnated as a garden gnome). Based on Eve Titus's popular series of Basil of Baker Street children's books, consisting of five books written between 1958 and 1982, The Great Mouse Detective is a surprisingly good effort. It is packed with a dazzlingly madcap battery of visual gags that leave it one of the best, most overlooked Disney films made during these lean years.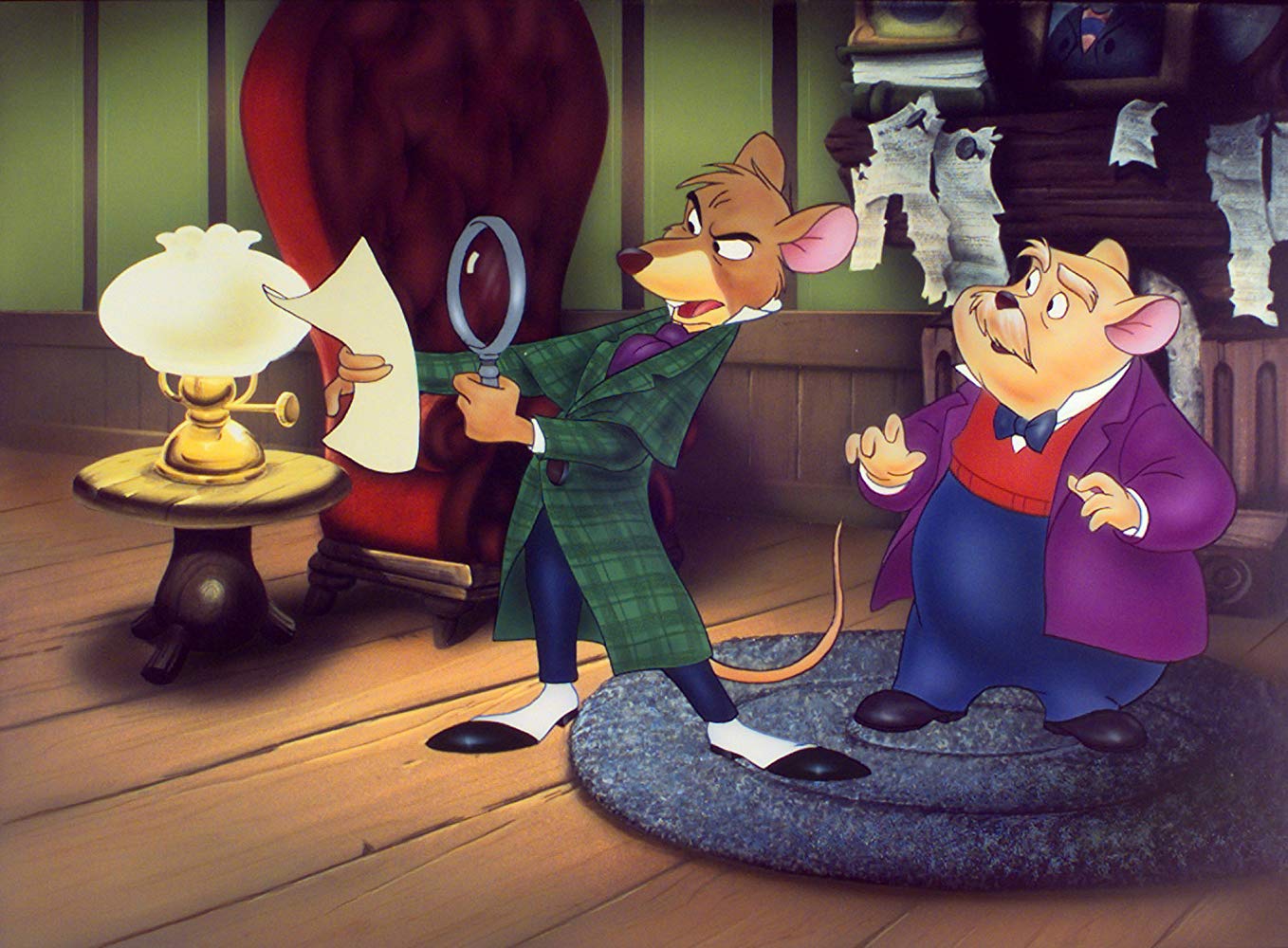 The Great Mouse Detective conducts the period style and Holmesian familiarities with such aplomb that it is as much a knowing nod to its adult audience as it is kiddie entertainment. The characterizations are a delight – the kind and gentlemanly Dawson; the eager bloodhound; and Fidget, the bat that seems to be modelled as a cast-off gremlin, who has an hilarious scene trying to escape the mouth of Rattigan's cat; but especially the refreshingly uncute, dourly Scots-accented ragamuffin Olivia. Basil, the Holmes counterpart, is played with a manic lunacy, more like Nicol Williamson's characterisation of Holmes in The Seven Per Cent Solution (1976) than any traditional Basil Rathbone incarnation. There are some charmingly absurd scenes with him trying to tame a bloodhound and charging into battle on a toy horse.
The film has a pace that spins like a rollercoaster not only running out of control but taking in the rest of the circus too with helter skelter chases through a toyshop and a climax in and around Big Ben that are both more exciting than one could believe possible for a cartoon. And there is that absolutely delectable moment where Basil escapes from Rattigan's trap that combines everything from axes to arrows and heavy weights just in time to pose for the camera. There is also an excellent score, particularly a sassy dance number Look At Me, performed by a Melissa Manchester-voiced singer in a pub. This is one Disney film where the ending comes far too soon.
Disappointingly, The Great Mouse Detective was not a huge success. Co-directors John Musker and Ron Clements went solo on their next outing The Little Mermaid (1989), which began the new Disney renaissance of the 1990s. In the 1990s, Musker and Clements became one of Disney's most successful directing teams, making the likes of Aladdin (1992), Hercules (1997), Treasure Planet (2002), The Princess and the Frog (2009) and Moana (2016).
---
---