---
Crew
Director – Bob Swaim, Screenplay – Nicola Badalusco, Franco Bernini, Jonathan Meades, Antonio Pasauni & Bob Swaim, Adaptation/Dialogues – Bob Swaim & Christopher Frank, Based on the Novel by Pierre Benoit, Producers – Roberto Cicutto & Vincenzo De Leo, Photography – Ennio Guarnieri, Music – Richard Horowitz, Special Effects – Danilo Bollettini & Claudio Quaglietti, Production Design – Luciano Ricceri. Production Company – Gaumont TV/CEC/Aura Film.
Cast
Tcheky Karyo (Francois Morhange), Christopher Thompson (St Avid), Victoria Mahoney (Antinea), Anna Galiena (Amira), Jean Rochefort (Professor Jean-Louis Le Mesge), Gunther Maria Halmer (Count Heinrich Bielovsky), Claudia Gerini (Sophie), Orso Maria Guerrini (Ben Cheikh), Patrice Flora Praxo (Tanit), Fernando Rey (Father Mauritius)
---
Plot
Algiers, 1894. Two French Legionnaires, Francois Morhange and St Avid, meet in a bar and become good friends. After his wife dies, Morhange goes into a monastery. He then receives a letter from St Avid who has gone missing while exploring the Hogar region of the Algerian Sahara. Morhange follows St Avid's trail and eventually comes upon the ruin of an ancient city that may have been Atlantis. There he finds that St Avid has become the lover of the queen Antinea who claims to be over 600 years old. St Avid is a virtual slave to Antinea, living only for the nights when he sees her. Upon meeting Morhange, the seductive Antinea decides she desires him, provoking bitter rivalry between the two friends.
---
This was the sixth film made of Pierre Benoit's novel L'Atlantide (1919). The previous versions (see below) came out among the height of the old, defunct Lost World cinema – they specialised in exotic realms and extravagant sets, while the queen Antinea with her collection of her preserved lovers became the ultimate fantastique cinema femme fatale, an incarnation of H. Rider Haggard's Ayesha at her most unreachable and deadly.
The last cinematic version of the story was made in 1961, which is understandable as this is the time after which the Lost World cinema died off. This version of L'Atlantide is naturally revisionist. It is certainly a well-mounted production. Unlike most of the previous productions, this version does go on location and to Morocco, which is in the general vicinity of the book's specified North African location. Unlike every other version, the film locates itself in the Victorian period the book was set in, which naturally evokes the Great Age of Exploration.
The film has a lengthy build-up concerning the friendship between the two men, their mutual affair with a Spanish diplomat's daughter who poses as an Arabic man, and the suicide of Morhange's wife due to his affairs. Well over half-an-hour is taken up by this before we even get into the desert. Certainly, it makes for an intriguing backstory and the film's evocation of French-colonised Algeria and its mysterious back streets is well done.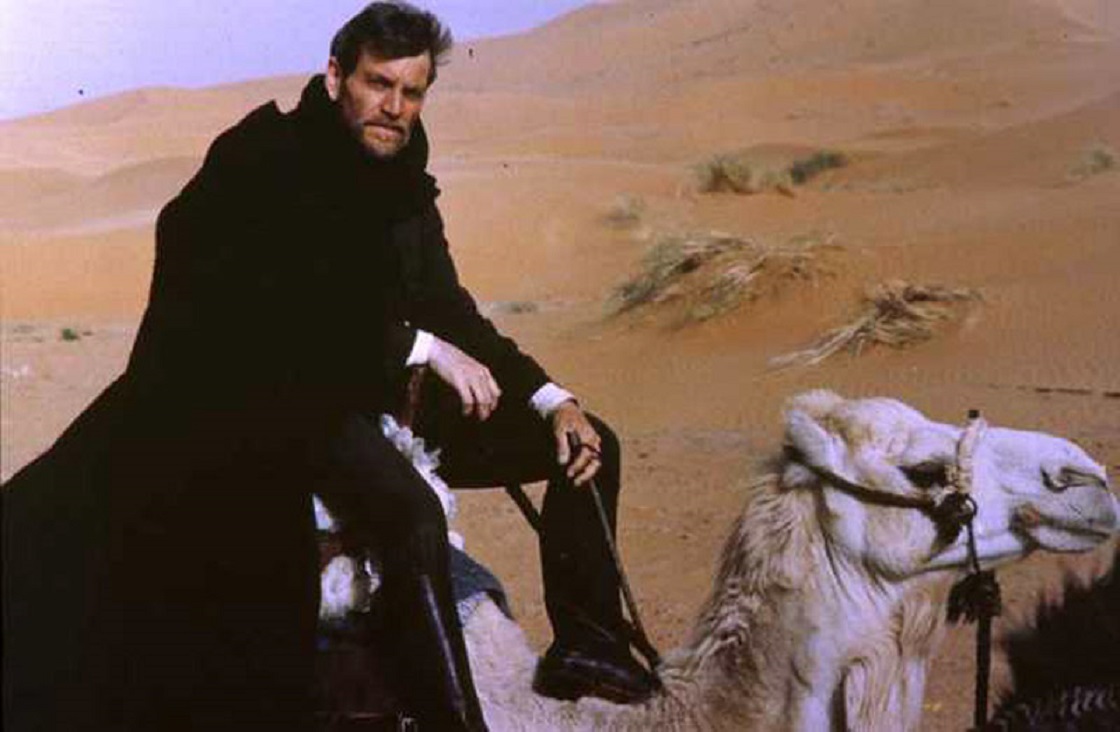 Unfortunately, this is much more exciting than the arrival at the lost city proves to be. This is a revisionist version of the Pierre Benoit story so almost everything about the lost city that the previous versions contained is reversed. Instead of a spectacular city of Grecian pageantry, the city here is a set of dim and dusty ruins. There are some occasionally striking shots of huge stone heads in the sand and giant burning crosses but this lost city is decidedly lacking in spectacle.
Rather than casting a vampish Hollywood star as Antinea like the other versions, the film casts African-American actress Victoria Mahoney who looks only about eighteen and lacks any of the ethereality and fatal mysteriousness of the preceding Antineas. She seems more young and confused than radiating anything in the way of seductive mystery – it is hard to see what it is about her that men are prepared to die for.
Lastly, the film eschews any fantastic elements. The idea of Antinea being immortal is thrown out and instead are substituted some unclear suggestions about her being the bastard daughter of one of the archaeologists. So too gone is the great kitsch element in the previous films with her keeping a museum of her preserved lovers' bodies. The film may have been wise in throwing out these fantastic elements as they probably would not have worked today but this only produces a second half that is slow paced and fails to go anywhere.
Other version of the Pierre Benoit book include:- Jacques Feyder's silent French version L'Atlantide (1921); G.W. Pabst's celebrated German version L'Atlantide (1932) with Brigitte Helm of Metropolis (1927) fame, which was shot simultaneously in French, English and German; the Hollywood version Siren of Atlantis (1948) with Maria Montez; Edgar Ulmer's B-budget The Lost Kingdom/Atlantis, City Beneath the Desert/Journey Beneath the Desert (1961) with Jean-Louis Trintignant; and a French tv version L'Atlantide (1972) with Ludmilla Tcherina.
---