aka Prehistoric Women
---
Crew
Director/Producer – Michael Carreras, Screenplay – Henry Younger, Photography – Michael Reed, Music – Carlo Martelli, Makeup – Wally Schneiderman, Art Direction – Robert Jones. Production Company – Seven Arts/Hammer.
Cast
Martine Beswick (Queen Kari), Michael Latimer (David Marchant), Edina Ronay (Saria), Sydney Bromley (Ullo), Stephanie Randall (Amyak), Carol White (Gido), Alexandra Stevenson (Luri), Louis Mahoney (Head Boy), Robert Raglan (Colonel Hammond)
---
Plot
David Marchant is hunting in Africa. He wounds a leopard and pursues it to finish it off. He is warned by his bearers not to enter the territory of the native Kulaku butignores these – only to be captured by the Kulaku who worship the mythical white rhino. He pleads for his life. Sent through their temple, David enters into a mysterious prehistoric world ruled over by the cruel and tyrannical Queen Kari. Here men have been banished and are kept prisoner. Kari wants David as her lover but he refuses. He instead develops feelings for the slave girl Saria who pleads with him to help overthrow Kari.
---
Between the late 1950s and late 1970s, England's Hammer Films was synonymous with horror. Having huge hits with The Curse of Frankenstein (1957) and Dracula/The Horror of Dracula (1958), they went on to produce a series of Frankenstein and Dracula sequels, a number of reworkings of other horror classics, original horror treatments and ventures into new emerging genres such as the psycho-thriller. For nearly two decades, they were where horror was at.
Amidst this, Hammer also produced what has been termed their exotica cycle. The way was begun with their adaptation of H. Rider Haggard's She (1965), a classic lost world tale starring Ursula Andress as an impossibly desirable immortal queen. Next up was the Ray Harryhausen One Million Years B.C. (1966), featuring Raquel Welch in her iconic fur bikini as a cavewoman fighting off stop-motion animated dinosaurs. Inspired by the success of the latter, Hammer went onto make a number of other prehistoric films, all featuring heroines in a state of undress with Slave Girls here (which was retitled Prehistoric Women in the US), the non-genre The Viking Queen (1967), When Dinosaurs Ruled the Earth (1970) and Creatures the World Forgot (1971).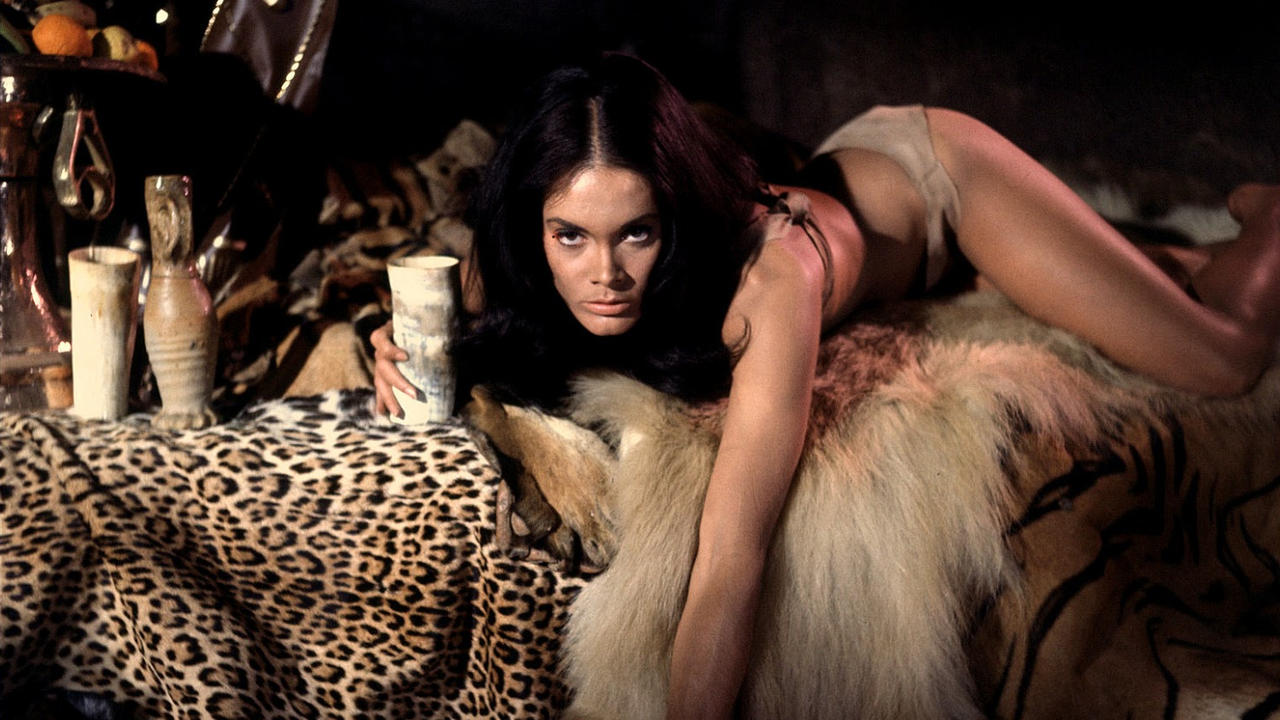 Slave Girls/Prehistoric Women joins Creatures the World Forgot, which both eschewed the more costly and labour-intensive process of stop-motion animating the dinosaurs that One Million Years B.C. and When Dinosaurs Ruled the Earth took. Here we at most get a tiger and mythical white rhino. The film also takes place very much in a studio set version of Africa where the production has clearly not travelled out of doors, unlike Hammer's other exotica films. Slave Girls/Prehistoric Women is not fully a lost world film – neither being set in a lost city nor the prehistoric past.
Indeed, exactly where everything is set is a bit of a head-scratcher. The film appears to be taking place during the period of British Colonial Africa. Hero Michael Latimer is about to be sacrificed by natives and is sent through their temple to find himself in the world of the prehistoric women. Where or when this is is unclear. Your initial impression is that this undiscovered land simply exists behind the wall of the temple. You later get the idea that some type of timeslip has taken place as the Moon does strange shifts and no time appears to have taken place during Michael Latimer's venture into the land and his return. (Nor does the film find it particularly odd that the primitive queen speaks with a perfect British boarding school accent). There is also the old fantasy device of him subsequently encountering a modern equivalent of the slave girl he desired in the past.
The Hammer exotica cycle was always about beautiful girls in fur bikinis (or even less). To this extent, what Slave Girls/Prehistoric Women resembles is one of the outer space fantasies of the 1950s such as Abbott and Costello Go to Mars (1953), Cat Women of the Moon (1953) and Queen of Outer Space (1958) where astronauts would encounter a usually tyrannical all-female society, immediately become objects of desire and in the end overthrow the society and set the sexual balance right. In this regard, the film also holds a post-British colonial message. Colonial fears came through in many of the Anglo-horror films – see the likes of The Stranglers of Bombay (1959), The Reptile (1966) and the non-Hammer The Ghoul (1975). This theme is at its most overt here where the film argues in favour of the freedom of a subjugated people and champions the overthrow of their oppressors and the move towards a more egalitarian society.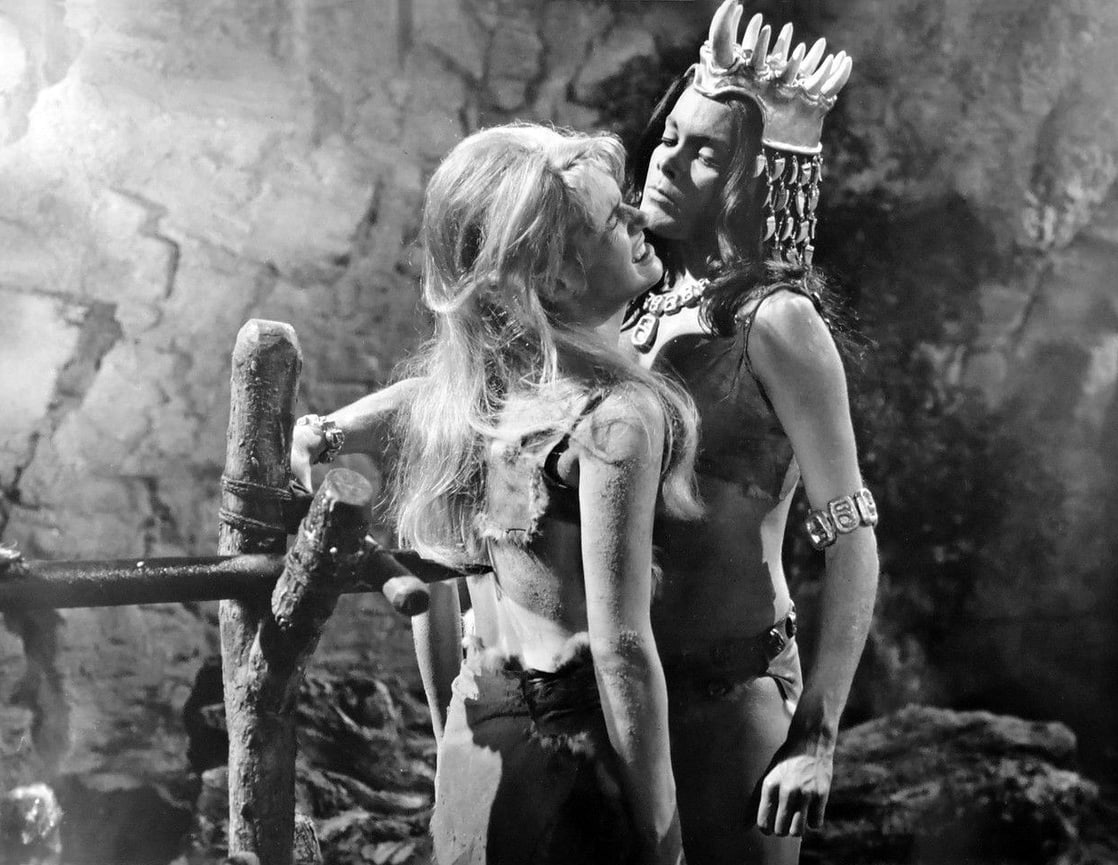 Of course, Slave Girls/Prehistoric Women has one the thing that these other chaste all-female societies in the abovementioned 1950s science-fiction films did not – Martine Beswick. Beswick was an actress came to attention for her sultry looks with two different roles in the James Bond films From Russia with Love (1963) and Thunderball (1965), as well as a supporting seductress in One Million Years B.C. and would go onto play the latter half of Hammer's Dr Jekyll and Sister Hyde (1971) and various other horror roles.
The moment that Martine Beswick rises up from bathing in a pool naked (albeit with her back to the camera), she injects a jolt of sizzling sexuality into the all-female society genre that the 1950s outer space counterparts never had. Slave Girls/Prehistoric Women came along about three years too early than the point when Hammer jumped aboard the Swinging Sixties permissiveness and allowed a much more frank degree of sexuality in their films – it seems to be all but wanting to get its various slave girls naked.
As in all of Hammer's exotica films, there is a slim to fairly silly plot. However, Martine Beswick takes the opportunity to camp the role up to the hilt and gives it her all, be it draped seductively across her bed, commanding cruelties and heatedly debating the idea of equality. It makes what would otherwise be a rather silly film into something rather entertaining.
Slave Girls/Prehistoric Women was one of the handful of occasions when Hammer producer Michael Carreras, grandson of the company's founder, stepped out of a producing role and into the director's chair. Carreras had directed two of Hammer's earlier non-genre war films with The Steel Bayonet (1957) and Visit to Canton (1961) and several of their genre efforts such as Maniac (1963), The Curse of the Mummy's Tomb (1964) and The Lost Continent (1968).
---
Trailer here
---