---
Crew
Director – Kenneth Branagh, Screenplay – Hamish McColl & Conor McPherson, Based on the Novels Artemis Fowl and Artemis Fowl and the Arctic Incident by Eoin Colfer, Producers – Kenneth Branagh & Judy Hofflund, Photography – Haris Zambarloukos, Music – Patrick Doyle, Visual Effects Supervisor – Charley Henley, Visual Effects – Buf (Supervisors –Pierre Buffin & Geoffrey Niquet), Framestore (Supervisor – Stephane Naze), Industrial Light and Magic (Supervisor – Julian Foddy) & MPC (Supervisor – Axel Bonami), Special Effects Supervisor – Dave Wakins, Production Design – Jim Clay. Production Company – TKBC Productions.
Cast
Ferdia Shaw (Artemis Fowl), Lara McDonnell (Holly Short), Josh Gad (Mitch Diggums), Judi Dench (Commander Root), Nonzo Anozie (Domovol Butler), Colin Farrell (Artemis Fowl Sr.), Nikesh Patel (Chief Tech Officer Foaly), Joshua McGuire (Briar Cudgeon), Tamara Smart (Juliet Butler), Gerard Horan (Dr Po)
---
Plot
Fowl Manor in Ireland is surrounded by authorities and a media frenzy. Mitch Diggums is taken away from the scene and into custody at a special MI6 holding facility. Mitch insists he is a giant dwarf and tells a fantastical story about twelve-year old genius Artemis Fowl. Artemis's father Artemis Sr taught him about Irish mythology. When Artemis Sr failed to return home from a mission, Artemis was startled at news reports calling his father an international criminal responsible for stealing famous artifacts and artworks. Artemis then received a phone call from Opal Koboi who had his father prisoner and demanded that Artemis bring him an artifact known as the Aculos. Artemis's bodyguard Domovol Butler showed him the truth about what his father did, collecting various mythological artifacts. Artemis deciphered the fairy language and set a trap for the fairies. He and Dom captured Holly Short, a fairy officer for L.E.P.recon, the law enforcement agency for Haven City, the underground realm where all the fairies, dwarves, goblins, centaurs and other magical creatures live. This brought all the L.E.P.recon forces out and they surrounded Fowl Manor, placing it under a Time Freeze as they determined to rescue Holly. However, Artemis had devised a cunning plan to outwit them and obtain the Aculos.
---
Artemis Fowl is the central character of a series of Young Adult novels by Irish writer Eoin Colfer. The series began with Artemis Fowl (2001) and extends through a further seven books to Artemis Fowl and the Last Guardian (2012). The series centres around the young titular genius, a criminal mastermind, and his various adventures dealing with magical creatures. These have been enormously popular and led to graphic novel and computer game adaptations, as well as a spinoff series.
A film version has been announced fairly much ever since the books came out. The right were originally obtained by Miramax under Harvey Weinstein and went through development hell before ending in the hands of Disney. The film was taken up by Kenneth Branagh and was originally slated for a theatrical release in 2019. This was delayed until 2020 and then cancelled entirely due to Corona Virus. The film was finally released directly to the Disney Plus digital streaming platform. And for all that, when the film finally premiered it received universally terrible reviews.
Born in Ireland himself, Kenneth Branagh rose up through the ranks of the Royal Shakespeare Company, making his name as an actor on British television during the 1980s and then exploding out onto cinema screens with his dynamic adaptation of William Shakespeare's Henry V (1989), which saw him nominated for Oscars as both Best Director and Best Actor in his directorial debut. Branagh has been a frontline name as an actor since then. He has directed several other Shakespeare adaptations with the likes of Much Ado About Nothing (2003), Hamlet (1996), Love's Labor Lost (2000) and As You Like It (2006). He has made a number of other films as a director, including the reincarnation film Dead Again (1991), his version of Mary Shelley's Frankenstein (1994), a modernised adaptation of the Mozart opera The Magic Flute (2006), the remake of Sleuth (2007), the Marvel Comics superhero film Thor (2011), the reboot of the Tom Clancy spy series Jack Ryan: Shadow Recruit (2014), the live-action version of Disney's Cinderella (2015) and the remake of Murder on the Orient Express (2017).
The film comes with a script from Irish playwright Conor McPherson who had previously directed the ghost story The Eclipse (2009). McPherson has amalgamated the first two Artemis Fowl books. From Artemis Fowl, there is the introduction of Artemis and Haven City, the scenes where Holly apprehends the troll and where Artemis captures Holly and the forces of L.E.P.recon lay siege to Fowl Manor. From the second book, Artemis Fowl and the Arctic Incident (2002) comes the character of the villainous pixie Opal Koboi and its capture of Artemis's father, as well as the scene with the school counsellor Dr Po.
There are some minor changes to the books – the L.E.P.recon chief Julius Root is recast as a woman played by Judi Dench, while the artifact of the Aculos is something that has been entirely invented by the film. I had not read the books prior to watching the film so I had no particular attachment to the faithfulness of the adaptation as some other commentators apparently did.
Watching the film is initially a bewildering experience. It comes with so much mythology and world-building compacted into each scene that your brain is racing full-time trying to keep up with what is going on. I have some sympathy with those who panned the film as clearly the effort of piecing it all together was too much. However, we who regularly watch fantastic content are made of sterner stuff than that and in fact Artemis Fowl becomes a work of madcap creativity. It is a film that seems to be over-spilling with ideas and pieces of internal mythology from every pore – a bewildering spew of talk about time freezes, reflective sunglasses, volcanically-powered rockets, fairies bound by rules and the like, not to mention the idea of magical creatures that have an advanced technology of their own. It is quite unlike anything you have seen before and I have to fully applaud the film for its originality and creativity.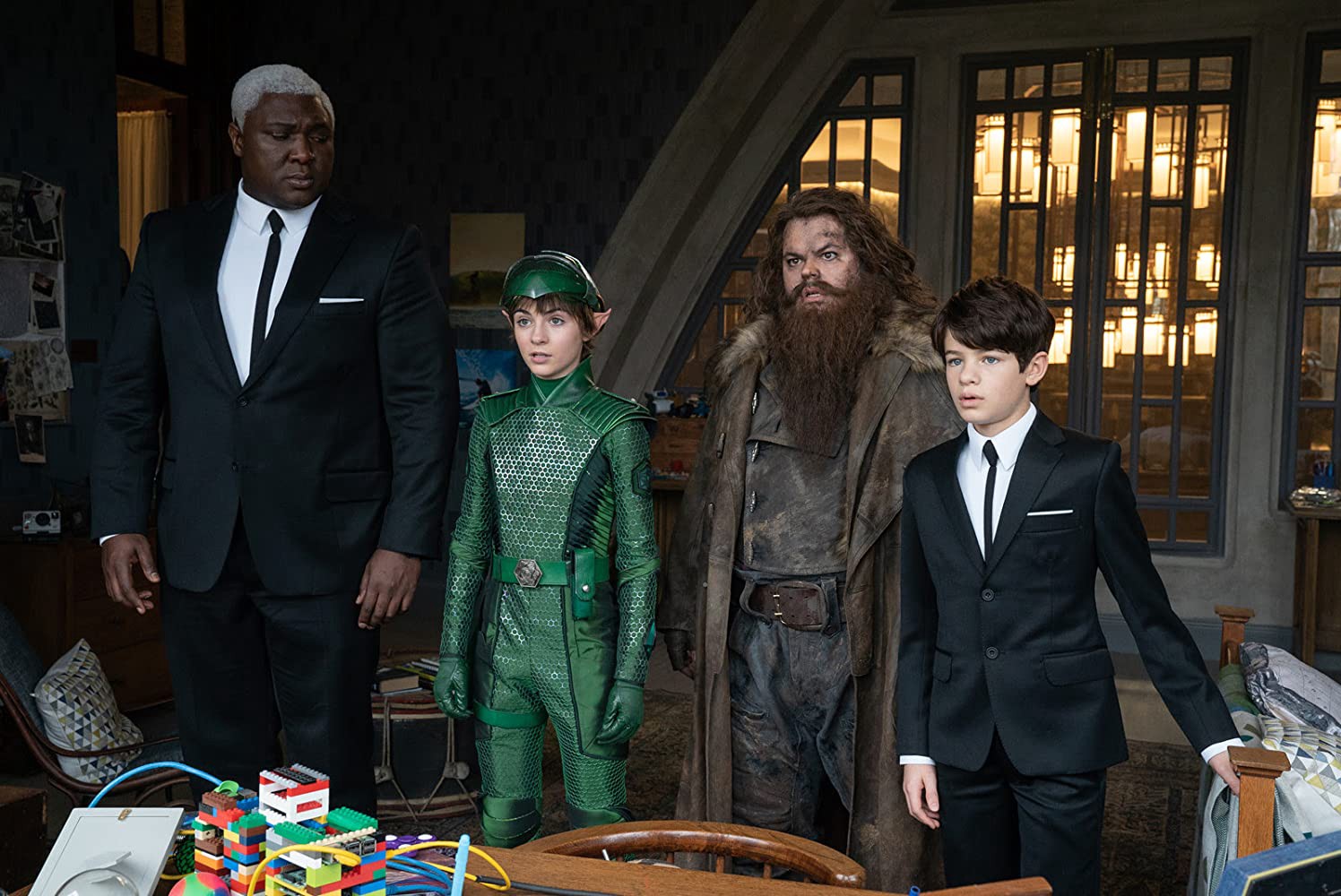 There is the feeling here that the film could have well done with more breathing room in order to invest greater time and depth to its unique world. The Harry Potter films, which you could easily compare Artemis Fowl to especially in terms of complexity of their world, never come in any less than two hours and most audiences had no problems picking up on what was going on, whereas Artemis Fowl reigns in at a mere 95 minutes. It feels hurried and it could have done with another 20-30 minutes of screen time.
With Thor, Kenneth Branagh felt that he has not quite adjusted to making a CGI effects vehicle, while Jack Ryan slipped by as an anonymous big-budget action film. With these Branagh gave the impression that was more at home with his Shakespearean adaptations and other works like Murder on the Orient Express, which operate as ensemble dramas with big name cast line-ups.
That said. Branagah takes us on an impressive journey through the underground world. The most entertaining and impressive scenes are the ones with the underworld forces gathered outside Fowl Manor as it is held in a Time Freeze and of Artemis outwitting their attempts to defeat him as they send Murch to burrow his way in and especially the unleashing of a giant troll that rampages through the house, demolishing everything in its path. It is in these scenes that Branagh and the film are quite in their element.
---
---