---
Crew
Director – John Nicolella, Screenplay – Charles Edward Pogue, Based on the Short Stories by Robert E. Howard, Producer – Raffaella De Laurentiis, Photography – Rodney Charters, Music – Joel Goldsmith, Visual Effects Supervisor – Richard Malzahn, Visual Effects/Animation – Metrolight Studio, Mattes – Illusion Arts (Supervisors – Syd Dutton & Bill Taylor), Special Effects Supervisor – Kit West, Makuep Effects – Giannetto de Rossi, Akivasha Effects – Greg Cannom, Production Design – Benjamin Fernandez. Production Company – Universal.
Cast
Kevin Sorbo (Kull), Karina Lombard (Zareta), Tia Carrere (Akivasha), Thomas Ian Griffith (Taligaro), Litefoot (Ascalante), Edward Tudor Pole (Enaros), Harvey Fierstein (Juba), Douglas Henshell (Ducalon), Roy Brocksmith (Tu), Sven-Ole Thorsen (King Borna)
---
Plot
By accident, the Atlantean barbarian Kull kills King Borna of Acheron. In his dying breath, Borna appoints Kull the king instead of either of his two ambitious sons. Furious, the two sons conspire to raise the three thousand year old sorceress Akivasha to eliminate Kull. She entrances Kull into marrying her. Fleeing her attempts to kill him, Kull must undergo a journey to obtain the mythical Breath of Valka, the only means of defeating Akivasha.
---
Kull the Conqueror was another of the barbarian heroes created by Robert E. Howard during his brief writing career in the 1930s. Howard's most famous creation was of course Conan the Barbarian. (Kull was a precursor to Conan who appeared in only three short stories published in Weird Tales in 1929). Robert E. Howard's heroes are the ultimate incarnations of the alpha male and Nietzsche's ubermensch combined – they cut across all morality and make their own rules, they are direct in their instincts and simply take what they want, feel no regret and silence any objection with brutal regard. In fact, Sylvester Stallone is the ultimate incarnation of a Robert E. Howard barbarian.
Unfortunately, the Kull one sees on screen here is simply not Robert E. Howard's Kull – it apparently began as a Conan film and there are some claims it is based on the Conan novel The Hour of the Dragon/Conan the Conqueror (1935-6). Rather what we have is Kull: The Legendary Journeys. It is Kevin Sorbo playing a Robert E. Howard barbarian with the same Sensitive New Age Guy persona he played in tv's Hercules: The Legendary Journeys (1995-9), the popularity of which the film has been clearly designed to emulate.
Kevin Sorbo's Kull remains a far cry from Robert E. Howard's Kull – rather than a primal cry of male ferocity, Sorbo's Kull refuses to have sex unless the woman wants him back, frees all his slaves and insists on the right to free worship for minority cults. It is Robert E. Howard having been put through the PC wringer. Not that one should applaud such values; on the other hand, it is like making a James Bond film where Bond remains celibate and a non-smoker or drinker.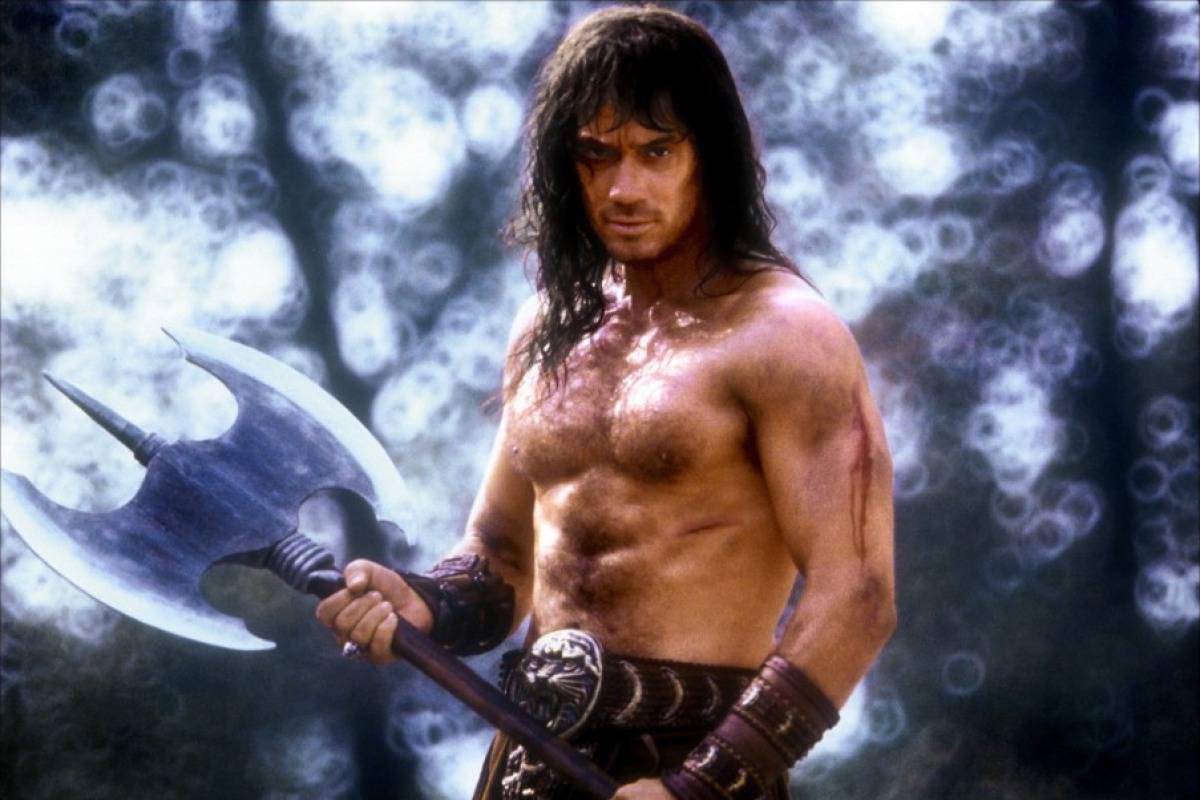 In all other respects, Kull the Conqueror is a routine sword-and-sorcery effort. It is competently made without being engaging or holding anything other than surface depth. The plot is simplistically linear. Worse though is that the tongue-in-cheek unseriousness of Hercules: The Legendary Journey has been allowed to creep in – especially in the campy performance of Tia Carrere, where Kevin Sorbo has to brave one-liners like "Your bride is over three thousand years old," "She told me she was nineteen". A less-than-serious attitude is almost guaranteed to sink a Robert E. Howard adaptation whose limited appeal is always in being able to revel in its primal red-bloodedness.
The other Robert E. Howard film adaptations are Conan the Barbarian (1982), Conan the Destroyer (1984), Red Sonja (1985), Solomon Kane (2009), Conan the Barbarian (2011) and the animated Red Sonja, Queen of Plagues (2016). The Whole Wide World (1996) is a biopic based on Robert E. Howard's life.
Director John Nicolella made his theatrical directorial debut here after working for some years as a tv director and producer on  shows such as Miami Vice (1984-90) and Nash Bridges (1996-2001). Alas, this would be Nicolella's one and only film outing and he died seven months after the film as released.
---
---