---
Crew
Director – Andy Tennant, Screenplay – Andy Tennant, Susannah Grant & Rick Parks, Producers – Mireille Soria & Tracey Trench, Photography – Andrew Dunn, Music – George Fenton, Digital Effects – Cinesite (Supervisor – Ed Hawkins), Special Effects – John Clark & Alan Senior, Production Design – Michael Howells. Production Company – 20th Century Fox.
Cast
Drew Barrymore (Danielle de Barbarac), Dougray Scott (Prince Henry), Anjelica Huston (Baroness Rodmilla de Ghent), Megan Dodds (Margeurite de Ghent), Melanie Lynskey (Jacqueline de Ghent), Patrick Godfrey (Leonardo Da Vinci), Timothy West (King Francis), Judy Parfitt (Queen Marie), Richard O'Brien (Pierre Le Peu), Lee Ingleby (Gustave), Jeroen Krabbe (Auguste de Barbarac), Jeanne Moreau (Grand Dame)
---
Plot
Danielle de Barbarac's father dies shortly after his marriage to Baroness Rodmilla de Ghent. Subsequently, Rodmilla and her two spoilt daughters, Margeurite and Jacqueline, force Danielle to work as one of the servants. One day, without realising who he is, Danielle stops the headstrong Prince Henry from stealing a horse. She later meets Henry when she poses as a courtier to go and buy back a servant that Rodmilla has sold. She intrigues Henry with her talk of freedom and scorn of his privilege, he not realising that she is the same servant he met earlier. The two become enchanted with one another and Henry decides to break off his arranged engagement. His father, the king, grants his wish and announces a ball, giving until then for Henry to choose a bride. Rodmilla schemes to have Margeurite chosen, while Danielle is caught in her pretence, unable to tell Henry that she is in fact a commoner.
---
EverAfter is a modern deconstruction of Cinderella. It is instantly clear that such is the case when we get a prologue where an aging dowager has the Brothers Grimm brought to her so that she can tell them 'the real story'. The fairy-tale thence gets a considerable updating.
Most notable is the feminist empowering of Cinderella wherein she gets to punch one of the stepsisters' out, gets to save the prince rather than vice versa (and by ignominiously carrying him off in a fireman's hold at one point) and wields a sword against potential molesters. Director Andy Tennant's script has a subversive playfulness to it – one that allows Leonardo da Vinci to become the fairy godmother, for instance.
The fairytale has notably been stripped of all fantastic elements. Much effort is made to make it seem a realistic fairy-tale – instead of playing up the colourful pageantry as many previous attempts have done, Andy Tennant plays it down. The film is photographed in dun, grey and green earth tones rather than for extravagant colour and the costumery is played for plain realism rather than opulence.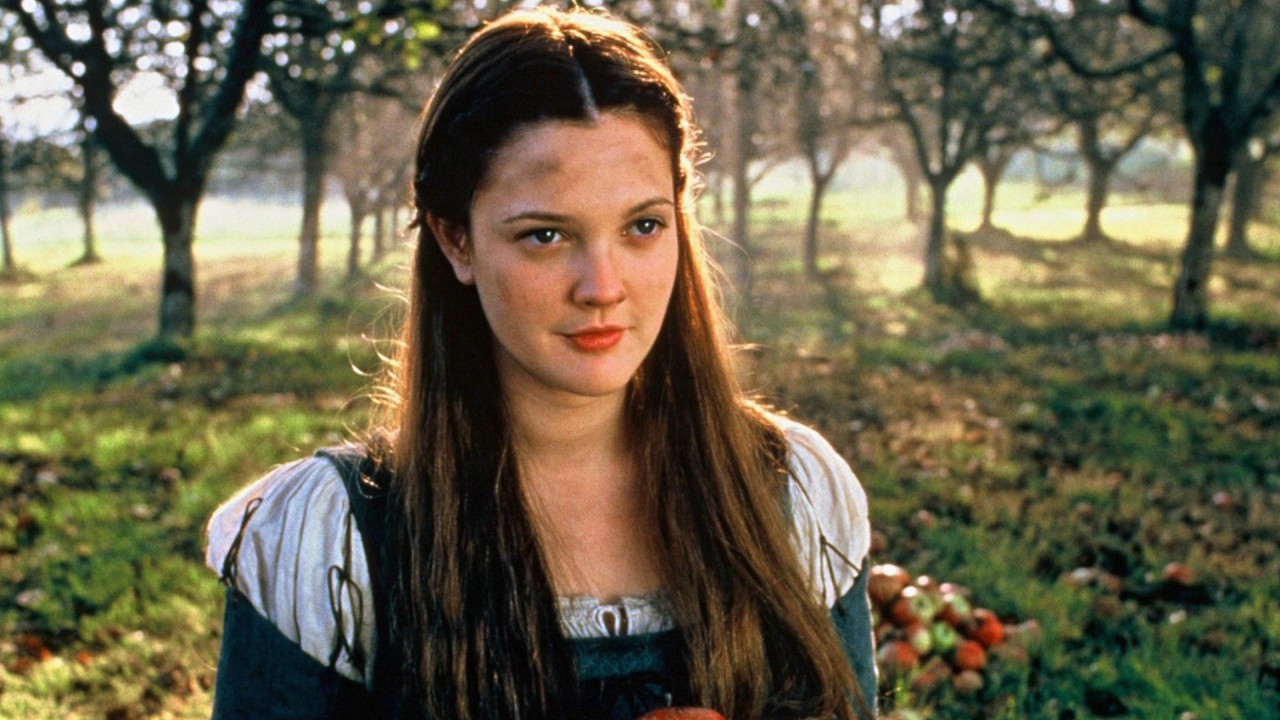 Tennant also conducts the novel task of rooting the story in a pseudo-historical past – there are appearances by Leonardo da Vinci and the Brothers Grimm, jokes about the Anglican divorce secession, while Thomas More's Utopia (1516, 1551) plays an important part in the plot and is even quoted in chunks (probably the first for a film). Tennant also brings out the implied class discourse that exist in the original fairy-tale – Cinderella is after all a fantasy about movement between the lowest of class (servanthood) and into the highest of class (marriage into the aristocracy) – with Cinderella and the prince engaging in a series of lively debates about feudalism, slavery and royal decree.
Tennant adds considerable depth to the fairytale – the characters are all exceptionally well drawn, with considerable depths of shading being given to a usually one-dimensional character like the Wicked Stepmother. Many a lesser film would simply have stayed with puncturing the myth and left it at that but Tennant also manages the more difficult task of both having his cake and eating it by deconstructing the fairytale while also allowing the film to draw on the same romantic appeals and fantasy that the original story does too.
The film is also very well cast. Drew Barrymore may be the wrong actress for the part of Cinderella. She has a plain roundedness of looks, rather than the downcast beauty waiting to blossom that the role is all about. This was around the time that Drew abandoned bad girl parts and became a lead in light romcoms like The Wedding Singer (1998), Home Fries (1998), Never Been Kissed (1999) and 50 First Dates (2004), although these roles showed that as an adult actress she never had the ability to do more than blush cutely. However, the part here is carried by a good deal of earnest good cheer on her part and the strength of the writing.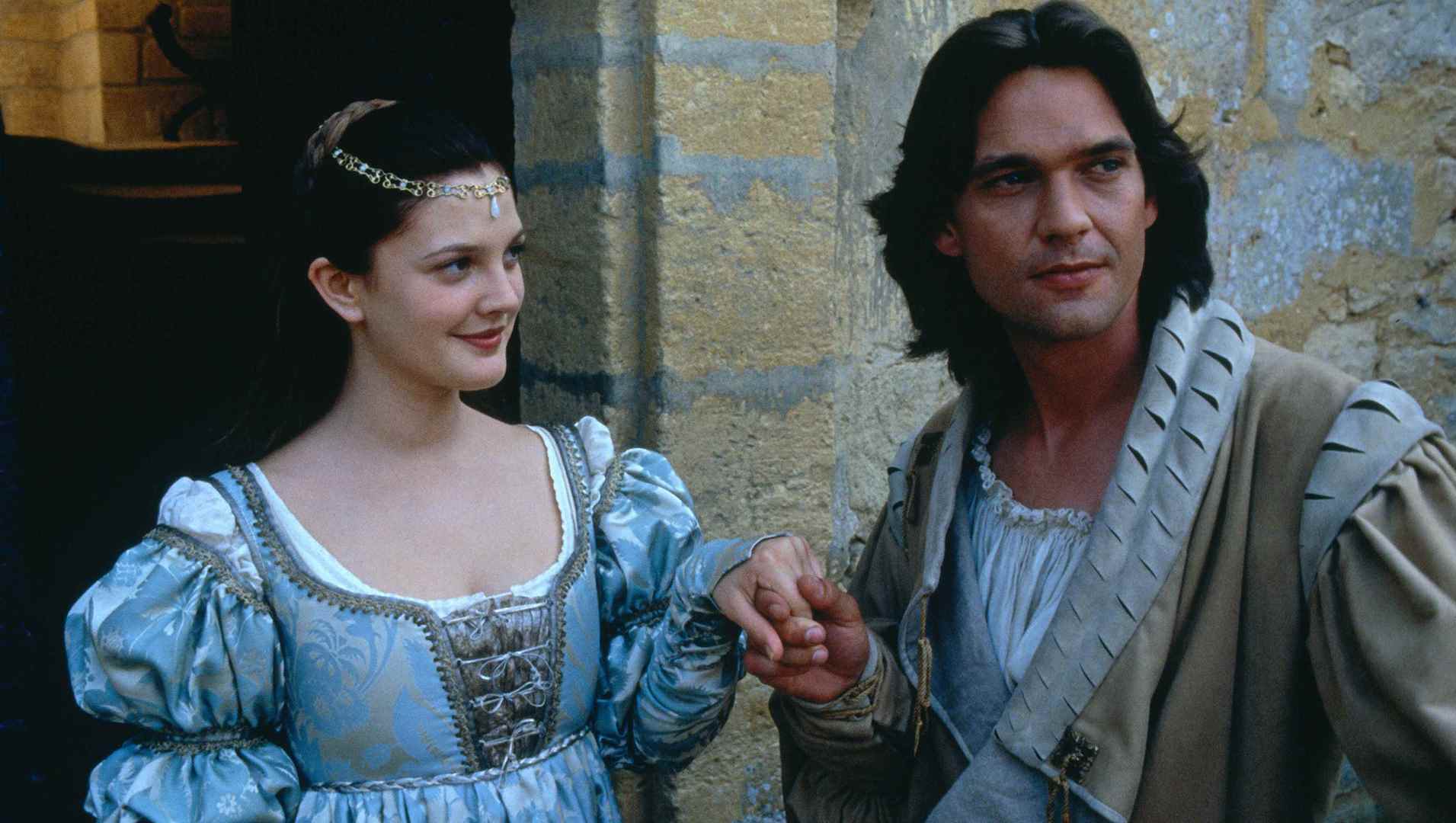 All the supporting cast give fine performances. Anjelica Huston is on excellent form as the stepmother, giving a delicious performance of haughty cruelty without ever allowing the part to topple into one-dimensionality or caricature. Also of note is Melanie Lynskey who steals a number of scenes as the less socially adept stepsister – there is a romance between her and a guard captain at the ball that is charmingly conducted as a series of horse whinnies.
This was Andy Tennant's only venture into fantastic material. He has otherwise made films mostly in the light romantic comedy vein with the likes of It Takes Two (1995), Fools Rush In (1997), the lavish remake of Anna and the King (1999), Sweet Home Alabama (2002), Hitch (2005), Fool's Gold (2008), The Bounty Hunter (2010) and Wild Oats (2016).
(Nominee for Best Supporting Actress (Anjelica Huston) and Best Supporting Actress (Melanie Lynskey) at this site's Best of 1998 Awards).
---
---