aka Peter Rabbit and Tales of Beatrix Potter
---
UK. 1971.
Crew
Director – Reginald Mills, Screenplay – Christian Edzard & Richard Goodwin, Based on Characters Created by Beatrix Potter, Producer – Richard Goodwin, Photography – Austin Dempster, Music – John Lanchby, Photographic Effects – Tom Howard, Masks – Rostislav Doboujinsky, Art Direction – John Howell, Choreography – Sir Frederick Ashton. Production Company – Thorn EMI
Cast
Sir Frederick Ashton (Mrs Triggie Winkle), Erin Geraghty (Beatrix Potter), Julie Wood (Mrs Tittlemouse), Keith Martin (Johnny Townmouse), Ann Howard (Jemima Puddleduck), Robert Mead (Fox), Alexander Grant (Peter Rabbit/Pigling Bland), Garry Grant (Alexander), Brenda Last (Black Berkshire Pig), Michael Coleman (Jeremy Fisher), Wayne Sleep (Tom Thumb/Squirrel Ruskin)
---
Plot
Lonely young Beatrix Potter sits at home in her parent's mansion dreaming of the lives of a group of woodland creatures.
---
Beatrix Potter (1866-1943) is a much-loved children's author. Beatrix Potter grew up rural England. Her father was a reasonably well-off solicitor but Beatrix appeared to have not had a happy childhood. She was forced to work as her parents' housekeeper and discouraged from pursuing her interest in botany at university, which refused to enrol her because she was a woman. She developed a great love of small animals and of the countryside of Britain's Lake District, later buying a farm and much land in the area, leaving it to the National Trust upon her death.
It was this love of small animals, which she would smuggle into the house to be her playmates as a child, that led to her stories. These all centre around various talking rabbits, ducks, cats, mice and the like. Initially these stories were only written for the amusement of friends and their children but the friends then inspired her to publish. The first of Beatrix Potter's books was The Tale of Peter Rabbit (1902), which she initially published by private press after it was rejected by publishers. This was then taken up by a publisher and enjoyed great success. Beatrix Potter wrote 23 other illustrated animal tales between 1902 and 1930, for which she also drew all the illustrations. The stories still remain in print and are enjoyed by children today.
Tales of Beatrix Potter was a film version of the Beatrix Potter stories mounted by The Royal Ballet in the UK. The ballet was arranged by Sir Frederick Ashton who is regarded as one of the greatest choreographers of the 20th Century and the film directed by editor Reginald Mills (the only film Mills ever directed) who had edited all of Michael Powell's ballet films of the 1950s. Tales of Beatrix Potter brings together many of Potter's characters and blends stories from about nine of her books. The animals are played by dancers wearing costumes and elaborate masks, moving in special dance steps that were choreographed by Ashton so as to replicate animal movements and take advantage of the bulkiness of the costumes. The outdoor scenes were also filmed in Potter's much loved Lake District.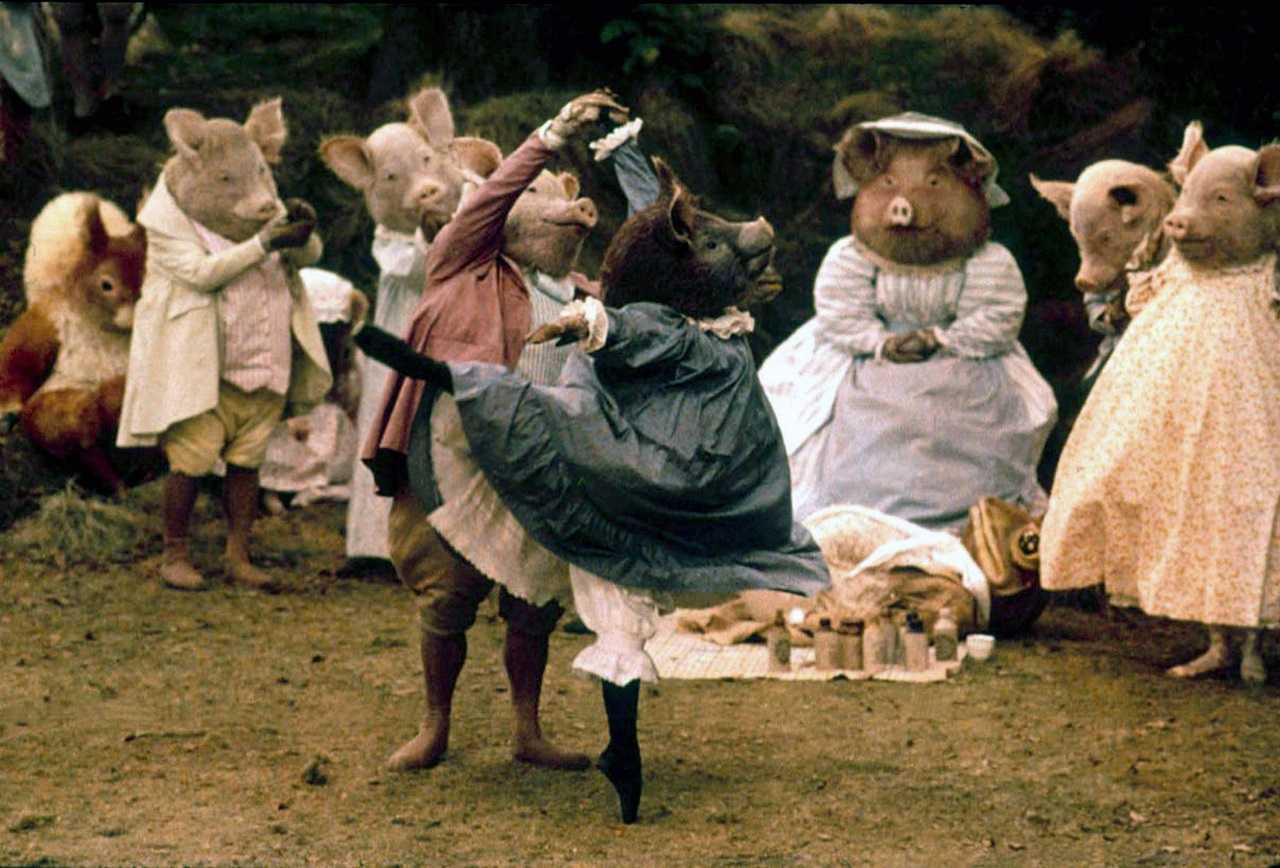 Tales of Beatrix Potter is a 'nice' film. The creatures are appealing and charming, even if the facemasks remain unmoving and inexpressive. The ballet is very well choreographed to the score, which is all chosen from various classical excerpts, and the dancing (at least to this unexpert eye) very good. Unfortunately, for all its niceness – and one feels bad about saying so – Tales of Beatrix Potter is laborious when it comes to everything that one expects of a film.
There is no plot to Tales of Beatrix Potter as a film. The entire film only consists of various dance vignettes – there is no drama to it, not even any dialogue. It is also seems difficult to imagine who the film was destined for. Bar those children who have an interest in ballet, it is surely far too taxing on the patience for a youth audience, and yet the child orientation is surely of equally limited appeal for the adult audiences that would normally come to appreciate the ballet.
Other screen adaptations of Beatrix Potter's works include a live-action Christmas special of The Tailor of Gloucester (1989); the animated BBC tv series The World of Peter Rabbit and Friends (1997); and the live-action films Peter Rabbit (2018) and Peter Rabbit 2/Peter Rabbit 2: The Runaway (2021). Also of note is Miss Potter (2006), a biopic about Beatrix Potter's life.
---
Trailer here
---