---
Crew
Director – Tony Cervone, Screenplay – Jack C. Donaldson, Derek Elliott, Matt Lieberman & Adam Sztykiel, Story – Matt Lieberman, Eyal Podell & Jonathon E. Stewart, Based on Characters Created by Hanna-Barbera Productions, Producers – Allison Abbate & Pam Coats, Music – Tom Holkenborg, Animation – Reel FX Animation (Head of Animation – Bill Haller), Visual Effects Supervisor – Jeff Alacantara, Production Design – Michael Kurinsky. Production Company – Warner Bros./Warner Animation Group.
Voices
Will Forte (Shaggy Rogers), Mark Wahlberg (Blue Falcon), Jason Isaacs (Dick Dastardly), Gina Rodriguez (Velma Dinkley), Zac Efron (Fred Jones), Amanda Seyfried (Daphne Blake), Frank Welker (Scooby-Doo/Pterodactyl), Kiersey Clemons (Dee Dee Sykes), Ken Jeong (Dynomutt), Iain Armitage (Young Shaggy), Tracy Morgan (Captain Caveman), Ariana Greenblatt (Young Velma), Pierce Gagnon (Young Fred), McKenna Grace (Young Daphne), Simon Cowell (Himself), Maya Erskine (Judy Takamoto)
---
Plot
A young Shaggy Rogers laments that has no friends. Just then he encounters a talking dog fleeing along Venice Beach with some stolen meat. He tells the pursuing police officer that the dog is his and named Scooby Dooby Doo. The two become best friends. Not long after, Shaggy and Scooby are beaten up by bullies while Halloween trick-or-treating and their haul of candy thrown into the supposedly haunted Rigby House. Joined by the young Fred Jones, Daphne Blake and Velma Dinkley, they enter the house, exposing that Mr Rigby is faking the haunting and using the house to store stolen goods. The five go on to create Mystery Inc, specialising in solving spooky mysteries. In the present, they are offered funding to go big time by Simon Cowell who recommends that they dump Shaggy and Scooby. Disconsolate, Shaggy and Scooby go to a bowling alley only for to be attacked by miniature robots. They are whisked up to a ship overhead that is captained by the son of the superhero Blue Falcon, accompanied by his robot dog Dynomutt and Dee Dee Sykes. They are pursued by Dick Dastardly, the creator of the robots, who wants Scooby because he is a descendant of Alexander the Great's dog Peritas and key to opening up a portal that offers great wealth. With Scooby and Shaggy missing, the rest of Mystery Inc follow the trail of the skulls that Dastardly needs to open the portal.
---
Hanna-Barbera's original Scooby Doo, Where Are You? (1969-72) tv series was a popular hit. It was followed by fourteen different revival series, several tv specials and 35+ animated films released to video/dvd since 1998 that have included crossovers with Batman, WWE wrestlers and the rock group Kiss. There were also several comic-book runs, twenty videogames, five plays and several musical singles. The series was remade in live-action with Scooby Doo (2002), which is regarded with general disappointment, and followed by a sequel Scooby Doo 2: Monsters Unleashed (2004) both with scripts from James Gunn. These were followed by two further live-action films for tv with Scooby-Doo! The Mystery Begins (2009) and Scooby Doo: Curse of the Lake Monster (2010) with a different younger cast.
This new version comes from Tony Cervone who has worked as a director and producer in various Warner Brothers animated capacities, including on the series' Duck Dodgers (2003-5) and The Looney Tunes Show (2011-4), as well as having produced the revival series Scooby-Doo! Mystery Incorporated (2010-3). He directed several of the Tom and Jerry animated films of the 2010s, plus Scooby Doo: Abracadabra Doo (2010) and Scooby Doo and Kiss: Rock and Roll Mystery (2015) and a further Hanna-Barbera crossover with The Flintstones and WWE: Stone Age Smackdown (2015). The film is Executive Produced by Chris Columbus, director of Bicentennial Man (1999) and the first two Harry Potter films, among other works. Scoob! was originally intended for theatrical release in May 2020 but after the Corona Virus outbreak, it instead premiered on streaming platforms.
Scoob! offers up a Scooby-Doo origin story – we had already had a completely different one in the earlier film Scooby-Doo! The Mystery Begins. Here we see Shaggy, Scooby-Doo, Fred, Velma and Daphne all come together as teenagers and then forming Mystery Inc. That said, the show is largely a Scooby and Shaggy film with the other three sidelined to supporting roles. It is also a Scooby-Doo that feels as though it has been wrenched into the modern day with the team using cellphones, laptops and GPS tracking and most gratingly having the Mystery Machine given a hi-tech upgrade from familiar van it was in the original.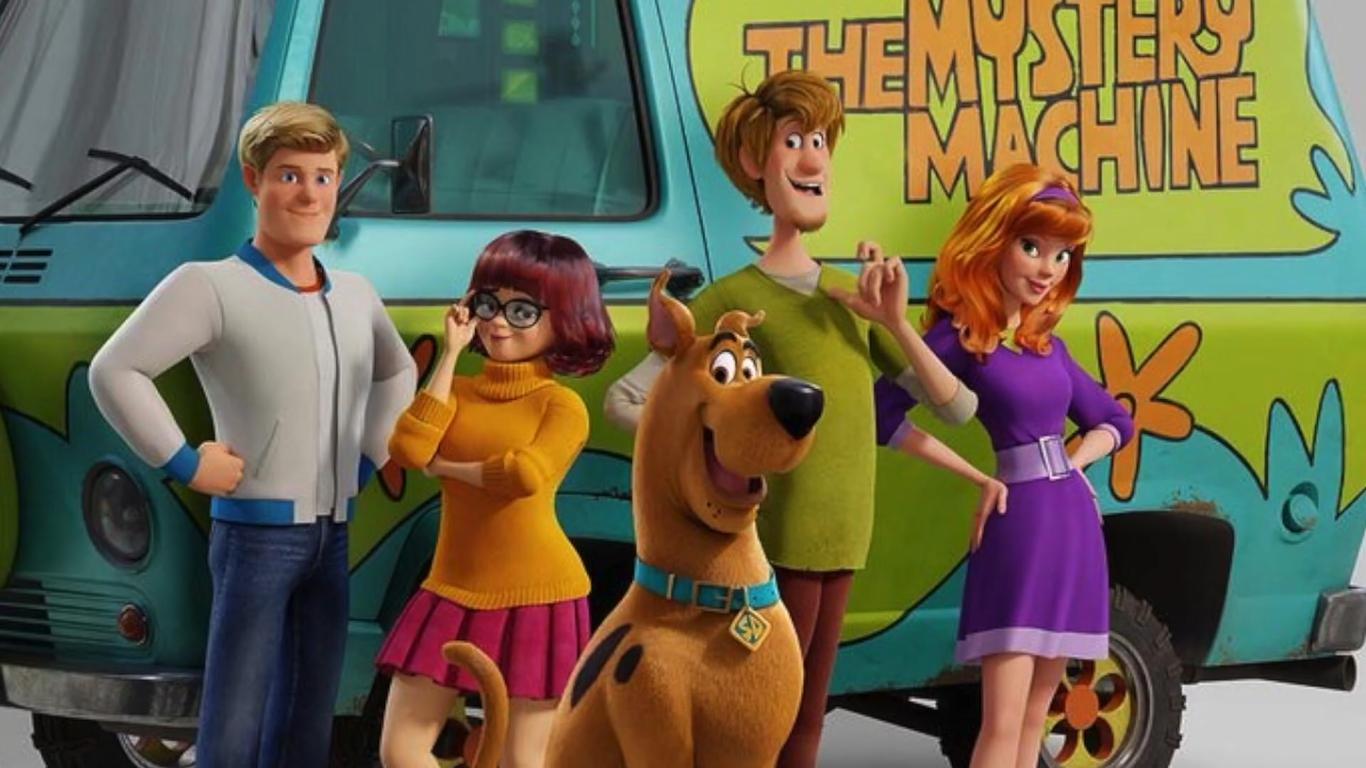 Scoob! is fairly much as one expects it to be. The animation is very colourful. There is a good deal of emphasis on slapstick action – particularly a large-scale sequence with various characters running around an abandoned fairground with a Ferris Wheel unleashed from its moorings, or the climactic release of Cerberus. The animation is perfectly competent in these scenes, the characters are as you expect them to be but the frenetic slapstick is the be all and end all of the scene. There is not really a huge amount more than that, essentially meaning that you have a film that is primarily targeted at the single digit age range.
One aspect that is going to badly date the film when viewed in the future is its contemporary references and in-jokes to of-the-moment companies like Netflix and Tinder or very contemporary celebrities like Simon Cowell and Kelly Clarkson. I mean, is anybody going to get the significance of who Cowell is watching the film in twenty years' time when everybody has forgotten American Idol (2002-6, 2018- )? Not to mention that the film also comes with pop culture references to other Warner Brothers intellectual properties – Daphne wears a Wonder Woman Halloween costume, Scooby-Doo goes as Green Lantern and Velma is accused of coming as a Harry Potter character but retorts that she is Ruth Bader Ginsburg.
However, the biggest issue one had with the film is that it seems less another in the long-running series of Scooby-Doo films than the attempt to launch a franchise that creates a shared universe between various Hanna-Barbera characters. There is Blue Falcon, or at least the son of Blue Falcon, and Dynomutt who were originally part of The Scooby-Doo/Dynomutt Hour (1976-7) where the characters would often cross over to meet the Scooby-Doo characters. There is Dick Dastardly, the exaggerated caricature of a silent movie villain from Wacky Races (1968-9) who was later given his own show with Dastardly and Muttley in Their Flying Machines (1969-70). Also present are Dee-Dee Sykes and Captain Caveman, respectively the leader of an all-girl investigatory team the Teen Angels and a caveman that they thawed out and joined them in Captain Caveman and the Teen Angels (1977-80).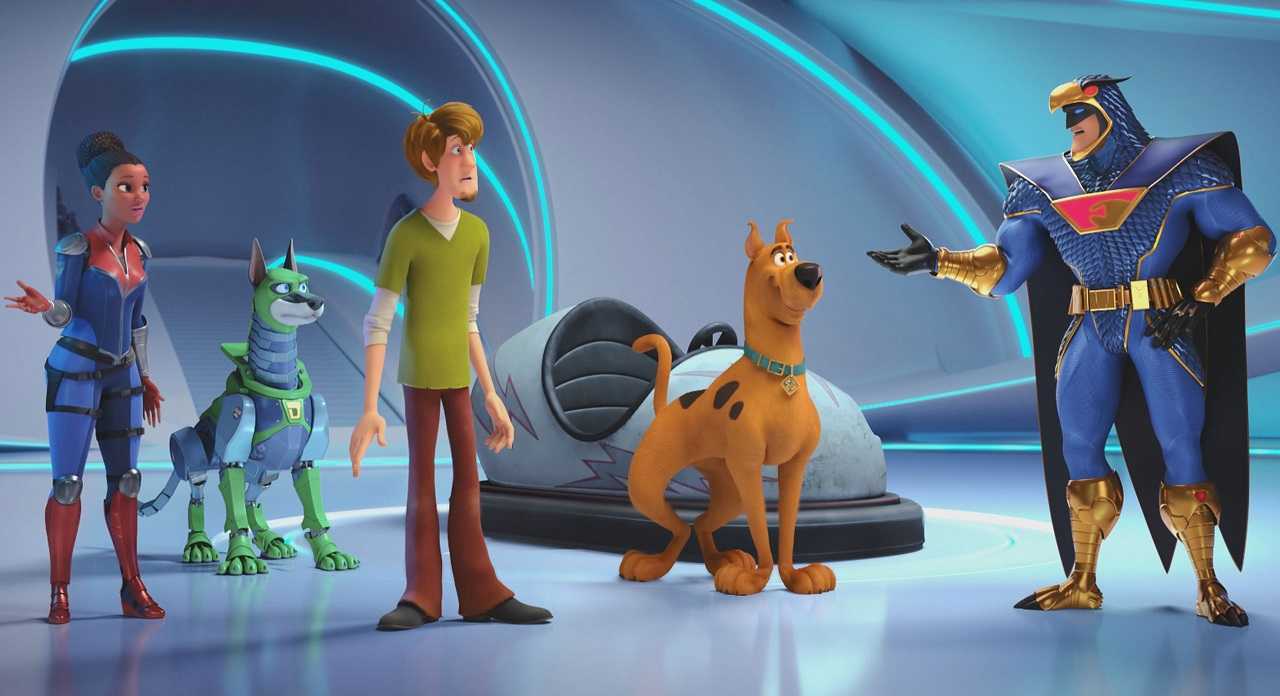 The problem that Scoob! faces in trying to create a Hanna-Barbera shared universe is exactly the same one that Universal faced with The Mummy (2017) and Warners did with Batman V Superman: Dawn of Justice (2016). And that is that audiences only want to see shared universes if they care about the characters. When Marvel created the MCU, they introduced the characters through several individual films first and took some time in building up audience anticipation and bringing them together as a team-up. Most other studios want to jumpstart the process by immediately leaping in to creating a team-up and assuming audiences will follow. The evidence so far is that it doesn't work that way.
Look at what we have here. I could easily see more Scooby-Doo animated adventures because they are well established characters. All of the rest however are not. When it comes to Blue Falcon, we have seen the bumbling and cowardly superhero before and this offers nothing new. Dee-Dee Sykes gets so little development as a character you would simply think she was Blue Falcon's sidekick if you had no awareness of cartoon history. Similarly, Captain Caveman turns up – entirely divorced from the backstory he was given in the tv series – where the story conducts a diversion to an island for the sole purpose of introducing the character. In other words, you could easily have cut or replaced either character in the story and it made little difference.
The crucial question is – is there really any of the characters here that would make you want to watch a solo adventure with them in it? I would be open to a Dick Dastardly film but I think that has more to do with childhood memories of the cartoon than the way the character is portrayed in the film. In the incarnations the characters are given here, there feels little that would inspire a desire to see an expanded universe. That either seems a miscalculation on the parts of the filmmakers or the very shaky assumption that people will come to see something based on cartoons that are 40-50 years old.
---
---