---
Crew
Director – Charlie Bean, Screenplay – Andrew Bujalski & Kari Granlund, Based on the 1955 Film, Producer – Brigham Taylor, Photography – Enrique Chediak, Music – Joseph Trapanese, Visual Effects Supervisor – Robert Weaver, Visual Effects – Framestore (Supervisors – Kyle McCulloch & Robert Winter), MPC (Supervisor – Patrick Kedda) & Weta Digital Ltd (Supervisors – Daniel McCarin & Guy Williams), Special Effects Supervisor – Bruno vanZeebroeck, Production Design – John Myhre. Production Company – Disney.
Cast
Thomas Mann (Jim Dear), Kiersey Clemons (Darling Dear), Yvette Nicole Brown (Aunt Sarah), Adrian Martinez (Elliott), F. Murray Abraham (Tony), Arturo Castro (Joe)
Voices
Tessa Thompson (Lady), Justin Theroux (Tramp), Sam Elliott (Trusty), Ashley Jensen (Jock), Janelle Monae (Peg), Benedict Wong (Bull), Clancy Brown (Isaac)
---
Plot
New Orleans in the early years of the 20th Century. Jim Dear and his wife Darling adopt a puppy that they name Lady. Lady lives a happy life in their yard until Tramp, a stray fleeing from the dog catcher, comes by and seeks refuge. Tramp warns Lady that Darling is pregnant and this will mean Lady will soon play a secondary part in her owners' lives. The baby is born. The Dears go away and leave Lady in the care of Aunt Sarah whose evil cats wreak havoc and blame it on Lady. In response, Sarah takes Lady to be outfitted for a muzzle but Lady flees. She finds Tramp who introduces her to life on the street and living by one's wits. An affection grows between the two of them but there remains the ever-present threat of the dog catcher.
---
Lady and the Tramp (1955) was one of the classic Disney animated films. It is does everything about the Disney animated film near perfectly. The meatball scene has become regarded as one of those classic cinematic moments and has been parodied a number of times. Its tale of animals from both sides of the track drawn together is an influential template on other Disney films like The Aristo Cats (1970) and Oliver & Company (1988). During the 1990s/00s where Disney resurrected all of their classic animated films in a series of cheaply made video sequels, Disney turned out Lady and the Tramp II: Scamp's Adventure (2001).
Ever since the 1990s, Disney has been relentlessly remaking and conducting spinoffs of their classic animated and live-action films with the likes of The Jungle Book (1994), 101 Dalmatians (1996), That Darn Cat (1997), Flubber (1997), The Parent Trap (1998), Freaky Friday (2003), Herbie: Fully Loaded (2005), The Shaggy Dog (2006), Race to Witch Mountain (2009) and Tron Legacy (2010).
We have had a major resurgence of live-action remakes of Disney animated film in the 2010s. There is the common misconception that this was due to Tim Burton's Alice in Wonderland (2010), although there is no clear proof that this is a direct remake of the Disney Alice in Wonderland (1951) and not another of the innumerable adaptations of the Lewis Carroll story. Nevertheless, an industry of Disney live-action remakes/sequels has followed on from that with the likes of Maleficent (2014), Cinderella (2015), The Jungle Book (2016), Pete's Dragon (2016), Beauty and the Beast (2017), Mary Poppins Returns (2018), Aladdin (2019), Dumbo (2019), The Lion King (2019), Mulan (2020), Cruella (2021), Pinocchio (2022), The Little Mermaid (2023) and Peter Pan and Wendy (2023).
Lady and the Tramp is no less than the fourth live-action Disney remake to come out in 2019, following Aladdin, Dumbo and The Lion King with a host of announced others in the pipeline. Advance word on the trailer was unenthusiastic. Moreover, Disney saw fit to forego theatrical distribution and instead premiere the film on their new streaming service DisneyPlus, which seemed to presage that the film was not up to scratch.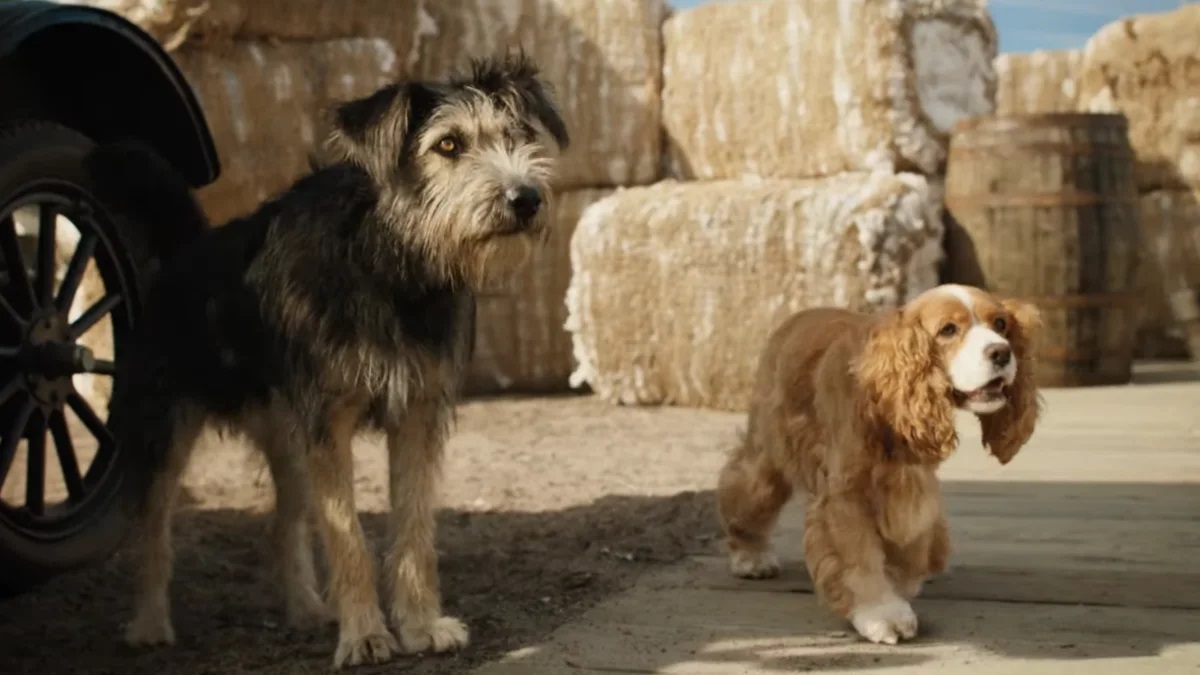 Neither Aladdin and especially not The Lion King did much to enthuse me for Disney's approach, which since the 1990s has been to endlessly recycle their classics. Outside of Pixar, the studio's upcoming releases consist of a dismally unoriginal line-up of of recycled intellectual property – remakes of Mulan and The Little Mermaid, sequels and spinoffs like Frozen II (2019), Maleficent: Mistress of Evil (2019), Cruella (2021) and more Star Wars films and tv, plus films based on Disneyland exhibits like Jungle Cruise (2021), Disney is the now the largest film company in the world and the prospect for the future of movie-making, where any notion of art is well and truly dead and all we have is run by a boardroom seeking to endlessly leverage the copyright it owns, is depressing.
I ended up liking Lady and the Tramp more than the soulless live-action The Lion King. It keeps to the essence of the original and has fun replicating many of the classic scenes (often shot for shot) – the ones with the Siamese cats causing chaos in the house; the song at the pound given as tribute for Tramp (which has been cleaned up a whole lot over the innuendo-riddled original); and especially the classic Italian restaurant scene where Lady and Tramp are served meatballs.
The Lion King seemed to be just replicating scenes without any soul whereas this gets the characters right and creates a modicum of emotion – although I think I would have liked the film more if I had not seen the original. We have had a great many films ever since Babe (1995) came out retelling classic talking animal tales with CGI and animatronics – see the likes of Garfield (2004), Charlotte's Web (2006), Alvin and the Chipmunks (2007), Yogi Bear (2010), Paddington (2014), Peter Rabbit (2018) and the 2016 The Jungle Book, among others. Ultimately, Lady and the Tramp is nicely made in places but slips into being no more than an average entry among these live-action talking animals films. There's certainly nothing that ever comes near touching the near-perfect charms of the original 1955 film.
This does bring one to the elephant in the room. And it is a difficult one trying to talk about objectively as a critic as it is such a hot button topic. Race is an inflammatory and divisive issue. It feels hard as a white writer to dip in a toe in and say something without attracting accusations of racism. I don't seek to do that; All I am is an historian of film and all I seek to talk about here is a phenomenon that is obvious and in our faces – and that every other critic seems to avoid mention of out of a desire not to cause imagined offence.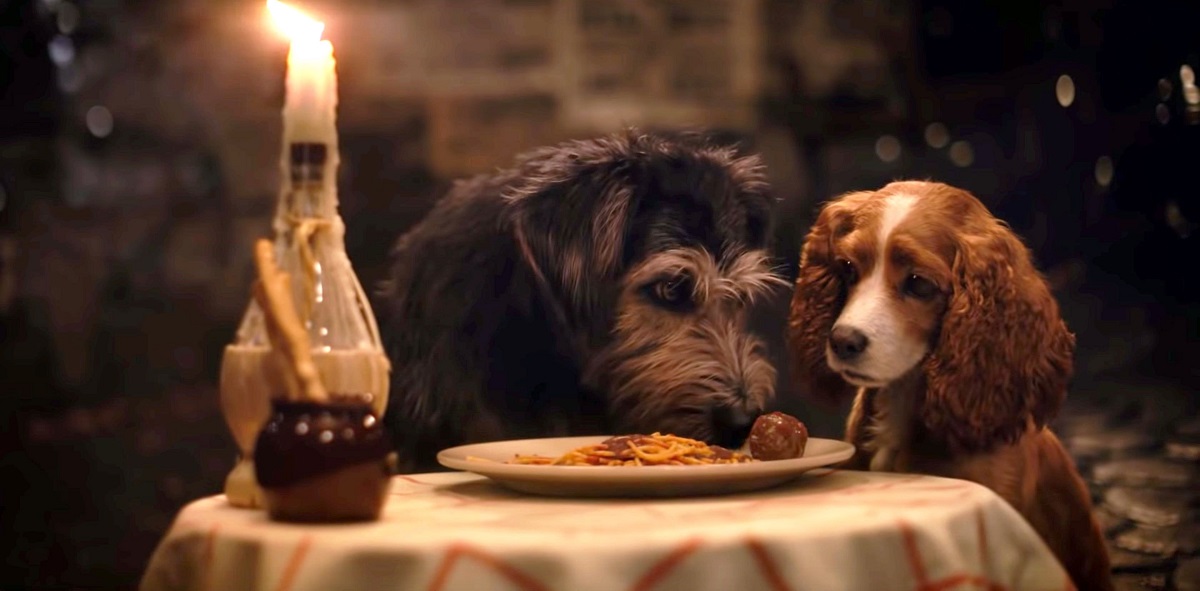 The huge success in the last few years of films such as Get Out (2017) and Black Panther (2018) have demonstrated that there is a massive audience for films featuring ethnically diverse (ie. non-white) characters. Disney have promptly re-oriented to match – their upcoming Marvel line-up is notedly one that has dispensed with almost all of the Caucasian superheroes and replaced these with women or ethnic characters. And the predominating theme of films such as The Lion King, The Little Mermaid, not to mention the bizarre sight of Lin-Manuel Miranda cast as a Cockney in Mary Poppins Returns, is the shock announcement to white audiences that they are no longer the majority, that non-white face far outnumber them and are now the greater number of ticket buyers at the box-office.
This has extended right across Hollywood to almost every tv show now being made, which has to reflect contemporary diversity in featuring the appropriate balance of ethnic and sexual makeup that the real world does. This is why we have this bizarre phenomenon where in the need to fulfil these diversity criteria just about every relationship in film and tv at the moment is now mixed race. (The most conspicuous example of this is the current seasons of tv's The Walking Dead (2010-22), which features no less than three mixed race relationships at the centre of the show). As someone who has lived in the US and been in a long-term mixed race (white and Black) relationship, I can say from experience it is not the norm, it is something that upsets a good many people and is not greeted with the utopian acceptance it is portrayed in these works. The reality that seems banished from most post-diversity films and tv is that the majority of people stay in their same socio-ethnic group when it comes to relationships. If the desire to pander to post-diversity niches in screen representation seem designed to model a real world balance, what seems blindingly obvious to me is that the percentage of relationships that form the greatest majority (couples involved within their own socio-ethnic group) has suddenly become regarded as a minority in the need to fulfil diversity criteria. Not saying that is a good or a bad thing – just making an observation.
The problem I have with Disney's vision of colorblind racial equality in Lady and the Tramp is that it presents a vision of the history that is a complete fantasy. The film has a white man and Black woman living happily married in New Orleans in the early parts of the 20th century (I can't place a date but from the prevalence of early Ford motorcars on the streets I'd place between 1903-1920 – the original was supposed to be set in 1909) and moreover this being accepted as perfectly normal by everyone around them. The reality is that in New Orleans of the 1900s, Jim Dear would have been disinherited by his family, probably have lost his employment, been ostracised in the middle-class neighbourhood he lives and quite possibly even been subject to arrest. During this period, Louisiana (a previous slave-holding state) had on the books a variant of what are collectively called the Anti-Miscegenation Laws forbidding racial intermarriage, something that was not repealed until the 1970s. As recently as 2009, we had a justice of the peace in Robert, Louisiana, only fifty miles from New Orleans, refusing to perform an interracial marriage.
I am all for Disney opening up diversity but it seems that the way of doing so here rewrites history into a complete fantasy that entirely erases the reality of what would have been a very ugly period of racial intolerance. Since the 1990s, Disney seems to be trying to make up for the notorious Song of the South (1946) with its idyllic vision of harmony amongst the races on the plantation. But in doing so it feels that in the name of diversity they go almost entirely in the opposite direction and turn what would have been a harshly racist period of history into exactly the same fantasy of Utopian commingling that Song of the South did.
---
---