---
USA. 2000.
Crew
Director – Brian Levant, Screenplay – Jim Cash, Harry Elfont, Jack Epps Jr & Deborah Kaplan, Based on the TV Series The Flintstones by Hanna-Barbera Productions Inc, Producer – Bruce Cohen, Photography – Jamie Anderson, Music – David Newman, Visual Effects Supervisor – Douglas Hans Smith, Visual Effects – Rhythm and Hues, Additonal Visual Effects – Cinesite, Metrolight Studios, Perpetual Motion Pictures & Threshold Digital Research Laboratories, Special Effects Supervisor – Burt Dalton, Creature Effects – Jim Henson's Creature Workshop (Supervisor – Jamie Courtier), Alien Makeup Effects – Matthew W. Mungle, Production Design – Chris Burian-Mohr. Production Company – Universal/Amblin/Hanna-Barbera Productions.
Cast
Mark Addy (Fred Flintstone), Stephen Baldwin (Barney Rubble), Kristen Johnston (Wilma Slaghoople), Jane Krakowski (Betty O'Shale), Thomas Gibson (Chip Rockerfeller), Alan Cumming (Gazoo/Mick Jagged), Joan Collins (Pearl Slaghoople), Harvey Korman (Colonel Slaghoople), Alex Meneses (Roxie)
---
Plot
A small green alien Gazoo is assigned to go down to Earth and observe human mating rituals. Gazoo happens upon the young Fred Flintstone and Barney Rubble, best friends and work colleagues. Meanwhile, Wilma Slaghoople runs away from the stifling life of wealth and privilege she was born into and is taken in by Bronco King waitress Betty O'Shale who thinks she is homeless. Fred and Barney ask the two of them out. Wilma's real identity is discovered and she takes them to one of her mother's society parties where their lack of social grace proves an embarrassment. Chip Rockerfelller determines to be rid of Fred so he can have Wilma and invites the four of them to the opening of his casino in Rock Vegas. There Chip hatches a devious plan to turn Fred into a gambling addict, get him into debt and then force him to never see Wilma again.
---
When it came out, The Flintstones (1994), a live-action version of the classic Hanna-Barbera cartoon series The Flintstones (1960-66), was universally trashed by critics. It was however a modest hit with audiences and was followed by this sequel (or rather prequel). The Flintstones in Viva Rock Vegas joins a long list of sequels that nobody wanted to see – a list that would surely also include the likes of King Kong Lives (1986), Gnaw: Food of the Gods Part 2 (1989), Alligator II: The Mutation (1991), The Howlings II-VII and Leprechauns II-V. One wonders if the makers of The Flintstones in Viva Rock Vegas ever sat down and asked the vital question – is there anyone out there in the world whose life would feel incomplete without a Flinstones 2? The answer, judging from indifferent box-office response, was a resounding no.
The Flintstones in Viva Rock Vegas has the same director and offers up basically the same elements as before – the novelty of seeing a cartoon series being played out in live-action; the joke of seeing the Stone Age equivalent of modern technology; and in-jokes playing on modern brand names and buzzwords with prehistoric puns. The plot is even essentially the same – a slick, handsome corporate type with a seductive secretary uses Fred as an unwitting dupe but dim-witted gold-heartedness wins out in the end. (Although, where in Flintstones 1 the exec type drove a wedge between Fred and Barney, here he drives a wedge between Fred/Wilma and Barney/Betty. And where Flintstones 1 had the underlying message of corporate greed and labour disenfranchisement, The Flintstones in Viva Rock Vegas sinks its teeth into old money and inherited privilege).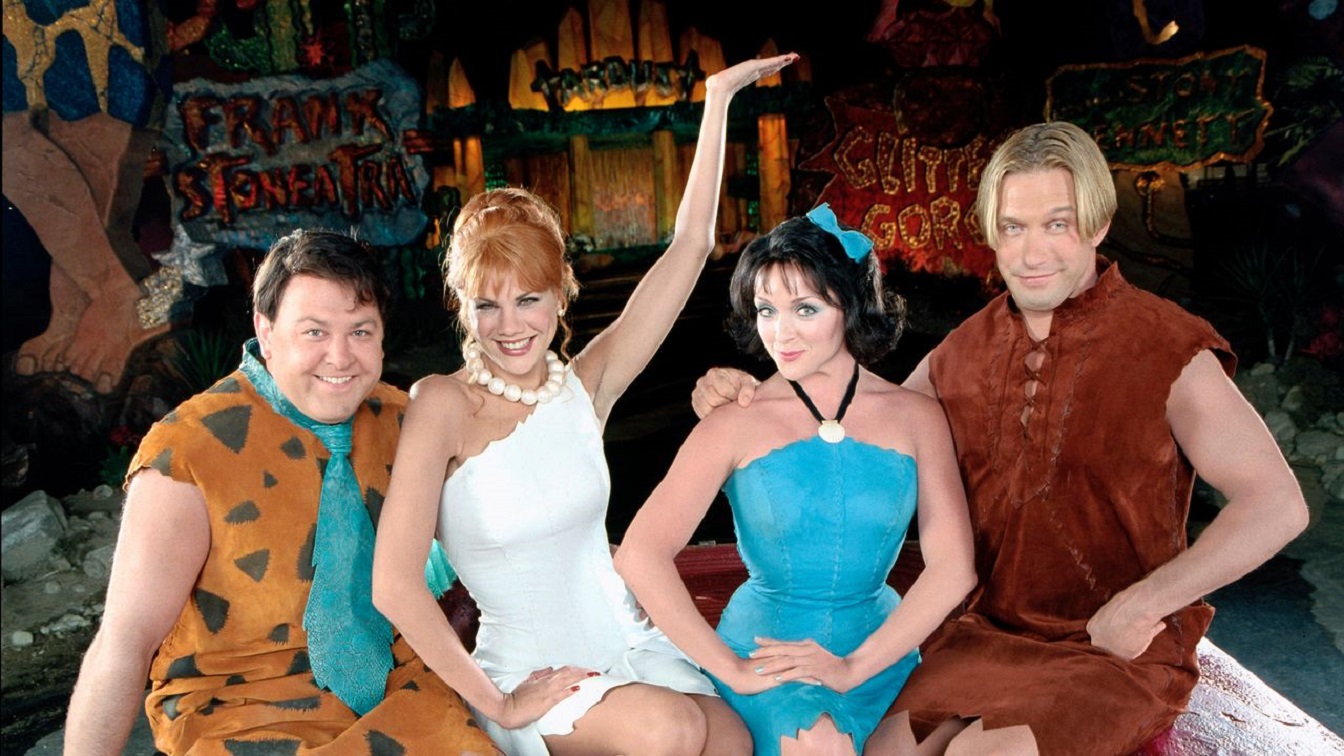 The problem with The Flintstones in Viva Rock Vegas is ennui – Flintstones 1's novelty was in seeing the animated series played out as a big 3-D recreation and in seeing actors trying to play cartoon characters. However, by the time of this film, that limited novelty has faded to a one-note joke that has lost its freshness in the replaying. In some cases, the brand name in-jokes have become outright merchandising plugs – the lengthy Bronto King/Burger King tie-in turns the film into all-but a commercial for several minutes.
Mark Addy's Fred is no substitute for John Goodman from the first film. A cartoon character like this needs someone who animates it with life but Addy only hesitantly walk through the part. In an atrocious piece of miscasting, Stephen Baldwin offers up a rendition of Barney as a prehistoric stoner and is thoroughly awful. Better cast are Jane Krakowski and 3rd Rock from the Sun (1996-2001)'s Kristen Johnston who give Wilma and Betty a fair degree of sparkle. The Flintstones in Viva Rock Vegas also clearly features a lesser budget than its predecessor – the CGI and creature effects look hurried, while the shots of people talking with Gazoo frequently having actors not meeting the character's eyes.
The Flintstones in Viva Rock Vegas does offer the limited appeal of a Flintstones origin story wherein we learn how Fred and Wilma and Barney and Betty got together; the origins of Dino, Wilma's pearls and Wilma's hairstyle. There is a running gag throughout the film about someone who tries to warn people about the fate of the dinosaurs only to be shouted down by cries of "No, we don't want to hear." The film is one that produces a similar sense of indifference from its audience – "No, we didn't really want to hear about where Wilma got her hairstyle." The film also introduces the character of the pesky alien Gazoo from the series, as well as features cameos from series creators William Hanna and Joseph Barbera.
---
Trailer here
---