---
USA. 2009.
Crew
Director – Carlos Saldanha, Co-Director – Mike Thurmeier, Screenplay – Peter Ackerman, Michael Berg & Mike Reiss, Story – Jason Carter Eaton, Producers – John C. Donkin & Lori Forte, Music – John Powell, Supervising Animator – Galen Ten Chu, Art Direction – Michael Knapp. Production Company – Blue Sky Studios.
Voices
John Leguizamo (Sid), Ray Romano (Manny), Denis Leary (Diego), Queen Latifah (Ellie), Simon Pegg (Buck), Seann William Scott (Crash), Josh Peck (Eddie), Chris Wedge (Scrat), Karen Disher (Scratte)
---
Plot
Ellie is pregnant and nearing the time when she is to give birth. After falling into an ice crevasse, Sid finds three eggs and decides to adopt them as his own. The eggs hatch into dinosaurs but then the children's mother, a tyrannosaurus rex, comes looking for them. The children prevent her from devouring Sid and so she takes Sid with her. Manny, Ellie, Diego and the possums Eddie and Crash follow and find themselves in an underground realm where dinosaurs still survive. Surrounded by fearsome prehistoric predators, the group find themselves relying on the aid of Buck, a slightly crazy one-eyed weasel that lives in this world.
---
Ice Age 3: Dawn of the Dinosaurs was the third in the series of animated films that began with Ice Age (2002). Ice Age was a debut effort from Blue Sky Studios, who had previously been a visual effects company. It came at a time when the computer animation field was in its infancy – Pixar dominated the market and were four films old at that point, with the only other cinematic competitor being DreamWorks who were just starting to get their act together. As other companies started to crowd the market over the next few years, Blue Sky increasingly gained prominence with efforts like Robots (2005), Ice Age 2 (2006), Horton Hears a Who! (2008), Rio (2011), Epic (2013), The Peanuts Movie (2015), Ferdinand (2017) and Spies in Disguise (2019). It is a mark of just how much of a foothold that Blue Sky have gained into the animation market that when Ice Age 3: Dawn of the Dinosaurs premiered, it became one of the top box-office hits around the world.
In comparing Blue Sky with Pixar, there comes a world of difference. Pixar films seem made by people that genuinely care about what they do and are films that affect children and adults alike. On the other hand, Blue Sky seem to merely be generating slickly produced product. Ice Age, for instance, was a series that hit its maximum level of cuteness with the first film; everything else has been squeezing marketing out of a middle-of-the-road effort that only moderately set the world on fire first time around.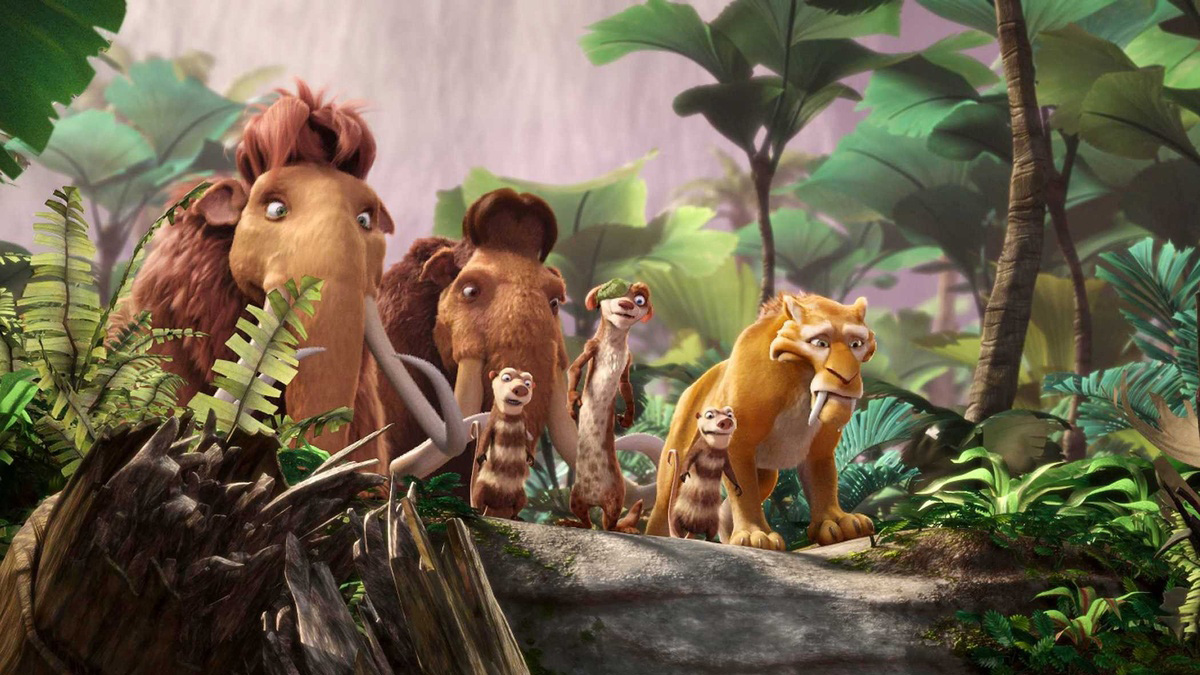 Ice Age 3: Dawn of the Dinosaurs is indicative of Blue Sky's approach. The entire film feels as though it has been construed as a single kinetic rush from scene to scene – Sid skiing down the side of a hill trying to hold onto the eggs; the journey down the gondola made of dinosaur bones; Sid stuck on a piece of rock in the middle of a flow of lava that is heading toward a fall, and so on. At times, you almost feel like you are in the midst of a children's videogame, which is frequently premised around cartoonish characters hopping quickly from one place to the next to get through an obstacle course. Everything is leavened with the requisite number of laughs, cute moments and so on.
One is entertained – and Ice Age 3: Dawn of the Dinosaurs is certainly a better film than the soulless Ice Age 2 – but you reach the end and the result feels like a pretty light show that has entertained the eye without every engaging beyond that. There are no cute epiphanies, no tender moments, no laughs that do not exist beyond cultural sourcing. It is a film that is the equivalent of switching the sound on a tv set off and allowing the pictures to pass over you where you can walk away at the end without having remembered anything you have seen.
The familiar characters are present but what surprises about the film is that only some of them have been granted their own story – and some of these, like Diego's feeling old and unfit, are passed over so quickly in the film's constant rush from scene to scene that you never get to find what they are about. In particular, the character of the squirrel Scrat, a scene-stealer of the other two films, feels like it has reached the limit of its cuteness in getting a girlfriend here. (Although there is one visually charming sequence where the two squirrels are caught in a mid-air dance trapped inside bubbles). There is a great deal more in the way of easy audience-pleasing pop culture references – the animals getting caught in a helium environment whereupon they immediately start imitating Alvin and the Chipmunks, the two squirrels dancing the tango, the soundtrack spilling over with popular songs, including the inevitable remix of Walk the Dinosaur (1987) from Queen Latifah.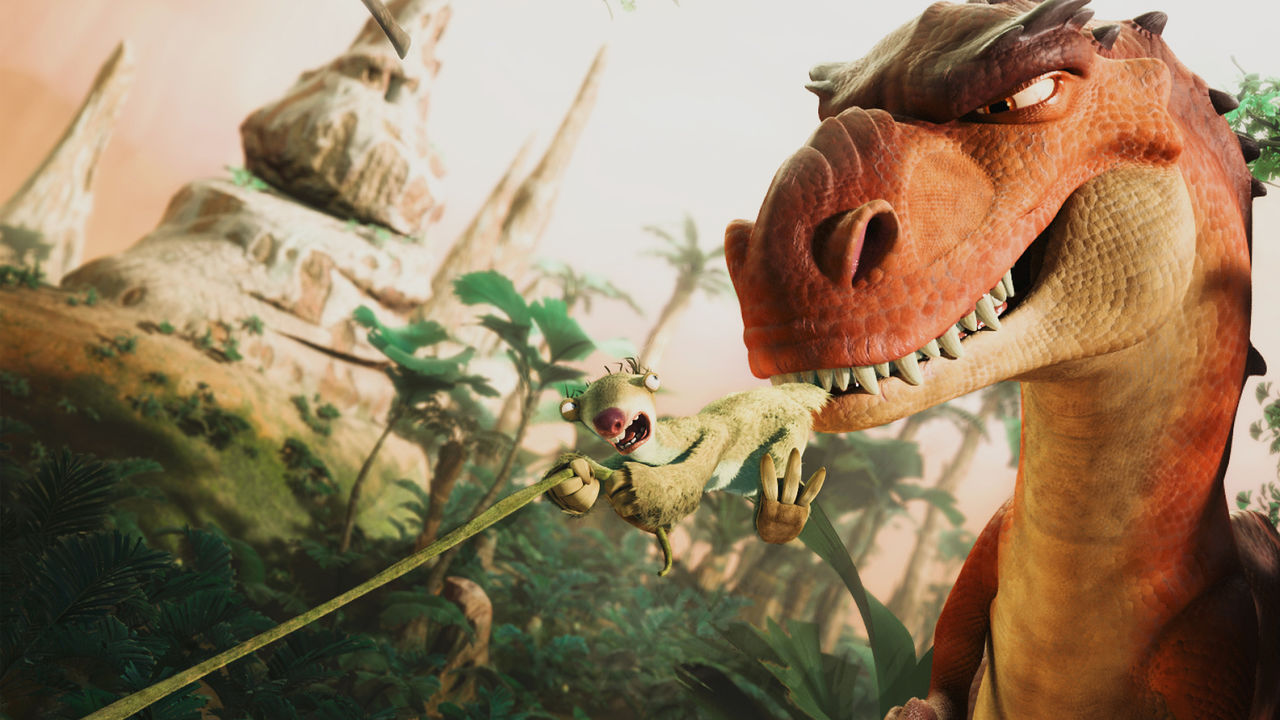 The other complaint one might have is the title that colludes the term ice age alongside dinosaurs. The ice age that the film's timeframe seems to exist in would have had to have been somewhere during the last 2.5 million years. The presence of mammoths, weasels and sabre-toothed tigers places the film's timeframe at its very earliest about 4.8 million years ago. However, dinosaurs died out 64 million years ago. The assumption seems to be the same wilful anachronism that The Flintstones (1960-6) and films like One Million Years B.C. (1966) operate on in that prehistory is regarded as loose conglomerate that means you can group caveman, dinosaurs and creatures from all eras together, despite some 59 odd million years difference between epochs.
To Dawn of the Dinosaurs' defence, it does pay lip service to the dinosaurs supposedly being extinct. The plot's discovery of a pocket of life where they still thrive makes Ice Age 3 essentially the same as science-fiction films like King Kong (1933), The Land Unknown (1957), The Land That Time Forgot (1974) and At the Earth's Core (1976) that are constantly inventing islands, lost valleys, continents and underground realms where the prehistoric still thrives. More than anything, the need to add dinosaurs to the mix of what up until then had been a credible palaeological mix shows that the Ice Age series is running out of fresh ideas.
Blue Sky Studios made two further films in the series with Ice Age: Continental Drift (2012) and Ice Age: Collision Course (2016).
---
---