---
Crew
Directors/Screenplay – Kirk DeMicco & Chris Sanders, Story – John Cleese, Kirk DeMicco & Chris Sanders, Producers – Kristine Belson & Jane Hartwell, Photography – Yong Duk Jhun, Music – Alan Silvestri, Visual Effects Supervisor – Markus Manninen, Production Design – Christophe Lautrette. Production Company – DreamWorks Animation SKG.
Voices
Nicolas Cage (Grug Crood), Emma Stone (Eep Crood), Ryan Reynolds (Guy), Cloris Leachman (Gran Crood), Catherine Keener (Ugga Crood), Clark Duke (Thunk Crood), Chris Sanders (Belt), Randy Thom (Sandy Crood)
---
Plot
The Croods are a prehistoric family who live in a cave. The father Grug teaches them that anything new is dangerous and must be avoided at all costs. The daughter Eep constantly desires more than that. One night, she is attracted by her first sight of fire and follows it to meet another boy Guy. Guy warns of coming disaster and gives her a shell to call him if she ever needs anything – however, the family immediately destroy this because it is something new. The cave is then demolished by an earthquake. Grug decides that their only course is to set out and find a new cave. They are joined along the way by Guy who demonstrates ingenious solutions to the problems they encounter. The family soon place their trust in Guy's ideas rather than Grug's traditional ways much to Grug's upset. This conflict between the two plays out as they cross a landscape filled with strange and marvellous creatures but also the oncoming threat of natural disaster.
---
The Croods was the 23rd film from DreamWorks Animation and follows the likes of Antz (1998), The Prince of Egypt (1998), The Road to El Dorado (2000), Shrek (2001), Spirit: Stallion of the Cimarron (2002), Sinbad: Legend of the Seven Seas (2003), Shark Tale (2004), Madagascar (2005), Over the Hedge (2006), Bee Movie (2007), Kung Fu Panda (2008), Monsters vs Aliens (2009), How to Train Your Dragon (2010), Megamind (2010), Rise of the Guardians (2012), Turbo (2013), Mr. Peabody & Sherman (2014), Home (2015), Trolls (2016), The Boss Baby (2017), Captain Underpants: The First Epic Movie (2017) and Abominable (2019).
Interestingly enough, The Croods started out as Claymation film under the much wittier title Crood Awakening, which was to be made by Aardman Animation, the company behind the Wallace and Gromit films and Chicken Run (2000). It even has a story by no less than actor John Cleese. The project was eventually inherited by DreamWorks under Kirk DeMicco, previously the director of Space Chimps (2008) and subsequently of Vivo (2021), as well as a writer on Quest for Camelot (1998) and Racing Stripes (2005), and Chris Sanders, co-director of Disney's Lilo & Stitch (2002) and DreamWorks' How to Train Your Dragon, as well as a writer on various Disney films.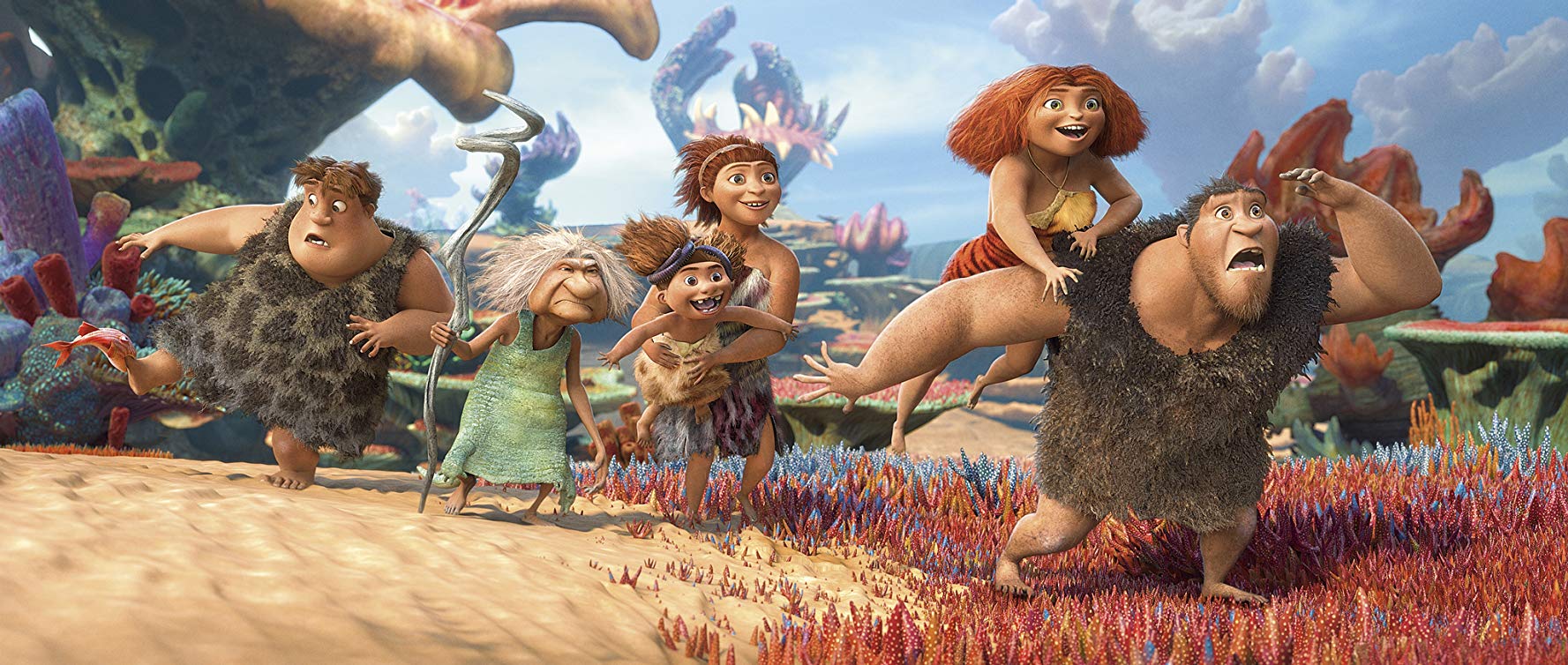 Prehistory has been a popular venue for animation from the likes of The Land Before Time (1998), which has produced no less than twelve sequels, Disney's Dinosaur (2000), Pixar's The Good Dinosaur (2015) and the popularity of Ice Age (2002) and its never-ending run of sequels. Surprisingly, most of these feature anthropomorphised dinosaurs or prehistoric mammals and you would have to go all the way back to tv's The Flintstones (1960-6) to find an animated film that featured cave people as characters. The Flintstones was a deliberately unreal farce on a sitcom family whereas The Croods at least makes more of a nod towards credible Neanderthal behaviour.
Most of these prehistoric films have limited stories and all seem to centre around quest plots as the characters are forced to find a new home by geological upheaval. The Croods is no different. It borrows many of the plot basics from Clan of the Cave Bear (1986) and in particular Quest for Fire (1981) in having a tribe of Neanderthals encounter someone from a more advanced civilisation that helps them to discover fire, along with a number of other advances. Of course, The Croods plays everything for knockabout comedy whereas these others took themselves seriously. You could also draw parallels to the live-action Caveman (1981), which similarly spoofed the basics of Quest for Fire in its story of a group of bumbling cavemen outsiders accidentally making a bunch of civilised advances.
I went into The Croods with not particularly high expectations. While DreamWorks had started well in the late 1990s, the last few runs of films they have made – in particular the Shrek sequels – have hit a singular mediocrity. The trailer did little to inspire one. The film seemed set to be the exact formula that most modern theatrically-released animation runs by – processed gags and pop culture jokes, lots of running around, a few oohs and ahhs.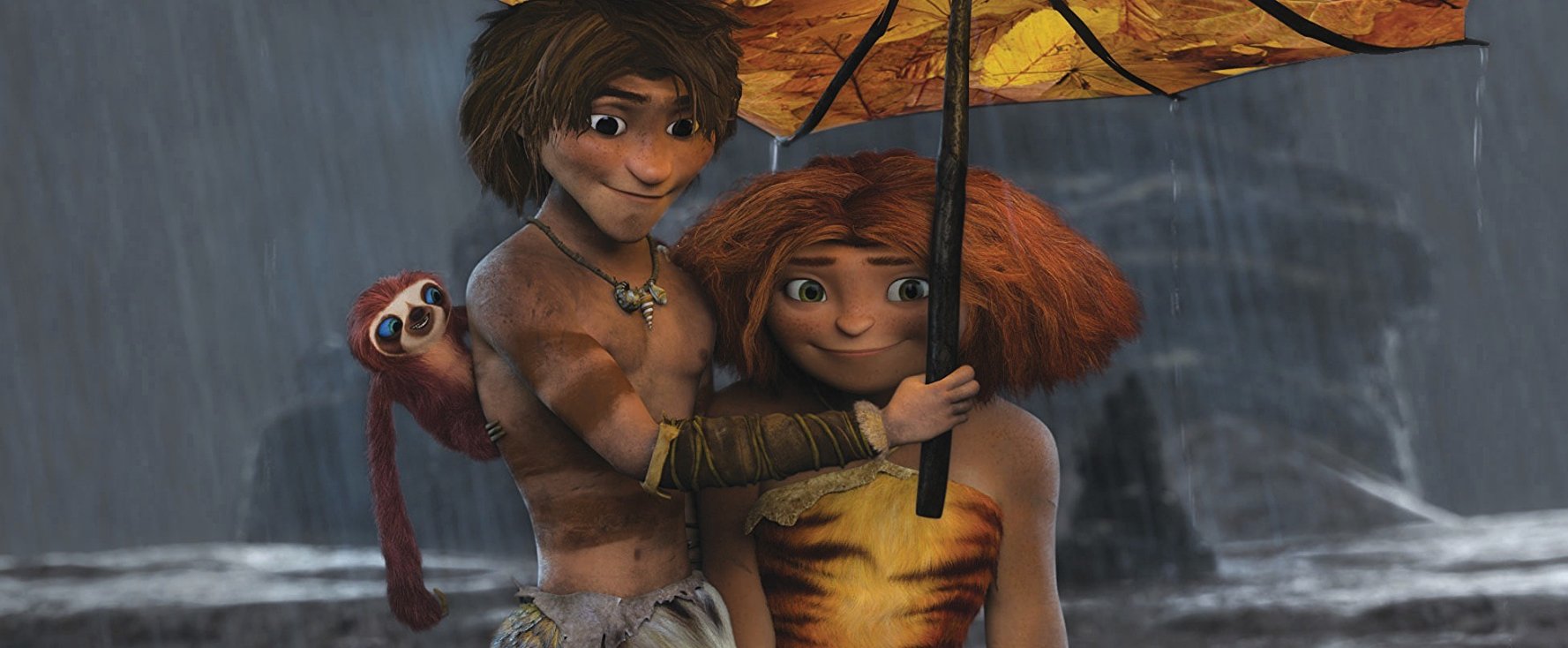 You could see this starting out in the at least energetic opening scene with the Crood family engaged in a high-speed chase modelled on a football game to snatch an egg from a prehistoric bird and being beset by other predators in their race to get back home. Even the film's bildungsroman – the central character's journey of growth of understanding about the wider world – is one of the most absurdly black-and-white one has ever encountered where we have characters who are afraid of anything new whose only journey made can surely be into one of knowledge.
The Croods seems to be setting out to be a predictably formulaic work. The surprise of it, as you start to settle in, is that it actually begins to engage and become a funny and often clever work. The scene that made me realise that it was more than just formula is the lovely and evocative scene where Eep is woken in the middle of the night by a dancing orange light and follows it to make the discovery of fire. There are similar scenes with the family's discovery of stars or the journey down through the maze of caves.
The humour throughout becomes something naturalistic and eventually rather engaging in the number of throwaway gags packed into the film – be it the Croods managing to set an entire field and themselves alight in their blundering around with the fire; Thunk's discovery of the idea of a pet; or Grug's attempts to come up with ideas of his own. There are constant throwaway gags peppered throughout the film – moreover, ones that keep getting their belly laughs from the adults in the audience more so than the kids. It is this humour and warmth that the film discovers that ends up making the journey appealing.
The Croods: A New Age (2020) was a sequel.
---
---