---
USA. 2002.
Crew
Director – Chris Wedge, Co-Director – Carlos Saldanha, Screenplay – Peter Ackerman, Michael Berg & Michael J. Wilson, Story – Michael J. Wilson, Producer – Lori Forte, Music – David Newman, Production Design – Brian McEntee. Production Company – Blue Sky Studios.
Voices
John Leguizamo (Sid), Ray Romano (Manfred), Denis Leary (Diego), Goran Visnic (Soto), Jack Black (Zeke), Tara Strong (Roshan), Cedric the Entertainer & Stephen Root (Rhinos), Diedrich Bader & Alan Tudyk (Sabre-Tooth Tigers)
---
Plot
As the Ice Age approaches and animals begin migrating, a group of sabre-tooth tigers mount an attack on a human settlement. The sabre-tooth leader Soto sets his sights on devouring a young human baby. When the mother escapes with the child, the sabre-tooth Diego is ordered to get the baby back or lose his own life. Dying, the mother leaves the baby in the hands of the mammoth Manfred and his reluctantly tolerated companion, the sloth Sid. Sid determines to return the child to the humans. Diego then insists on joining the quest, smoothly saying that he only wishes to see the child returned safely as well. As the other two overcome their distrust of Diego, what they do not know is that he has promised to deliver them to the other tigers as a feast.
---
Pixar began a revolution, creating the first computer-animated film with Toy Story (1995). Within the space of five years, this had given birth to an entire industry. Other animation studios – most notably DreamWorks and a host of independent studios – rushed to become players in the CGI animation stakes. Ice Age was one such effort that announced the presence of Blue Sky Studios, a company that previously worked as a visual effects studio for hire.
The trailer for Ice Age went out in the latter half of 2001. All it offered was the charming sequence of a squirrel trying to plant an acorn in the ice only to trigger an earthquake that splits the entire glacier open, forcing it to flee as everything starts coming down on him. The trailer seemed appealingly cute but the accompanying film was a complete unknown. The plot seemed a rehash of Disney's Dinosaur (2000), albeit jumping along a few geological epochs in time. Both Ice Age and Dinosaur tell essentially the same story of a cast of talking animals making their way on a quest across a prehistoric landscape accompanied by young pre-humans and learning friendship etc etc.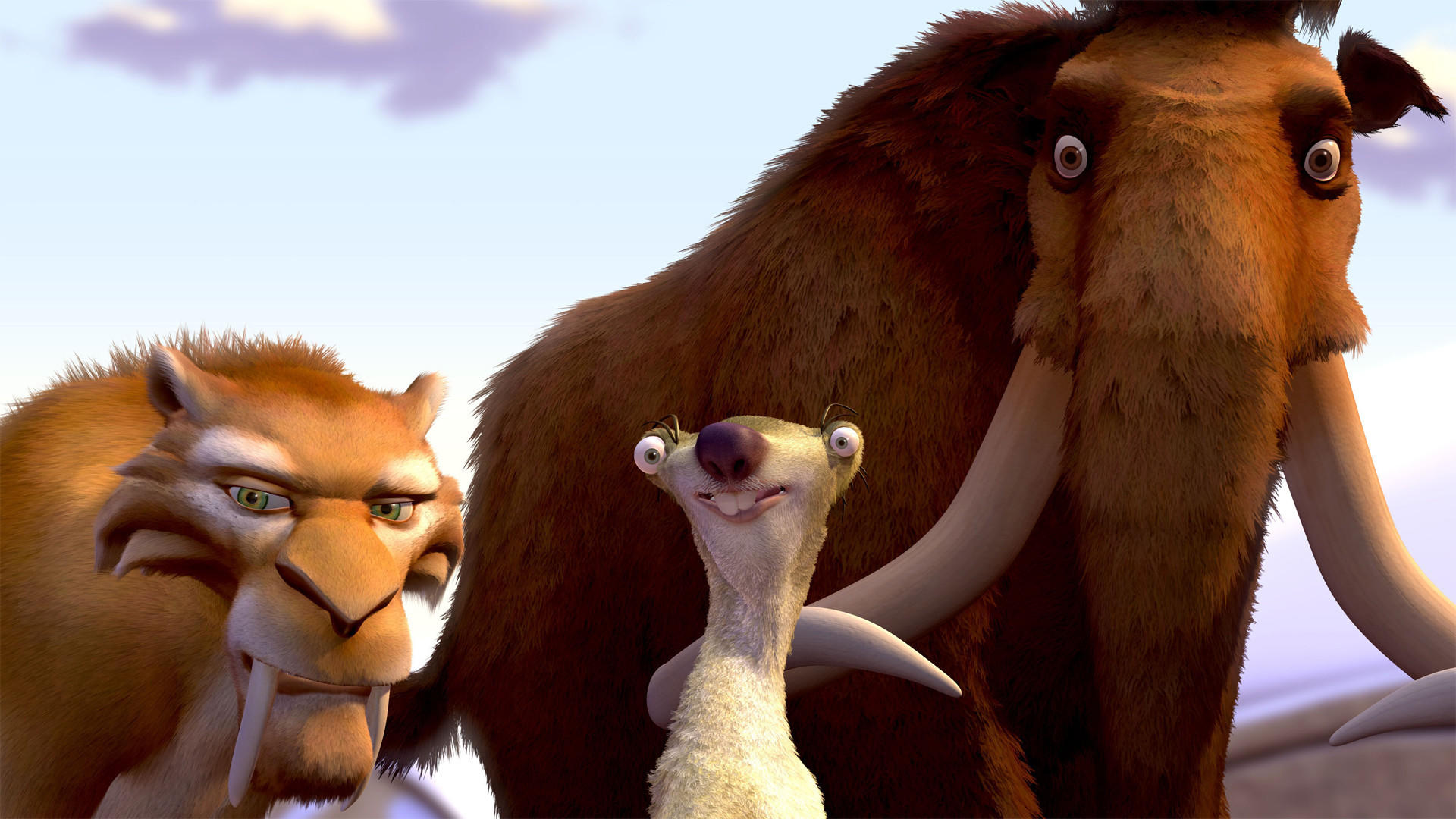 Ice Age does all the aspects of the formula delightfully. The significant characters are pared down to only three and the film etches surprisingly strong depths and nuances out of them during the journey. There are no songs or cutsie comic relief. What is also appealing is the modesty of the animation in comparison to the modern Disney films, which construct dazzling flourishes of animated art, but where the characters and stories tend to be formulaic and predictable.
A good comparison to Ice Age might be Pixar/Disney's Monsters, Inc. (2001), another appealing CGI animated film that appeared several months earlier, which, while a great deal of fun, tended to draw obtrusive attention to the flashy detail of its animation. Ice Age by contrast deals up animation that is quietly impressive but without self-conscious flourish and is instead carried entirely by the warmth of its characters (something alas that could not be said for the sequels).
Blue Sky Studios made four disappointing sequels Ice Age 2 (2006), Ice Age 3: Dawn of the Dinosaurs (2009), Ice Age: Continental Drift (2012) and Ice Age: Collision Course (2016). Blue Sky went onto make subsequent animated films such as Robots (2005), Horton Hears a Who! (2008), Rio (2011), Epic (2013), The Peanuts Movie (2015), Ferdinand (2017) and Spies in Disguise (2019).
(No. 8 on the SF, Horror & Fantasy Box-Office Top 10 of 2002 list).
---
---