---
Crew
Directors – Steve Box & Nick Park, Screenplay – Steve Box, Nick Park, Bob Baker & Nick Burton, Producers – Nick Park, Peter Lord, Carla Shelley & David Sproxton, Photography – Tristan Oliver & Dave Alex Riddett, Music – Julian Nott, Animation Supervisor – Loyd Park, Visual Effects Supervisor – Bridget Mazzey, Visual Effects – The Moving Picture Co (Supervisor – Paddy Eason), Production Design – Phil Lewis, Model Production Design – Jan Sanger. Production Company – Aardman Features.
Voices
Peter Sallis (Wallace), Helena Bonham Carter (Lady Campanula Tottington), Ralph Fiennes (Victor Quartermaine), Nicholas Smith (Reverend Hedges)
---
Plot
Wallace and his dog Gromit run the Anti-Pesto pest control service where they humanely capture rabbits that try to devour the locals' prize vegetables. They are hired by the aristocratic Lady Tottington to clear her estate but come up against her would-be paramour Victor Quartermaine, who wants to hunt down and shoot the rabbits. Wallace has the idea to use a lunar-powered brain-reprogramming machine attached to his own head to reprogram the minds of the captured rabbits not to like vegetables anymore but the device backfires when a rabbit gets stuck in it. That night a monster runs amok through the local vege patches under the full moon. The local vicar describes it as a giant were-rabbit. Wallace and Gromit devise a plan to capture the were-rabbit. Gromit lassoes it but it escapes. He thinks that the were-rabbit might be Hutch, the bunny that became caught in the brain machine, but then discovers that it is Wallace. As Wallace transforms into the giant rabbit and goes amok at the local fair, Gromit tries to save him, while Quartermaine determines to hunt down and kill Wallace using a 24-carat gold bullet.
---
Aardman Animation was a company formed in the 1976 by Peter Lord and David Sproxton (who were later joined by Nick Park). Aardman specialise in stop-motion (usually plasticine and Claymation) animation. Aardman began work creating small slots for various tv programs and moved on to commercials, before gaining attention with the groundbreaking Peter Gabriel music video Sledgehammer (1986), which featured Gabriel transforming into all manner of objects.
Aardman's greatest fame however came with the Wallace and Gromit shorts, all directed by Nick Park, and various other works, including the tv series Lip Synch (1989), which featured the Oscar-winning short Creature Comforts (1990), a mock documentary where various clay animated zoo animals are interviewed about life. The Wallace and Gromit shorts are muchly loved and have a huge appeal with audiences, both children and adults. The success of the shorts allowed Aardman to go onto bigger projects with the tv series' Rex the Runt (1998) and Creature Comforts (2003) and the highly successful feature film Chicken Run (2000).
The Wallace and Gromit shorts consist of A Grand Day Out (1992), The Wrong Trousers (1993) and A Close Shave (1995), as well as Cracking Contraptions (2002), a further series of ten 2½ minute shorts that have been variously broadcast or sold on DVD. They concern the characters of Wallace, a middle-aging British man with a West Country accent, and his dog companion Gromit, who is also an electronics genius and often more intelligent than his master. The appeal of the Wallace and Gromit shorts was the two characters who nonchalantly live in perfect British rural domesticity – in tone, the Wallace and Gromit shorts come across as a peculiar mix of Coronation Street (1960– ) and a Warner Brothers cartoon. The shorts are filled with all manner of madcap Rude Goldberg inventions and have a nutty delirium, containing images that include, among other things, a pair of walking robotic trousers, an evil criminal penguin that disguises itself as a chicken with a rubber glove on its head and a robot dog running a sheep-rustling scheme. Wallace & Gromit in The Curse of the Were-Rabbit marks the characters' debut in a feature film.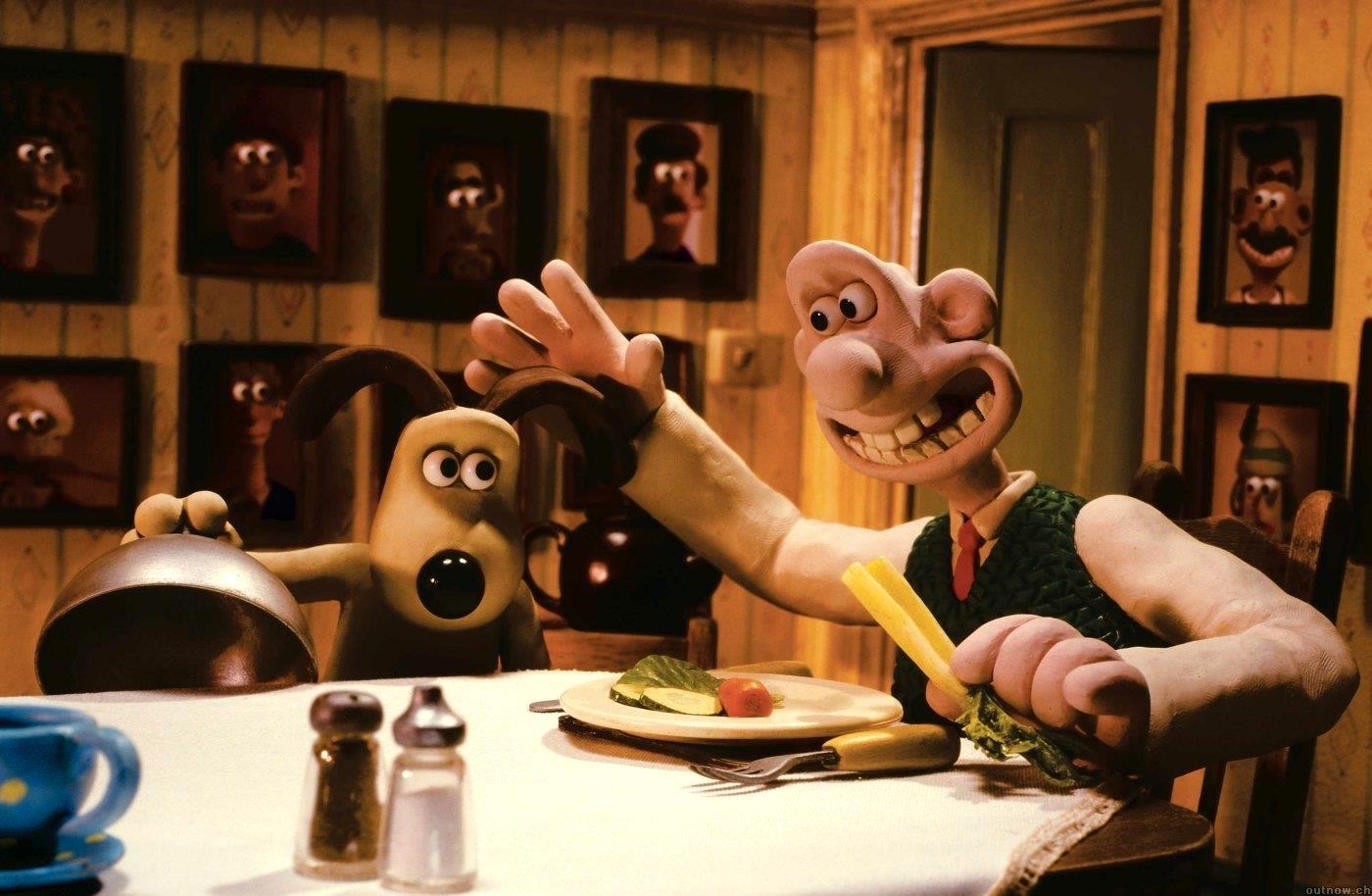 Wallace & Gromit in The Curse of the Were-Rabbit works most enjoyably. The Curse of the Were-Rabbit is a film that holds so much visual invention packed away in every frame that it requires multiple viewings to take everything in. Aaardman's love of nutty contraptions is still there – the film opens with a marvellously deadpan sequence (a variant on the one that appeared in A Close Shave) with a contrivance of mechanical arms, chutes and levers that propel the duo into their workday costumes and provide cups of tea while placing them inside their van, with the front yard pond rotating over to become a driveway as they head off to work.
The Aardmans pack the film with visual puns – Wallace gets his hand caught in a mousetrap while going to get some cheese and has to sheepishly admit to being literally "caught red-handed"; the only way to kill the were-rabbit is with a "24 carrot" gold bullet; the line of books that Wallace hides his cheese behind include titles like East of Edam and Fromage to Eternity; Quatermaine throws a fork at Lady Tottington, impaling her through the hair and stops to admire her: "I like you with your hair pinned back".
The visual gags are side-splittingly funny. There is a marvellously silly scene with Gromit pursuing the lassoed were-rabbit in the van through the streets and then underground where he activates various buttons to turn the windscreen wipers onto 'Heavy Loam' mode as they burrow through the soil and afterwards to 'De-Mud', whereupon the vehicle shakes itself clean like a dog. The were-rabbit's appearances are a wonderful spoof of the werewolf transformations in films like The Howling (1980) and An American Werewolf in London (1981) – there is no more bizarrely wacky an image than the sight of Wallace suddenly sprouting a pair of rabbit teeth, followed by a big fluffy tail bursting out of his pants and then the giant transformed rabbit pounding its back paw on the ground and howling to all the other rabbits in the vicinity.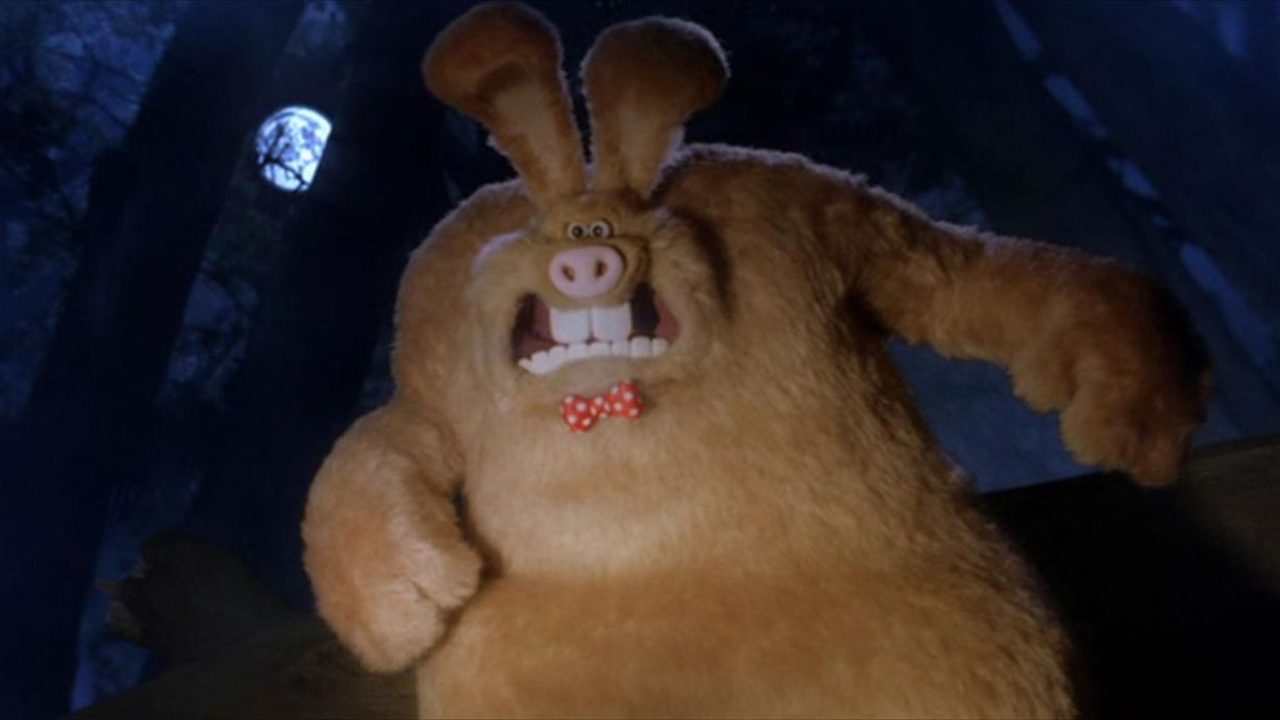 The most deliriously silly sequence is the climax, which turns into a parody of King Kong (1933) with Gromit and Quartermaine's dog Philip pursuing each other round the ramparts of Lady Tottington's mansion on a dodgem biplane where the chase is suddenly brought to a halt when the fairground plane runs out of money and both combatants are forced to search in their purses for 10p. As the end credits roll, various rabbits frolic in mid-air in the background and when the usual credit about "no animals being harmed in the making of this production" appears, one of the bunnies promptly bangs up against it. Perhaps in the end, one feels that Wallace and Gromit work marginally better in short film form than long – like Chicken Run, they do feel ever so slightly stretched at feature length. Nevertheless, The Curse of the Were-Rabbit is sublimely silly fun.
Next up for Aardman was the cartoon-animated likes of Flushed Away (2006) and Arthur Christmas (2011), and The Pirates! Band of Misfits (2012), which combined both Claymation and computer-drawn animation, while Shaun the Sheep Movie (2015), Early Man (2018) and Farmageddon (2019) saw a return to Claymation.
(Winner in this site's Top 10 Films of 2005 list).
---