---
USA. 2005.
Crew
Directors – Tim Burton & Mike Johnson, Screenplay – John August, Pamela Pettler & Caroline Thompson, Characters Created by Tim Burton & Carlos Grangel, Producers – Tim Burton & Allison Abbate, Photography/Visual Effects Supervisor – Pete Kozachik, Music/Songs – Danny Elfman, Visual Effects – The Moving Picture Company (Supervisor – Jessica Norman), Production Design – Alex McDowell, Puppets Created by Ian MacKinnon & Peter Sanders. Production Company – Tim Burton/Laika Entertainment
Voices
Johnny Depp (Victor Van Dort), Helena Bonham Carter (Emily the Corpse Bride), Emily Watson (Victoria Everglot), Joanna Lumley (Maudeline Everglot), Albert Finney (Finnis Everglot), Tracey Ullman (Nell Van Dort/Hildegarde), Paul Whitehouse (William Van Dort/Mayhew/Paul the Head Waiter), Richard E. Grant (Lord Barkis Bittern), Christopher Lee (Pastor Galswells), Michael Gough (Elder Gutknecht), Enn Reitel (Maggot/Town Crier), Jane Horrocks (Black Widow Spider/Mrs Plum)
---
Plot
Victor, the son of the well-to-do Van Dort fishmonger family, is about to be married to Victoria, the daughter of the Everglot family. However, the Everglots are keeping it secret that they are penniless. Decorum is such that Victor and Victoria have never met but the two are attracted to one another when they briefly meet in the Everglot foyer. During the wedding rehearsals, Victor is nervous and constantly messes up the ritual. He goes out into the woods to practice his lines. Without realizing, he unwittingly places the wedding ring on the finger of a corpse who promptly comes to life and now insists that she is his bride. Emily, the corpse bride, takes Victor down to the afterlife with her. He makes all effort to get back and be with Victoria. However, both the Van Dorts and Everglots believe that Victor has fled with another woman and plan to marry Victoria off to the villainous Lord Barkis Bittern.
---
Tim Burton is one of the great modern directors in fantasy cinema. Burton has to his name classic films such as Beetlejuice (1988), Batman (1989), Edward Scissorhands (1990), Batman Returns (1992), The Nightmare Before Christmas (1993) and Ed Wood (1994), which all come with a quirky sense of humour, exquisitely stylized production design and great sympathy for eccentric outsider heroes. Certainly, what must be said is that Tim Burton's films from the latter half of the 1990s onwards – the likes of Mars Attacks (1996), Sleepy Hollow (1999), Planet of the Apes (2001), Big Fish (2003), Charlie and the Chocolate Factory (2005), Sweeney Todd: The Demon Barber of Fleet Street (2007), Alice in Wonderland (2010), Dark Shadows (2012), Big Eyes (2014) and Miss Peregrine's Home for Peculiar Children (2016) – fail to flow on full cylinders. One has been impatiently waiting for a return to form from Tim Burton for some time.
Tim Burton has also has a fascination with stop-motion animation. Burton started working as a hand-drawn animator at Disney with his first film being the stop-motion animated short Vincent (1982). Tim Burton of course also created one previous feature-length stop-motion animated film with the great The Nightmare Before Christmas and also produced Nightmare director Henry Selick's stop-motion follow-up James and the Giant Peach (1996). Burton subsequently went onto produce the animated 9 (2009) and solo directed the stop-motion animated Frankenweenie (2012). Burton's characteristically quirky stop-motion figures also pop in the background of Pee-Wee's Big Adventure (1985), Beetlejuice, Sleepy Hollow and the Burton-produced Cabin Boy (1994). Throughout these films, Tim Burton has created a distinctive animation style – of stretch characters, highly stylised sets that seem a mix of carnivalesque and Dr Caligari, and a ghoulishly Jack-in-the-Box sense of the macabre humour.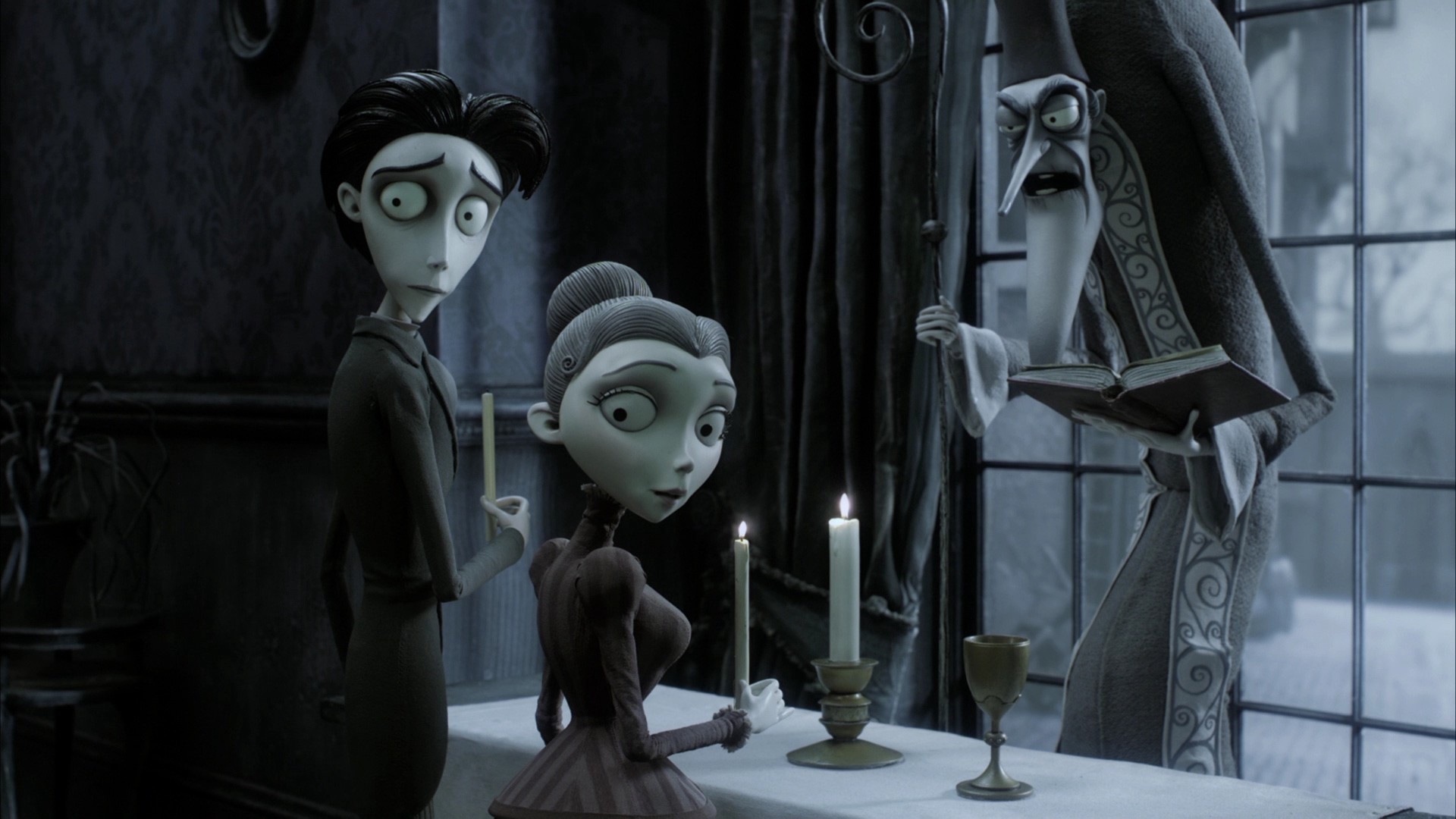 Tim Burton takes a co-director credit on Corpse Bride, the first occasion he has done so for any of his stop-motion features. His co-director is Mike Johnson, previously an animator on The Nightmare Before Christmas and James and the Giant Peach, as well as a director on the Claymation animated tv series The PJs (1999-2001). Many of Tim Burton's usual contributors are also on board, including regular star Johnny Depp, Burton's girlfriend Helena Bonham Carter, musician Danny Elfman and Caroline Thompson, the screenwriter of Edward Scissorhands, The Nightmare Before Christmas, City of Ember (2008) and the one other mainstream family film of dark sensibility in recent memory The Addams Family (1991), as well as John August who has since become a regular writer for Burton. In subsequent years, Laika, the company they shipped the stop-motion out to, became one of the foremost stop-motion specialists in the world with films such as ParaNorman (2012), The BoxTrolls (2014) and Kubo and the Two Strings (2016).
Welcomely, after several films that have failed to fire the way that Tim Burton films used to, Corpse Bride is a strong return to form for Burton and one of the best and most distinctively Burton-esque films he has made in several years. Corpse Bride is a successor of sorts to The Nightmare Before Christmas. Maybe if one can imagine the eccentrically Gothic stop-motion characters of The Nightmare Before Christmas crossbred with the zany afterlife ventured into in Beetlejuice.
Corpse Bride is a masterpiece of design. Far more than was the case in The Nightmare Before Christmas, Burton's stylised characters and world design seem more closely than ever to draw upon the illustrations of Edward Gorey – the characters come with bizarrely elongated build where they are all stick insect-like legs, gigantic chins or squatly rotund barrel shapes. Johnny Depp's Victor and Emily Watson's Victoria, even Helena Bonham Carter's undead bride, all have plaintive strength, none the more so than the lovely scenes where we see them playing piano (which has been named Harryhausen in homage to stop-motion animation legend Ray Harryhausen). The mutual families are caricatured as perfectly horrid, while a number of scenes are stolen by a maggot with a Peter Lorre voice that hides behind the Bride's eyeball. The buildings and carriages are even the same squashed elongated shapes, while all the above-ground scenes have been designed in a dazzling monotone grey colour scheme with the film opening up to introduce vibrant colour once it gets down to the underworld.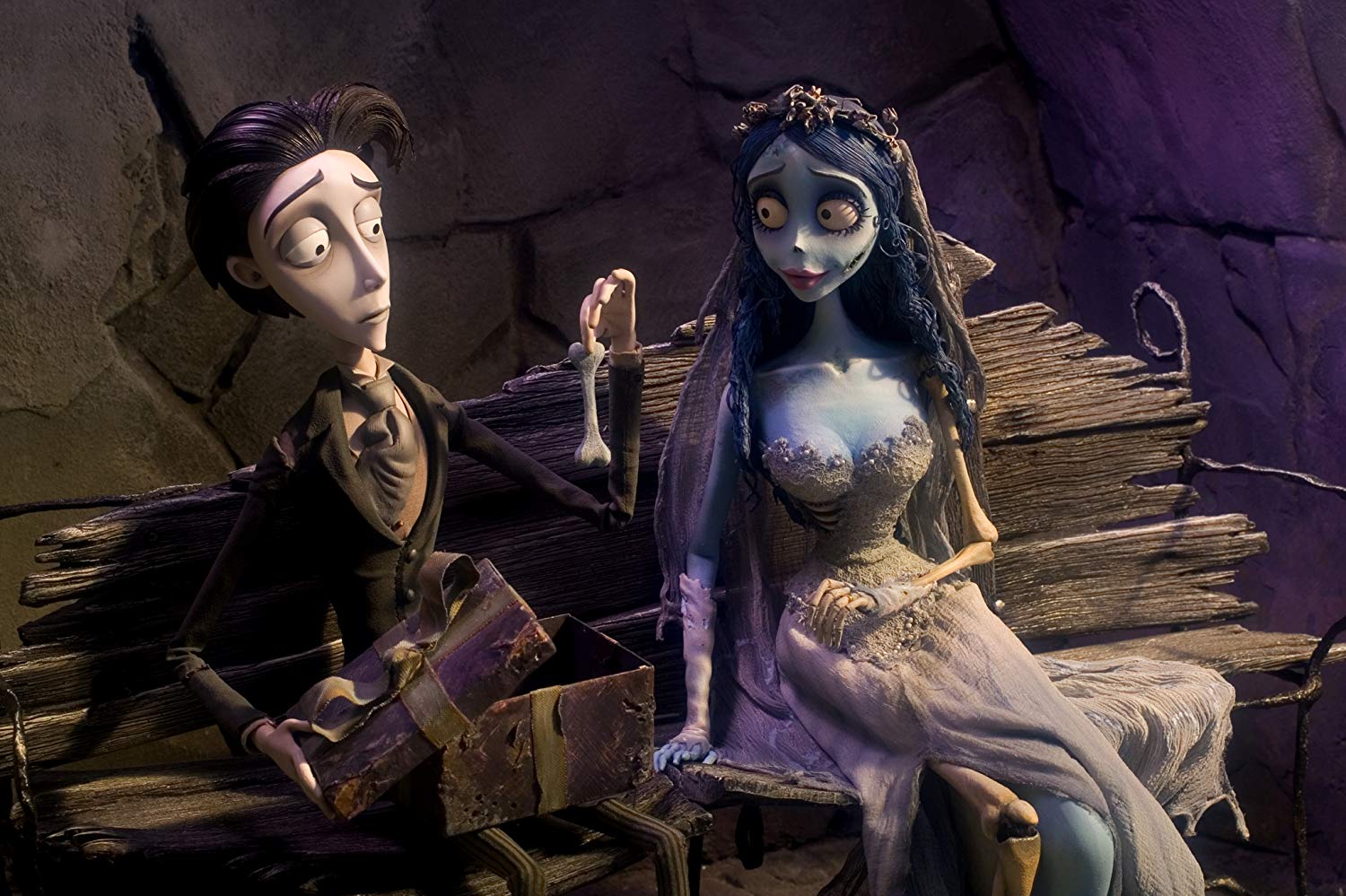 Tim Burton and Mike Johnson have corralled a cast of voice talents, including a sizeable line-up of British actors, which number Burton faves and Hammer horror legends Christopher Lee and Michael Gough amongst them. Danny Elfman writes some lively, if in the end perhaps not truly memorable songs, including an appealing numbers with dancing skeletons using their bodies as musical instruments. There are numerous death-related puns and some witty song lyrics.
In fact, Corpse Bride is one of the darkest and most ghoulish mainstream family films that one has seen in some time – since indeed The Nightmare Before Christmas. Caroline Thompson seems to like these perverse characters in her scripts, which always hold sympathy for the Gothique, the dead, the scary and the perverse. As in her script for The Nightmare Before Christmas, traditional sympathies are so turned on their head that we end up feeling for the undead corpse bride and, as in The Addams Family, we eventually end up seeing the dead as much more likeable than the pompous and self-important living characters.
Not too surprisingly, both Corpse Bride and The Nightmare Before Christmas, though stylistic masterpieces, ended up being box-office failures, a sad fate for works that involved such painstaking artistry. The unique and original synthesis of colour and design, the characters and the darkly macabre sense of humour, add up to a film that is quite stunning.
(Winner in this site's Top 10 Films of 2005 list. Winner for Best Production Design at this site's Best of 2005 Awards).
---
---