---
Crew
Director – Luc Besson, Screenplay – Luc Besson & Andrew Birkin, Producer – Patrice Ledoux, Photography – Thierry Arbogast, Music – Eric Serra, Visual Effects Supervisor – Alain Carsoux, Special Effects Supervisor – Georges Demetrau, Production Design – Hugues Tissandier. Production Company – Leeloo Productions/Gaumont.
Cast
Milla Jovovich (Joan of Arc), John Malkovich (The Dauphin, Charles VII), Dustin Hoffman (The Conscience), Faye Dunaway (Yolande D'Aragon), Tcheky Karyo (Dunois), Timothy West (Bishop Cauchon), Jane Valentine (Young Joan), David Gant (The Duke of Bedford)
---
Plot
15th Century France. As a child, Joan has visions and is obsessed with going to church to confess three times a day. At the age of fourteen, she rides to The Dauphin, the heir to France's throne, to ask him for an army to drive back the invading English. He grants her request and she leads the army to incredible success, driven by an uncanny religious fervour and an insane recklessness. However, after The Dauphin is successfully crowned king due to her effort, he withdraws his backing and allows Joan to be captured by the English and placed on trial for heresy. There the voice of her visions appears to her, taunting her as to whether she made the right decisions or was driven by her own self-glory.
---
French director Luc Besson first drew attention to himself with the visually dazzling Subway (1986) and went on to make the impressive The Big Blue (1988), a mystical film about diving. However, it was with Nikita/La Femme Nikita (1990) and The Professional/Leon (1994), two extraordinarily stylish action films that made striking contrast between the fragilely human and breathtaking action set-pieces, that Luc Besson succeeded in flooring audiences. Alas, while both of these transformed Luc Besson into France's No 1 film-maker and made him a major player in the West, Besson's next two films, The Fifth Element (1997) and The Messenger: The Story of Joan of Arc, show that big-budget Hollywood-style filmmaking has only succeeded in drowning in leaden, overinflated action bombast all the things that Besson did infinitely better on a medium-range budget.
The Messenger: The Story of Joan of Arc is case in point. Where previous versions of the Joan of Arc story – Carl Dreyer's The Passion of Joan of Arc (1928), which is widely regarded as one of the all-time great films; the stolid Ingrid Bergman version Saint Joan (1948); and the terrible Otto Preminger-Jean Seberg version Saint Joan (1957) – have tended to treat the story as an historical film, concentrating on Joan's persecution and martyrdom, Luc Besson treats the story of Joan of Arc as a kind of crazed religious action film.
Here the historical story gets engulfed by the insistently in-your-face-spectacularity of Luc Besson's canvas. In the opening scenes, for example, the child Joan runs across fields of flowers – but not just one field but multiple fields of flowers that come in a different colour with each successive shot; when Joan runs away from her parents, she doesn't merely flee but conducts an epic flight across vast fields and a bare hill-line that is starkly illuminated by a single tree.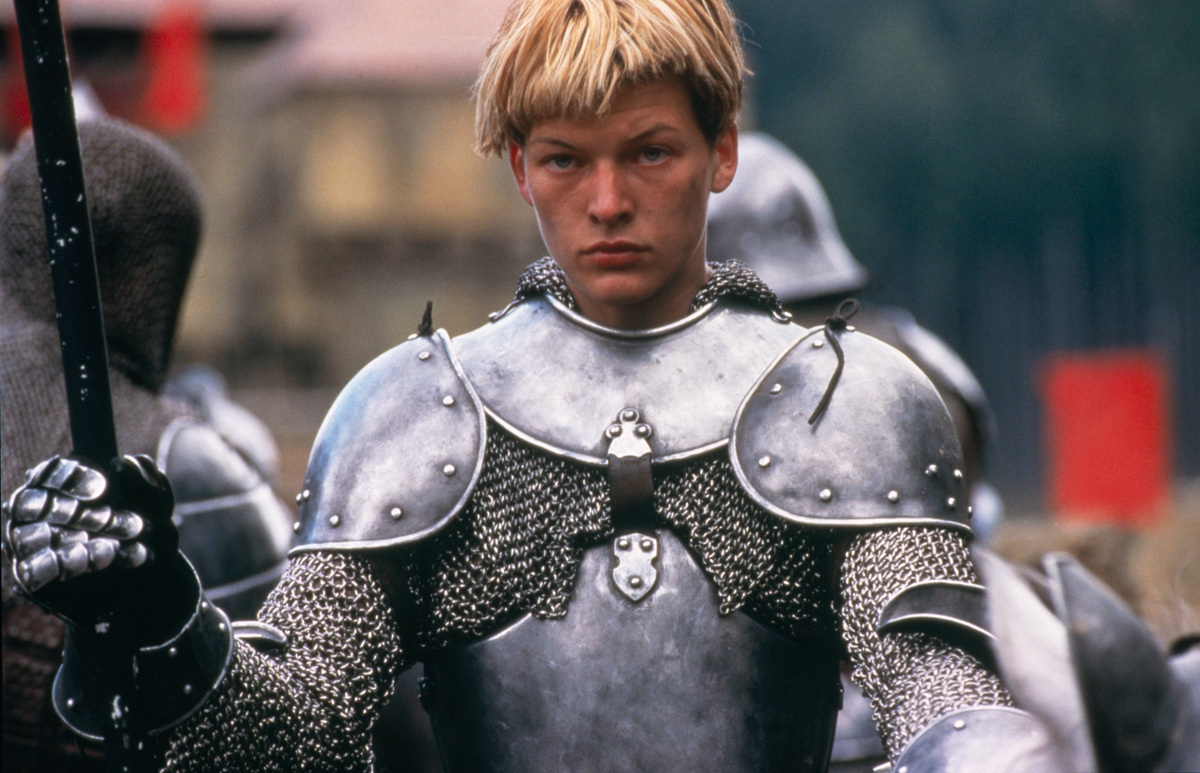 Where all previous versions of the Joan of Arc story have kept a discreet distance from commenting on whether Joan's visions were real or not, Luc Besson lacks any such hesitancy and leaps right in there with her in a full flight of Catholic passion filled with speeded-up clouds scudding across the sky with CGI faces emerging and stained glass windows exploding to life.
Oddly enough, while Luc Besson's approach may make historical purists balk, it is in these areas rather than the martyrdom and trial aspects, that The Messenger: The Story of Joan of Arc eventually works. The Messenger is the first version of any Joan of Arc story to treat Joan as a psychological study rather than as an objective historic force. For all that The Messenger: The Story of Joan of Arc was slammed for Milla Jovovich (the former Mrs Luc Besson)'s performance, Jovovich does well in the part. She and Besson give us an insanely crazed Joan who rallies her troops with a reckless certainty in guiding divine purpose and a charged-up intensity that seems to spill over at the edges with holy fire. It is a performance where you can see just what it was about such a character that she inspired a king and an entire army to follow a teenage girl into battle.
The Messenger: The Story of Joan of Arc works the best during the middle where Luc Besson's Braveheart (1985)-styled widescreen action scope and his personalised portrait of Joan comes to the fore. However, it is during the trial scenes, which have usually been the dramatic highlight of previous versions (notably the Dreyer version), that the film falls apart. These seem conducted with a lack of dramatic interest upon Luc Besson's part. The use of Dustin Hoffman as the voice of Joan's conscience is a plot device that is downright bizarre.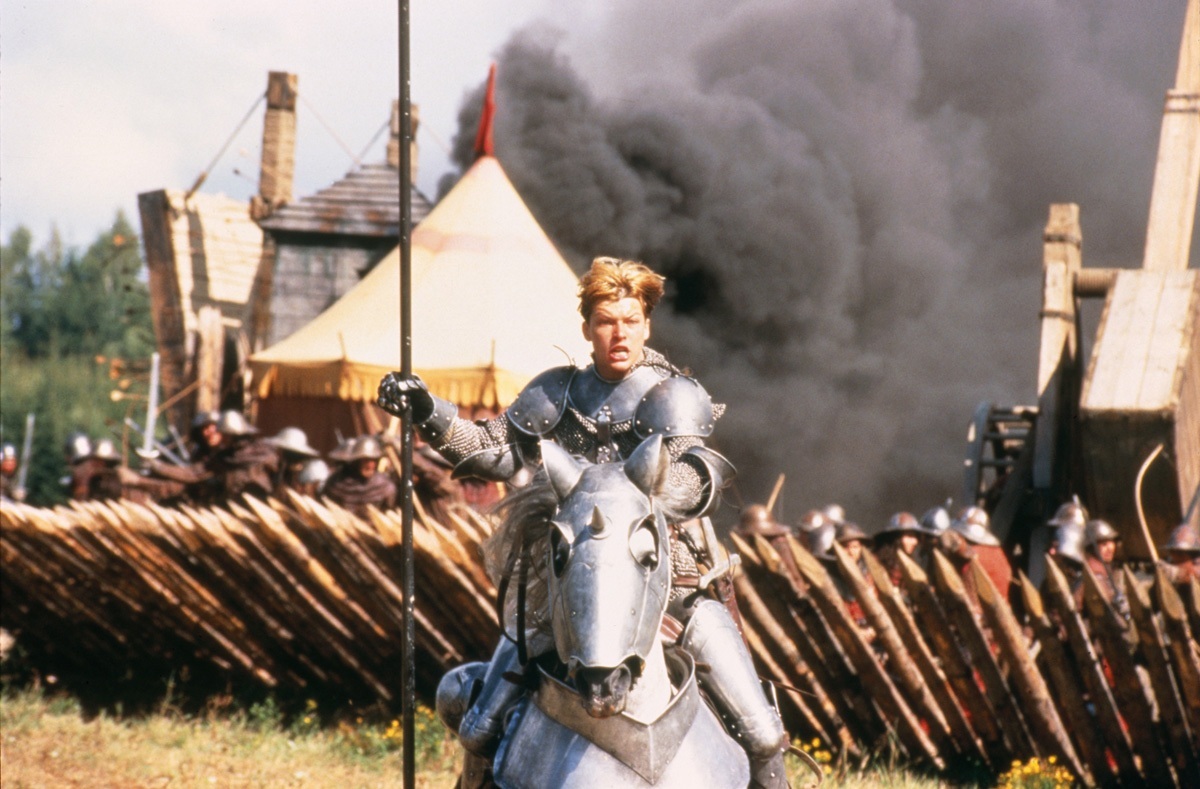 Moreover, Besson ends up creating a film that is divided against itself. Most other versions of the Joan story have remained at a discreet distance from commenting on the actuality of Joan's visions (and the inevitable question that goes with it of whether she was insane or divinely guided) and have concentrated instead on the historical events surrounding her – not so Besson. What one finds difficult to swallow about Besson's treatment is that it comes served with a complete lack of critical regard. Accepting Joan's visions at face value requires an unquestioning acceptance of Catholic dogma and the absurd notion that God fights on the side of France.
In the latter third of the film, Besson and scriptwriter Andrew Birkin try to belatedly catch up and start analysing Joan's motivation and The Messenger turns it into an historic psychoanalysis session of sorts. Unfortunately, one could not help but compare Milla Jovovich with Dustin Hoffman as the voice of conscience to Edward Norton and the phantom Brad Pitt in Fight Club (1999), which was released only a month earlier, whereupon The Messenger started to collapse into unintentional laughter.
The end result, in questioning every single detail of Joan's motivation, creates so much confusion that The Messenger disappears into a morass of doubt as to whether she is deluded and self-aggrandising or whether her visions were genuine. Dustin Hoffman's final granting of redemption at the end would seem to indicate the latter but by then so much doubt has been piled on Joan's character that the film trails off into nebulous uncertainty. That may well be exactly the way the historic Joan appears when you try to get a grasp on her as a character but it makes for a muddle as a film.
Luc Besson's other films of genre note are the arty Le Dernier Combat (1983) set in a post-holocaust world where people have become mute; the space opera/action film The Fifth Element (1997); the eccentric angelic intervention film Angel-A (2005); Arthur and the Invisibles (2006), a part-live, part-animated film based on his own children's books about adventures in a land of miniaturized people, and its sequels Arthur and the Revenge of Maltazard (2009), Arthur and the Two Worlds War (2010) and Arthur, Malediction! (2022); the adventure film The Extraordinary Adventures of Adele Blanc-Sec (2010); Lucy (2014) in which Scarlett Johansson gains enormously expanded mental abilities; and the space opera Valerian and the City of a Thousand Planets (2017). Besson also produced and wrote Kamikaze (1986) where a scientists invents a device that can kill people on tv and The Dancer (2000) about a mute dancer who gains expression through a unique sound invention; produced the mystical quasi-sf Quebecois film Chaos and Desire (2002): wrote and produced the End Times serial killer thriller Crimson Rivers II: Angels of the Apocalypse (2003); produced the serial killer film Tristan (2003); produced and wrote the futuristic action film Banlieue 13 (2004) and its sequel Banlieue 13: Ultimatum (2009); produced the serial killer thriller Tell No One (2006); produced the Backwoods Brutality film Frontier(s) (2007); produced the videogame adaptation Hitman (2007); produced the horror film The Secret (2007); produced the animated A Monster in Paris (2011); produced the orbiting prison film Lockout (2012); wrote/produced the English-language Banlieue 13 remake Brick Mansions (2014); and wrote/produced The Warriors Gate (2016) in which a videogamer is transported to Ancient China.
---
---