---
Crew
Director – Tim Sullivan, Screenplay – Chris Kobin, Tim Sullivan & Christopher Tuffin, Producers – Mike Greene, Martin Shore & Christopher Tuffin, Photography – Mike Karasick, Visual Effects Supervisor – Tammy Sutton-Walker, Visual Effects – Bentlight Digital & Adam Fanton, Makeup Effects Design – Jim Ojala, Production Design – Mark Achilles White. Production Company – Social Capital Films/Tax Credit Finance/Bloodworks/Amber Green.
Cast
Bill Moseley (Mayor George W. Buckman), Lin Shaye (Granny Boone), Alex Luria (Jesus), Katy Johnson (Rome Sheraton), Asa Hope (Tina Sheraton), Andrea Leon (Val Turner), Larayia Gaston (Black Cherry), Miles Dougal (Jerry Schmidt), Ahmed Best (Crow), Kevin 'Ogre' Ogilvie (Harper Alexander), Ryan Fleming (Hucklebilly), Trevor Wright (Falcon), Jordan Yale Levine (K-Jay), Christa Campbell (Milk Maiden), Christopher McDaniel (Rufus), Alana Curry (Bristol Bush), Adam Robitel (Lester), Clifford Alan Wagner (Legend), Nicole Rae (Scarlet Red), Kathryn Le (China Rose), Charlie Parrish (Sheriff Friedman)
---
Plot
The timewarped residents of Pleasant Valley are seeking more Northern souls to sacrifice so that they can obtain their freedom. Opportunity comes their way when the tour bus of the reality tv show fronted by spoiled rich sisters Rome and Tina Sheraton breaks down after detouring into the valley. As the group decides to shoot material with the residents of the valley, the locals set about slaughtering them.
---
2001 Maniacs (2005) was a reasonable success for director Tim Sullivan. It was a remake of the old Herschell Gordon Lewis splatter film Two Thousand Maniacs! (1964) in which a timeslipped town of Southerners emerged into the present and took revenge against the Northerners. Tim Sullivan, who made his film with the backing of Eli Roth, updated his version, planted tongue in cheek and let the blood flow once again. 2001 Maniacs: Field of Screams is a sequel. Tim Sullivan is back, as is Lin Shaye and Christa Campbell, although Eli Roth is absent and Robert Englund, who played the mayor in the first film, has been replaced in the role by another genre veteran Bill Moseley.
You get the impression that Tim Sullivan was only able to get limited money together to make 2001 Maniacs: Field of Screams – it was shot in twelve days in Iowa and looks as though they avoided building any sets by shooting everything in and around tents. There is also the feeling that the film was quickly thrown together, less comprised of an original script than of Sullivan and co throwing together a bunch of random scenes designed to highlight the actors.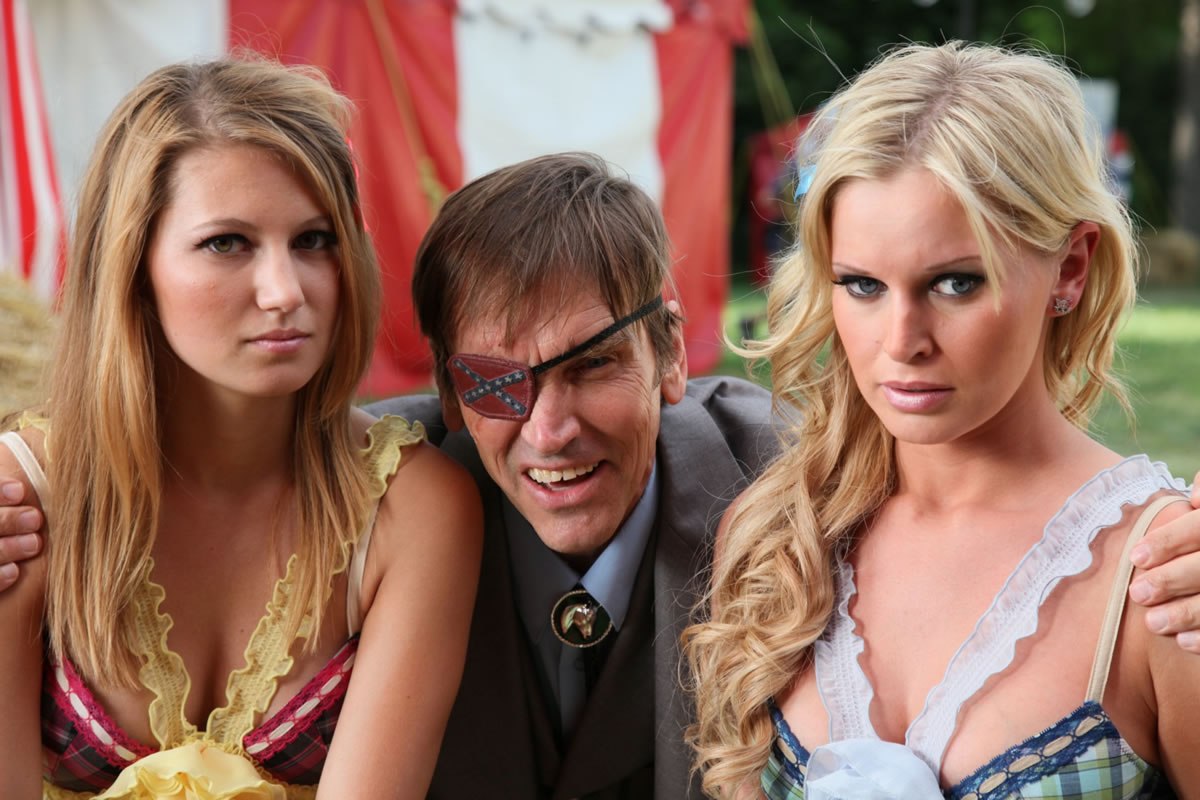 Field of Screams offers fairly much the same as before. The principal conceit this time is that the bunch of college students from the first film have been replaced by two self-absorbed sisters and a film crew in what is clearly intended as a parody of the tv series The Real Life (2003-7) – the intent is made obvious when we go from the Hilton Sisters to the Sheraton Sisters. All of the crew are depicted as so self-absorbed and despicable as to deservous of their fates. It feels here that Sullivan's efforts to play Field of Screams up as a horror comedy become over-stressed and shrill. What we have is less polished, more a film driven by its intentionally ridiculous comic caricatures than by standout gore set-pieces as its predecessor was.
Moreover, the gore set-pieces often seem cheap and unconvincing this time, most notably a scene where Miles Dougal is made up as Abraham Lincoln and gets his head blown off with an exploding cigar. Sullivan does at least include the scene from Two Thousand Maniacs! that was noticeably missing from the remake where a victim is placed inside a barrel of nails and rolled down a hill. There is another sequence where Sullivan manages to turn a parody of Flashdance (1983) into a spoof of Carrie (1976)'s bucket of blood scene.
Tim Sullivan also made the horror film Driftwood (2006) and the I Was a Teenage Werebear episode of the anthology Chillerama (2011). Sullivan has also written segments of the ghetto horror anthology Snoop Dogg's Hood of Horror (2006) and has produced Bloody Bloody Bible Camp (2011) and Cut/Print (2012).
---
---