---
Crew
Director – Victor Garcia, Screenplay – Matt Venne, Producers – John Portnow, Nick Thurlow & Todd Williams, Photography – Lorenzo Senatore, Music – Frederik Wiedmann, Visual Effects – Post Mango Louisiana (Supervisor – Sean Findley & Troy Morgan), Special Effects Supervisor – Neil Stockstill, Makeup Effects – Howard Berger & Gregory Nicotero, Production Design – Andrew W. Bofinger. Production Company – 20th Century Fox Home Entertainment/Regency Enterprises.
Cast
Nick Stahl (Max Matheson), Emmanuelle Vaugier (Elizabeth Reigns), William Katt (Jack Matheson), Evan Jones (Henry Schow), Lawrence Turner (Keller Landreaux), Christy Romano (Jenna McCarty), Jon Michael Davis (Ryan Parker), Lance E. Nichols (Detective Pete Huston), Wayne Pere (Detective Piccirilli), Ann McKenzie (Dr Beaumont), Stephanie Honore Sanchez (Eleanor Reigns), Jennifer Sipes (Kayla)
---
Plot
In New Orleans, Max Matheson is recovering following the death of his girlfriend Kayla in a car accident one year earlier. His father Jack is opening a new department store, a recreation of the Mayflower building, and has even imported the same mirror. Max is offered the job of night security after the previous guard is hospitalised following an incident in which he eats broken glass. Alone in the building, Max starts to see mysterious things, including the figure of a girl reflected in the mirrors. Mirrors everywhere come to life to kill members of the executive staff. Max approaches Elizabeth Reigns, whose younger sister has gone missing, believing that her sister is the girl he is seeing in the mirrors.
---
Mirrors (2008) was the English-language remake of a South Korean horror film Into the Mirror (2003). It was a moderate success for director Alexandre Aja and did some theatrical play. Mirrors 2 is a sequel that was released direct to dvd.
Mirrors 2 comes from Spanish director Victor Garcia who has mostly made a career out of making sequels to other horror films with the likes of 30 Days of Night: Blood Trails (2007), Return to House on Haunted Hill (2007) and Hellraiser: Revelations (2011), as well as several original films with Artic Predator (2010), Gallows Hill (2013) and An Affair to Die For (2019).
Victor Garcia's sequels do not have a good reputation, in particular the widely derided Hellraiser: Revelations. Mirrors 2 is no different. It is a very different film to its predecessor. There are overall plot similarities – a security guard who signs on to work at an empty department store, his discovering that the mirrors are haunted, the clues leading to a missing girl. Aside from this, the only real connection is the use of the same mirror from the Mayflower department store that is brought in here (despite being destroyed in the first film) amid William Katt muttering something about wanting to recreate the store.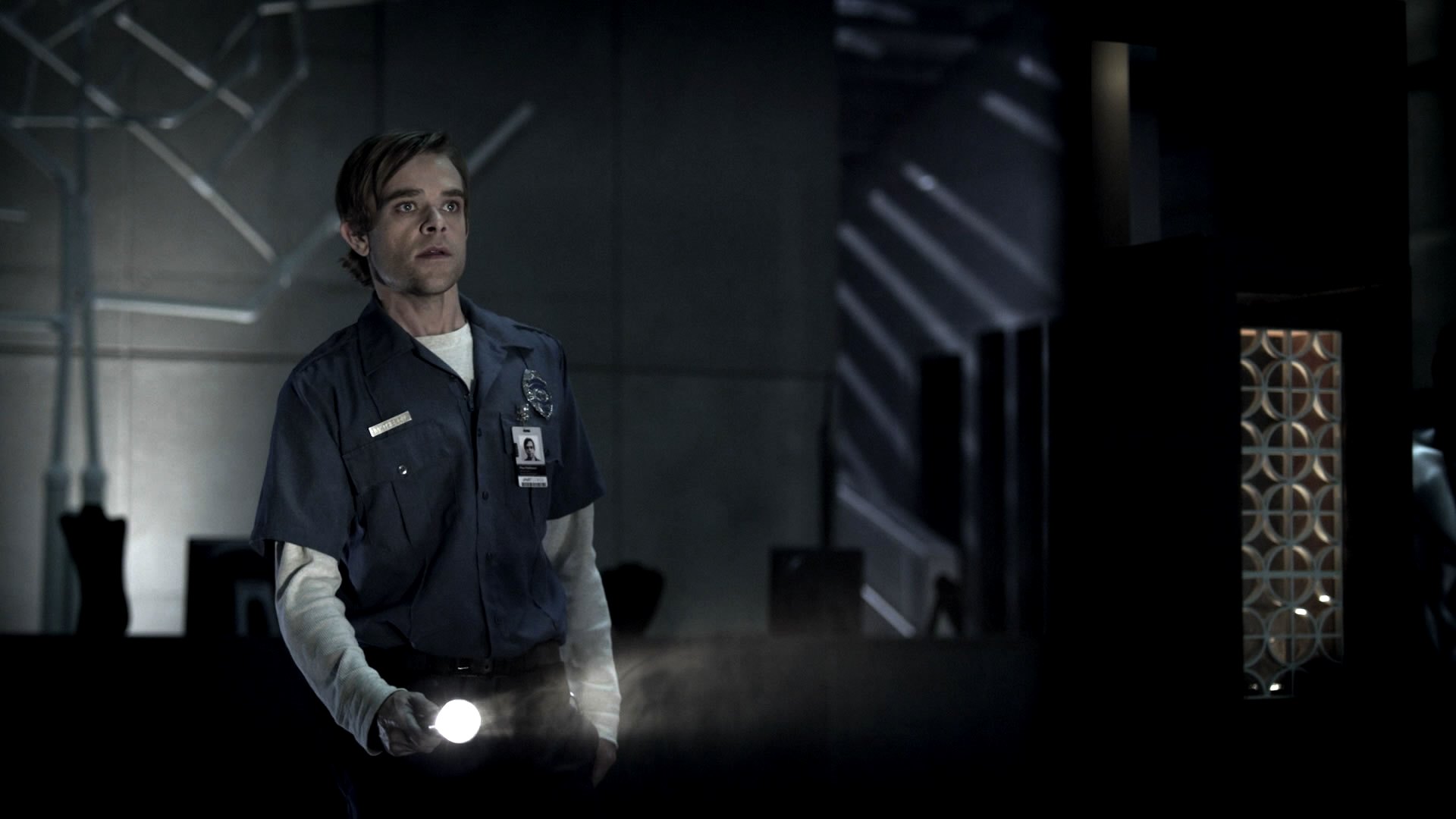 Mirrors was about a girl whose soul has been trapped in the mirror realm following an experiment in an asylum and how this had also unleashed a demon. By contrast, Mirrors 2 is a film about a girl who is murdered and whose spirit has become trapped in mirrors from where she seeks retribution against the people responsible for her death. The sequel features no demons, no former asylums with department stores built over them. In fact, this is now more of a Supernatural Retribution film that happens to involve mirrors.
Equally, Victor Garcia has stripped the basics of Mirrors down to only a series of novelty mirror deaths. By contrast, the first film had a total of two mirror deaths whereas this offers a death every few minutes – Evan Jones eating broken glass in the opening scenes; Jon Michael Davis's reflection slicing his calves and then cutting open his stomach and spilling out his intestines; and in the more entertainingly ridiculous set-piece Christy Romano stripping to take a shower and then falling and being beheaded by the broken glass of the shower door. There is little to it as a plot other than setting up deserving victims and then gorily killing them off.
---
Trailer here
---