---
Crew
Director – Anthony C. Ferrante, Screenplay – Scotty Mullen, Producer – David Michael Latt, Photography – Ryan Broomberg, Music – Christopher Cano & Chris Ridenhour, Visual Effects Supervisor – Glenn Campbell, Animation – Block & Tackle, Special Effects Supervisor – Georgi Kraev, Prosthetic Effects – Agnieszka Kukulka, Production Design – Felix Coles. Production Company – The Asylum.
Cast
Ian Ziering (Fin Shepard), Tara Reid (April Wexler), Cassie Scerbo (Nova Clarke), Billy Barrett (Gil Wexler), Chris Kattan (Prime Minister Ravenwood), Porsha Williams (Andromeda), Yanet Garcia (Chara), Dolph Lundgren (Mature Gil), Nichelle Nichols (Secretary General Starr), Fabio (The Pope), Geraldo Rivera (Dr Gerald Michael Angel), Olivia Newton-John (Orion), Downtown Julie Brown (Consigliere), Samantha Fox (Ms Moore), Bret Michaels (Himself), Sasha Cohen (Olympic Ice Skater), Charo (The Queen), Margaret Cho (Simone)
---
Plot
Fin Shepard, his wife April and their son Gil are in London to consult with the British Prime Minister about the sharknado problem. At the same time, Nova enters a tomb that has been uncovered beneath Stonehenge to discover evidence that the sharknados have been experienced since ancient times. She and Fin find an ancient stone that can summon the sharknados. However, their doing so triggers a sharknado that engulfs London. In the midst of this, Gil is swept up by the sharknado. In diving in to rescue him, Fin, April and Nova are teleported in Switzerland. From there, they are successively teleported from Australia to Rome, Japan and Egypt as Fin searches for the ancient source of the sharknados and tries to deal with the world-destroying consequences.
---
The first Sharknado (2013) was a surprise hit. It was just business as usual for The Asylum, a company that specialises in tongue-in-cheek low-budget monster movies, which have included a host of other gonzo shark films. However, the film became an unexpected audience hit for its deliberate ridiculousness and was resurrected for theatrical midnight screenings. The Asylum have followed it up at annual intervals with a series of sequels that have so far included Sharknado 2: The Second One (2014), Sharknado 3: Oh Hell No! (2015), Sharknado: The 4th Awakens (2016) and the subsequent The Last Sharknado: It's About Time (2018), all reuniting stars Ian Ziering and Tara Reid and director Anthony C. Ferrante.
Sharknado is the kind of hit that presents a headache to filmmakers in leaving them wondering how to top it. The Asylum, being the company that regularly trades in ridiculous titles, did do by repeating the basics with minimal variation and a slightly larger scale each time. The other thing that they have kept adding each time is celebrity cameos in which various has-beens and C-listers queue up to make appearances. These have ranged all the way from David Hasselhoff, Billy Ray Cyrus, Lorenzo Lamas, Jerry Springer and George R.R. Martin, even Subway spokesperson and subsequently convicted sex offender Jared Fogle. The Asylum soon found there were not many variations you could offer on the basics and by the time it came to Sharknado 4, the series seemed like a joke that was suffering from repetition – in order to create some variation, that film created different types of storms thus 'cownados' and ones made up of sand and electricity.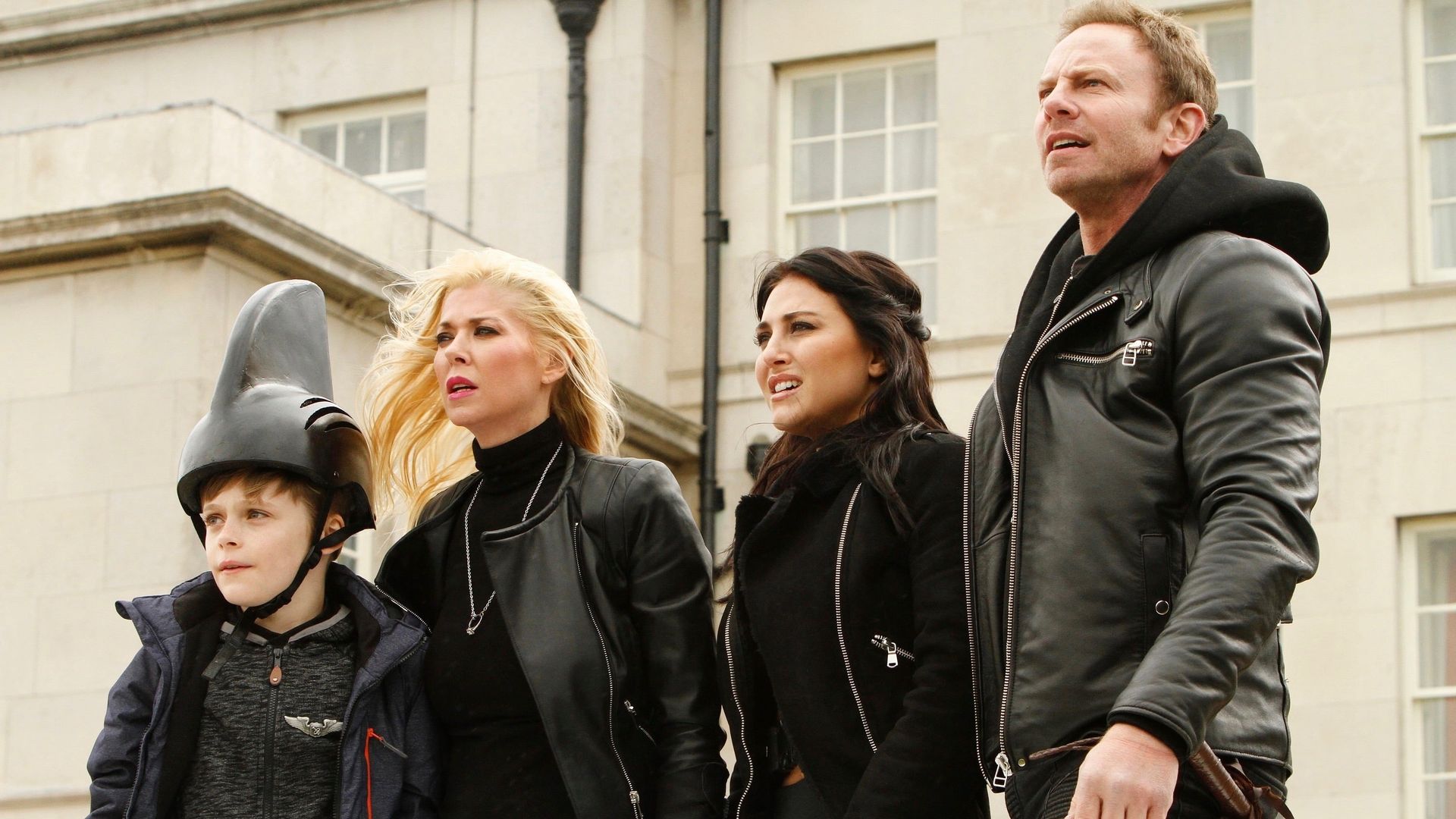 Sharknado 5 suffers the same problem. The only point of variation this time is that the film has sharknados happening all around the world. Thus the film goes on location in Switzerland, London, Sydney, Japan, Rome etc and has various sharknados devastating well-known landmarks. The other notable thing is that with the absence of Thunder Levin, who had written all the other Sharknado films, and with the introduction of Scotty Mullen (who normally works as The Asylum's casting director), the plot has gone from merely ridiculous to completely insane.
Now we have the inclusion of sharknados that can teleport people to different locations and act as time travel portals; ancient sharknados that apparently influenced the makers of Stonehenge and The Pyramids; and with the show culminating in the End of the World and Ian Ziering reduced to a Man Alone wandering the devastated landscape before being rescued by his own grown-up time-travelling son. Oh and not to mention how Tara Reid's cyborg attachments have now turned her into the equivalent of a superhero.
In between all of this, there is ample in the way of parody. The venture down below Stonehenge spoofs the opening of Raiders of the Lost Ark (1981) where Ian Ziering and Cassie Scerbo end up fleeing from a tsunami of sharks rather than a giant rolling ball. The end with Dolph Lundgren turning up in a Humvee spoofs Back to the Future (1985) and sequels with the Humvee rotating its wheels up and flying off, while the 'to be continued' comes in the same font associated with the Back to the Future series.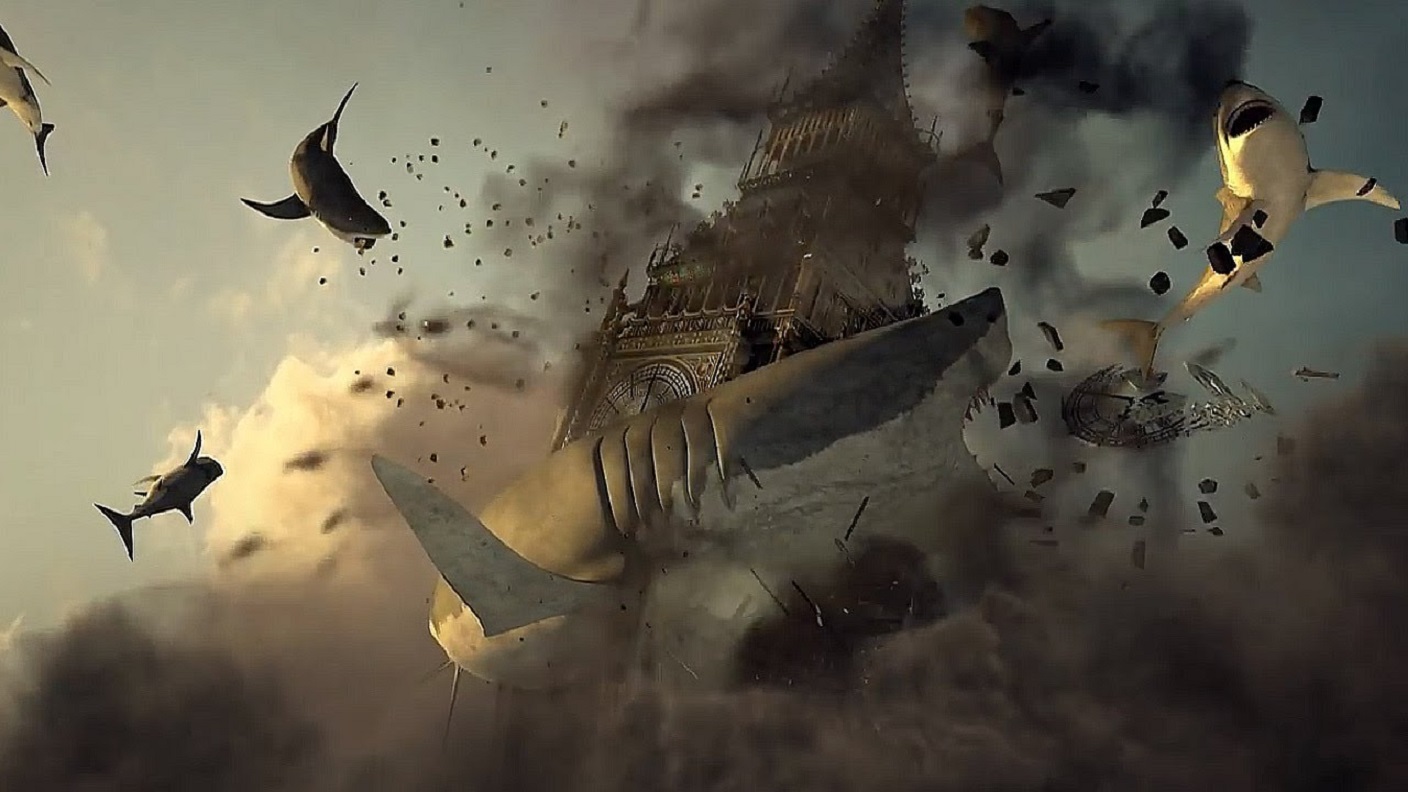 There are all the usual cameos, including Chris Kattan as the British Prime Minister and 1980s Page 3 girl turned singer Samantha Fox as his secretary; an aging Nichelle Nichols of Star Trek (1966-9) fame as the UN Secretary General; action star Dolph Lundgren as the grown-up Gil; former talkshow host Geraldo Rivera as a zeppelin inventor; singer Olivia Newton-John as one of the sisterhood; Olympic ice skater Sasha Cohen; comedian Margaret Cho; swimmer Greg Louganis; professional skateboarder Tony Hawk; assorted British and Australian tv news hosts and probably others who are so famous they ring no bells with me.
As with some of the casting, what we have resembles less an in-joke any longer than an episode of Celebrity Rehab (2008– ) where people who may had some significance in the long-forgotten past abase themselves in the name of some fleeting chance at the spotlight again. As with many of these pieces of deliberately ridiculous casting – Fabio cast as The Pope, Charo as The Queen, Downtown Julie Brown as a papal consigliere, Poison singer Bret Michaels playing guitar on the front of a double decker bus – the joke is as much on them as it is a film clearly signalling that it lacks even the slightest interest in making a pretence that anybody is taking it seriously any longer.
---
---