---
Crew
Directors – Levan Bakhia & Beqa Jguburia, Screenplay – Lloyd S. Wagner, Story – Beqa Oniani, Producers – Levan Bakhia, Leva Kobakhidze & David Patarkalishvili, Photography – Vigen Vartanov, Music – David Laurie, Visual Effects Supervisor – Ilia Afanasiev, Special Effects – Sergo Bregvadze & Mamuka Revia, Production Design – Tamuna Guliashvili & Sofia Kharebashvili. Production Company – Imedi Films/Sarke Studio/Georgian Public Broadcaster/Green Pea Productions.
Cast
Scout Taylor-Compton (Jenna), Travis Van Winkle (Ian), Christine Ulloa (Renee), Michael Copon (Michael), Tyler Mane (Wade)
---
Plot
Jenna joins her friend Renee, Renee's boyfriend Michael and his friend Ian as they go away to Ian's uncle Wade's home in the countryside. Wade proves welcoming and they make plans to attend a party in the town that evening. Before they go, the guys persuade the girls to try out the sauna in the house. However, Michael drinks too much and he and Renee argue. Michael walks out but drunkenly stumbles and knocks a ladder against the door to the sauna. When the others try to exit, they find the doorway blocked. With Michael passed out, they are trapped inside the sauna with the heat slowly rising to an unbearable level.
---
247oF was the first film from Georgian director Levan Bakhia who subsequently made an international splash with Landmine Goes Click (2015), which featured a character trapped on a landmine and unable to move. Bakhia co-directs with Beqa Jguburia who does not appear to have gone on to direct anything else.
As with Landmine Goes Click, Levan Bakhia makes what one has termed a Conceptual Containment Thriller. (For a greater overview of the genre see Imprisonment Thrillers). This is a fad of films that began with Phone Booth (2002) where Colin Farrell was trapped inside the title locale by a sniper for the duration of the show. Other works followed – The Night Chronicles 1: Devil (2010) with a group of people trapped in an elevator where one of them might be The Devil and in particular Buried (2010), which placed Ryan Reynolds (and the camera) inside a coffin for the duration. Other films such as Frozen (2010), ATM (2012), Curve (2015), 47 Meters Down (2017) and Serpent (2017) did similar things. The same idea of someone locked in sauna later played out in 200 Degrees (2017) with Eric Balfour trapped inside a kiln where someone was slowly turning the heat up. (For an overview of the genre see Imprisonment Thrillers).
Levan Bakhia claims he based the film on a true story that happened to people he knew. With nobody coming forward to confirm the account, we can place 247oF inside the realm of Films That Make Dubious Claims to Being Based on True Stories. Nevertheless the basic set-up of events has a fundamental plausibility. Screenwriter Lloyd S. Wagner at least appears to have read up on the basics of how saunas operate and there is no reason I can tell (while keeping in mind I am no expert on the mechanics of saunas) as to why it could not have happened. The set-up is a reasonable idea for one of these Imprisonment Thrillers. Once Levan Bakhia and Beqa Jguburia get the characters into the sauna they let the situation play out in the various tensions and arguments between those imprisoned and the hopes and possibilities for escape that the film raises.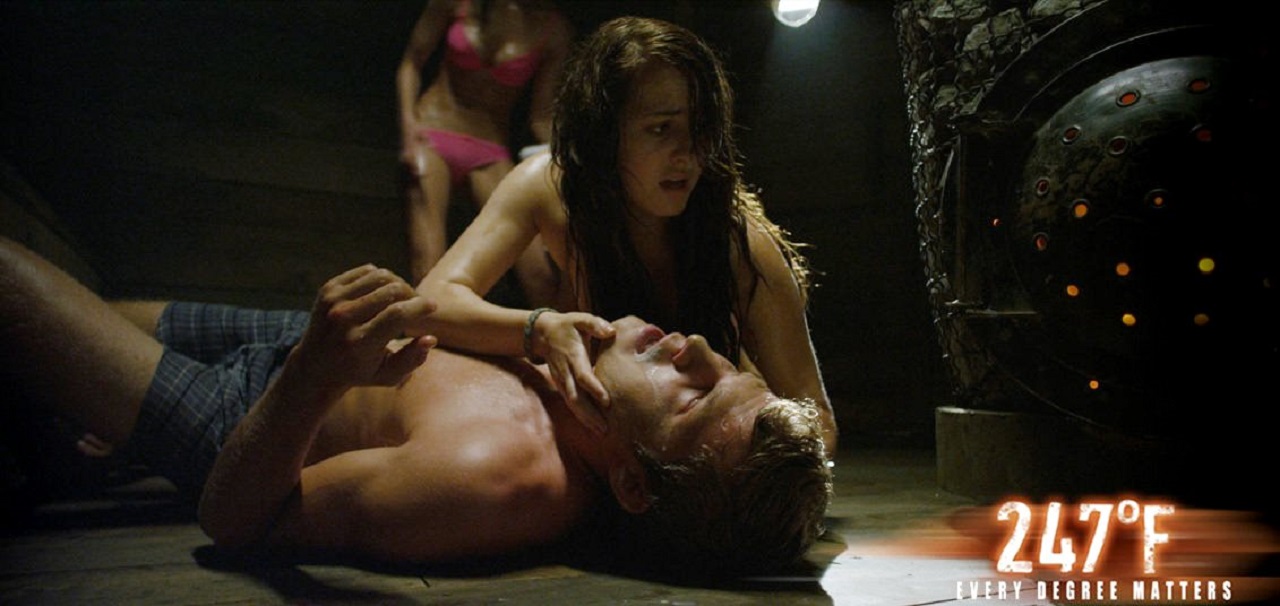 On the other hand, I don't feel that Levan Bakhia and Beqa Jguburia ride the rollercoaster of tensions as well as they could have. There are other Conceptual Containment films listed above that keep you on the edge of the seat with more dramatic effect and push the characters into more intense, hanging-by-the-fingertips situations than this does. The lack of tension is surely signalled by the need to include a fantasy sequence where Scout Taylor-Compton fantasises that she breaks out of the sauna and gets free – usually inserting dream jumps and sequences, particularly in a horror film, is a signal that it is not getting them elsewhere.
Bakhia and Jguburia bring a handful of international names to Georgia to shoot (the location is never specified as taking pace in Georgia and we are left with the implication that it is standard USA). These include Travis Van Winkle and Michael Copon, minor names mostly known for tv work, and Tyler Mane, known as Sabretooth in X-Men (2000) and as Michael Myers in the Halloween (2007) remake.
The headline name is Scout Taylor-Compton who was considered a latter day Scream Queen of sorts after appearing as Laurie Strode in the 2007 Halloween and its sequel Halloween II (2009). It must be said that the role she gets here as someone who is fearful and cautious throughout is not the best highlight for her – she comes across as too withdrawn and not sympathetic enough. The film also has a prologue in which she and her boyfriend (fiance?) are caught in a car crash and he is killed – a scene that proves to have no relevance to anything that subsequently occurs. It is a case of loading Chekov's Gun, placing it on the wall and then failing to use it.
---
---