---
Crew
Director/Screenplay – Adam Green, Producers – Peter Block & Cory Neal, Photography – Will Barratt, Music – Andy Garfield, Visual Effects – Lit Post (Supervisor – Tyler Hawes), Special Effects Supervisor – Dean Miller, Makeup Effects Design – Chris Hanson, Production Design – Bryan McBrien. Production Company – Anchor Bay Films/A Bigger Boat/ArieScope Pictures.
Cast
Emma Bell (Parker O'Neil), Shawn Ashmore (Joe Lynch), Kevin Zegers (Dan Walker), Ed Ackerman (Jason), Rileah Vanderbilt (Shannon), Kane Hodder (Cody)
---
Plot
Two best friends, Dan Walker and Joe Lynch, along with Dan's girlfriend Parker, leave university study behind for the day to go skiing. Dan gets Parker to bribe the chairlift operator into letting them go up without buying passes. As the end of the day comes, they persuade the operator to let them go back up for one last ride before closing. However, in between the changing of personnel, they are forgotten about and the chairlift shut down for the night, abandoning them in mid-air. The three of them sit waiting for help to arrive as it starts to become cold and then snow. When no help comes, they realize they could be abandoned in mid-air until the ski field reopens next weekend – five days away. Dan decides to jump the sixty or so feet to the ground – only to break both of his legs. And then the wolves on the mountain start closing in.
---
Frozen – not to be confused with the more well-known Disney animated hit Frozen (2013)- was the first mainstream release from director/writer Adam Green. Green first appeared with the micro-budgeted Coffee & Donuts (2000), a darkly funny comedy based on his own dating nightmares. From there Green established himself as a genre regular with the slasher homage Hatchet (2006) and the psycho-thriller Spiral (2007), as well as the subsequent Hatchet II (2010), the The Diary of Anne Frankenstein episode of Chillerama (2011), the Found Footage film Digging Up the Marrow (2014) and Victor Crowley (2017), as well as producing the pregnancy horror film Grace (2009), creating/producing the tv series Holliston (2012– ) and writing/producing Hatchet III (2013). Frozen obtained a widespread cinematic release after gaining considerable word of mouth following its premiere at the 2010 Sundance Festival.
Frozen sits in a mini-genre of wilderness survival horror films, along with Open Water (2003), Black Water (2007) and the non-genre likes of Touching the Void (2003) and Rescue Dawn (2006) – horror films that do not feature psychos or monsters but ordinary people stranded in the wild and at prey to the wildlife and environmental extremes there. Equally, ever since Phone Booth (2002), filmmakers seem to have been holding an unofficial competition to contain a story in as little space as possible – Wind Chill (2007) told a ghost story inside the front seat of a car; Shuttle (2008) with its protagonists held hostage in an airport shuttle; Buried (2010) was entirely set around Ryan Reynolds trapped inside a coffin; The Night Chronicles 1: Devil (2010) featured five people trapped inside an elevator with The Devil; 127 Hours (2010) with James Franco trapped in a crevasse; 247oF (2011) with people trapped in a sauna with the heat on the rise; ATM (2012) with three people trapped in an ATM booth by a killer; Detour (2013) and Curve (2015) with characters trapped in SUVs; Locke (2014) that takes place entirely with Tom Hardy talking on a phone while driving; Landmine Goes Click (2015) with a character trapped standing on a landmine; The Shallows (2016) in which Blake Lively is stranded on a rock by the tide and menaced by a lurking shark; 200 Degrees (2017) in which Eric Balfour is trapped inside a heat kiln; and Serpent (2017) with a couple trapped in a tent with a deadly snake; while Open Water featured no sets, just two characters swimming in the water; and Black Water trapped its three characters in a tree. (For a greater overview of the genre see Imprisonment Thrillers).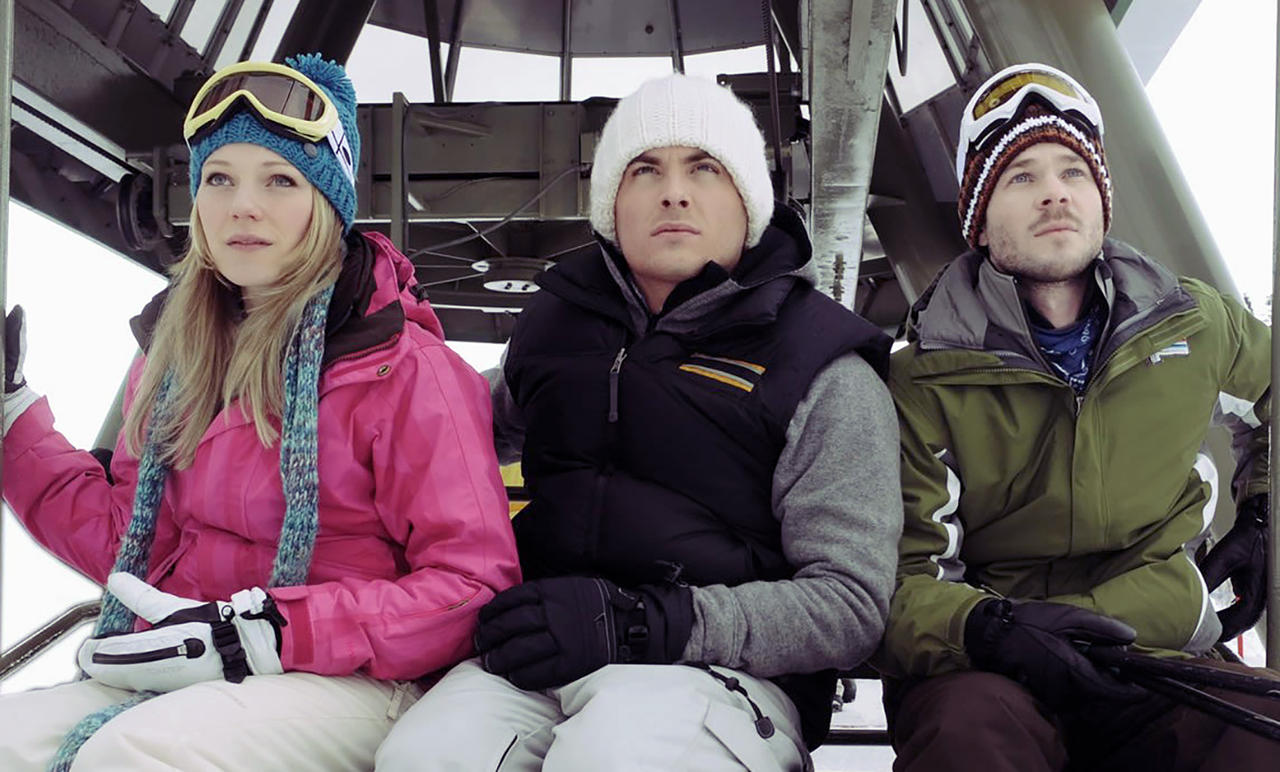 Like these films, Frozen seems to be trying to strip sets to a minimum and has its three characters trapped inside a ski chairlift for the bulk of the film. The film was shot on a real ski field in Utah where the actors were inside an actual chairlift some sixty feet above the ground while Adam Green and his cameraman sat in a chair opposite.
In these films, with so much of the regular accoutrement of survival stripped away – compare these survival horror films to something like Jaws (1975) where the protagonists go into action relatively well equipped and evenly paired against their nemesis – something as small as a dropped glove, a ski pole or a scarf being thrown and failing to reach far enough can become tragedies. These are dramas that would be absurdly trivial were Frozen located on the ground but due to the film pushing them into environmental extremes, they become life or death dramas. Films like these also ride rollercoasters of suspense – of possibilities for escape raised and great struggles to achieve them, only to see such hopes repeatedly dashed.
Adam Green does a fine job of sustaining this rollercoaster during the sequences with Shawn Ashmore's climb along the cable or during the collapse of the bolts and especially when the wolves gather to attack Kevin Zegers. There are some genuinely harrowing sequences in the film – the scene where Kevin Zegers makes the jump to the ground and promptly breaks both of his legs is one of the most gut wrenching and uncomfortable that one has watched in a film in some time. Other scenes like the wolf attack or where Emma Bell wakes up and discovers that she has left her bare hand on the steel safety bar and the skin has frozen to it, leaving her having to pry it off have a genuine ick factor to them. The fact that Frozen takes the time to let you become involved in the characters' drama before pulling such gross-out scenes gives them far more horrific impact than random gut-splatterings do.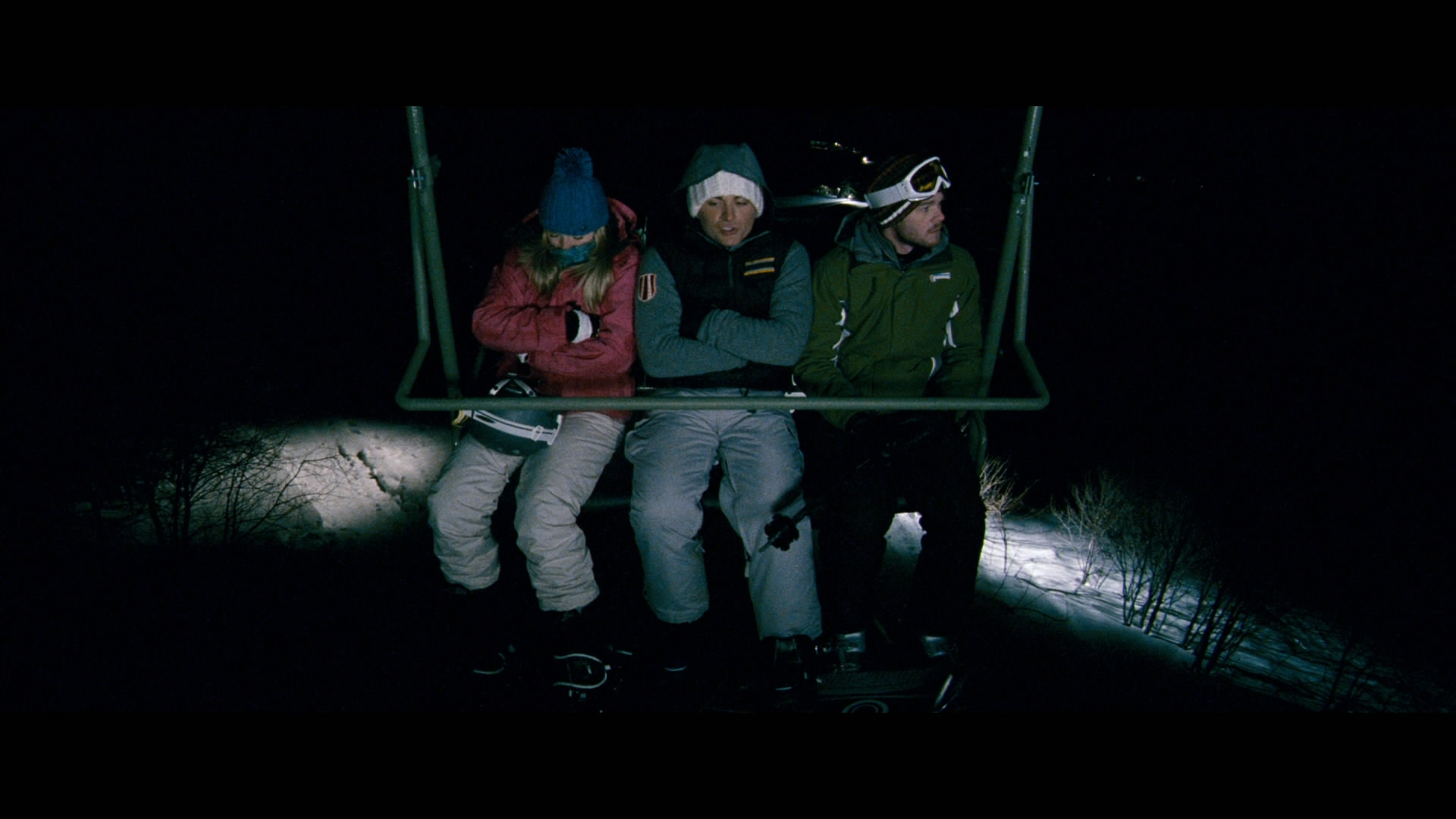 Adam Green does an excellent job of drawing out the suspense. The camerawork makes expansive use of the mountainside, opening it up to fully show the precariousness of the situation. The three actors chosen – Kevin Zegers, Shawn Ashmore and Emma Bell – all do a fine job. These are not standard teen characters you get in a formula horror film but come with shadings, antipathies towards one another and back-stories.
Various critics have nitpicked holes in the scenario – why didn't they knot their clothes together and climb down? – but the film works without too many of these incredulities plaguing the back of one's mind – my only nitpick was wondering how wolves end up so close to a ski resort, would not the owners do something to relocate or even shoot them lest they endanger regular skiers? The dialogue is reasonable and credible with Adam Green even throwing in several amusing fan service speeches riffing off Jaws and Return of the Jedi (1983).
---
---