---
Crew
Director/Screenplay/Music Supervisor – Rob Zombie, Based on the 1978 Film Written by John Carpenter & Debra Hill, Producers – Malek Akkad, Andy Gould & Rob Zombie, Photography – Phil Parmet, Music – Tyler Bates, Halloween Theme – John Carpenter, Special Effects Supervisor – Mark Byers, Makeup Effects – Wayne Toth, Production Design – Anthony Tremblay. Production Company – Dimension Films.
Cast
Malcolm McDowell (Dr Sam Loomis), Tyler Mane (Michael Myers), Daeg Faerch (Michael Myers Aged 10), Scout Taylor-Compton (Laurie Strode), Sheri Moon Zombie (Deborah Myers), Danielle Harris (Annie Brackett), Kristina Klebe (Lynda), Brad Dourif (Sheriff Lee Brackett), Skyler Gisondo (Tommy Doyal), William Forsythe (Ronnie White), Hanna Hall (Judith Myers), Danny Trejo (Ismael Cruz), Jenny Gregg Stewart (Lindsey Wallace), Dee Wallace (Cynthia Strode), Max Van Ville (Paul), Richard Lynch (Principal Chambers), Ken Foree (Big Joe Grizzly), Lew Temple (Noel Kluggs), Pat Skipper (Mason Strode), Udo Kier (Morgan Walker), Clint Howard (Dr Kopelson), Adam Weisman (Steve), Sybil Danning (Nurse Wynn)
---
Plot
10-year-old Michael Myers grows up in a bad home environment with a stripper mother and her abusive boyfriend, while also being bullied at school. On Halloween night, Michael enters the house, dons a mask and stabs his mother's boyfriend, his teenage sister and her boyfriend, and then sits on the doorstep to wait for his mother to return holding his baby sister. Michael is placed in the Smith's Grove asylum in the care of Dr Sam Loomis. There Michael retreats inside himself, hiding his face behind a series of masks and no longer speaking. 15 years later, Michael, now a strapping man, makes an escape from the asylum, killing a host of warders. He makes a return to his hometown of Haddonfield, Illinois. It is Halloween night and teenager Laurie Strode is given the job of babysitting a young boy. Michael starts stalking her and her friends. Dr Loomis arrives in Haddonfield with an urgent warning for the police department that Laurie is in fact Michael's now grown baby sister and that Michael has returned for her.
---
Without any doubt, John Carpenter's Halloween (1978) is a modern classic. Halloween essentially created the slasher film – all the scenes with babysitters being stalked; mad hulking psychos in masks butchering teens as they are busy partying, having sex etc; the concept of the Final Girl – the virginal heroine who survives by remaining chaste and is eventually the one that defeats the psycho of the show. Carpenter's eerie suspense tactics are still incredibly haunting, having been much imitated but never bettered. Halloween made the name of John Carpenter who went onto a strong genre career throughout the 1980s (although this has faded somewhat since then), as well as served to propel Jamie Lee Curtis to the forefront as an actress.
After overseeing Halloween II (1981) and failing to create a series of original horror films under the Halloween label with the unrelated Halloween III: Season of the Witch (1982), John Carpenter sold out interest in the series and producer Moustapha Akkad oversaw a further five inferior sequels all featuring Michael Myers with Halloween 4: The Return of Michael Myers (1988), Halloween 5 (1989), Halloween: The Curse of Michael Myers (1995), Halloween H20: Twenty Years Later (1998) and Halloween: Resurrection (2002).
The 00s has seen a huge boom industry that has consisted of remaking and recycling horror hits of the 1970s and 80s, following the success of the remake of The Texas Chainsaw Massacre (2003). The works of John Carpenter have been the most popular amongst these with remakes of Assault on Precinct 13 (2005), The Fog (2005) and The Thing (2011), while other Carpenter films like Escape from New York (1981) and They Live (1988) are being touted for future remakes. Others amid this remakes fad include Toolbox Murders (2003), Willard (2003), Dawn of the Dead (2004), The Amityville Horror (2005), Black Christmas (2006), The Hills Have Eyes (2006), The Omen (2006), Sisters (2006), When a Stranger Calls (2006), The Wicker Man (2006), The Hitcher (2007), April Fool's Day (2008), Day of the Dead (2008), It's Alive (2008), Long Weekend (2008), Prom Night (2008), Friday the 13th (2009), The Last House on the Left (2009), My Bloody Valentine (2009), Night of the Demons (2009), Sorority Row (2009), The Stepfather (2009), And Soon the Darkness (2010), The Crazies (2010), I Spit on Your Grave (2010), Mother's Day (2010), A Nightmare on Elm Street (2010), Piranha (2010), Don't Be Afraid of the Dark (2011), Fright Night (2011), Straw Dogs (2011), The Thing (2011), Maniac (2012), Carrie (2013), Evil Dead (2013), Patrick (2013), Poltergeist (2015), Suspiria (2018), Child's Play (2019), Jacob's Ladder (2019), Pet Sematary (2019), Slumber Party Massacre (2021), Firestarter (2022) and Hellraiser (2022). (For a more detailed listing see Films That Were Remade and Remakes)..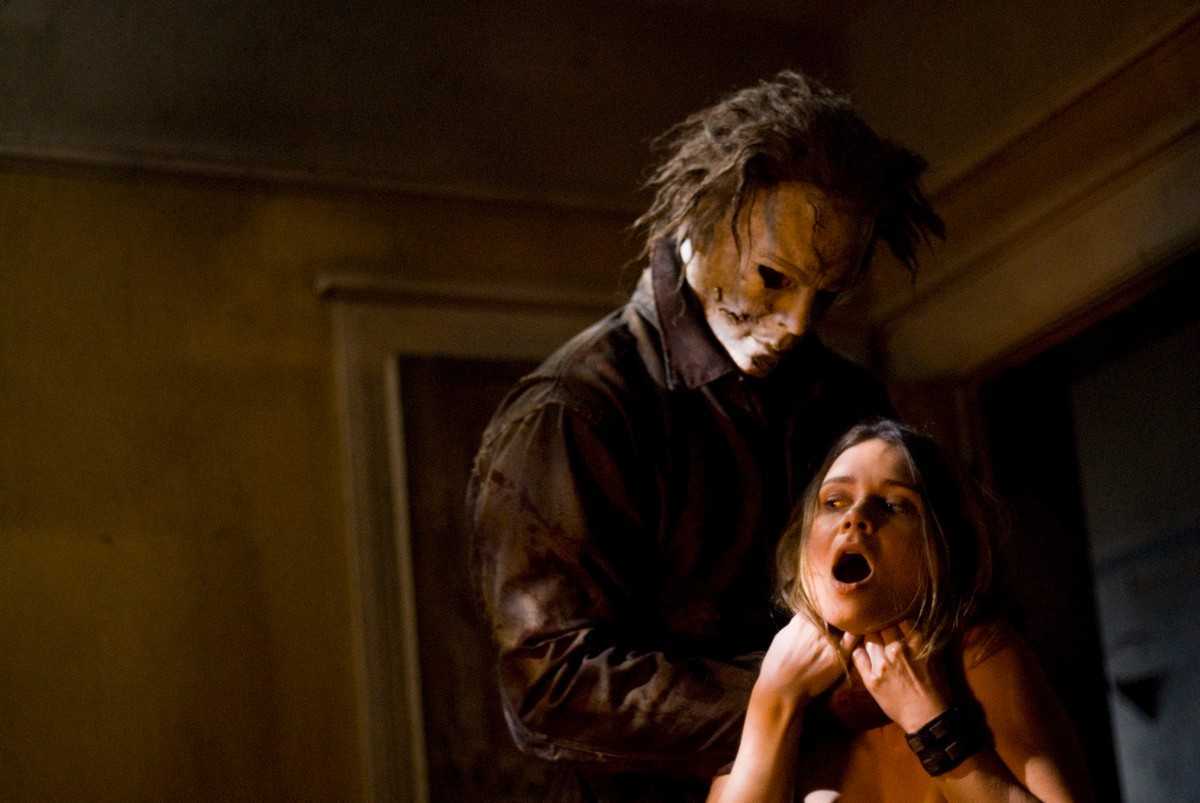 There are probably some works that have such a classic stature that they should never be remade – Gone with the Wind (1939) would be one of these, Gus Van Sant demonstrated that Psycho (1960) would be another, and you could probably cite genre examples like Star Wars (1977) and Blade Runner (1982) as others that should be left well alone first time around. Halloween has such a classic stature that anybody who would think about doing so would have to balk at the size of the classic they would be required to be stand up to. Certainly, when the idea of a Halloween remake was initially presented to him, Rob Zombie turned it down, although eventually recanted.
Rob Zombie (born as the more mundane Robert Cummings) has been a lifelong horror fan – to the extent that he even purportedly has tattoos of horror characters all over his body. Rob Zombie's fame began with the formation of the metal band White Zombie in 1985, which took its name from the Bela Lugosi film White Zombie (1932). The band put out three albums before folding in 1998, after which Rob Zombie put out a further four albums as a solo artist.
The phrase of Rob Zombie's career that concerns us here is when he branched out as a director. His first film was House of 1000 Corpses (2003), which became a cause celebre when its US distributor refused to release it. This propelled an otherwise mediocre backwoods horror film to become a hit and made Rob Zombie a Fangoria pin-up boy. Zombie went to strength with the superior sequel The Devil's Rejects (2005). Rob Zombie's star has considerably risen since then with he being employed to make one of the mock trailers for Quentin Tarantino's Grindhouse (2007), writing/co-directing the animated The Haunted World of El Superbeasto (2009) and other works such as The Lords of Salem (2012), 31 (2016), 3 from Hell (2019) and The Munsters (2022).
One of the things that takes you aback about Rob Zombie's films is their nihilistic outlook. In both House of 1000 Corpses and The Devil's Rejects, Rob Zombie is clearly on the side of the psychopathic killers, regarding their outlaw stance with admiration, while looking upon the ordinary people, those that would be the victims in a standard slasher film, with contempt and deservous of the slaughter they receive. This makes great contrast to the way that John Carpenter viewed things in the original Halloween where Michael Myers was portrayed as evil incarnate and the world of Laurie Strode and her friends as a sympathetic norm. Although Rob Zombie never goes that far, the idea of a Halloween where the sympathy is with Michael Myers as he tears apart the world of Laurie Strode takes you aback – it is surely an outlook that can only be of appeal to serial killers in training.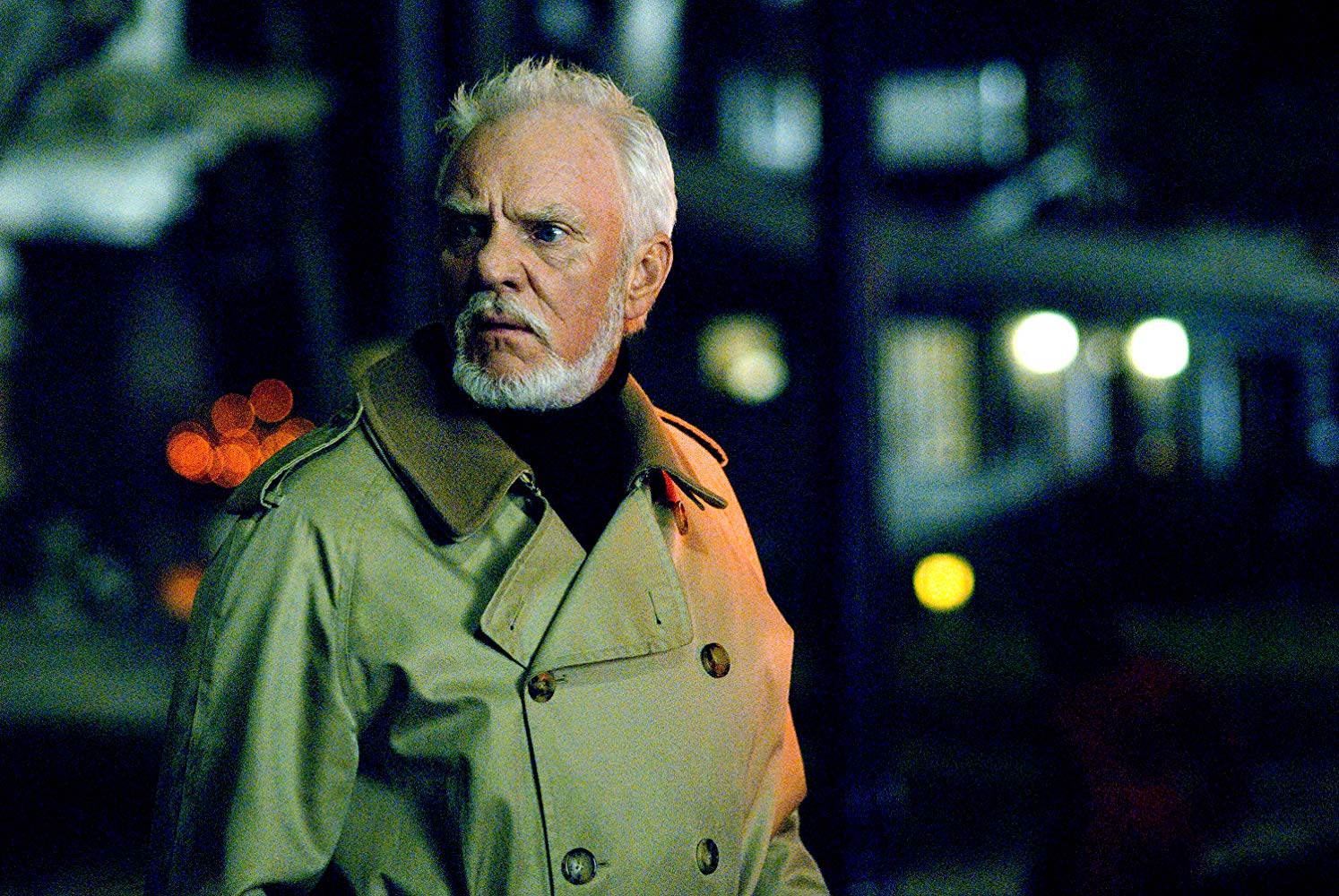 Rob Zombie calls Halloween 2007 a 'reimagining' of the original. What he has essentially done is to add a lengthy prologue that tells the story of how Michael Myers came to be The Shape. Where John Carpenter conducted these scenes in under two minutes and only two shots (the famous point-of-view scene shot through a mask where Michael Myers stabs his sister and her boyfriend), Rob Zombie adds a 25 minute prologue. During this time, he tries to give Michael Myers 'motivation'. We learn that Michael is a misunderstood kid from a white trash background who had an abusive stepfather, a slut sister and a stripper mother. Rob Zombie piles on the heartstrings, showing the young Michael being bullied at school, misunderstood by the academic system, even tearfully sitting on the doorstep holding his baby sister while waiting for his mother to return home. Rob Zombie may think that he is explaining how Michael Myers became a killer but what he is doing is giving us sympathy for Michael. What we now have is a Michael Myers who has gone from evil incarnate to just a poor abused and unloved kid who loves his mother. The background that Rob Zombie serves up to us is one that could just as easily serve for any marginalised modern-day teen – something that would not be too far a cry from the childhoods of Dylan Klebold and Eric Harris of Columbine fame. Indeed, when Michael Myers emerges as a hulking adult, unkempt hair hanging across his face, he could almost be a dead ringer if not stand in for Rob Zombie himself (albeit with about a foot added in height).
Even the directorial styles of Rob Zombie and John Carpenter are entirely at opposite remove. Rob Zombie's films feel like a deeply angry cry of the marginalised – they might be what you would get if Klebold, Harris and their ilk inclined their efforts in a more creative direction. In terms of style, Rob Zombie's directorial effect often comes out like his music – loud and drowning everything else out as it roars contempt in your face. On the other hand, John Carpenter emphasises eerie suspense – his effect lies in the imagination and subtle misdirection, not in brutalising an audience. Certainly, Zombie has abandoned the fractured, psychotic look he employed on the two Firefly films and Halloween is much cleaner shot. It is clear that Rob Zombie has polished his directorial skill considerably in the time between House of 1000 Corpses and Halloween. He creates suspense during the latter half with Michael stalking Laurie and the others (even if it is never anything that causes you to jump out of your seats). Halloween 2007 would have worked okay on its own as a film; it is just that with the Halloween pedigree it comes as a disappointment.
The other abrupt change is in the characterisation of Laurie Strode. As opposed to the serious and studious Jamie Lee Curtis, the actress that Rob Zombie casts (Scout Taylor-Compton) is short, bubbly and cute. Moreover, Rob Zombie seems determined to trash any notion of her innocence – in her opening scene, he has her upsetting her stepmother (Dee Wallace) by making jokes about how her boss sexually violated her with a screwdriver and then mimicking finger-fucking a bagel. Later she gets lines mooning "I need a boyfriend." Is this our Final Girl, we wonder? Did Rob Zombie really think there was anything here that could possibly inspire a generation of horror heroines as Jamie Lee Curtis did with the original Laurie? Scout Taylor-Compton only seems to be there because Laurie Strode's presence in Halloween is obligatory and you get the impression that Rob Zombie has next-to-zero interest in her as a character. This is surely best demonstrated by the fact that in the original, the top-billed actors were Jamie Lee Curtis and Donald Pleasence as Dr Loomis, whereas here the top-billing on the cast list goes not to Scout Taylor-Compton and Malcolm McDowell in the equivalent roles but rather to McDowell and Rob Zombie's wife Sheri Moon Zombie in the role of Michael's mother (a part that did not even have any dialogue in John Carpenter's version).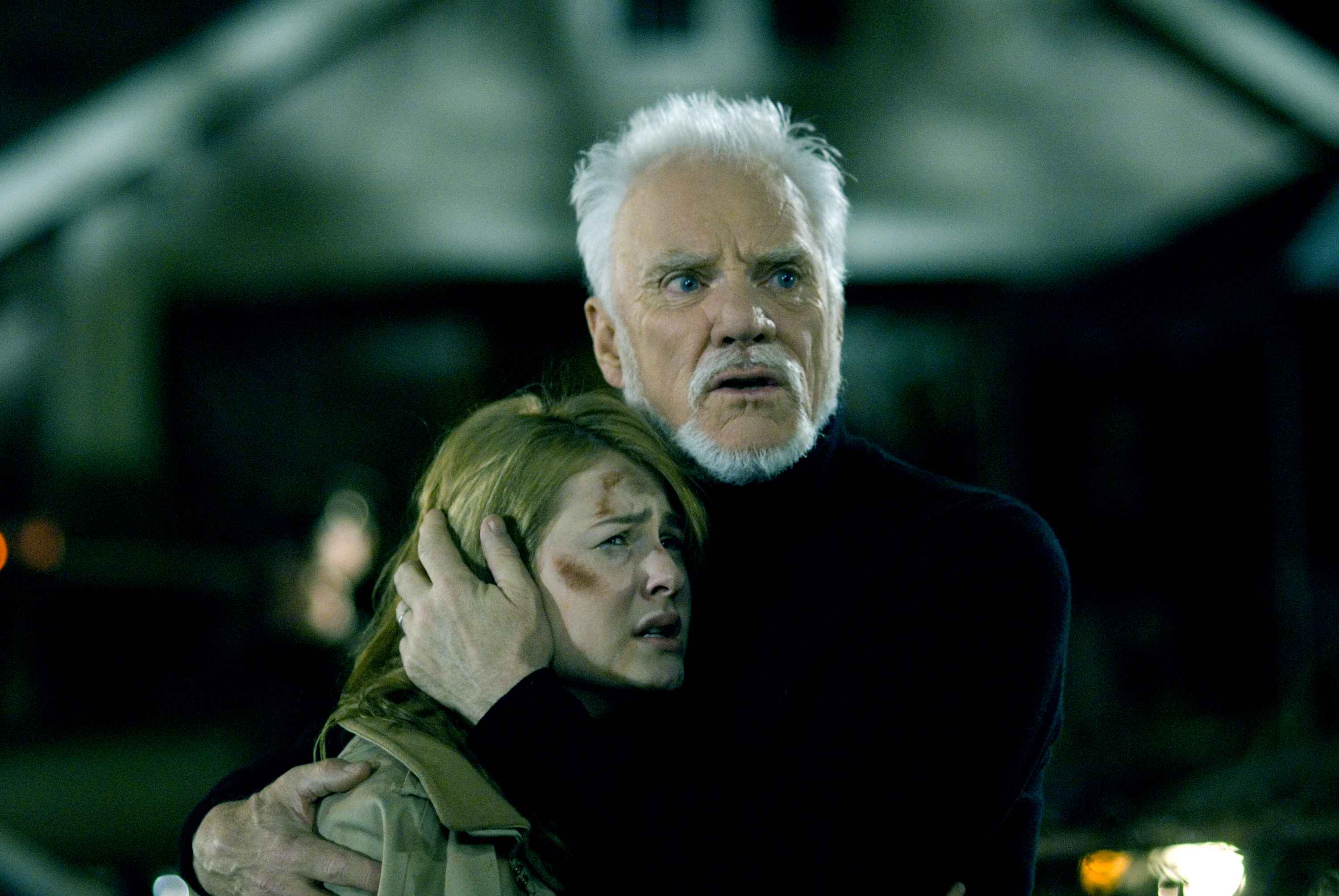 Where Halloween 2007 holds interest is during the early scenes where we see the familiar elements of the Halloween mythos falling into place. Rob Zombie's idea that Michael wears masks as a form of dissociation is a piece of psychology that rings true. He also winds in the idea of Laurie Strode being Michael's baby sister, something that was not introduced until Halloween II, and plays much of the stalking off it. Certainly, once Rob Zombie gets to the main elements of the story that was Halloween 1978, he is reasonably faithful to all of the aspects of the original. He also retains John Carpenter's 'da-tink-tink, da-tink-tink' signature score and even has The Thing from Another World (1951) playing on tv just as it was in the original.
Characteristic of Rob Zombie's films, there is a huge cast of cameos and bit parts from people who have some genre association:- a grown-up Danielle Harris who played Laurie Strode's daughter in Halloween 4 and Halloween 5 plays one of Laurie's friends; there are appearances from genre veterans like Brad Dorif as the sheriff; Richard Lynch as the school principal; Dee Wallace as Laurie's stepmother; B movie veterans Clint Howard and Udo Kier as psychiatrists; Ken Foree from Dawn of the Dead (1978) as a truck driver that Michael Myers encounters in a bathroom stall; exploitation queen Sybil Danning as a nurse that gets killed; as well as Tom Towles, House of a 1000 Corpses's Sid Haig, even Monkees star Mickey Dolenz.
Rob Zombie, Scout Taylor-Compton, Malcolm McDowell and most of those involved here returned for a sequel Halloween II (2009). Halloween III has been announced under director Patrick Lussier featuring a return performance from Scout Taylor-Compton. Halloween (2018) was a further sequel from Blumhouse, which was followed by Halloween Kills (2021) and Halloween Ends (2022), both featuring a return performance from Jamie Lee Curtis. Halloween: The Inside Story (2010) is a documentary about the making of the series.
---
---