aka Cannibal! The Musical
USA. 1996.
Crew
Director/Screenplay/Songs – Trey Parker, Producers – Ian Hardin, Alexandra Kelly, Jason McHugh, Trey Parker & Matthew Stone, Photography – Chris Graves & Robert Muratore, Music – Trey Parker & Rich Sanders, Special Effects Supervisor – Tim Drnec, Production Design – David Hedge. Production Company – The Avenging Conscience Inc./Cannibal Films Ltd.
Cast
Juan Schwartz [Trey Parker] (Alferd Packer), Toddy Walters (Polly Pry), Matthew Stone (James Humphries), Ian Hardin (Shannon Bell), Jason McHugh (Frank Miller), Jon Hegel (Israel Swan), Dian Bachar (George Noon), Robert Muratore (Frenchy Cabazon), Brad Gordon (Mills), Maseo Maki (Indian Chief), Edward Henwood (The Cyclops)
---
Plot
Lake City, Colorado, 1883. Alferd Packer is sentenced to be hung by a court for having killed and eaten the other five members of his expedition. Reporter Polly Pry visits Packer in his cell and gets him to tell his story. Packer tells how in 1873 he was nominated to lead a group of miners from Utah to Breckinridge, Colorado to stake a gold claim. Packer became despondent after his beloved horse Liane went missing part way through the journey, stolen by a group of trappers, he believed. The party became lost and sought refuge at an Indian encampment. Packer insisted they head out into the Colorado Rockies during the winter – only for them to become lost once again and fall desperately low on food. Sick of the insistent optimism of Shannon Bell, the rest of the party turned on and killed him. Afterwards, it dawned on them to eat his flesh. However, when the food grew low again, the group started to contemplate that one of their number ought to sacrifice themselves so that the others could eat.
---
Alferd Packer: The Musical was the first film from Trey Parker and his creative partner Matt Stone. These days Parker and Stone are better known as the creators of tv's cult animated show South Park (1997– ). Alferd Packer: The Musical was made by Trey Parker while he was a student at the University of Colorado using many of his fellow students as actors. The film was completed in 1993 but not released until 1996 when Parker managed to secure a distribution deal with Troma, the production/releasing company responsible for films like The Toxic Avenger (1984) and Class of Nuke 'Em High (1986). The film is better known under the video release title Cannibal! The Musical.
The great surprise about Alferd Packer: The Musical is to learn that Alferd Packer was a real person and that the film is based on a true story. Packer (1842-1907) was actually born Alfred Packer – it is not sure where the Alferd came from, it was spelt that way on a tattoo on his arm and it is suspected that this was a mis-spelling by the tattooist and that Packer subsequently adopted that spelling. In 1873, Packer set out from Provo, Utah with a party of 21, heading for a potential gold claim in Colorado. Against advice, Packer and five others left an Indian settlement in the middle of winter and soon became lost in the Rocky Mountains. In mid 1874, Packer was found alone in Gunnison, Colorado. What happened to the other five men then became a matter of debate – by Packer's claim, Shannon Bell went crazy, killed the other four and Packer was forced to shoot Bell when he came after him with a hatchet; on the other hand, the court believed that Packer had killed and eaten the other men. (Although in the 1990s, forensic investigation of the site where the men died would appear to uphold Packer's claim far more than the court of the time believed). In 1883, Packer was sentenced to jail for 40 years, although was paroled in 1901.
It is surprising upon reading up about Alferd Packer to discover that Trey Parker has adhered faithfully to the details of the historical story, even though he is playing everything in an absurdist vein – and as a musical! (Trey Parker also plays the role of Packer under the name of Juan Schwartz – an in-joke in that after escaping from custody Packer adopted the name of John Schwartz).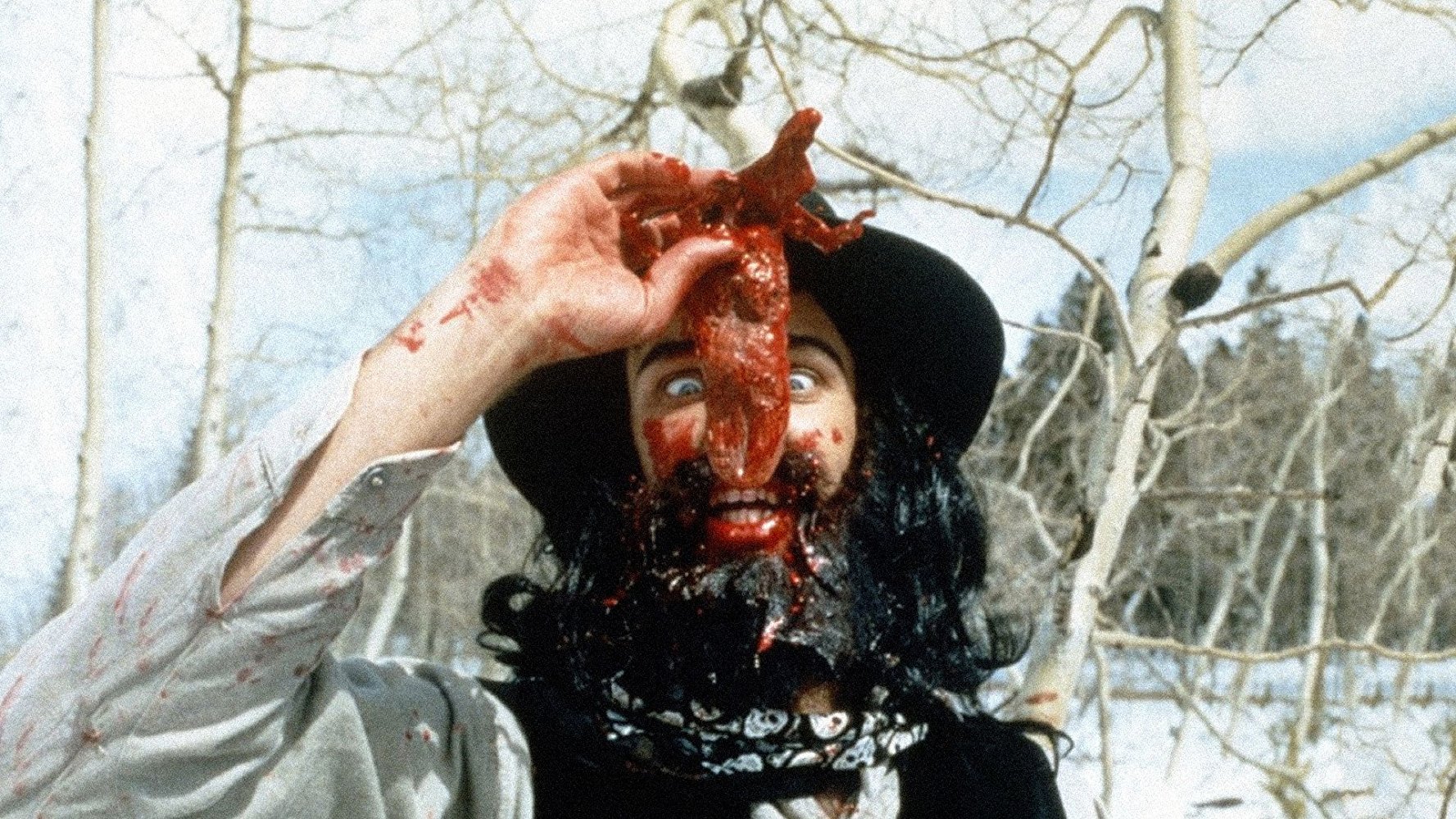 Certainly, Alferd Packer: The Musical is somewhat of a disappointment to come to after seeing South Park or any of Trey Parker and Matt Stone's other works (see below). Although there is some good photography, the production is frequently amateurish and cheap. More so, what one has come to expect of Parker and Stone's characteristic absurdist humour and taboo-pushing outrages are a little tame – or at least not as polished as they would grow to be. Although in this sense, Parker and Stone are perfectly suited to the sensibilities of Troma who specialize in bad taste humour – you could almost see Parker and Stone's humour as as a more sophisticated version of Troma's films.
It is not until about halfway through the film that we get the first genuinely Parker-Stone-esque moment – a song where trappers sing about killing small animals that segues into a bizarre mano-a-mano confrontation between he-men over whether they are singing in key, whether the piece is in minor or major keys and which is sharp or flat. A few of Parker and Stone's deadpan lunacies do sneak in from that point – a tribe of Indians that have been cast with Asians; tap-dancing numbers in the snow; songs about hanging that even come with instrumental solos written for the cow bell; and a few of their frequent off-colour gay jokes – there is an elaborate gag set up so that Matt Stone's character can offer "Have some fudge, Packer" during the middle of their starvation. Mainly, Alferd Packer: The Musical is of interest only to Parker-Stone completists and is too amateurish to be of interest in its own right.
Troma later released Devoured: The Legend of Alferd Packer (2005), which has Packer alive in the present-day.
Trey Parker and Matt Stone's other films are:– the Mormon porn star superhero film Orgazmo (1997); South Park: Bigger, Longer & Uncut (1999), a theatrically released spin-off from their hit series; and the obscene puppet show/political satire Team America: World Police (2004).
---
---