---
Crew
Director – Tim Burton, Screenplay – John Logan, Based on the Musical by Stephen Sondheim & Hugh Wheeler, Based on the Play by Christopher Bond, Producers – John Logan, Laurie MacDonald, Walter Parkes & Richard D. Zanuck, Photography – Dariusz Wolski, Music & Songs – Stephen Sondheim, Visual Effects Supervisor – Chas Jarrett, Special Effects Supervisor – Joss Williams, Prosthetic Makeup Supervisor – Neal Scanlan, Production Design – Dante Ferretti. Production Company – DreamWorks/Warner Brothers/Parkes-MacDonald/Zanuck Company.
Cast
Johnny Depp (Sweeney Todd/Benjamin Barker), Helena Bonham Carter (Mrs Lovett), Alan Rickman (Judge Turpin), Timothy Spall (Beadle Bamford), Sacha Baron Cohen (Signor Adolfo Pirelli/Davy Connor), Jamie Campbell Bower (Anthony Hope), Jayne Wisener (Johanna), Ed Sanders (Toby), Laura Michelle Kelly (Beggar Woman)
---
Plot
Benjamin Barker returns to 19th Century London after having being framed and sent to prison in Australia by the cruel Judge Turpin who desired Barker's wife Lucy. Barker, now calling himself Sweeney Todd, returns to the premises where he used to run a barber shop and finds the downstairs half has now been taken over by Mrs Lovett who runs a shop where she professes to sell the worst meat pies in London. Sweeney seethes with desire for revenge against Turpin, especially after learning that Lucy killed herself. With Mrs Lovett's aid, he sets the barber shop back up. When rival barber Signor Pirelli blackmails and threatens to expose his past, Sweeney instead slits Pirelli's throat with his shaving razor. Meanwhile, Anthony Hope, the youth that Sweeney met aboard the return ship journey, has encountered and fallen for Sweeney's daughter Johanna who has been adopted as a ward by Turpin. However, Turpin desires to marry Johanna and has Anthony beaten and thrown out. As Sweeney plots his revenge against Turpin, he practices by slitting the throats of his customers and dumping them down a chute where they are ground up and served by Mrs Lovett as the meat in her pies.
---
Tim Burton will always have a place as one of the great names in fantasy cinema. Burton made a huge splash in the late 1980s/early 90s with films such as Pee-Wee's Big Adventure (1985), Beetlejuice (1988), Batman (1989), Edward Scissorhands (1990), Batman Returns (1992), The Nightmare Before Christmas (1993) and Ed Wood (1994). In these, a distinctive Burton-esque style became apparent – an oddball eccentric, sometimes macabre, sometimes sweetly wacky sense of humour; a championing of loner outsider heroes; a love of uniquely weird creatures and akilter sets. Most of all, Burton showed a mastery of cinematography, music, production design and costuming in the creation of seamless self-contained worlds of mood and artifice. For a time, during the early 1990s it seemed that Tim Burton could put no foot wrong in whatever he did.
However, in the latter half of the 1990s Tim Burton suddenly seemed to lose the ability to recreate the key mix of elements that made his earlier films so successful. Both the alien invader film Mars Attacks! (1996) and the remake of the tv series Dark Shadows (2012) seemed too broad and farcical in their sense of humour; Sleepy Hollow (1999) had many Burton-esque elements but failed to ascend the same heights; there was the muchly hated remake of Planet of the Apes (2001); Big Fish (2003) was an ill-fated experiment in whimsy; Charlie and the Chocolate Factory (2005) should have worked well in Burton's hands but he seemed to mismanage the Roald Dahl black humour and let it lapse into tweeness; while Alice in Wonderland (2010) seemed more epic fantasy than anything to do with Lewis Caroll; and by the time of Dark Shadows (2012), Frankenweenie (2012), Big Eyes (2014) and Dumbo (2019) it felt like Burton was only going through the motions.
The only work during the last decade that has felt like a full-blown classic Burton film was the stop-motion animated Gothic fantasy Corpse Bride (2005). Sweeney Todd: The Demon Barber of Fleet Street was greeted by most critics as a major return to form for Tim Burton and called his best film since Ed Wood. It was placed on several critics' Best of 2007 lists, nominated for a host of Golden Globes Awards and with Johnny Deep being nominated for a Best Actor Academy Award.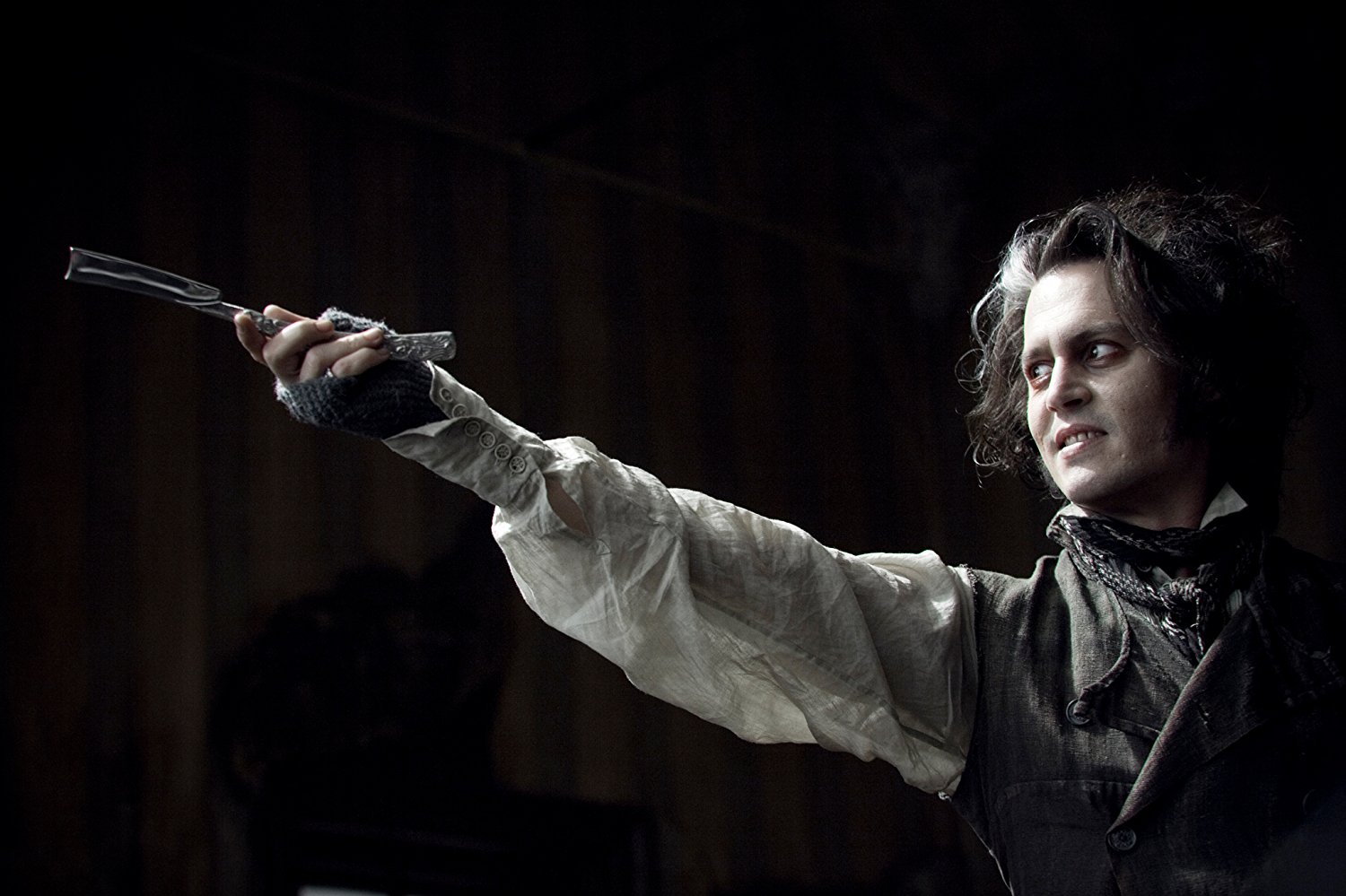 The film is taken from the legend of Sweeney Todd. The Sweeney Todd story appears to have started as an urban legend sometime in early 19th Century England. There have been various claims that Sweeney Todd was based on a real person but nobody has been able to show any documentation to substantiate this. The story was first put down in the penny dreadful The String of Pearls (1846-7), which was successful enough that it was adapted to stage the following year. There have been numerous adaptations of the story since. Film versions include the silent British Sweeney Todd (1926), the silent British Sweeney Todd (1928), the British sound version Sweeney Todd: The Demon Barber of Fleet Street (1936) with Tod Slaughter, Andy Milligan's cheap Bloodthirsty Butchers (1970), Sweeney Todd/The Tale of Sweeney Todd (1997) with Ben Kingsley and Joanna Lumley as Sweeney and Mrs Lovett and Sweeney Todd (2006) with Ray Winstone that offers a realistic historical portrait that shows Sweeney as a product of his times.
The most famous incarnation of the legend was the Stephen Sondheim musical Sweeney Todd: The Demon Barber of Fleet Street (1979), which Sondheim based on an earlier play adaptation by Christopher Bond. Though elements of the Sweeney Todd story had been established by other versions, Sondheim added a number of changes – Sweeney's past life as Benjamin Barker and being motivated by revenge against Judge Turpin, as well as the addition of the character of his daughter Johanna. The musical enjoyed enormous success in various incarnations around the world, the most famous being the original run starring Len Cariou as Sweeney Todd and Angela Lansbury as Mrs Lovett. There were also been two filmed versions of the various stage performances with Sweeney Todd: The Demon Barber of Fleet Street (1982) and Sweeney Todd: The Demon Barber of Fleet Street in Concert (2001). Stephen Sondheim was reluctant to allow anyone to touch his material for a full adaptation but finally okayed Tim Burton on the provision that he had casting veto.
I must remain one of the dissenting voices and place Sweeney Todd: The Demon Barber of Fleet Street in the company of other Tim Burton also-rans like Sleepy Hollow. There are all the familiar characteristic Burton-esque touches – elaborate makeup and extravagant costuming, actors giving flamboyant theatrical performances, densely detailed sets of the London streets. At the same time, as opposed to inhabiting any vision of 19th Century London, the musical feels like it has been squeezed into a deliberately stylised Gothic alternate reality that is Tim Burton's standard look. The design scheme seems to have been to paint everything black or near-monochrome. It is also over-ornamented – Mrs Lovett's pie shop is so grime-ridden and filthy that it is a wonder that she manages to stay in business, while Sweeney's barbershop is so bare and austere one wonders if he actually manages to get any customers either.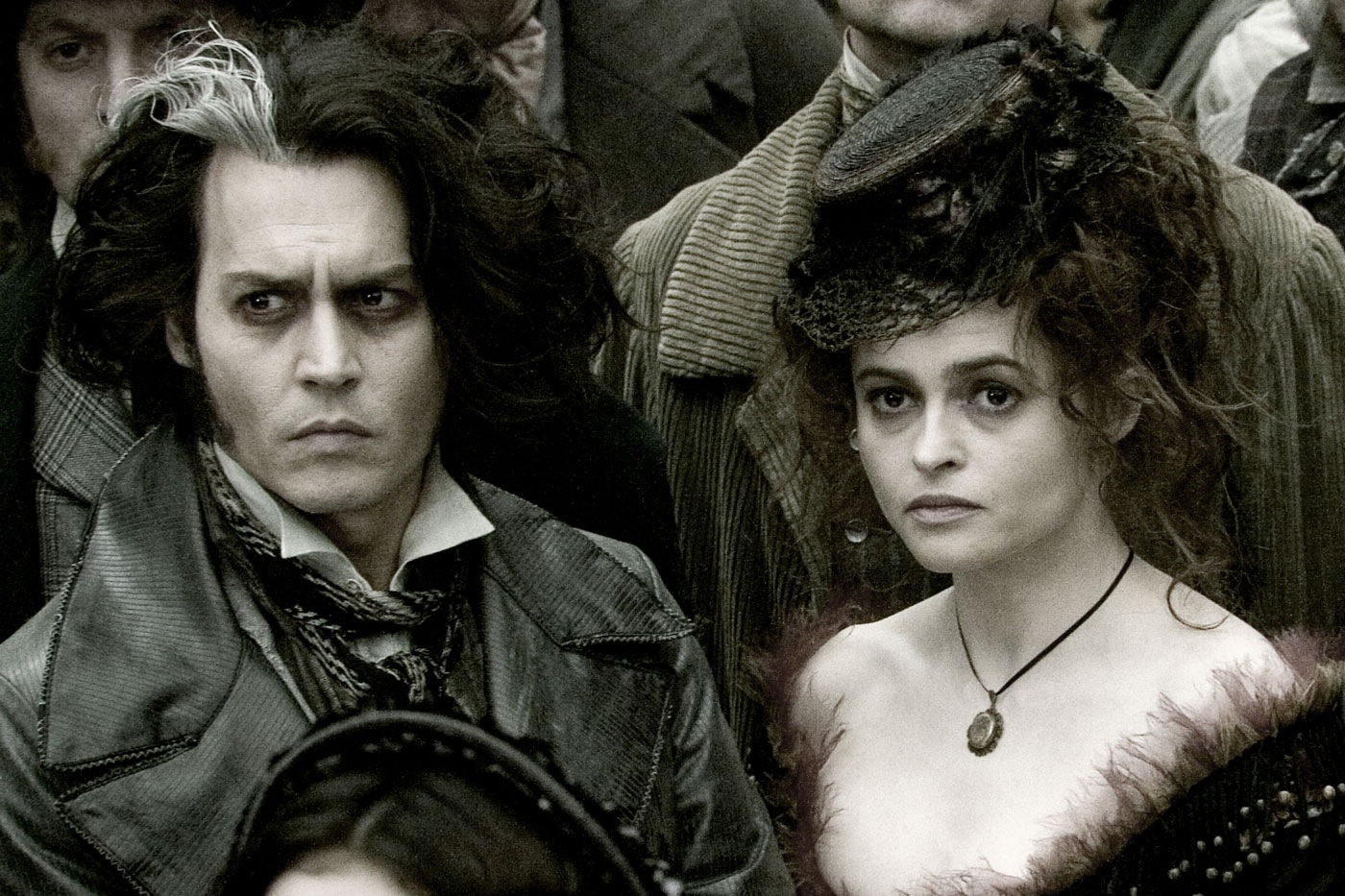 For some reason, both Johnny Depp and Helena Bonham Carter have been made up with big black rings around their eyes that makes them look like they are in the end stages of a severe case of consumption, either that or have strayed in from a casting call for a sequel to Beetlejuice. For no particular reason, Johnny Depp ends up with a black-and-white coiffed hairstyle that seems borrowed from Glenn Close in 101 Dalmatians (1996).
The brief scenes that burst into colour where Johnny Depp and Helena Bonham Carter go on a seaside picnic journey in a deliberately stylised picture postcard setting are so weirdly akilter they verge on the comic. It is a world that seems at once great artifice as much as it feels like Tim Burton visiting tried and familiar ground. Personally, I would rather have seen Sweeney Todd: The Demon Barber of Fleet Street go ahead under Sam Mendes who made American Beauty (1999), the James Bond film Skyfall (2012) and especially the beautifully cool and immensely underrated Road to Perdition (2002) as was planned at one point.
I am not a fan of stage musicals at all so do not wish to engage in discussion on to what extent the film adheres to the stage version or not. (Supposedly, Tim Burton curtails, eliminates and rearranges a number of the songs). That said, Burton confessed to not being much of a musical fan either but that he was attracted to the theatricality of the story. As such, Sweeney Todd: The Demon Barber of Fleet Street feels like it has an awkwardness that comes from too many strange bedfellows – a director not used to a musical trying to shape it into his own stylistic vision; Johnny Depp and Helen Bonham Carter who, though they passed Stephen Sondheim's audition, feel like they are there more because they are part of the Tim Burton entourage; and especially the trailer for the film that went out of its way to misrepresent the film by showing only dialogue scenes and none of the singing in order to get youth audiences in the door (the session I was in had a number of walkouts upon discovering this).
As a musical, Sweeney Todd crucially never comes to life. Both Johnny Depp and Helena Bonham Carter seem stage-struck in their mutual roles. Certainly, neither of them bring the house down with their singing and none of the numbers ever open up and soar. I subsequently watched the 1982 film made of the stage version and, even though it is only a video camera following the stage performers, it gives the musical all the life and emotion that gets swamped by the production here.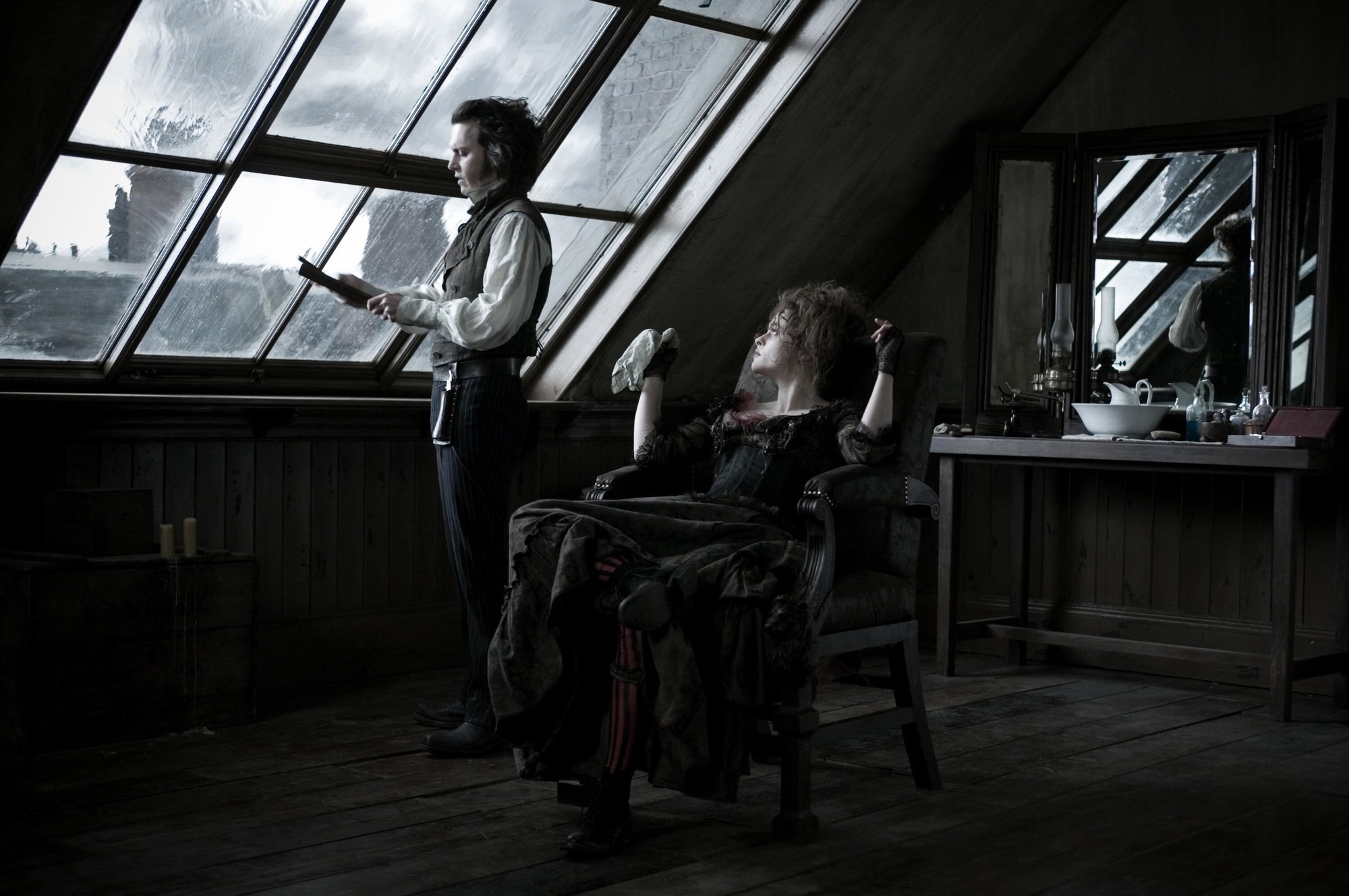 The main other complaint I is that the plotting that might have worked for Stephen Sondheim on the Broadway stage seems contrived on the screen. Any stage show needs to work with an economy of scene settings – thus it is perfectly normal on stage for Jamie Campbell Bower's youthful seaman companion to accompany Johnny Depp to London in one scene and then in the next to conveniently wander past and fall for the very girl that happens to be Sweeney's missing daughter (not to mention having Sweeney's believed-dead wife wander by in the very same scene). On film, this comes across as contrived and ridiculous plotting. The psychology behind Sweeney's revenge scheme seems more theatrical than convincing. Sondheim added the revenge angle to the traditional story, which is something that seems to belong to a 1940s styled movie villain, whereas by any modern measure Sweeney is a serial killer. If Sweeney is motivated by revenge, for instance, why then does he slit the throat of every customer who steps through his door?
Certainly, Sweeney Todd: The Demon Barber of Fleet Street has a blood-drenched glitter that is a good deal darker than the rosy bubbliness of other contemporary musicals like Chicago (2002), High School Musical (2006), Hairspray (2007) and Mamma Mia (2008). Indeed, as one sits watching the umpteenth scene where Johnny Deep slits a customer's throat in gushes of arterial spray, one realises that Sweeney Todd is actually the modern equivalent of the old Grand Guignol stage shows. Johnny Depp manages to give a performance that has a menacing glower, although it is far from one of the great Johnny Depp performances up alongside Edward Scissorhands, Ed Wood, Don Juan de Marco or Captain Jack Sparrow. Helena Bonham Carter never makes much distinction on the story. The two just seem part of Tim Burton's company of regular faces and never seem to inhabit the characters. Certainly, there is little chemistry between the two of them.
Tim Burton's other films of genre interest include the kitsch Pee-Wee's Big Adventure (1985); the bizarre ghost story Beetlejuice (1988); Batman (1989); the genteel artificial boy fairy-tale Edward Scissorhands (1990); Batman Returns (1992); Ed Wood (1994), a biopic of the world's worst director; the alien invasion comedy Mars Attacks! (1996); the ghost story Sleepy Hollow (1999); the remake of Planet of the Apes (2001); Big Fish (2003) about an habitual teller of tall tales; Charlie and the Chocolate Factory (2005); the stop-motion animated Gothic Corpse Bride (2005); Alice in Wonderland (2010); the film remake of the tv series Dark Shadows (2012); the stop-motion animated Frankenweenie (2012); Miss Peregrine's Home for Peculiar Children (2016); and the live-action remake of Dumbo (2019). Burton also produced Henry Selick's darkly brilliant stop-motion animated fantasies The Nightmare Before Christmas (1993) and James and the Giant Peach (1996); as well as the live-action conte cruel Cabin Boy (1994), Batman Forever (1995), the animated 9 (2009), Abraham Lincoln, Vampire Hunter (2012) and Alice Through the Looking Glass (2016). The Death of "Superman Lives": What Happened? (2015) is a fascinating documentary about Burton's failed Superman Lives project.
The other major Stephen Sondheim works adapted to the screen were West Side Story (1961) and Into the Woods (2014) based on his musical fairytale parody. Sondheim also contributed the songs to the soundtrack of Dick Tracy (1990).
---
---