aka The Alice in Wonderland Murders
---
USA. 2010.
Crew
Director/Screenplay/Photography – Dennis Devine, Producers – Dennis Devine & Dave Sterling, Music – Jason Peri, Special Effects – Ron Karkoska, Art Direction – Greg Caudill. Production Company – David Sterling Productions, Inc./Tom Cat Films LLC.
Cast
Malerie Grady (Alice Lewis), Marlene Mc'Cohen (Mallory White), Heath Butler (Donna), Kelly Pulcinski (Kat), Katie Locke O'Brien (Tiffany), Christopher Senger (Rene White), Jennifer Field (Dee), Elizabeth Lam Nguyen (Pima), Kim Argetsinger (Samantha), Montre Bible (Andrew), John Buco (Matt), Jennifer Kamstock (Aunt Lena), Katie Hotchkiss (Ann Lewis), Gabrielle Abitol (Charlene Glass)
---
Plot
Alice is about to have her twenty-first birthday party and so her sorority sisters decide to throw an Alice in Wonderland-themed costume party for her. Her friend Mallory obtains the use of the Glass Building in which to hold the party. However, this makes Alice apprehensive as it is the building where her mother was murdered twenty years ago on this date. The party goes ahead with all men being banned at Alice's insistence and everyone dressing as an Alice in Wonderland character. As the various bitcheries play out, someone dressed in a Jabberwocky costume starts slaughtering the attendees.
---
Alice in Murderland, originally called The Alice in Wonderland Murders, was one of several alternate takes on Alice in Wonderland (1865) that came out around the time of the high-profile Tim Burton version of Alice in Wonderland (2010). The premise of Alice in Murderland had a twisted appeal that immediately made one want to watch the film. Tim Burton's films have a mock Gothic kookiness that it would take only a one-degree turn to push over into full-blown horror. The idea of this having been applied to a work like Alice in Wonderland with all the characters played up with a threateningly dark twist, which the film suggested it was doing, held something undeniably appealing.
At least that is the promise. The delivery of the film itself turns out to be far from that. In actuality, Alice in Murderland ends up being a film where the idea it has vastly outweighs its execution. Indeed, it proves to be an utterly amateurish mess that promptly squanders any potential within the first few minutes. The film's idea rapidly telescopes down to being not a horror/dark fantasy film set in Wonderland but merely an Alice in Wonderland-themed slasher film set in an everyday warehouse.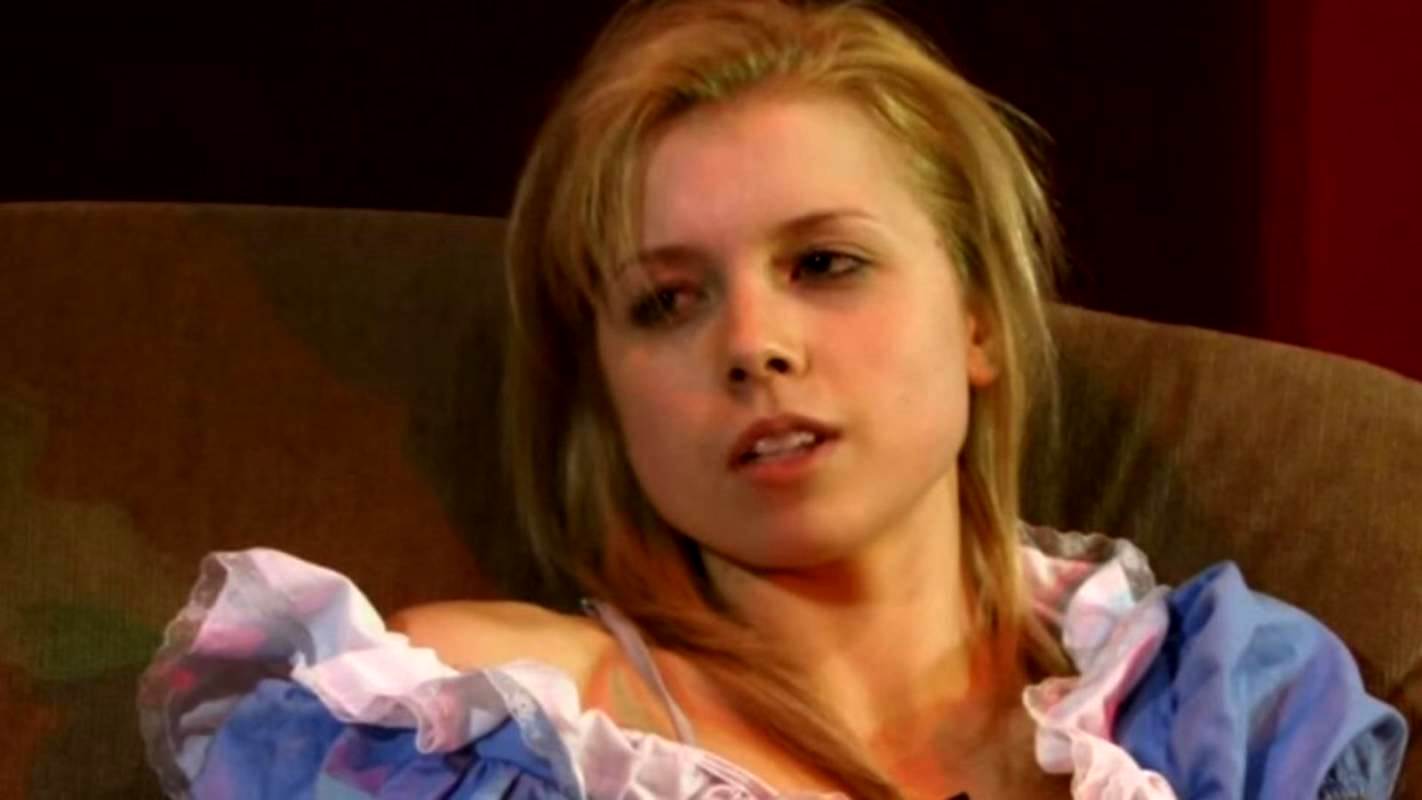 The characters are not variations of the ones in the book but merely a group of sorority sisters who have only decided to dress in Alice in Wonderland costume for a party. At most, their personalities vaguely correspond to their characters – The Red Queen (Marlene Mc'Cohen) is the class bitch; the equivalent of the Cheshire Cat (Kelly Pulcinski) is someone who keeps vanishing whenever people turn around to look for her; Tweedledum and Tweedledee are a lesbian couple consisting of a blonde airhead (Heath Butler) and a stoner (Jennifer Field); The Caterpillar (Elizabeth Lam Nguyen) is the class drug dealer and so on.
The film falls apart in the amateurishness of its delivery on most counts. Most of the cast seem capable but they are let down by the flatness of their dialogue. Even the gore looks fake. On a level of production polish, the entire film seems only one step up from a home-made shot-on-digital film that some friends have decided to make. The most ridiculous scene is the one where Kelly Pulcinski is trying to kill Marlene Mc'Cohen as she is trapped with her ass stuck out of a tiny bathroom window.
Director Dennis Devine has made a number of other low-budget horror and genre films including the likes of:- Fatal Images (1989), Dead Girls (1990), segments of the anthologies Things (1993), Things II (1998) and Merchants of Death (1999), Amazon Warrior (1998), Haunted (1998), Vampires of Sorority Row (1999), Bloodstream (2000), Vampires of Sorority Row II (2000), Curse of Pirate Death (2006), Blood Mask: The Possession of Nicole Lameroux (2007), Caregiver (2007), Demon Kiss (2008), Don't Look in the Cellar (2008), DeWitt & Maria (2010), Sawblade (2010), Vamps in the City (2010), Night of the Dead (2012), Fat Planet (2013), Lizzie Borden's Revenge (2013), Vampire Club 3D (2013), Nazi Dawn (2014) and Things 4 (2017).
---
Trailer here
---