---
Crew
Director – Eric Liberacki, Screenplay – John Lerchen, Producers – Winona Ying Lee & John Lerchen, Photography – Brandon Hoeg, Music – Misha Segal, Special Effects/Makeup – Catherine Woods, Production Design – Khaela Correa & Brynne Wassel. Production Company – Silva Shots/Forever Safe Productions/Indican Pictures.
Cast
Scout Taylor-Compton (Taylor Wilson), Michael Emery (Miles Little), Domenica Cameron-Scorsese (Mrs Little), Kali Skatchke (Emma Jones), Casey Tutton (Tory Nowak), Adam Huss (Detective Ace Hoffman), (Mr Little), Bruce Spielbauer (Arthur Scott), Charles Johnston (Will Brewer), Eddie Huchro (Drew), Naomi Grossman (Grace Fisher), Ari Lehman (Dr Stratton), Josh Morris (Billy), Isabel Thompson (Hannah Hizer), Emmaline Skillicorn (Lily Clark)
---
Plot
Taylor Wilson has the lead in a school production of Romeo and Juliet at Crystal Lake High. She is regarded as a talented actress and the director has written a recommendation for her to go on to study at Julliard. However, as the final performance wraps and the cast attend an after party, a killer starts eliminating everybody associated with the play. All of this may link back to a secret that Taylor is afraid of people finding out.
---
The Lurker was a full-length feature film from Eric Liberacki who had previously made Spoiled Fruit (2016) that remains unseen.
The Lurker is a slasher film set around the production of a high school play. There is nothing too much more complicated than that. The stage play setting has previously been used in the giallo StageFright – Aquarius (1987) and sort of in the slasher musical Stage Fright (2014), all the way back to the silent film The Last Warning (1929). That said, the film abandons the stage play setting part way into the film and most of the proceedings involve the teenagers being stalked through a regular family home where the after party is being held.
The film's headline name is Scout Taylor-Compton who has become regarded as a Scream Queen ever since appearing as Laurie Strode in Rob Zombie's remake of Halloween (2007) and its sequel Halloween II (2009). She has maintained a modest presence in other horror films like April Fool's Day (2008), 247oF (2011), 7500 (2014), Feral (2017) and Ghost House (2017). She's the only recognisable name the film has going for it – even if at age 29 she seems way too old to be believable as a teenager just graduating high school.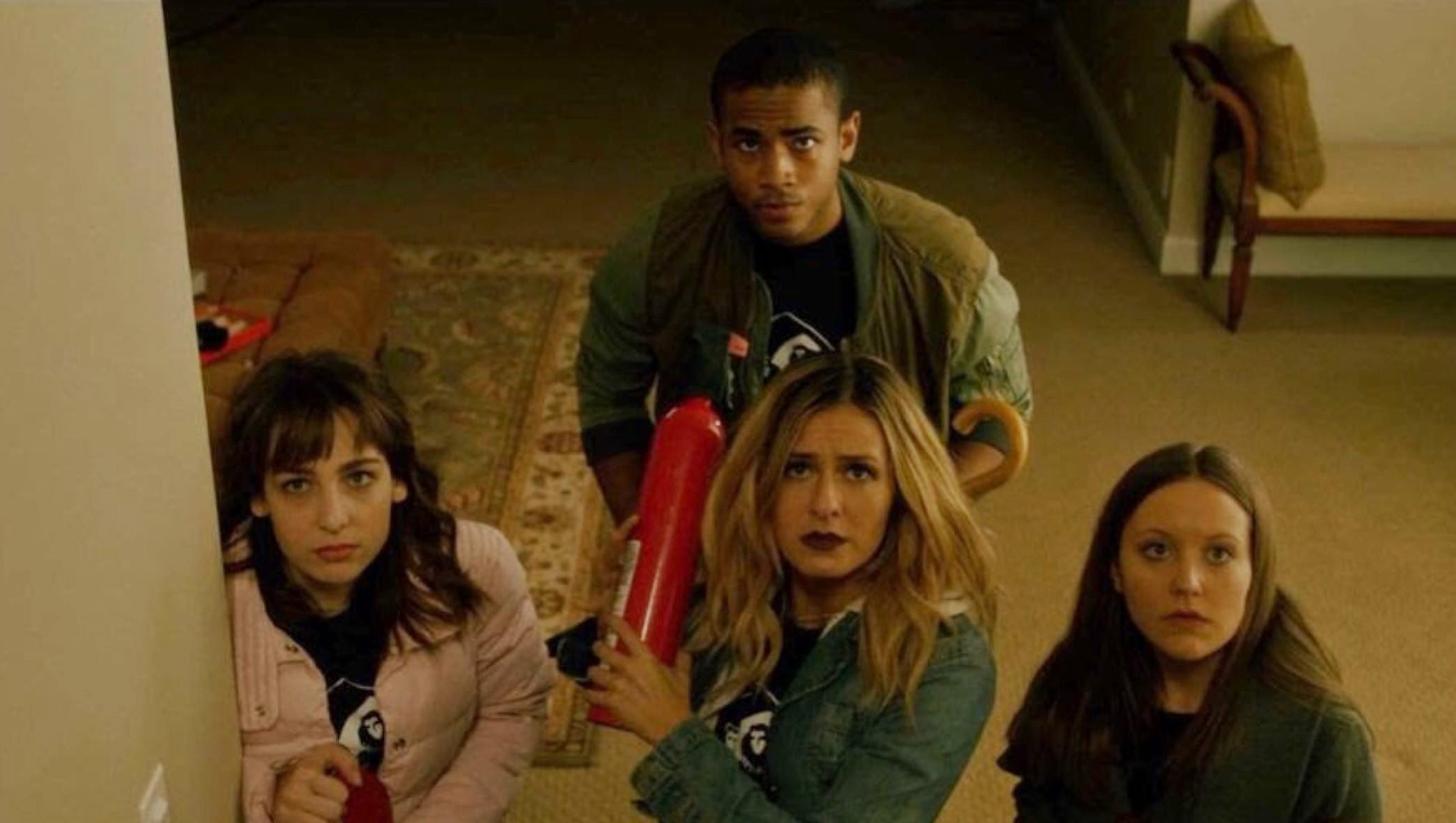 She is certainly better than the rest of the cast, most of whom give the impression that they are amateurs. Bruce Spielbauer who plays the director of the stage play gives a terrible stilted performance. This is only matched by the bug-eyed performance from Rikki Lee Travolta as the leading man's father. The one good performance comes from Michael Emery as the cockily handsome lead actor who is constantly making moves on Scout where he plays with a handsome dangerousness that signals he has the ability to go onto better stuff.
What kills the film is Eric Liberacki's direction, which feels like the work of an amateur. The photography is passable but the scenes have no flow. Scenes feel like they have been shuffled together and put in random order. The plot often feels like it jumps between pieces of exposition without fully coherent connection, none more so than at the opening. The film may well have been able to be saved by a better editor but it feels slung together in very uneven ways. The film does get a good surprise off at the ending but it is impossible to follow the explanations that lead up to that as to why all the cast and crew are being killed.
---