---
Crew
Director – Steven R. Monroe, Screenplay – Neil Elman, Kevin Leeson & Steven R. Monroe, Producer – Andrew Stevens, Photography – Neil Lisk, Music – Pinar Toprak, Visual Effects – Lux Visual Effects Inc., Special Effects – Kenneth Speed, Production Design – Adrian Ankersheil. Production Company – CineTel Films, Inc./Andrew Stevens Entertainment/RHI Entertainment.
Cast
Sean Patrick Flanery (Daniel), Victoria Pratt (Dr Alicia Brewer), George Kee Cheung (Timur), Drew Waters (Patrick), Nate Rubin (Phillip), Matthew Stephen Tompkins (Bixler), Jon Mack (Steffi), Tiger Shaw (Bana), Billy Blair (Kowlan)
---
Plot
Daniel is an American treasure hunter who is in Mongolia searching for the lost tomb of Genghis Khan. He is being pursued by local warlords wanting moneys owed. After their vehicle breaks down, Alicia Brewer, a doctor with the charity organisation Doctors of Hope, begs Daniel for a ride to deal with an outbreak in a nearby village and he demands money to take them. However, everywhere around them the ground is erupting with giant-sized worms that have been unearthed by drilling at a nearby plant.
---
Steven R. Monroe is a prolific genre director. Since the early 2000s, Monroe has been churning out low-budget movies that have mostly aired on places like the Syfy Channel with the likes of The Contract (2002), House of 9 (2005), It Waits (2005), Left in Darkness (2006), Sasquatch Mountain (2006), Dual (2008), Ogre (2008), Storm Cell (2008), Ice Twisters (2009), Wyvern (2009), Jabberwock (2011), MoniKa (2012), End of the World (2013), Grave Halloween (2013), The Exorcism of Molly Hartley (2015), Teardrop (2022) and Unborn (2022). The two films Monroe gained a certain notoriety for was the remake of I Spit on Your Grave (2010) and its sequel I Spit on Your Grave 2 (2013).
By any other name, Mongolian Death Worm is a low-budget Monster Movie made for the Syfy Chanel. It is a production from CineTel Films who had made a prolific output of low-budget action, science-fiction, monster and disaster movies for video and cable since the 1990s.
The Mongolian Death Worm is a creature that is said to exist in the Gobi Desert, supposedly about a metre long and red in colour. It travels through the sand and emits a deadly acidic venom. That is to say, it is rumoured to exist. It was first reported in On the Trail of Ancient Man (1926) by Roy Chapman Andrews, a non-fiction anthropological work, where the author was recounting accounts he had heard from Mongolians who were certain of the creature's existence. No zoological evidence has ever been uncovered, meaning that the Mongolian Death Worm should be properly regarded as a cryptid. This is extruded with a great deal of creative licence when it comes to the film where the worms gain about three times the size they are reputed to have. There is no acid spurting and they are suggested as having (improbably) been buried and are now unearthed by the drilling at the plant.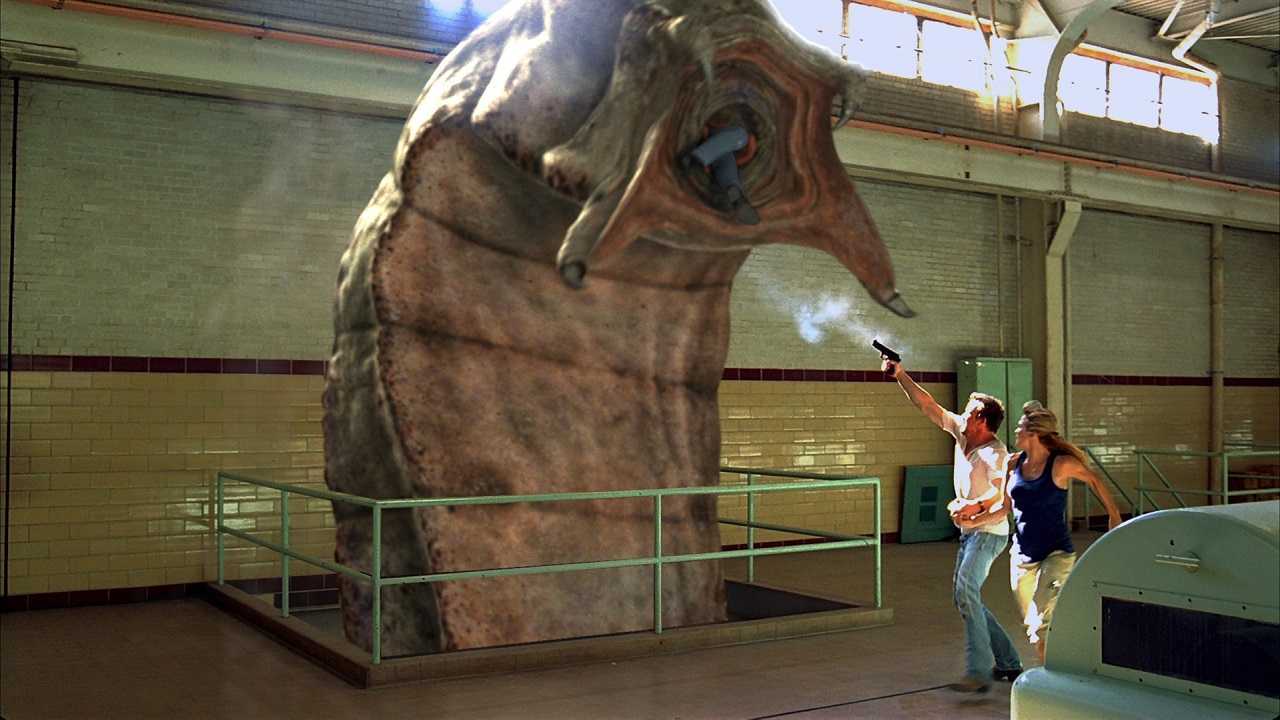 In practice, what this means is that all we get is a low-budget variation on Tremors (1990). This is particularly noticeable when it comes to the 'Mongolian' part of the film's title. The film has gone to shoot in Texas and tries to convince us it is Mongolia. First of all, it is clear that nobody involved in the production had the slightest idea what Mongolia looks like. Google a few pictures of the country – it is all desert and mountains – and ask yourself if the Texas backroads that we get here look in the slightest bit similar. When it comes to the so-called Mongolians, the filmmakers have simply cast American Chinese – they drive SUVs, while George Kee Cheung even plays the equivalent of a Mongolian sheriff with shotgun, badge and cowboy hat.
The effects are passably competent. The leads are filled out with the usual B-list names that turn up in these types of films. Sean Patrick Flanery tries to do the whole grizzled rogue adventurer part but doesn't quite pull it off – one scene in particular where he takes over the plant control room at gunpoint has an ad libbed lunacy to it where you would swear that Flanery was baked out of his mind on coke throughout the shooting of it.
---
---