aka The Everglades Killings
---
Crew
Director – Ben Wilder, Story – Ashley Billington, Jesus Roldan, Sean Therrien & Ben Wilder, Producers – Jason Dudek, Justin Lally & Ben Wilder, Photography – Paul DiMarco, Special Effects – Chris Cataldo & Derek Garcia. Production Company – Follow Through Productions.
Cast
Sydney Raye (Toni), Nicholas Kolasinski (Tyler), Peter Pontone (Derek), Robert Futrell III (Marcus), Camisha Luellen (Tanya), Brenda Osomo (Anna), Lauren Ashleigh (Nicole), Nicholas Hoats (Patrick), Elissa George (Leah), Jordan Gaddy (Joclyn), Benjamin Padden (Hank), Tony Slead (Otis), Gerald Motes (Henry Gerald), Linnea Quigley (Bartender 1)
---
Plot
Springbreak of 2015. A group of college students have come to Fort Lauderdale but are bored of attending the same parties. A bartender suggests they go on a snake hunt in the Everglades. The group head out on a planeboat tour run by Hank only for the boat to break down in the middle of the bayous. Hank then collapses dead from a heart-attack while trying to restart the boat. Hank warned them that a nearby house was the site of a series of murders and is avoided by locals but the group decide to seek refuge there. As they settle in and wait to be rescued, backwoods hicks come hunting them.
---
Lake Fear (2014) was a painfully bad film. I had no problems giving it a zero star rating. Surprisingly enough, it has produced not one but two sequels with Lake Fear 2: The Swamp here from different parties and subsequently Lake Fear 3 (2018) from the creators of the first film.
It is no particular surprise that Lake Fear 2 has no relation to Lake Fear – both films started out shooting under one title and were sold together under the Lake Fear banner by ITN Distribution despite not being connected in any way. It should also be noted that while Lake Fear 2 is set in the Florida Everglades, there is no part of the film that actually visits any lake. Lake Fear 2 also gives the impression of having sat on the shelf for some time – there are frequent references throughout about it being Springbreak of 2015 while someone even wears a T-shirt celebrating such – but the film was not released until 2018.
Lake Fear was a backwoods cabin/occult film in the same vein as The Evil Dead (1981), whereas Lake Fear 2 is a slasher film. As such, the film does little to vary from the cliches established by the slasher film – see Slasher Films. It also falls into the cliches of Backwoods Brutality films – see Backwoods Brutality Films – with the hicks wandering around the house, hunting the teens. The last scene of the film goes completely left field and seems to indicate the hicks are also devil worshippers.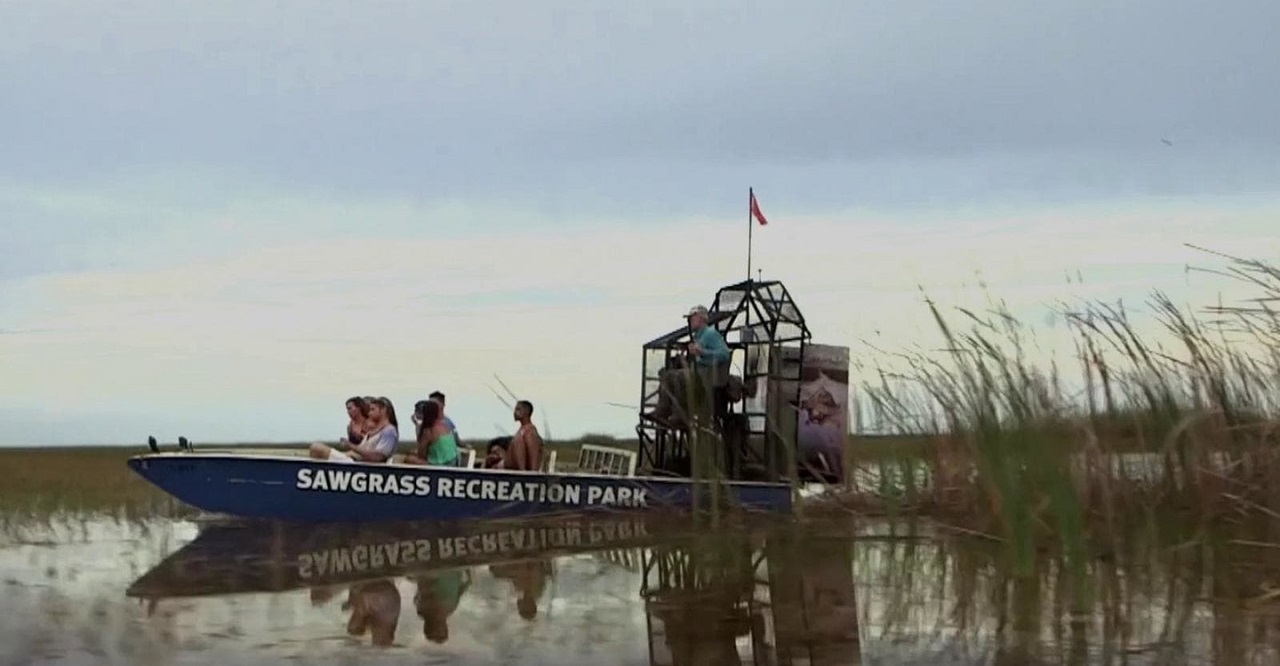 Amongst the standard slasher movie victims, the film has a line-up of the least likeable and most self-absorbed teens one has seen in some time – the sort that you can't wait until they start getting slaughtered. The film also manages to get all of its female actors topless and frequently fully frontal nude at various points – not to mention readily throws in gratuitous topless sunbathing and wet T-shirt competitions.
Among the cast, Benjamin Padden gives a good performance as the tour boat operator/guide. I was unsure some way into the film whether this was someone with a real knowledge of the area – his tour boat spiel comes in a way that seems unrehearsed and naturalistic – leaving you are not sure if the filmmakers had co-opted the real article. Original 1980s Scream Queen Linnea Quigley also turns up near the start as the bartender who directs the group on the snake-hunting tour.
---