---
Canada. 2000.
Crew
Director – John Fawcett, Screenplay – Karen Walton, Story – John Fawcett & Karen Walton, Producers – Karen Lee Hall & Steve Hoban, Photography – Thom Best, Music – Mike Shields, Digital Effects Supervisor – John Furniotu, Special Effects Supervisor – Brock Joliffe, Makeup Effects – Paul Jones, Production Design – Todd Cherniawsky. Production Company – Copper Heart Entertainment/Water Pictures/Lions Gate Films/TVA International/Oddbod Productions.
Cast
Emily Perkins (Brigitte 'Bea' Fitzgerald), Katharine Isabelle (Ginger Fitzgerald), Kris Lemche (Sam), Jesse Moss (Jason McCarty), Mimi Rogers (Pamela Fitzgerald), Danielle Hampton (Trina Sinclair), John Bourgeois (Henry Fitzgerald), Peter Keleghan (Mr Wayne), Pak-Kong Ho (Janitor)
---
Plot
In the Canadian town of Bailey Downs, teenage sisters Bea and Ginger Fitzgerald conduct a macabre class project of staging and photographing their own mock suicides. While out at night, Ginger is attacked and dragged away by a wolf creature, which is then run down by Sam, the local dope dealer. Afterwards, Bea sees that Ginger is starting to change – she is growing hair on her body and a tail, although this is dismissed by others as being her first menstruation. Bea sees that Ginger's personality is starting to change as well and that she is becoming more sexual and aggressive. Bea becomes concerned when, during Ginger's first sexual experience, Ginger demonstrates more interest in eating the flesh of freshly killed animals. Bea then teams up with Sam to find a way of stopping the transformation that is now also starting to affect her too.
---
Ginger Snaps is a werewolf film. However, it is a werewolf film that has little in common with Lon Chaney Jr and even modern deconstructions like The Howling (1981) and An American Werewolf in London (1981). Rather it falls into part of the new post-postmodern horror movie – films like Wolf (1994), Addicted to Murder (1995), The Addiction (1995), Blood (2000) and tv series such as Wilderness (1996) and Ultraviolet (1998) – that deconstruct classic monster movies as merely stories about people with complex problems. You might get a better picture of Ginger Snaps by calling it a remake of I Was a Teenage Werewolf (1957) as filtered through the Gen X sarcasm of Heathers (1989) – or perhaps more closely Ghost World (2001), even though it predates Ghost World.
Ginger Snaps overflows with a profusion of ideas. In fact, it bursts with so many ideas that it often has to make abrupt changes of tone in order to get everything in. The credits, which run over a montage of faked suicide set-ups, hit in with an hilariously black tone of sarcasm taken right from Heathers. The two characters and their aversion to the world of suburban middle-class values, bitchy school hierarchies and blandly caring homelife they live in is depicted with a sarcastic amusement that you cannot help but empathise with. However, in the first of several changes of tone, the disaffected sarcasm drops off soon after the horror story takes over – the character of Bea even becomes staid and normal.
Ginger Snaps is a film where you have to let co-writers John Fawcett and Karen Walton lead us where they are interested in going, even if it means dropping ideas along the way – they never make clear where the original werewolf that bites Ginger came from, for instance. Like the fascinating The Company of Wolves (1984), Fawcett and Walton tie into the idea of the emergence of female lycanthropy with the arrival of menstruation and equate a female werewolf with the assertion of female sexuality.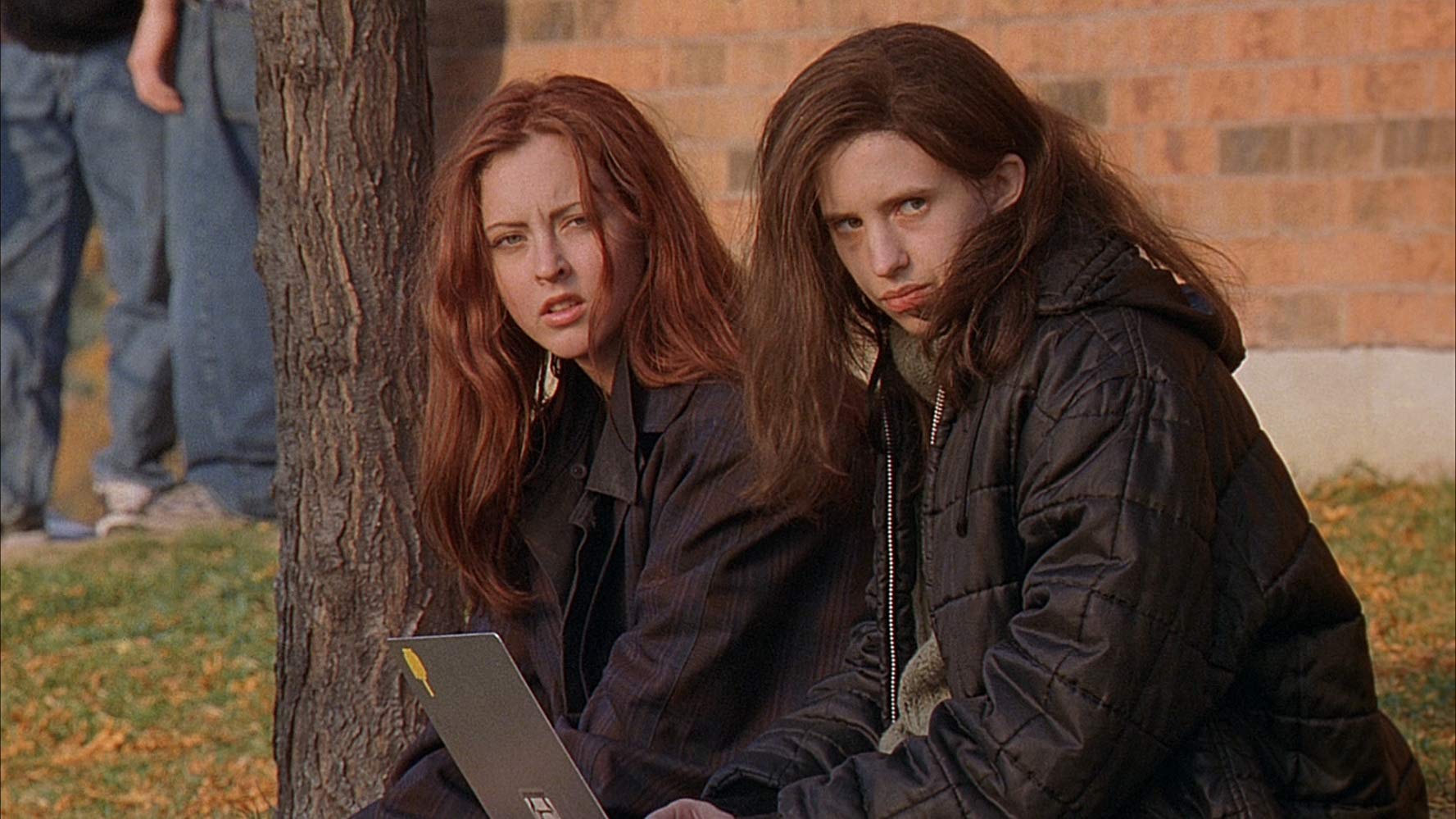 For a time, Ginger Snaps stands as an existential horror film, albeit somewhat tongue-in-cheek, vying between whether Ginger is just undergoing strange hormonal behaviour or whether she is turning into a werewolf. However, Fawcett and Walton then abandon that too. When you expect Ginger Snaps to emerge as a black comedy about two disaffected teen sisters finding self-empowerment as werewolves and taking revenge on the cloying values around them, the film contrarily turns off into a strong character-driven drama about one sister becoming something dangerous and the other's attempts to understand and stop what is happening. Ginger Snaps is frequently at its best during this section, crafting some excellent and hauntingly thoughtful characteriaations, aided by fine performances from the two sisters Emily Perkins and Katharine Isabelle.
Walton and Fawcett also make a fascinating attempt to explain lycanthropy scientifically – there is a certain subversive wit to the film here with it, in a move borrowed from The Faculty (1998), having the teens go to the local dope dealer for scientific advice in combating the menace. In the last quarter of the film, John Fawcett turns it into an all-out horror film. The scenes with Emily Perkins moving through the house lit only by torchlight trying to get the syringe and inject the wolf are sustained with great intensity, even if the full-size wolf is not that convincing.
There is a considerable sense of humour that runs underneath everything throughout, with Mimi Rogers being particularly hilarious with her liberal mothering do-good homilies, or the bizarrely inconsequential image of Jesse Moss walking off with a syringe sticking out of his neck. Ginger Snaps is a film that brims with ideas, good characterisation and perverse humour – in fact, too many good things.
There were two sequels, Ginger Snaps: Unleashed (2004) and the prequel Ginger Snaps Back: The Beginning (2004), both featuring return appearances from Emily Perkins and Katharine Isabelle. The sequels are excellent films – in fact, manage to be even better films than the original.
John Fawcett subsequently went on within the genre to direct one of the episodes of the alien abduction mini-series Taken (2002), the supernatural film The Dark (2005) and the British psycho-thriller mini-series Bon Voyage (2006) and has mostly worked directing television. More recently, Fawcett was the creator of the hit cloning tv series Orphan Black (2013-7).
---
---