---
Crew
Director/Screenplay – Paul Chart, Producer – Irvin Kershner, Photography – William Wages, Music – Simon Boswell, Special Effects Supervisor – Ron Trost, Makeup Effects – Randy Westgate, Production Design – Katherine Vallin. Production Company – Nu Image/Malofilm BV.
Cast
Robert Forster (Dr Jake Nyman), Amanda Plummer (Sandra Thomas), Fairuza Balk (Alice Thomas), David Thewlis (Santini), Paul Sorvino (Sheriff Frank Noonan), Chris Sarandon (Sammy), Joanna Gleason (Shirley Dutton), Geoffrey Lewis (Willy)
---
Plot
While traveling along a desert highway, Sandra Thomas is forced off the road and her car wrecked by a crazy driver. Psychologist Jake Nyman offers her a ride, however their car runs out of gas. They are given a ride by the same person who forced Sandra off the road. This turns out to be the traveling salesman Santini who may also be a confidence artist. Sandra spends the night with Jake. However, the next morning when her sister Alice comes to find her, Sandra has vanished. Unaware, Alice accepts a ride with Jake where it soon becomes apparent that either he or Santini may be a serial killer and may have killed Sandra.
---
American Perfekt is an interesting little find. It comes from Nu Image, a production company best known for producing B-budget action films such as Cyborg Cop (1994), Operation Delta Force (1997) and various sequels to both, among a number of others. American Perfekt is a surprisingly good effort, much better than Nu Image's usual formulaic and rather dreary product. Nu Image have even roped in Irvin Kershner, the director of The Empire Strikes Back (1980), Never Say Never Again (1983) and RoboCop 2 (1990), to act as producer.
The title is immediately suggestive of Kalifornia (1993), another road movie that had serial killers inadvertently along for the ride. In both films, the clearly imperfekt spelling is invoked to suggest an America that has gone wrong. Although, more so than Kalifornia, American Perfekt is reminiscent of the great and underrated The Hitcher (1986), a road movie that similarly toyed with its audience and left them unsure where they were at all times.
American Perfekt is a film of captivating shadings. It is a thriller where everything sits ambiguously and nobody is who they seem – when Amanda Plummer is introduced it seems she is doing a Janet Leigh and stealing a car and that she might be lying about who she is and conducting a confidence scam; Robert Forster appears as a friendly doctor but is then revealed as a psychologist who may be pursuing a serial killer or even the killer himself; David Thewlis is first known only through his car, which seems to be pursuing Amanda Plummer with sinister intent and is then contrarily revealed to be an overly annoying salesman, before cracks appear where it could be that he is either a conman or the killer.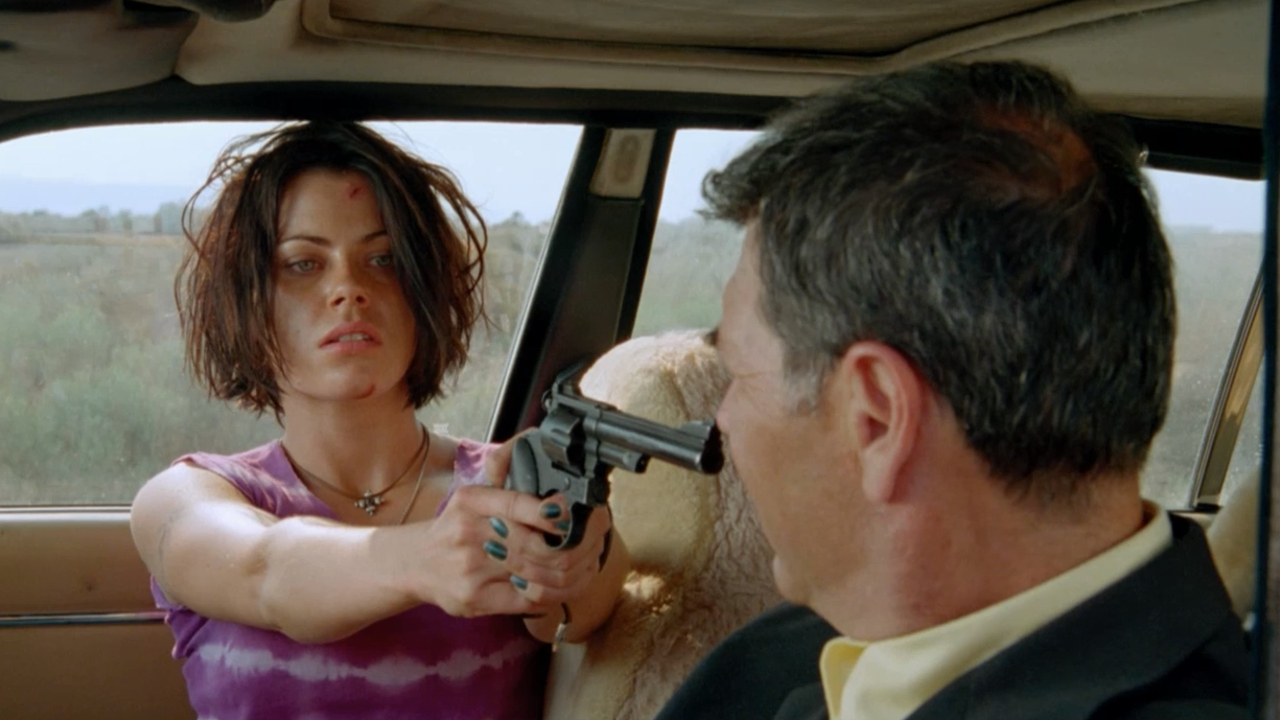 The second half of the film starts with Amanda Plummer vanished and all manner of ambiguity about whether she has come to mischief or not, and uncertainty as to whether either Robert Forster or David Thewlis may now have sinister intent toward her sister Fairuza Balk. The ambiguities and the twists are conducted with an enormous degree of dexterity upon the part of writer/director Paul Chart. All the principals give fine and unusual performances. American Perfekt is quite a remarkable find and it is all the more a shame for the fact that it has been abandoned to video release without a cinematic screening.
Despite American Perfekt even being nominated for a Palme d'Or at Cannes, Paul Chart has failed to direct another film until Breaking Waves (2011). He has however worked on a number of other projects including Children of Men (2006) and Journey to the Center of the Earth 3D (2008), only to see either taken over by other directors.
---
---