---
Crew
Director – Rob Malenfant, Screenplay – Frank Rehwaldt & George Saunders, Story – Brent Thompson, Producer – Pierre David, Photography – Darko Suvak, Music – Erik Lundmark, Production Design – Aaron Osborne. Production Company – Image Organization.
Cast
Talia Shire (Melanie Dade LeRoy), Jack Coleman (Patrick Forman), Bruce Weitz (Pepper McAllen), Melissa Behr (Liz Reese), Bette Ford (Justine Welch), Suzie Singer (Venice Dorian), Clement Von Franckenstein (Lawrence Gerard), Nathan Le Grand (Ralston LeRoy), Dee Freeman (Jenny Hagen), David Parker (Detective Troyer)
---
Plot
After she finds her husband Ralston with another woman, Melanie LeRoy kills him by feeding him the shellfish he is allergic to. Melanie has inherited an apartment building in L.A. from her Aunt Lydia's will and moves in there. She immediately develops a crush on handsome neighbouring social worker Patrick Forman and believes that they are destined to be together. She obtains Patrick the apartment next to hers but installs secret video cameras and one-way mirrors so that she can spy in on him. When others, from the apartment manager to Patrick's ex-girlfriend to the hooker that lives in the building, threaten what Melanie believes to be her and Patrick being together, she starts to kill.
---
The Landlady is one of a host of cable-released psycho-thrillers made by Canadian-born, US-based producer Pierre David. Pierre David produced several of David Cronenberg's films and the Scanners sequels but these days makes psycho-thrillers. Most of these fall to a predictable formula, usually imitating other more successful models and using a one-word job as their title. These include The Paperboy (1994), Stalked (1994), The Secretary (1995), Daddy's Girl (1996), The Dentist (1996), The Nurse (1997), Alone with a Stranger (2000) and The Stepdaughter (2000), among a host of other films. Rob Malenfant began working as an assistant director for Pierre David, had previously directed The Nurse and has made a total of nine films for David, including The Perfect Nanny (2000) and Blind Obsession (2001).
One entered into The Landlady expecting nothing more than another of Pierre David's formulaic and predictable thrillers. The surprise about it is contrarily what a good film The Landlady is. Pierre David and Rob Malenfant's winning card turns out to be Talia Shire. Talia Shire is Francis Ford Coppola's sister – her greatest career note was as Sylvester Stallone's wife in the Rocky films and in the two decades since she has remained a minor screen presence making occasional bit appearances.
Here, also taking an associate producer credit on the film and along way away from Rocky territory, she surprises by giving the performance of a lifetime as the psychopathic landlady. Talia Shire's ability to create a figure who comes with a feeble-minded conservatism and a pathological need for co-dependency, all of which without a misstep in tone turns into the psychopathic, is absolutely superb. Just the way her prim conservatism emerges – "Mr Pepper, if you take the Lord's name in vain again, I'll fire you" – holds a wonderful chill.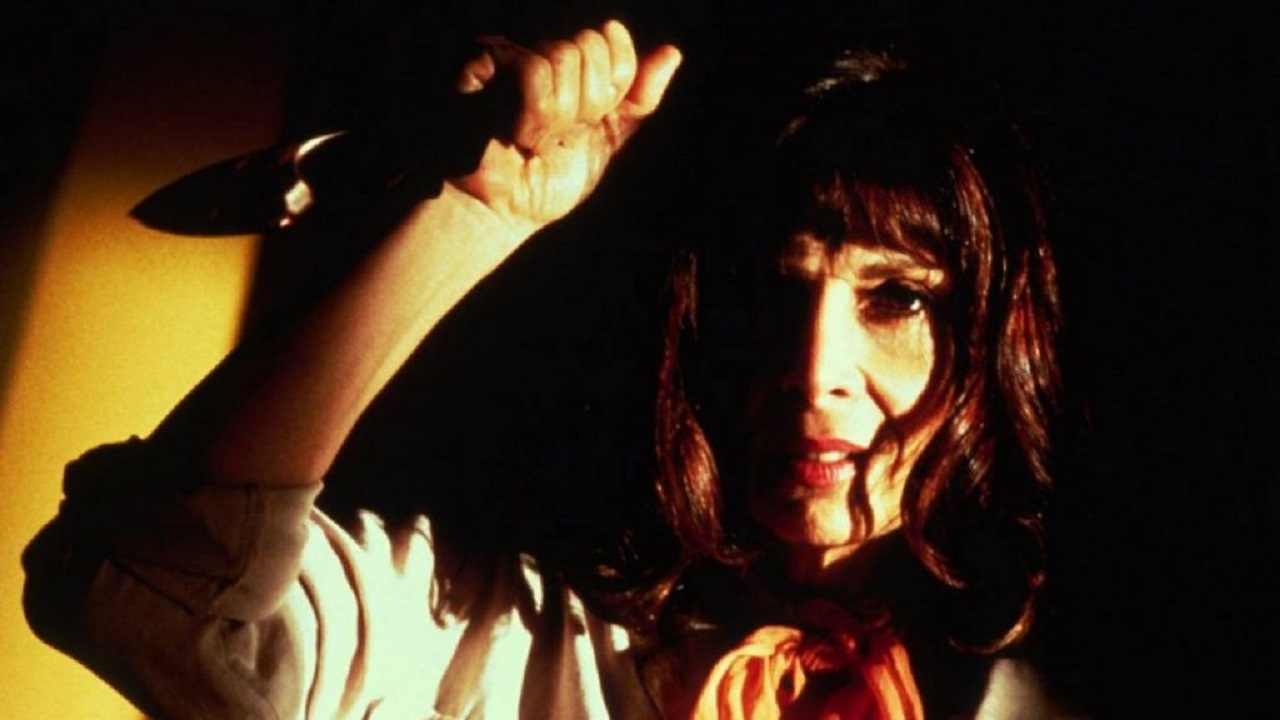 You can see The Landlady setting victims up well in advance, as is always the case with Pierre David's films. Nevertheless, Rob Malenfant directs each with some effect – there is a nasty scene where Talia Shire forces Melissa Behr to take sleeping pills at gunpoint. The scene is all the more effective for the humour with which it is underscored, with Shire making Melissa Behr list Jack Coleman's favourite things – "What's his favourite desert?" "Dessert. I'm not interested in his favourite desert." "Dessert has two s's. – Sahara."
The scene where Talia Shire sits down with a bowl of popcorn and turns on the tv looking in on Jack Coleman's apartment and then pulls the curtain to reveal him undressing on the other side of the one-way mirror contains a disturbing thrill. Rob Malenfant racks up some superb tension, particularly at the climax where Bruce Weitz's handyman insists on coming to repair the fridge and then the police arrive to ask questions, while all the time Talia Shire has Jack Coleman tied up in the next room.
(Nominee for Best Actress (Talia Shire) at this site's Best of 1997 Awards).
---
---