---
Crew
Director/Screenplay – Brian De Palma, Producer – George Litto, Photography – Ralf D. Bode, Music – Pino Donaggio, Art Direction – Gary Weist. Production Company – Samuel Z. Arkoff.
Cast
Angie Dickinson (Kate Miller), Nancy Allen (Liz Blake), Keith Gordon (Peter Miller), Michael Caine (Dr Robert Elliott), Dennis Franz (Detective Marino)
---
Plot
Housewife Kate Miller is sexually bored. She allows herself to be picked up in an art gallery by a complete stranger for an afternoon's casual sex back at his apartment. However, as she leaves, she is hacked to death in the elevator by a woman in a blonde wig and dark glasses wielding a razor. The police suspect call girl Liz Blake who was leaving another apartment at the same time. Liz teams with the Kate's teenage son Peter to find the real killer and clear herself.
---
Brian De Palma is very much a love him or hate him director. De Palma has always been a plunderer of Alfred Hitchcock and has drawn criticism for it. The plots of his films relentlessly rehash Alfred Hitchcock classics like Rear Window (1954), Vertigo (1958) and Psycho (1960).
Dressed to Kill is Brian De Palma's homage to Psycho. It is clear and obvious and there is no doubt about it. Just as Hitchcock started Psycho with a deceptive other story involving Janet Leigh's theft of $40,000 and cross-country flight, De Palma does similar things, initially drawing us into one story as Angie Dickinson engages in a casual fling with a stranger. In both stories we are involved and follow a blonde as she crosses a certain moral line and into forbidden territory, only for each film to then shockingly kill her off only part way into the story.
There is also the revelation of a split-personalitied transvestite killer. De Palma also stages not one but two shower murder sequences – although he has the outrageous sense to not merely quote a shower sequence in the opening moments but turn it into a masturbatory fantasy where Angie Dickinson is fantasising about being attacked by a masked killer with a knife.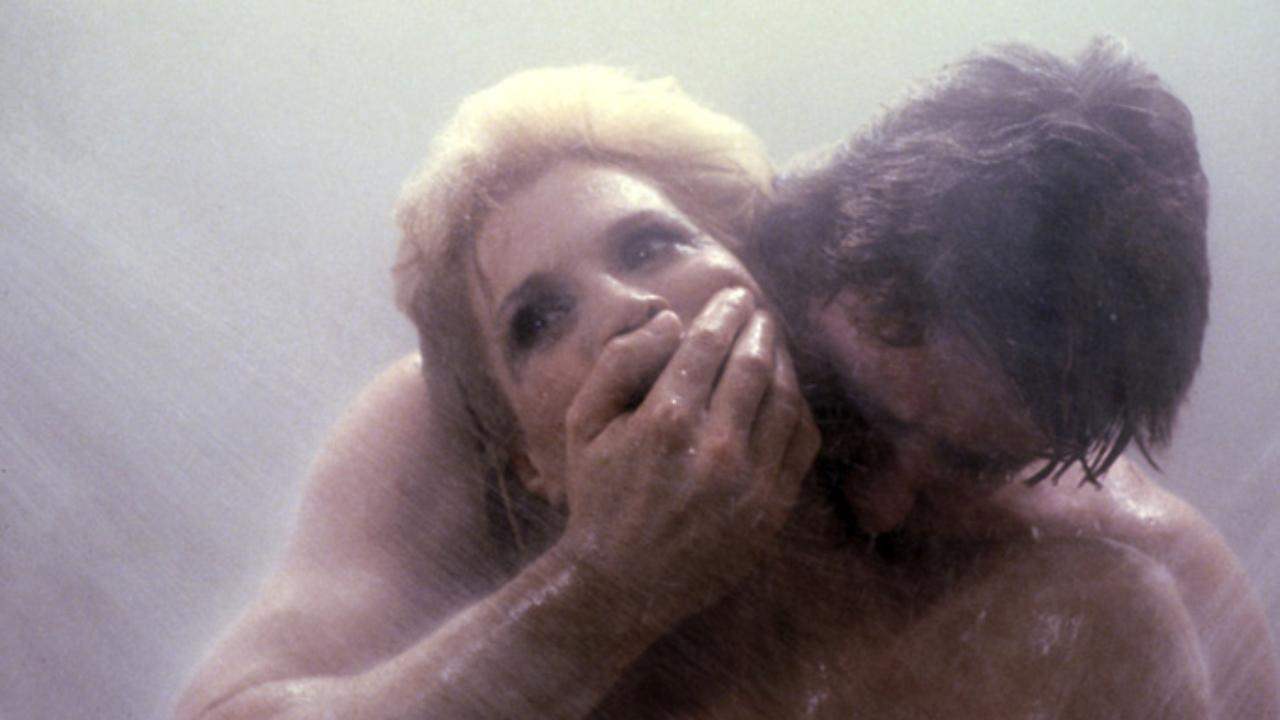 Even if one can dismiss Brian De Palma for plundering Hitchcock, one cannot deny that he is one of the most extraordinarily stylish directors. De Palma's work has a dazzling playfulness, an elaborateness of artifice constructed for its own sake – in Snake Eyes (1998), for example, he shoots the first 20 minutes of the film in one single unbroken shot.
The highlight of Dressed to Kill is an amazing ten-minute sequence with Angie Dickinson set in an art gallery. It is a sequence that is conducted entirely without dialogue. De Palma strikes a mood of weirdness from the start with the comically alienating blankness of the modern art works looking back down at Angie Dickinson, silent vignettes of the other patrons with their voices disembodiedly coming from the corners of the screen and cuts away to picture balloons of Angie's thoughts. An elaborate sequence is wound around her intimations towards the stranger, the dropped glove, his game leading her around the maze of halls, with rising urgency in the score and frenzied point-of-view camera-work as she becomes lost. The sequence outrageously culminates with him appearing, dragging her into a cab and making love to her. The sequence is left on a note of dis-ease in the last shot as a hand reaches down in the foreground to pick up the discarded glove. Directorially, it is a sequence of extraordinary visual daring.
There are a number of other well sustained sequences – the pursuit of Nancy Allen in the subway; the scene with Keith Gordon beating at the office window in the rain trying to alert Nancy Allen to the killer behind her. Where later Brian De Palma efforts such as Body Double (1984) and Raising Cain (1992) collapse into implausibly contrived plotting and psychology, Dressed to Kill holds together perfectly with even a psychologically plausible end revelation of the killer's motivation. The only gratuitous sequence is the end shower murder dream sequence that seems a contrived attempt to conduct another jump ending akin to the one that Brian De Palma pulled at the end of Carrie (1976).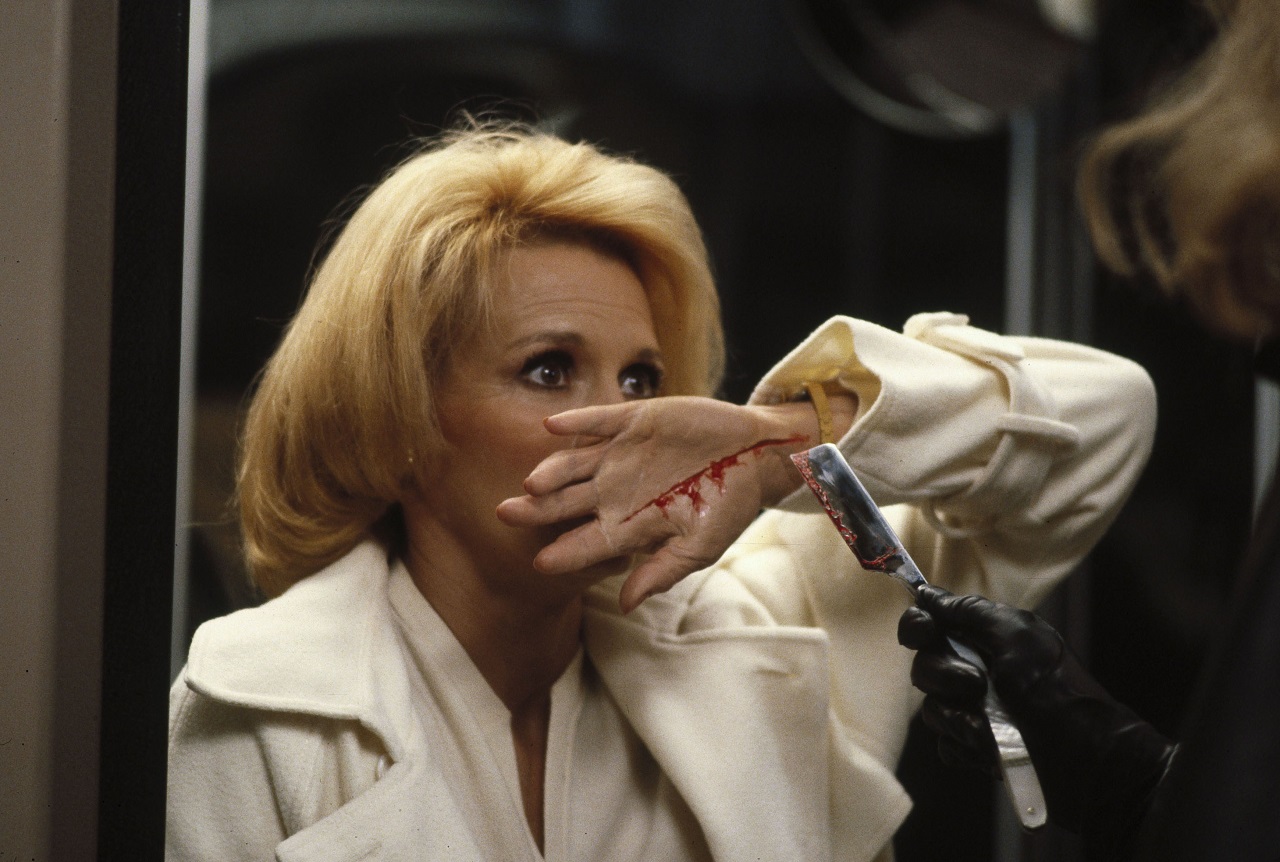 At the time, Brian De Palma took the broadside of the flack from the feminist movement's attacks on the slasher film where Dressed to Kill was seen as a prime offender. In one screening in England, the screen was pelted with red paint. Certainly, you cannot deny that Dressed to Kill has a definite misogynistic undertow. (The film was targeted at the time for the idea of women having fantasies about being attacked, although the relative mainstreaming of BDSM since has made this a less strong criticism). The first half of the film seems constructed like a deepening maze wound around Angie Dickinson punishing her for her sadomasochistic sexual fantasies and having casual sex outside her clearly dull marriage – immediately after her one-afternoon stand with a nameless stranger, she discovers that the stranger has a venereal disease and then moments later is sliced up with a razor by a sexually-conflicted transvestite.
For all the criticism levelled against him, all that Brian De Palma seems to be doing is overtly tapping into a sense of sexual conservatism that underlies modern American psycho-thrillers from Psycho through Halloween (1978) and Friday the 13th (1980) to Fatal Attraction (1987) and Basic Instinct (1992) – that hold the implicit assumption that any sense of sexual freedom outside of monogamy and marriage is deadly and that eroticism and sexual liberation stirs up dangerous forces. It is not Brian De Palma who is at fault so much as it is the strain of puritanism that rides underneath the modern American psycho-thriller.
It is however possible that an equal, although not necessarily strong, case could be made that De Palma is not so much relishing in punishing women as he is parodying the excesses of the slasher cycle. His work elsewhere occasionally shows a more liberal strand than almost any of his contemporaries – like the parody of the slasher movie conducted at the start of Blow Out (1981) and the bitter revilement of the exploitative nature of the genre that comes in its ending, as well as the strong liberated woman character at the heart of Sisters (1973). In the documentary De Palma (2015), De Palma rather fascintingly reveals that the teenage son played by Keith Gordon is essentially himself – he was a technical whiz and bugged his own father's office for evidence that he was having an affair and then hid in the closet and burst out to confront him.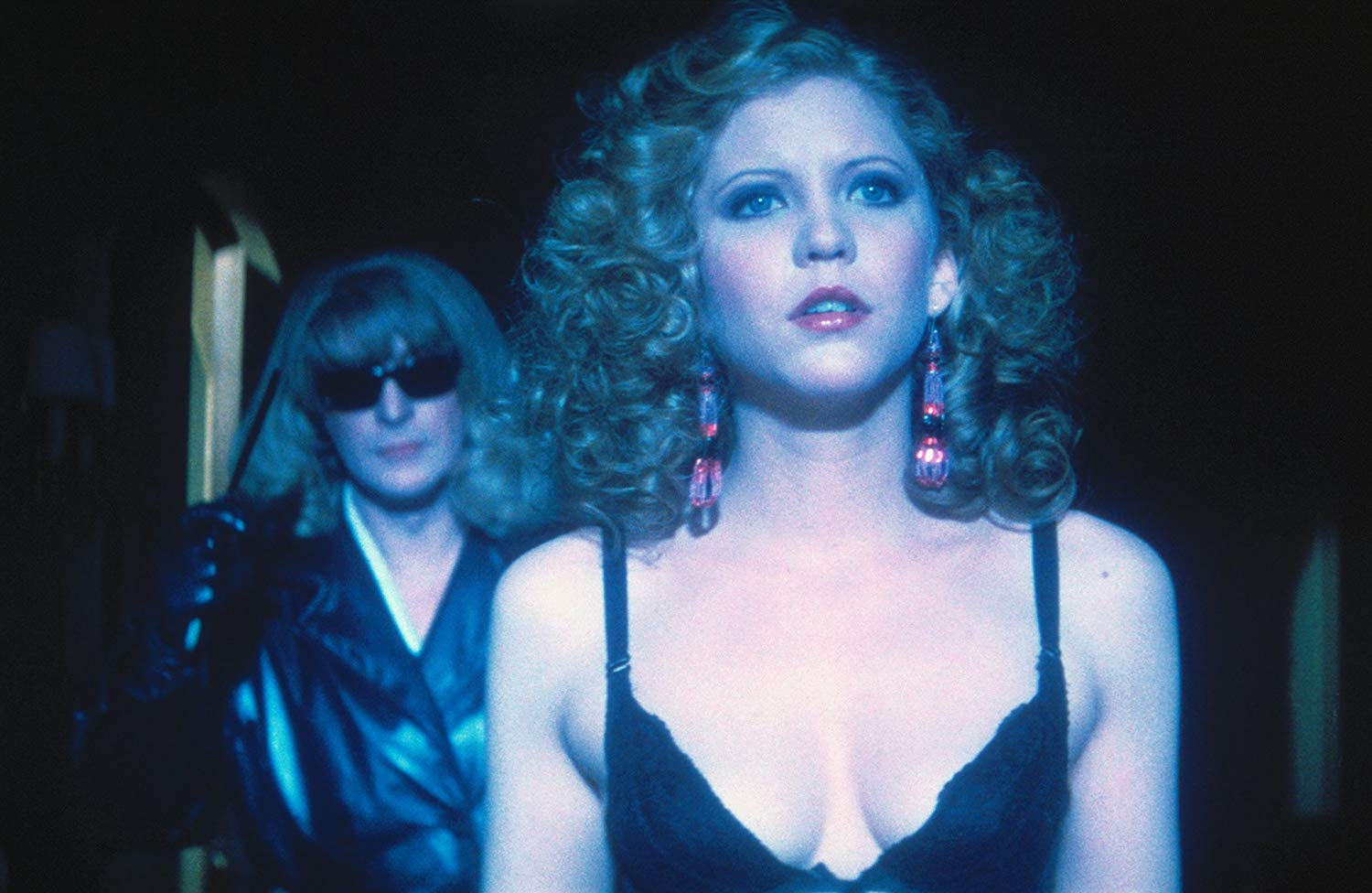 De Palma lines up an interesting cast. Angie Dickinson and Michael Caine are both there fairly much as marquee names. Nancy Allen is adequate. Allen was married to De Palma at the time after the two met on the set of Carrie. (One wonders if there is any particular significance to the fact that De Palma in the two films he made with Allen while he was married to her – Dressed to Kill and Blow Out – in both cases he cast Allen as a hooker?) The best performance comes from Dennis Franz (a regular player in many De Palma films), a performance that must surely have been the inspiration for Franz's casting as the almost identical ongoing character of Norman Buntz on tv's Hill St Blues (1981-7) and later spun out into the short-lived series Beverly Hills Buntz (1987). Keith Gordon, who played the teenage son, later took the lead in John Carpenter's Christine (1983) and is nowadays better known as a director, most notably with the quasi-ghost story Waking the Dead (2000) and the Dennis Potter adaptation The Singing Detective (2003).
Brian De Palma's other genre films are:– the absurdist comedy Get to Know Your Rabbit (1972), the psycho-thriller Sisters/Blood Sisters (1973), the rock musical Phantom of the Opera parody The Phantom of the Paradise (1974), the reincarnation thriller Obsession (1976), the psychic powers films Carrie (1976) and The Fury (1978), the psycho-thrillers Blow Out (1981), Body Double (1984) and Raising Cain (1992), the sf film Mission to Mars (2000) and the psycho-thriller Femme Fatale (2002). De Palma (2015) is a documentary about De Palma's life and films.
---
---