---
USA. 1991.
Crew
Director – Joseph Ruben, Screenplay – Ronald Bass, Based on the Novel by Nancy Price, Producer – Leonard Goldberg, Photography – John W. Lindley, Music – Jerry Goldsmith, Visual Effects – Illusion Arts (Syd Dutton, Bill Taylor & David S. Williams, Jr.), Special Effects Supervisor – Calvin J. Acord, Production Design – Doug Kraner. Production Company – Twentieth Century Fox.
Cast
Julia Roberts (Laura Burney/Sara Waters), Patrick Bergin (Martin Burney), Kevin Anderson (Ben Woodward), Elizabeth Lawrence (Chloe Williams), Kyle Secor (Dr John Fleishman), Nancy Fish (Woman on Bus)
---
Plot
Laura Burney lives with her husband Martin, a successful financial consultant, at a beachside home at Cape Cod. Martin is also controlling of her, demanding everything be in strict order and beats Laura when she disobeys him. He persuades Laura to come out yachting one evening, although she does not like being out on the water due to a near-drowning experience as a child. A storm comes up and they are caught in it and Laura thrown overboard. Knowing she cannot swim and finding only her empty lifejacket afterwards, Martin assumes that she has drowned. However, Laura has been taking swimming lessons and hides on a buoy. She sneaks away and catches a bus to Cedar Falls, Iowa where she rents a house and sets up a new life under the identity of Sara Waters. There she meets and duly develops an attraction to her neighbour, drama teacher Ben Woodward. However, Martin has uncovered an increasing number of clues that indicate that Laura is not dead and sets out determined to track her down.
---
Julia Roberts emerged as one of the top stars of the 1980s with the runaway hit of Pretty Woman (1990). She had a mere handful of parts prior to that in Mystic Pizza (1988), Satisfaction (1988) and the ensemble drama Steel Magnolias (1989), which saw her nominated for an Academy Award. However, it was Pretty Woman where she played a hooker romanced by Richard Gere that saw her career go stellar and be nominated for a second Academy Award. She became one of the highest-earning actress in Hollywood, although producers thereafter tended to push her into light romcom films – I Love Trouble (1994), Something to Talk About (1996), My Best Friend's Wedding (1997), Notting Hill (1999), Runaway Bride (1999), America's Sweethearts (2001), The Mexican (2001), Mona Lisa Smile (2003). She has played a reasonable number of dramatic parts, most notably her award-winning part as Erin Brockovich (2000). She has appeared in the sporadic genre film with the likes of Flatliners (1990), was Tinkerbell in Steven Spielberg's Hook (1991), Dr Jekyll's maid in Mary Reilly (1996), Woody Allen's love interest in the whimsy Everyone Says I Love You (1996), dealt with a loopy Mel Gibson in Conspiracy Theory (1997) and was the Wicked Queen in Mirror Mirror (2012), as well as voicing roles in The Ant Bully (2006), Charlotte's Web (2006) and Smurfs: The Lost Village (2017). She is the younger sister of Eric Roberts, eleven years her senior, a prolific B movie actor in his own right who had been on screens since the 1970s.
Sleeping With the Enemy was the second film that Roberts made on the back of Pretty Woman. Based on a 1987 novel by Nancy Price, it was made in the wake of the hit of Fatal Attraction (1987) in which Glenn Close played a deranged woman stalking Michael Douglas. This inspired a string of psycho-thrillers about disturbed woman invading and wreaking havoc on the lives of family men. See the likes of Basic Instinct (1992), The Hand That Rocks the Cradle (1992), Single White Female (1992), The Crush (1993), The Temp (1993) and Mother's Boys (1994), among others. Sleeping With the Enemy is one of the few of these that features a psychopathic male character – about the only others that came out during this period were Pacific Heights (1990) and Unlawful Entry (1992).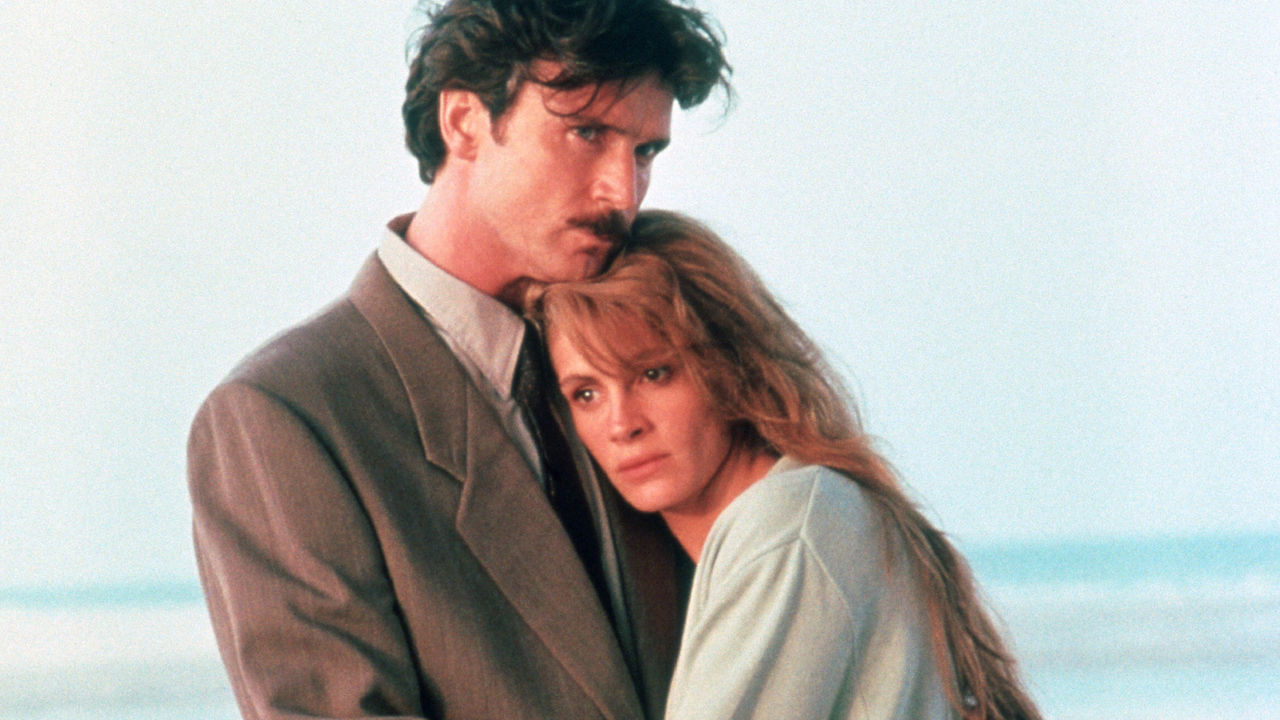 Julia Roberts seems far too young for the role she is cast into. It's a part that should have been played by a woman ten years older than her – Roberts was 23 at the time the film came out (which means that she would have been only eighteen when Patrick Bergin's character married her five years ago). Roberts inhabits the role and does an adequate job of looking frightened when required but seems to be sleepwalking her way through. Where she comes to life most of all is the montage scenes with her and Kevin Anderson at the theatre fooling around, putting hats on and dancing. It is a superfluous scene but it has her flashing her million-dollar smile and has a spontaneous energy to it that gives the screen life during these few minutes. The most magical part in the film though is the story Julia Roberts tells to the lady she meets on the bus about how she was visiting a friend who left the husband who beat her, where the third person invention slowly becomes something more and more personal. The single best aspect of the film however is Irish actor Patrick Bergin, making his American debut. Bergin plays with a perfectly pressed, handsomely assured and darkly urbane charm. It is a performance of quite demonic chill he gives – his mannered, soft-spoken lilt of voice contains so many cold undertones it is downright scary.
The director assigned was Joseph Ruben. After making a handful of adult films and teen films in the 1970s, Ruben moved towards the mainstream with Gorp (1980) and the genre film Dreamscape (1984). He had a critical hit with the original The Stepfather (1987) and for a time after this seemed pushed into being a director specialising in psycho-thrillers with Sleeping With the Enemy and the subsequent The Good Son (1993) featuring a psychopathic Macaulay Culkin. Elsewhere he has made True Believer (1989), Money Train (1995), Return to Paradise (1998), the alien abduction film The Forgotten (2004), Penthouse North (2013) and The Ottoman Lieutenant (2017).
Joseph Ruben makes a beautiful looking film. He places a focus on the house in its elegant, designer perfection and the gorgeously photographed Cape Cod sunsets (in actuality, location shooting in North Carolina). It feels like we are walking through a show home where the set designers are taking the opportunity to show off – when Patrick Bergin comes up and grabs Julia Roberts from behind early on, Ruben gives us exquisite shots of a bowl of strawberries falling to the floor. This is not what you expect of a film about a wife-beater – your assumption going in is that Patrick Bergin should be a truck driver in reversed baseball cap, sleeveless singlet and can of beer in one hand. (Although you suspect a lot of this has to do with casting Julia Roberts who probably wouldn't have touched a film about a white trash couple with a ten-foot pole). The first ten minutes absorbs us into the designer lifestyle before Patrick Bergin accuses Julia Roberts of seeing Kyle Secor and then abruptly beats her in the face with his fist. Of course, this is a Hollywood beating where Julia fails to come out of it with any bruises, nothing more than a gash about two inches long up around her hairline – nevertheless, the effect is a considerable shock.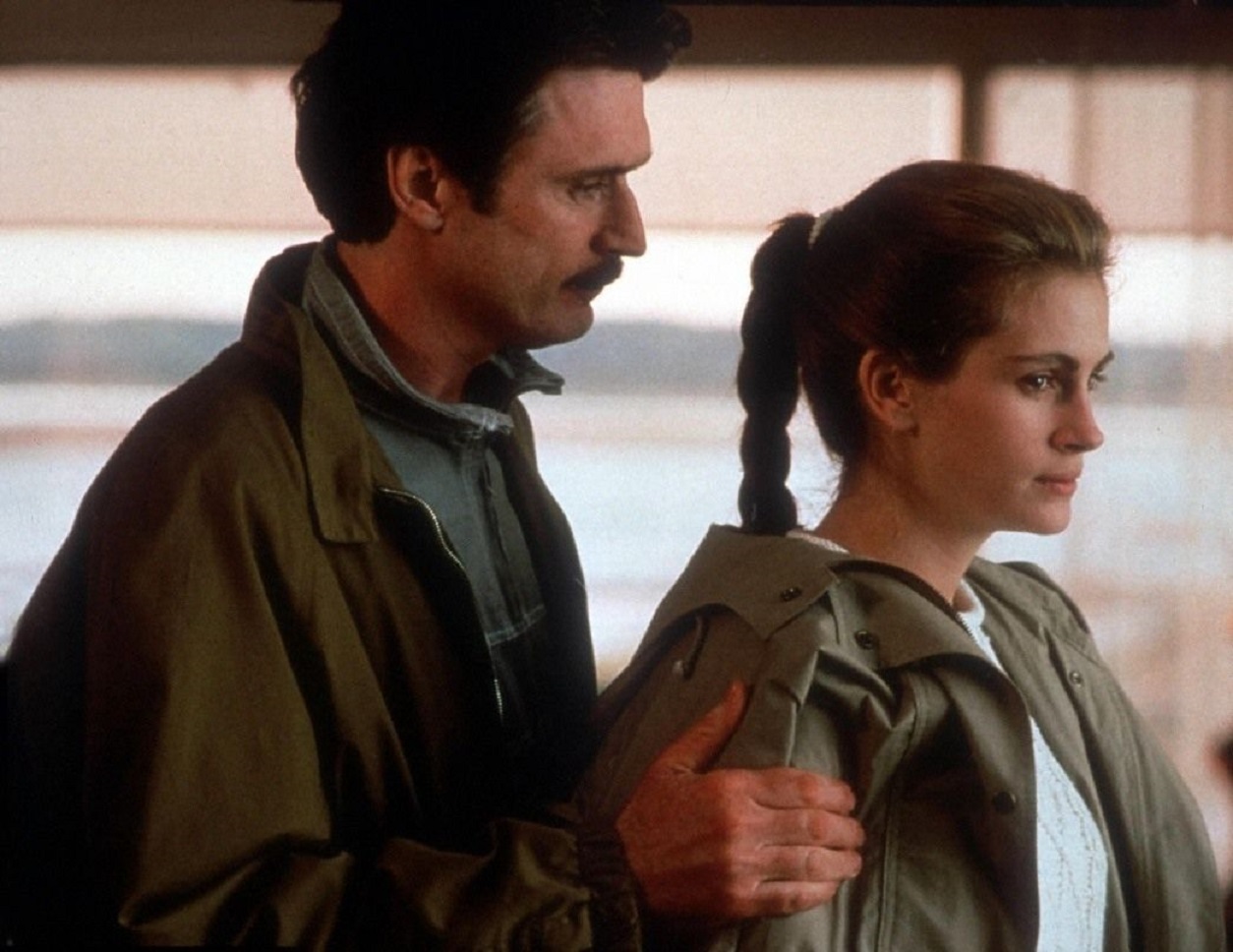 The Cape Cod sections make deliberate contrast to the sections of the film set in Iowa where the designer perfection of Julia's life with Patrick Bergin is replaced by a visual scheme that is earthy, rustic, shot in autumnal colours and filled with visual clutter. Even her arrival in the town comes with symbolic slow-motion shots of the American flag being raised up the pole. Julia's love interest in these sections is characterised by Kevin Anderson who is outfitted as a 1990s lumbersexual with permed long hair, beard and suspenders.
There are times the film becomes unbearably suspenseful – in particular, the scene where Patrick Bergin enters Roberts' blind mother's room, allaying her suspicions by telling her he is a cop, warning her Roberts's husband is loose in the area, and then raising a pillow and starting to push it towards her face only for a nurse to enter the room and he seamlessly turns the gesture into propping the pillow behind her head. The ending [PLOT SPOILERS] where Roberts holds Bergin off at gunpoint then tells the police on the phone, "I've just killed an intruder," before shooting Bergin comes with a startling sting.
Although for me, the ending where Julia Roberts shoots Patrick Bergin ruptures the tenuous plausibility of the film – the first thing the police would do after arriving at the scene is try and ascertain who the shooter is, find there is no ID records of any Sara Waters. In their investigation into Bergin's background, they would find that he had a wife who mysteriously died without a body being found, which would almost certainly turn up a photo of Julia and the similarity be noted. I don't know but if I was a detective who was investigating a shooting, found the wife had faked her own death and then shot the husband a few months later, it would shout out highly suspicious circumstances to me.
---
Trailer here
---