---
Crew
Director/Screenplay – Alan Parker, Based on the Novel Falling Angel by William Hjortsberg, Producers – Elliott Kastner & Alan Marshall, Photography – Michael Seresin, Music – Trevor Jones, Special Effects – J.C. Brotherhood, Production Design – Brian Morris. Production Company – Mario Kassar-Andrew Vajna/Winkast Union/Carolco.
Cast
Mickey Rourke (Harry Angel), Robert De Niro (Louis Cyphre), Lisa Bonet (Epiphany Proudfoot), Elliott Keener (Sterne), Charlotte Rampling (Margaret Krusemark), Stocker Fontelieu (Ethan Krusemark), Brownie McGhee (Toots Sweet), Michael Higgins (Dr Fowler), Dann Florek (Winesap)
---
Plot
New York City, 1955. Private detective Harry Angel is hired by the mysterious Louis Cyphre to find singer Johnny Favorite who signed a contract with Cyphre but disappeared before Cyphre could foreclose. As he follows Favorite's trail, Angel finds that every witness is being murdered after he talks to them. The trail leads Angel to New Orleans and into a mystery involving voodoo and the black arts. Finally, Angel discovers that Cyphre is none other than Lucifer. Favorite had signed a contract for his soul with Cyphre but attempted to use the black arts to avoid Cyphre claiming his soul by transferring it into another body.
---
Film Noir is a genre that began in the 1940s. It took the staple crime films of the previous decade and created an entirely new setting – a world that was dark and shadowy (filled with the cliche images of slatted Venetian blinds, whirling ceiling fans, rain-slicked streets) and where the characters lived on a pessimistic, morally blurred edge (burned-out private eyes, deceitful femme fatales, corrupt cops). The heyday of film noir was during the 1940s and early 50s. It was a genre that largely evolved at B studios in direct contrast to the cleanly photographed and morally black-and-white dictates of the mainstream studios and was soon copied back by the big-budget features. The origin of the term film noir (French for Black Film) is not clearly known, although it was never something that was in use during noir's heyday.
Ever since the heyday of the genre, the look and style of noir has been endlessly parodied to the point of cliche. Numerous modern films have attempted to pastiche its style – examples might include The Long Goodbye (1973), Chinatown (1974), Body Heat (1981), Blade Runner (1982), the Coen Brothers' Blood Simple (1983) and The Man Who Wasn't There (2001), L.A. Confidential (1997), Sin City (2005) and parodies such as Dead Men Don't Wear Plaid (1982) and Who Framed Roger Rabbit? (1988). For more detailed overview of the genre see Film Noir.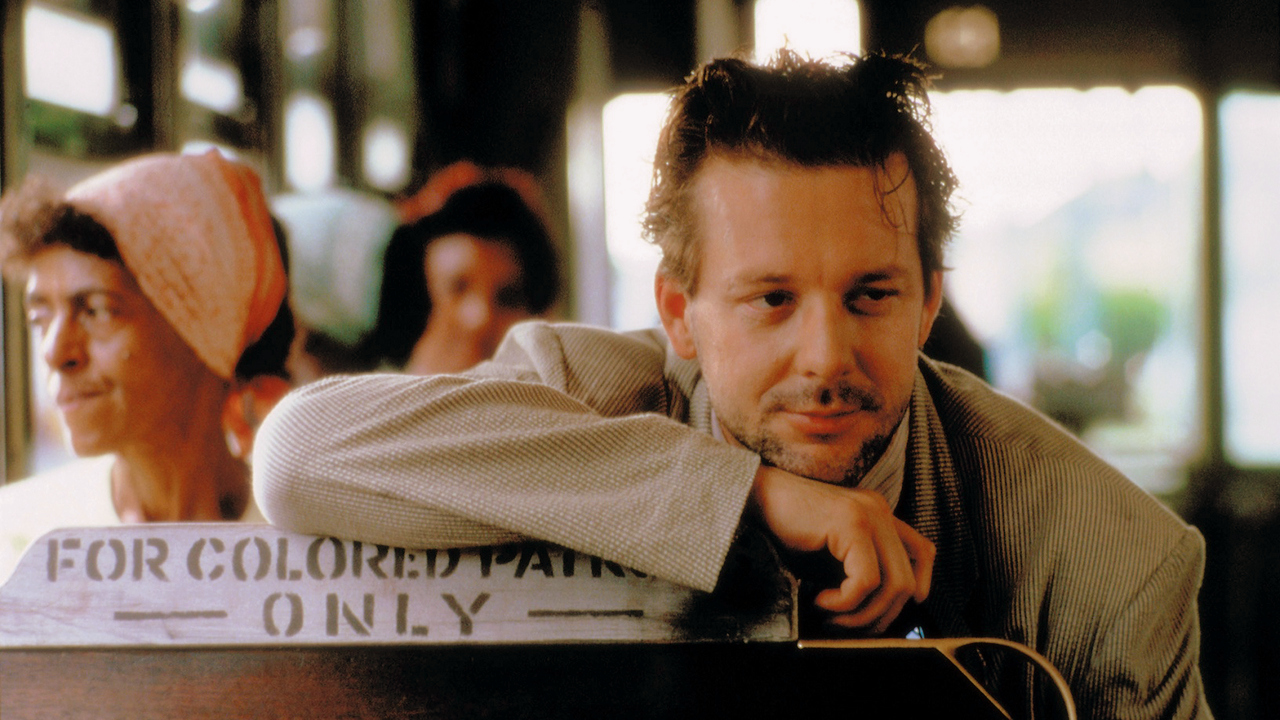 In this haunting modern film noir reworking, the Humphrey Bogart-styled gumshoe detective story and the old diabolical pact story make fascinating bedfellows. Angel Heart may be the most haunting of all modern film noir quotings – the film is all fans twirling in the breeze, elevators arriving in chiaroscuros of light from behind barred doors, crummy apartments and washed-out Coney Island and Louisiana landscapes. Angel Heart was one of the most dazzlingly photographed films of its entire decade.
Alan Parker is a director whose films – Bugsy Malone (1976), Midnight Express (1978), Fame (1980), Pink Floyd – The Wall (1982), Birdy (1984), The Road to Wellville (1993), Evita (1996) and Angela's Ashes (1999) – hop between an enormous number of genres. However, many of these hold a febrile intensity that edges the everyday over into the fantastic in one form or another.
Parker evokes every scene here – visions of light playing in rundown apartments, each vignette of impoverished Louisiana rural backwaters, every casual pan across period bric-a-brac – with an amazing visual sensuality. In one extraordinary scene, he directs a love sequence between Mickey Rourke and Lisa Bonet in a seedy hotel that turns into a stunning kaleidoscope of imagery where dripping water becomes a raging torrent of blood hallucinatorily intercut with orgy scenes.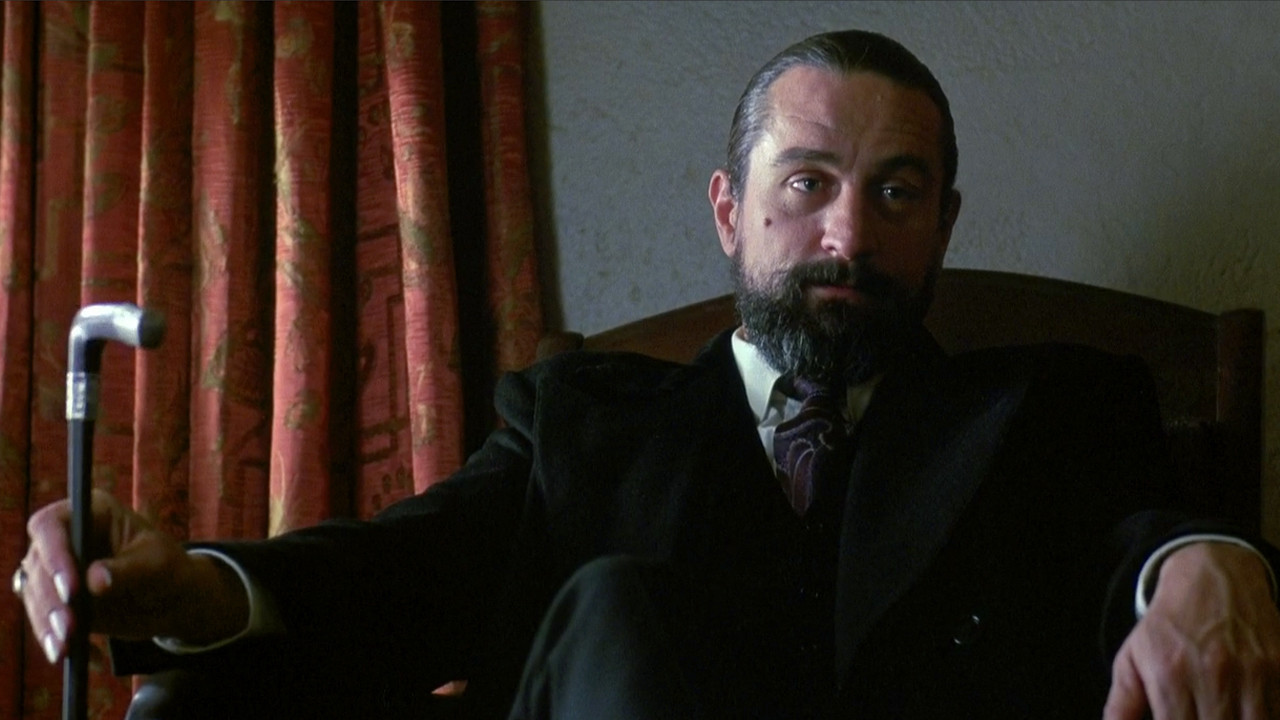 Mickey Rourke with shabby demeanour, three-day stubble and perpetually boyish cuteness is an actor born for the gumshoe role. Alan Parker also obtains a casting coup with Robert De Niro as Louis Cyphre. De Niro plays with customary twinkle, something that manages to turn an act as simple as cracking and eating a boiled egg into something sinister. Lisa Bonet, who managed to shake typecasting as the daughter on tv's The Cosby Show (1984-92) around the same time with her torrid love sequence, fills the requirements of the part passably. Parker manages to turn something as simple as the image of her washing her hair into the earthily erotic.
If anything, the extraordinariness of the atmosphere that Alan Parker piles onto the film belies the slightness of the story, which is essentially a single joke that seems slightly the less on losing the surprise in re-viewing. The ending also holds a certain metaphysical confusion [PLOT SPOILERS] – If Johnny Favorite transferred his soul into Harry Angel's body, then how come Harry does not know or remember that he is Favorite? Surely if the soul is not the seat of waking consciousness and memory then what can be such a big deal about selling it?
---
---