---
Crew
Director – Glenn Jordan, Teleplay – John Tomerlin, Based on the Novel by Oscar Wilde, Producer – Dan Curtis, Photography – Ben Colman, Music – Robert Cobert, Special Effects – Roger George, Makeup – Mike Westmore, Art Direction – Trevor Williams, Dorian Gray Portraits – John Solie. Production Company – Dan Curtis Productions.
Cast
Shane Briant (Dorian Gray), Nigel Davenport (Sir Henry Wotton), Charles Aidman (Basil Hallward), Vanessa Howard (Sibyl Vane), Linda Kelsey (Beatrice Hallward), Tom McCory (James Vane), Brendan Dickey (Victor), John Karlen (Alan Campbell), Fionnuala Flanagan (Felicia), Dixie Marquis (Madame de Ferrol)
---
Plot
London, 1891. Sir Henry Wotton visits his friend, the painter Basil Hallward, and meets Basil's portrait subject, the handsome youth Dorian Gray. Looking on the portrait, Dorian says he would sell his soul if it the portrait would age instead of him. Subsequently, Sir Henry befriends Dorian and takes him out on the town, visiting the dancehalls and brothels where Dorian gains a taste for vice. Dorian falls for the aspiring actress Sibyl Vane. He takes Sir Henry's advice to emotionally manipulate her to sleep with him and afterwards ignores her. A distraught Sibyl, thinking that Dorian was going to marry her, throws herself from a bridge. Dorian soon discovers that while he remains handsome and never ages, his debaucheries and age are displayed on the portrait. He keeps this locked away in the attic. From there, Dorian dives so deeply into vice that his name becomes notorious.
---
The Picture of Dorian Gray (1890) was the sole novel written by Victorian playwright and cause celebre Oscar Wilde (1854-1900). It has since become regarded as one of the genre classics of the era, although was less celebrated in its time. The book caused some degree of controversy because of its parallels to Oscar Wilde's own 'debauched' life and the charges of homosexuality that would prove his downfall a few years later.
The Picture of Dorian Gray has been filmed a number of times in the silent era – in 1910, 1913, 1915, 1916, 1917 and 1918. The classic adaptation is generally regarded as the MGM version The Picture of Dorian Gray (1945) starring Hurd Hatfield, although this is a staid film when seen today. Other versions include Dorian Gray (1970), producer Harry Alan Towers' sexploitation version; The Sins of Dorian Gray (1983), a modernised tv movie where Dorian is made into a woman played by Belinda Bauer; the modernised Dorian/Pact with the Devil (2003) where Dorian (Ethan Erikkson) becomes a male model; The Picture of Dorian Gray (2004) starring Josh Duhamel; The Picture of Dorian Gray (2006); and Oliver Parker's excellent big-budget adaptation Dorian Gray (2009) starring Ben Barnes. Dorian Gray even turns up as one of The League of Extraordinary Gentlemen (2003) played by Stuart Townsend and as an ongoing character in the tv series Penny Dreadful (2014-6) played by Reeve Carney, while variations on the plot appear in episodes of Blake's 7 (1978-81) and Star Trek: The Next Generation (1987-94).
Dan Curtis came to attention as producer of the Gothic tv soap opera Dark Shadows (1966-71). This was a considerable primetime success for several years and was spun off into two movies House of Dark Shadows (1970) and Night of the Dark Shadows (1971). Realising his forte with genre material, Curtis went onto produce a series of original tv movies like The Night Stalker (1972), The Invasion of Carol Enders (1973), The Night Strangler (1973), The Norliss Tapes (1973), Scream of the Wolf (1974), Trilogy of Terror (1975), Curse of the Black Widow (1977), Dead of Night (1977), the cinematically released Burnt Offerings (1976) and the tv mini-series Intruders (1992). Curtis also directed a number of these.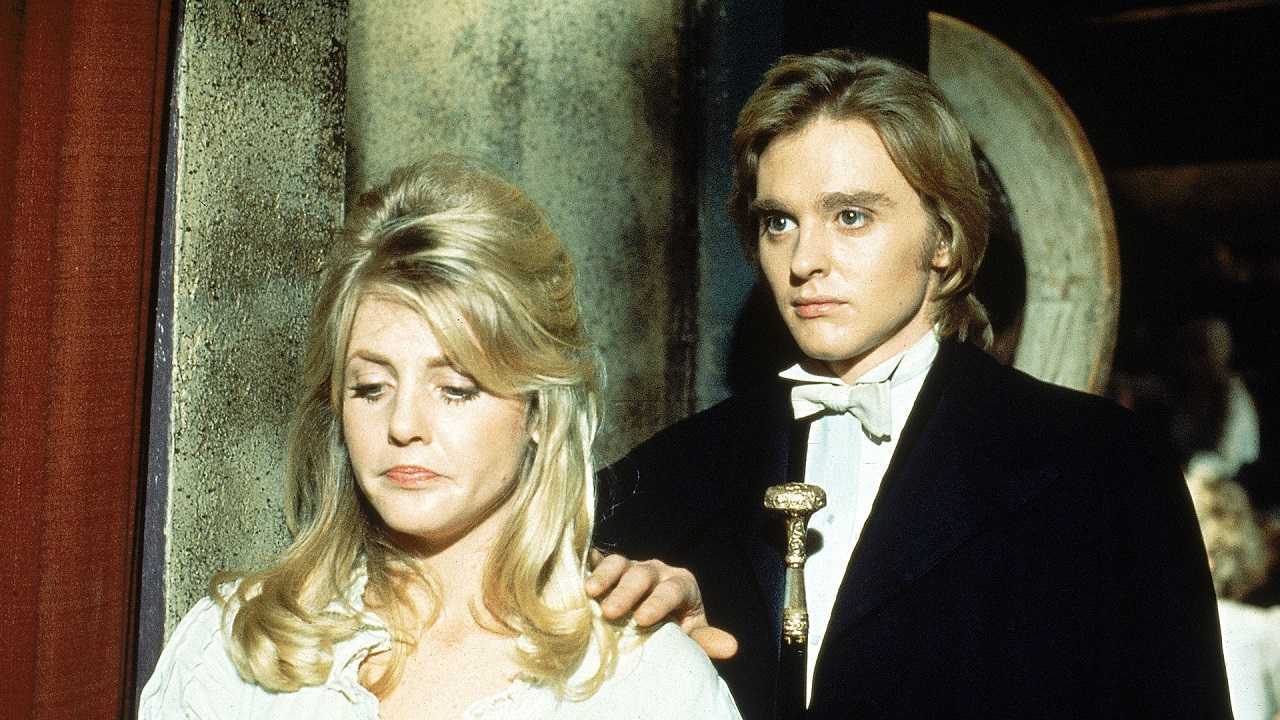 The Picture of Dorian Gray was one of five tv versions of classic horror stories that Dan Curtis also made during this period. These had begun with The Strange Case of Dr Jekyll and Mr Hyde (1968) and then between 1973-4 Curtis made a string of these with Frankenstein (1973), also directed by Glenn Jordan, The Picture of Dorian Gray, the Jack Palance version of Dracula (1974) and an adaptation of The Turn of the Screw (1974). It should be noted that the plots of all of these stories had also been recycled by Curtis during the run of tv's Dark Shadows, which served to wind in an assortment of Frankenstein monsters, unaging immortals and the like. After having seen the okay Frankenstein and Dracula, which suffered a fatal miscasting of Jack Palance, I was surprised in a big way by his adaptation of Dorian Gray and would go so far as to say I think it is the best adaptation of the story seen to date.
John Tomerlin's script returns to the essence of Oscar Wilde, frequently importing Wilde's pithy witticisms and placing them directly in the mouth of Sir Henry. The plot follows Wilde's text closely in many places, such as the seduction and abandonment of Sibyl, the return of her brother (who gets a more expanded role over the book) and the murder of Basil, although elsewhere Tomelin freely elaborates on the book. More interestingly, the film seems to have taken its lead from the 1945 film, incorporating elements that appeared there but are not present in the book such as Sibyl throwing herself into the river and Dorian's attraction to Hallward's now-grown niece. One of the odder aspects of the story is that it is now narrated in first person by Dorian. This is also the only version of the story in which Dorian says that he would give his soul if the portrait ages instead of he.
Some of Oscar Wilde's writing seems dated today. In the era of internet hookup sites and the invention of terms like ghosting, it seems hard to wield much outrage for Dorian's seduction of Sibyl and then abandonment of her with she naively thinking that his attentions entailed a promise of marriage. Also Wilde's idea that sins and the indulgences of a hedonistic lifestyle would be physically written across one's face seems a quaintly outdated notion – not to mention that when we see the portrait of Dorian who starts in his twenties and should only be in his forties at the end of the story, the portrait incongruously looks like that of a man well into his seventies. Surprisingly in all of his vices, Dorian never gives in to gluttony – you would surely expect the portrait to be that of an obese man.
I enjoyed The Picture of Dorian Gray – in many ways, I think the plot improves on Oscar Wilde. The impossibly handsome Shane Briant seems perfectly cast in the role. Briant's looks seems pretty, aloof and detached, unperturbed by the slightest worry. Tomerlin's script also pushes the envelope as much as was permissible for the day on tv (which was not much) with understated details like a man seen leaving Dorian's bedroom (and nothing said about who it is) and a scene where he pays to sleep with Fionulla Flanagan's daughter (who we are led to assume from the horrified reactions to his doing so that she is underage).
---
---