---
Crew
Director/Screenplay – Lawrence Bassoff, Producer – Marilyn Jacobs Tenser, Photography – Bryan England, Music – David Kurtz, Computer Animation – Gary Glassman, Makeup – Thomas Wayne Schwartz, Art Direction – Catherine Hardwicke. Production Company – Marimark.
Cast
John Allen Nelson (Hunk Goldin), Steve Levitt (Bradley Brinkman), Deborah Shelton (O'Brien), Rebecca Bush (Susan 'Sunny' Graves), James Coco (Dr D), Cynthia Szegeti (Chachka), Doug Shanklin (Skeet Mecklenburger), Avery Schreiber (Constantine Constantopolis)
---
Plot
Wimpy computer nerd Bradley Brinkman is frustrated in trying to come up with a moneymaking program. He idly says that he would sell his soul if he could come up with an idea, whereupon his computer immediately spouts out the Yuppie Program, which proves a huge success. Bradley takes a holiday at a beach resort only to have the in-crowd ignore him, kick sand in his face and ridicule him for not wearing label clothing. He then encounters O'Brien, a beautiful agent of the Devil who gives him a no-obligation trial offer on the perfect male body, Hunk Goldin. As Bradley enjoys social success as Hunk, what he does not realise is that O'Brien and the Devil intend Hunk to become the man who starts World War III – all they have to do is get Bradley to finally sign over his soul.
---
Hunk was one of several mid-1980s films that updated the 1940s light fantasy into the era of the Lemon Popsicle (1979) and Porky's (1982) crude and vulgar teen film. In Hunk, the standard pact with the Devil plot is run through with a teen underdog comeuppance theme and quite a few smutty jokes.
Hunk may have had some ambition to make a message about the perils of trying to have the perfect male body, but everything in the film runs to cliche. There is some weak satire on the Yuppie lifestyle. None of these modern teen films in their various ventures into fantasy seemed to be able to use supernatural elements without camping it up, case in point the ghastly performance from James Coco (who died shortly before the film was released).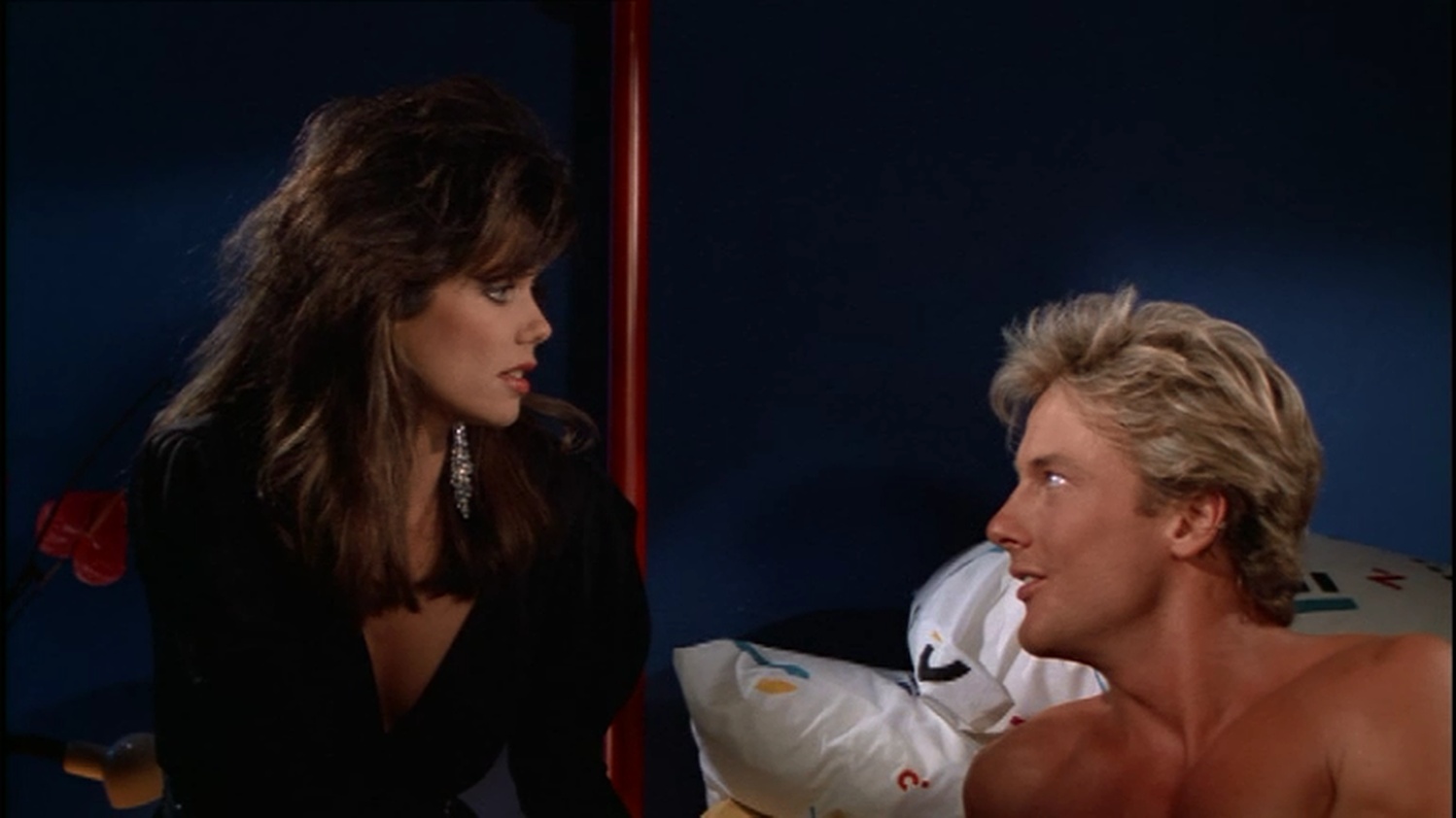 Deborah Shelton, from Dallas (1978-91) and Body Double (1984), is wooden as the diabolical temptress. (A young unknown Brad Pitt also turns up somewhere as an extra during the beach scenes). Hunk is not really a bad film – it is even almost likable at times – but it is one that is entirely trivial.
This was one of only two films directed by Lawrence Bassooff who previously made the non-genre comedy Weekend Pass (1984). The name that became famous in retrospect is that of Catherine Hadwicke who is listed as the art director and a few years later made her debut as a director, most famously with Twilight (2008).
---
---