---
USA. 1971.
Crew
Director/Producer – Donald Siegel, Screenplay – Grimes Grice & John B. Sherry, Based on the Novel by Thomas Cullinan, Photography – Bruce Surtees, Music – Lalo Schifrin, Makeup – Bud Westmore, Production Design – Ted Haworth. Production Company – Malpaso/Universal.
Cast
Clint Eastwood (Corporal John McBurney), Geraldine Page (Miss Martha Farnsworth), Elizabeth Hartman (Edwina Dabney), Jo Ann Harris (Carol), Mae Mercer (Hallie), Pamelyn Ferdin (Amy), Darleen Carr (Doris), Pattye Mattick (Janie), Melody Thomas (Abigail), Peggy Drier (Lizzie)
---
Plot
Towards the end of the American Civil War, a badly wounded Union soldier, Corporal John McBurney, is found near a Southern girls' school. He is taken into the school and nursed back to health. However, as McBurney recovers, he starts to manipulate the teachers and pupils alike, turning the school into a hotbed of sexual jealousies. And so the headmistress decides that extreme steps must be taken.
---
It might be said that the North has never truly lost its distrust of the South over the American Civil War. This is something that gets worked out with an alarming degree of regularity in horror cinema – see the likes of Hush … Hush Sweet Charlotte (1964), Two Thousand Maniacs! (1964), The Supernaturals (1986) and in particular in the works of Tobe Hooper who has delved into the Southern Gothic in both The Texas Chain Saw Massacre (1974) and Eaten Alive/Death Trap (1977). All of these show backwoods folk and the Southern gentry harbouring a homicidal hatred if not just for Northerners then of all city slickers in general.
However, none of these what might be termed Yankee Guignol films are as remarkable as The Beguiled. Ever since Tennessee Williams created Blanche DuBois, the image of the Southern Belle has been one that has breathed with barely repressed libido. The Beguiled hits that suppressed longing on the head and makes it squirm with something approaching Freudian brilliance. The film is an amazing play of sexual tensions and manipulations – at one point, the women even come to regard their own side as the enemy. Clint Eastwood has never been more animated, playing with a handsome courtly charm beneath which he twists and manipulates the truth like a greased fish.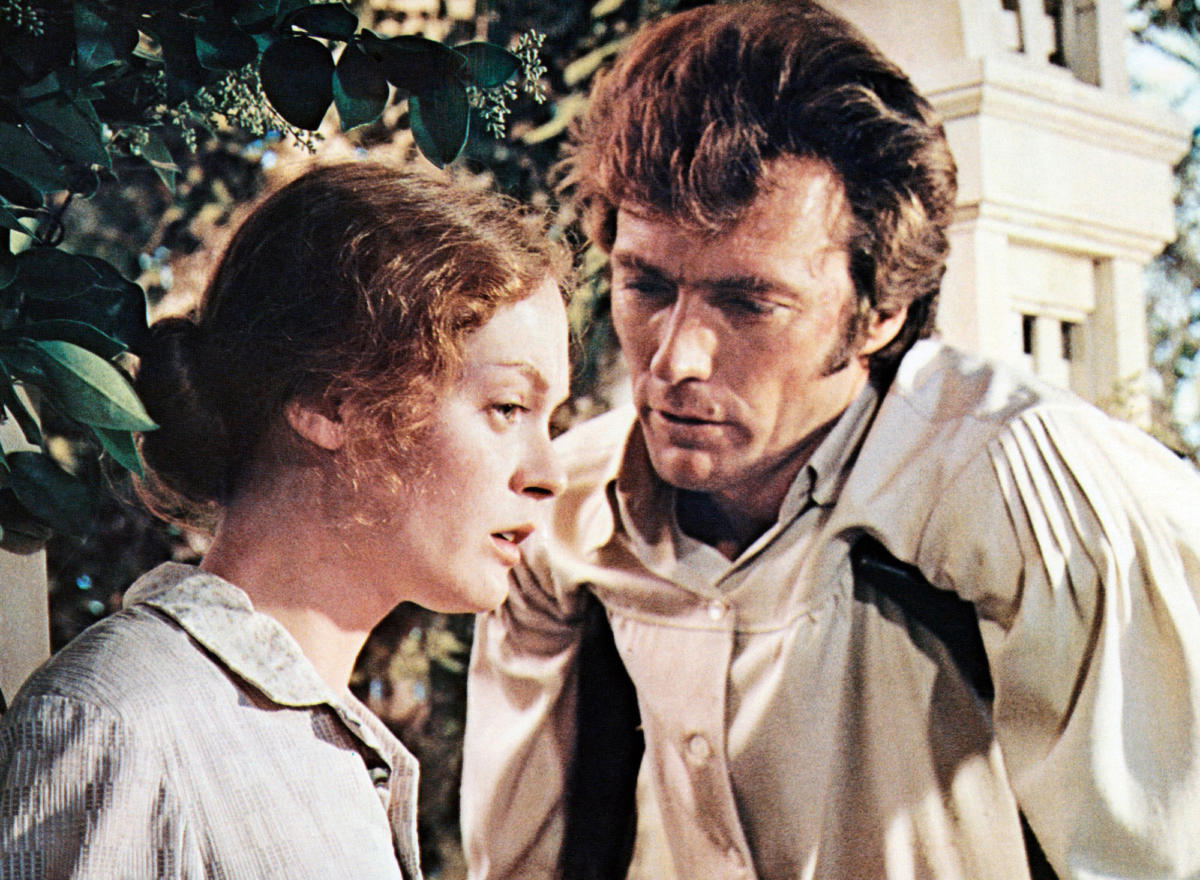 And when it enters the realm of horror, the film becomes something unforgettable – the scene where Geraldine Page, armed with only a medical book as guide and brandy as anaesthetic, removes Clint Eastwood's leg with a hacksaw, is truly grisly – all the more shocking for the calm manneredness with which everybody involved plays.
The cast is extremely strong. One of the best performances comes from Elizabeth Hartman whose weak and watery innocent face is a perfect casting choice on director Donald Siegel's part – her seduction and downfall is spelled from the moment she is introduced. Equally good is Mae Mercer as the Black maid who gives a highly believable performance of considerable hard-bitten distrust.
Director Donald Siegel was known for his crime thrillers during the 1950s and of course the classic Invasion of the Body Snatchers (1956). Siegel previously put Clint Eastwood through his pace in his seminal role as Dirty Harry (1971).
The Beguiled (2017) was a remake from Sofia Coppola with Colin Farrell in the Clint Eastwood role, Nicole Kidman as the headmistress and Kirsten Dunst as Edwina.
---
---