---
USA. 1971.
Crew
Director – Clint Eastwood, Screenplay – Jo Heims & Dean Riesner, Story – Heims, Producer – Robert Daley, Photography – Bruce Surtees, Music – Dee Barton, Art Direction – Alexander Golitzen. Production Company – Universal.
Cast
Clint Eastwood (Dave Garland), Jessica Walter (Evelyn Draper), Donna Mills (Tobie Williams), John Larch (Sergeant Paul McCallum), Donald Siegel (Murphy)
---
Plot
Dave Garland is a late-night DJ on radio station KRML in the coastal town of Carmel, California. One night in a bar, he meets Evelyn Draper, who reveals that she is the fan who constantly calls in asking him to play Erroll Garner's 'Misty'. He has a no-strings-attached one-night stand with her. Afterwards she continues to come back. He tolerates this but soon begins to find her childish games irritating and tells her to go. Rejected, Evelyn tries to slash her wrists and then vandalises his apartment and tries to kill the cleaning lady and his girlfriend.
---
Clint Eastwood emerged as a bit player in the late 1950s before finding success on the Western series Rawhide (1959-66). He then travelled to Italy and became an international star as a result of Westerns such as A Fistful of Dollars (1964), The Good, the Bad and the Ugly (1965) and For a Few Dollars More (1966). Back in the US, Eastwood then embarked on a directorial career that began with this psycho-thriller. While Eastwood became arguably the No. 1 star throughout the 1970s and 80s, he also maintained a sporadic secondary career as a director, which blossomed in the 1990s in particular where he won a Best Director Academy Award with the stunning anti-Western Unforgiven (1992) and went onto a string of other acclaimed films. (Clint Eastwood's other directorial genre outings are listed below).
Play Misty for Me shows Clint Eastwood taking a Hitchcockian turn. Play Misty for Me was quite an accomplished debut for Eastwood. While the plotting is fairly average, Jessica Walter gives a strong and scary performance filled her manipulative games and sheer deviousness that elevates the film considerably. There is a particularly well-sustained climax with her menacing Eastwood's girlfriend Donna Mills with a pair of scissors: "I hope Dave likes what he finds when he gets here because that's what he'll be taking to Hell with him." The result is a modestly effective thriller.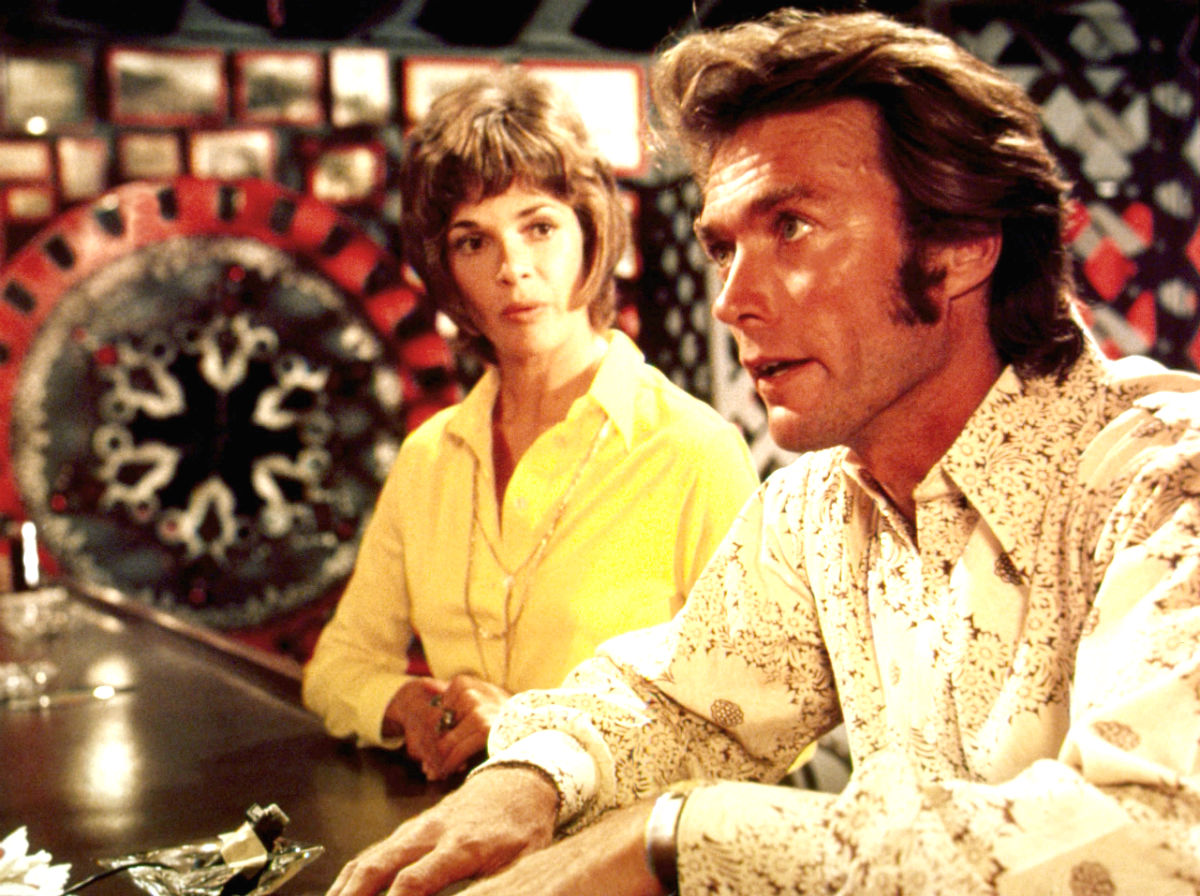 While Clint Eastwood is fine as director, as a late-night DJ who shows his sensitive side by reading Edgar Allan Poe poetry to his audiences, he seems miscast to put it politely. Play Misty for Me could have worked well as an attempt to psychologically examine his own tight-lipped macho persona, but to the contrary the story only functions as something for him to drop his closed-off persona into. The character of Evelyn is only defined in terms of how she impinges on his laidback cool – he lashes out at her because she presumes to come over without calling first, or just because she is too friendly and too playful. This is behaviour that could in another light seem not particularly disturbed or obsessive – it would be not too hard to imagine any of this being conducted by a ditzy Sandra Bullock-type in a romantic comedy, for instance – while his reactions could be interpreted as passive aggressive introversion. Eastwood is not interested in any self-analysis here and instead we have a film where he pushes a woman away because she doesn't understand what he perceives as his boundaries. In the macho terms that Clint Eastwood's persona of the time operates on, a woman invading his cave is something that is equated with disturbed psychology.
Play Misty for Me was later virtually stolen uncredited by the vastly overrated Fatal Attraction (1987). Play Misty for Me is set in Carmel, California, the town that Clint Eastwood later became the mayor of in 1986. It also features scenes shot at the Monterey Jazz Festival.
Clint Eastwood's other films of genre interest are:– the supernatural avenger Western High Plains Drifter (1973), the hi-tech fighter plane heist Firefox (1982), the oldsters in space film Space Cowboys (2000), the psycho-thriller Blood Work (2002), Changeling (2008), a true-life story about a missing child, a police cover-up and a serial killer, and the afterlife character drama Hereafter (2010). In acting appearances, aside from all the aforementioned, Eastwood has appeared in Revenge of the Creature (1955), Tarantula (1955), the talking mule film Francis in the Navy (1955), the twisted Southern Gothic horror The Beguiled (1971), up against a serial killer in his most famous role Dirty Harry (1971), the S&M psycho-thriller Tightrope (1984) and the Dirty Harry film The Dead Pool (1988).
---
---