---
Crew
Director/Screenplay – Mark Polonia, Producer – Rob Hauschild, Photography – Adam Murtland & Matthew S. Smith, Music – Greg Stanina, Makeup Effects – Brett Piper & Anthony Polonia. Production Company – Wild Eye Releasing/Polonia Bros. Entertainment.
Cast
Danielle Donahue (Renee), Dave Fife (Ed), Jeff Kirkendall (Dr Peele), Ken Van Sant (Kirk Larson), James Carolus (Stu), Rob Dennis (Andy), Steve Diasparra (Bigfoot), Todd Carpenter (Security Guard), Greta Valkova (Alicia)
---
Plot
Dr Peele runs a body farm in Wyoming County, New York where corpses are left around the grounds for study by forensics students. Now the bodies dumped in the grounds are affected by a leak from a toxic waste drum and start coming back to life. As the staff and various others on the property come under attack, they find an unexpected saviour in Bigfoot who fights off the zombies.
---
The Polonia Brothers, Mark and John, became filmmakers in the VHS heyday of the 1980s. Beginning with Hallucinations (1986), the Polonia Brothers, who were then only eighteen years old, went on to make a series of horror films that became legendary for their cheapness. Over the next two decades, the two put out the likes of Splatter Farm (1987), Hellspawn (1993), Saurians (1994), How to Slay a Vampire (1995), Feeders (1996), Night Crawlers (1996), Bad Magic (1998), Terror House (1998), Feeders 2: Slay Bells (1998), Blood Red Planet (2000), The House That Screamed (2000), Hellgate: The House That Screamed 2 (2001), Dweller (2002), Gorilla Warfare: Battle for the Apes (2002), Night Thirst (2002), Holla If I Kill You (2003), Among Us (2004), Dinosaur Chronicles (2004), Peter Rottentail (2004), Preyalien: Alien Predators (2004), Black Mass (2005), Razorteeth (2005), Splatter Beach (2007), Wildcat (2007), Forest Primeval (2008) and Monster Movie (2008). John died of a heart aneurism in 2008. Since then, Mark Polonia has continued on as a solo director, making the likes of HalloweeNight (2009), E.V.E. of Destruction (2011), Empire of the Apes (2013), Camp Blood First Slaughter (2014), Amityville Death House (2015), Channel 13 (2015), Death Reel (2015), Jurassic Prey (2015), Sharkenstein (2016), Amityville Exorcism (2017), It Kills (2017), Land Shark (2017), Revolt of the Empire of the Apes (2017), Alien Surveillance (2018), Battle Bots (2018), Frozen Sasquatch (2018), Ghost of Camp Blood (2018), Bride of the Werewolf (2019), Deadly Playthings (2019), Amityville Island (2020), Children of Camp Blood (2020), Return to Splatter Farm (2020), Shark Encounters of the Third Kind (2020), Camp Murder (2021), Dune World (2021), Noah's Shark (2021), Sister Krampus (2021), Virus Shark (2021), Feeders 3: The Final Meal (2022), House Squatch (2022), Reel Monsters (2022), Sharkula (2022) and Saurians (2022). Mark can be spotted on screen here in a cameo as the hunter who turns up in the very last scene of the film.
The Polonia Brothers started making films bargain basement films back in the 1980s – in fact, these became regarded as so bad that they gained a cult following. Despite moving to digital (although the credits here have been mocked up to look like a migraine-inducing VHS copy), very little has improved for Mark Polonia since the 1980s despite nearly three decades working as a filmmaker and with forty films under his belt at current count.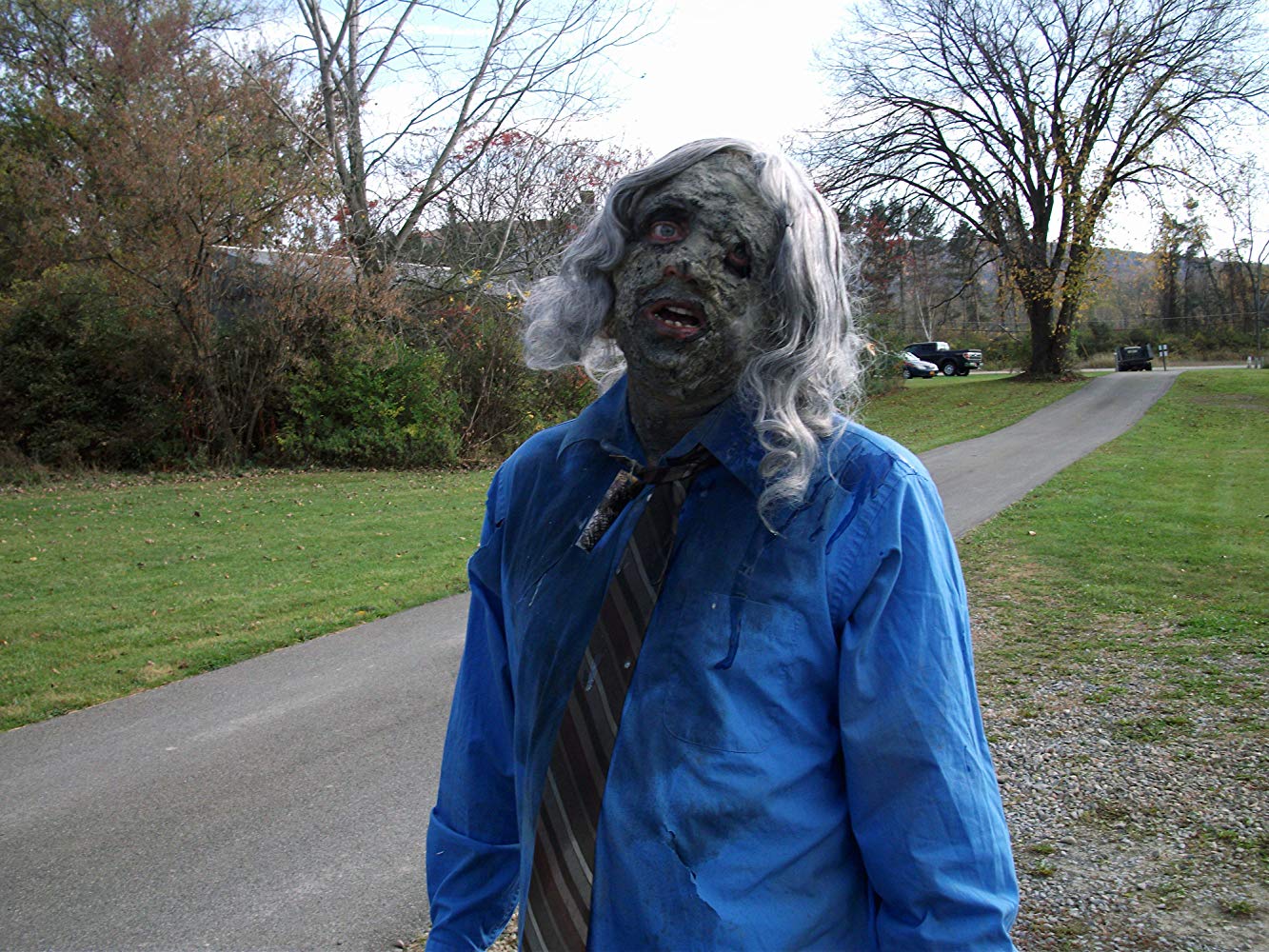 Bigfoot vs Zombies comes with a painfully cheap amateurism in almost every regard. The premise is written with an absolute minimalism – zombies emerge at a body farm (no real explanation why – it being vaguely suggested that a toxic waste spill is the case) and menace the half-dozen staff, Bigfoot turns up and kills zombies and that is about that. The most glaring example of the film's shoddiness is the zombie makeups, which you can clearly see end at the necks of the actors in many cases, Or else the Bigfoot – that comes with a cheapness that could give the recycled ape suit in Robot Monster (1953) a run for its money – and clearly has a gap between the mask and the body of the suit where you can see the neck of the actor beneath.
I have seen bad zombie films before – Santa Claus vs the Zombies (2010), Xombies 3D (2011) – and bad Bigfoot films before – The Capture of Bigfoot (1979) – so Bigfoot vs Zombies was no particular surprise. What did surprise me was how much Mark Polonia seemed to be making a film that was still rooted in the 1980s. That is to say, the modern zombie film has advanced beyond that into the area of self-parody or gonzo mash-ups – see titles such as Zombie Strippers! (2008), Attack of the Vegan Zombies! (2009), Cockneys vs Zombies (2012), Attack of the Lederhosen Zombies (2016), Pride and Prejudice and Zombies (2016) and Fat Ass Zombies (2020), among a great many others. (For a more detailed overview see Zombie Films).
With a title like Bigfoot vs Zombies, you expect a film that plants tongue-in-cheek and makes a virtue out of its cheapness. However, it is almost as though Mark Polonia has not seen a zombie film since the 1990s and was entirely unaware of the gonzo parody. You can guarantee that if any of the filmmakers mining the gonzo parody genre had come up with a title like this, they would have played it for all the tongue-in-cheek potential they could.
---
---