---
Crew
Director/Story – Katie Aselton, Screenplay – Mark Duplass, Producers – Adele Romanski, Photography – Hillary Spera, Music – Ben Lovett, Visual Effects – ZaneFX (Supervisor – R. Zane Rutledge), Production Design – Erin Staub. Production Company – Amesbury.
Cast
Katie Aselton (Abby Turner), Lake Bell (Lou Foster), Kate Bosworth (Sarah Whitfield), Will Bouvier (Henry Wallace), Jay Paulson (Derek), Anselm Richardson (Alex)
---
Plot
Inveigling either with the promise of a camping trip on a small island offshore, Sarah Whitfield brings together Lou Foster and Abby Turner, her two best friends since childhood, for the first time in years. Lou and Abby have not talked ever since Lou slept with Abby's boyfriend. They are not happy about being duped into reconciling but grudgingly agree to go along on the trip. As they settle in on the island and make camp, they encounter three hunters. Over the campfire, Abby gets drunk and comes onto the leader of the group Henry, luring him away into the woods. Back at the campfire, the others reveal they were soldiers serving in Iraq who were all dishonourably discharged for actions they conducted. When Henry goes to take her by force, Abby hits him with a stone but ends up killing him. The other two guys are enraged at what they see as the murder of their leader and tie the girls up. However, the girls make an escape and flee across the island as the two men pursue, intending to kill them.
---
Black Rock was the second film from director/writer/actress Katie Aselton. Aselton has had bit parts in various other films and tv series. She first appeared as director, writer and lead actress of the indie relationship comedy The Freebie (2010). Aselton is married to actor/writer/director Mark Duplass, the triple threat behind indie efforts like The Puffy Chair (2005), Baghead (2008), Cyrus (2010) and Jeff, Who Lives at Home (2011), as well as producer/star of the time travel film Safety Not Guaranteed (2012), producer/star of the strange doppelganger film The One I Love (2014) and writer/producer/star of the horror film Creep (2014) and more recently an actor in an increasing number of mainstream films. She has appeared in several of Mark's films and he writes the screenplay for Black Rock.
Black Rock is a wilderness survival horror. One is immediately reminded of body of films that began with Deliverance (1972) and in particular something like the British Wilderness (2006), which had a similar plot about a group of troubled teens abandoned on an island and being hunted by a psychopathic ex-soldier. Black Rock could perhaps be considered Wilderness with a Chick Flick spin where the targeted teens are replaced by a group of women friends.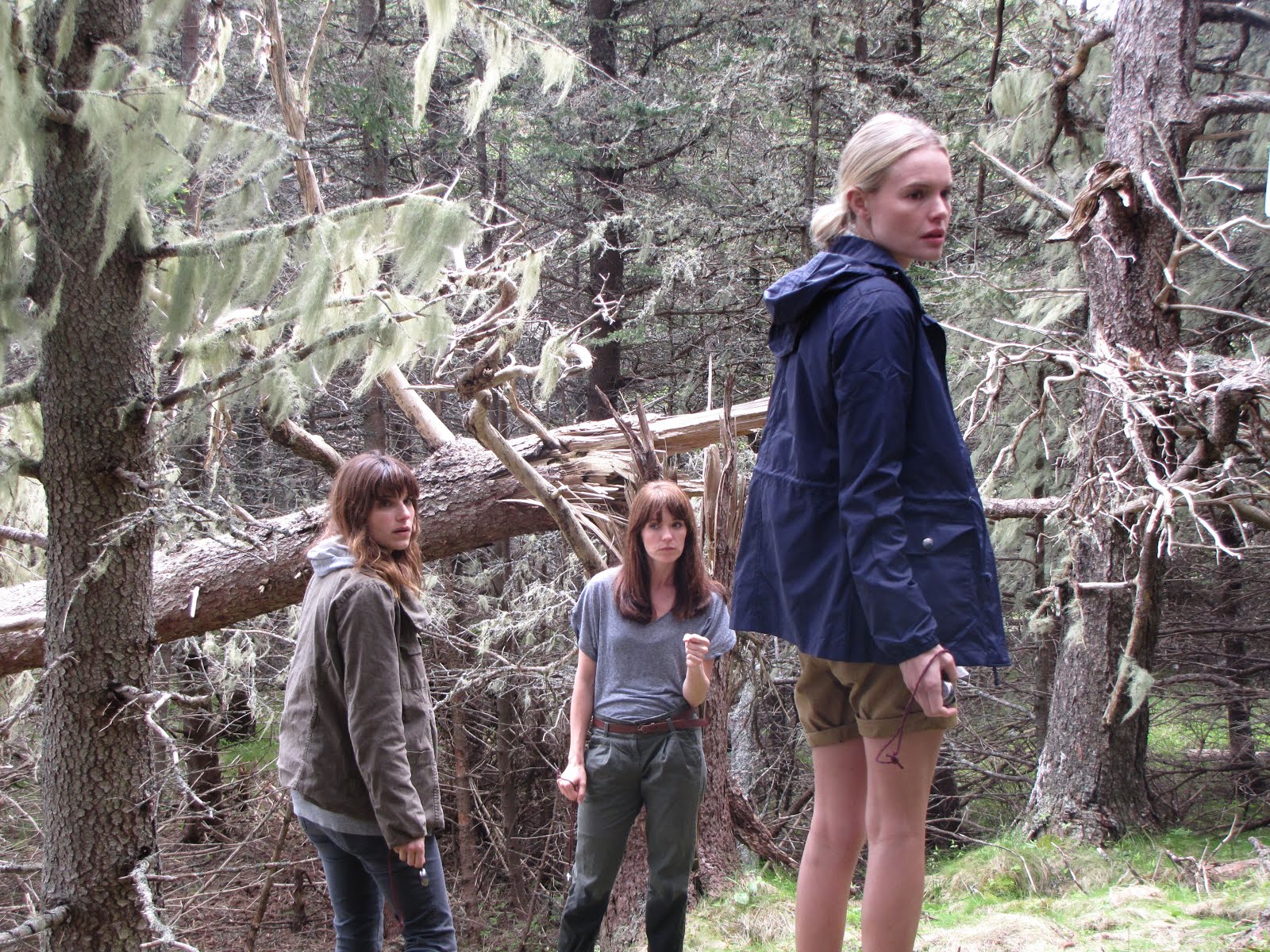 I was reasonably impressed with Black Rock as it started in. The tall angular Katie Aselton is a new actress to me and gives herself the lead part at which she holds up fairly well. I had failed to be impressed with Kate Bosworth in anything I had seen her in before where she just seemed another blandly anonymous blonde of no particular distinction, while Lake Bell had only seemed to be cast in the type of bubblehead parts that usually get given to Cameron Diaz. Katie Aselton's strength as a director is in being able to give either actress a part that allows them to step out of prior typecasting. There is the sense that Bosworth and Bell have relished the chance to shuck the glamour and makeup and simply improvise playing ordinary women. The trio of them play off each other well, creating a strong interaction and roundedness to the girls and their friendship. I was quietly surprised about what either actress manages to find during these early scenes.
I was still liking Black Rock about the time that it introduced its antagonists. Mark Duplass's script touches on the great American psychic divide caused by the Iraq War – one is reminded of the late 1970s/early 1980s and films like Taxi Driver (1976), The Deer Hunter (1978), First Blood (1982), Combat Shock (1986) and Full Metal Jacket (1987) where those who came back from the Vietnam War were seen as disturbed and mentally fractured by what had happened. Duplass keeps what happened in the field vague beyond the suggestion of atrocities caused by the three soldiers. The three soldiers are passably well crafted, with Jay Paulson standing out once he gets to go off the rails. This largely serves to get Black Rock where it wants to go, which is to become a Deliverance/Wilderness spread across the sexes.
Alas, by the time it gets to this point, Black Rock becomes a big letdown. Katie Aselton gives us various scenes with the three women on the run and being hunted. You get the feeling that she has never watched many of the other films in this particular genre niche. Either that or she conceived Black Rock solely through a Chick Flick niche unaware that it would play out to a horror crowd as well. This is a type of genre where you expect the game of survival to be pushed for an intensity or else drawn out to a level of unbearable brutality. The disappointment is that Katie Aselton seems disinterested in pushing the survival scenes for much at all. The film feels like it is only getting started before she abruptly winds it up. You come to the end thinking "Is that all? What a waste of potential."
---
Trailer here
---