---
Crew
Directors/Screenplay – Jay Duplass & Mark Duplass, Producers – John Bryant, Jay Duplass & Mark Duplass, Music – J. Scott Howard, Visual Effects – R. Zane Rutledge. Production Company – Duplass Brothers, LLC.
Cast
Ross Partridge (Matt), Greta Gerwig (Michelle), Steve Zissis (Chad), Elise Muller (Catherine), Jett Garner (Himself)
---
Plot
After attending the premiere of a pretentious no-budget film, four friends – Matt and his sometimes girlfriend Catherine, and Chad and his unrequited object of desire Michelle – decide they are tired of getting nowhere trying to get breaks into the industry as actors. Matt suggests they go away to a cabin in the woods and come up with their own script for a film as a vehicle for themselves. There, as creativity fails to come to the boil and thwarted desires play out, they realise that someone wearing a paper bag over their heads is lurking around the cabin. At first taken to be a prank played by one of the group and promptly nicknamed Baghead, they soon realise this is someone who has sinister intent.
---
The Duplass Brothers, Jay and Mark, have become favourites on the indie scene in the last few years. They first appeared with Jay directing, both co-writing and Mark starring in The Puffy Chair (2005). Baghead was their second film. They subsequently made Cyrus (2010), which gained some reasonable attention, Jeff, Who Lives at Home (2011) and The Do-Deca Pentathlon (2012). More recently, both have gone onto produce a number of films for others with the likes of The Skeleton Twins (2014), Manson Family Vacation (2015) and 6 Years (2015), as well as the tv series Room 104 (2017– ) ) and the true crime series Wild Wild Country (2018) and Evil Genius (2018). These have included the wilderness brutality film Black Rock (2012), which Mark wrote for his wife Katie Aselton to direct, Bad Milo! (2013) about a man with a demon inside his ass, as well as the quirky time travel romance Safety Not Guaranteed (2012), the horror film Creep (2014) and the strange body snatcher/doppelganger film The One I Love (2014) all starring Mark. After Safety Not Guaranteed, Mark's name began to rise as an actor and he has appeared in an increasing number of mainstream films including Zero Dark Thirty (2012), Mercy (2014), Tammy (2014) and The Lazarus Effect (2015).
Baghead is often referred to as a slasher film parody. However, one feels that calling it that misrepresents it. What it could be said is that it is more of an indie film that borrows the basic set up of the backwoods slasher film – while having little interest in actually being a slasher film. It neither seems to be a parody, nor even for that matter a comedy. There is a sense of humour that runs through the film – it is just that the humour is so muted you are often not sure whether you should be laughing or not.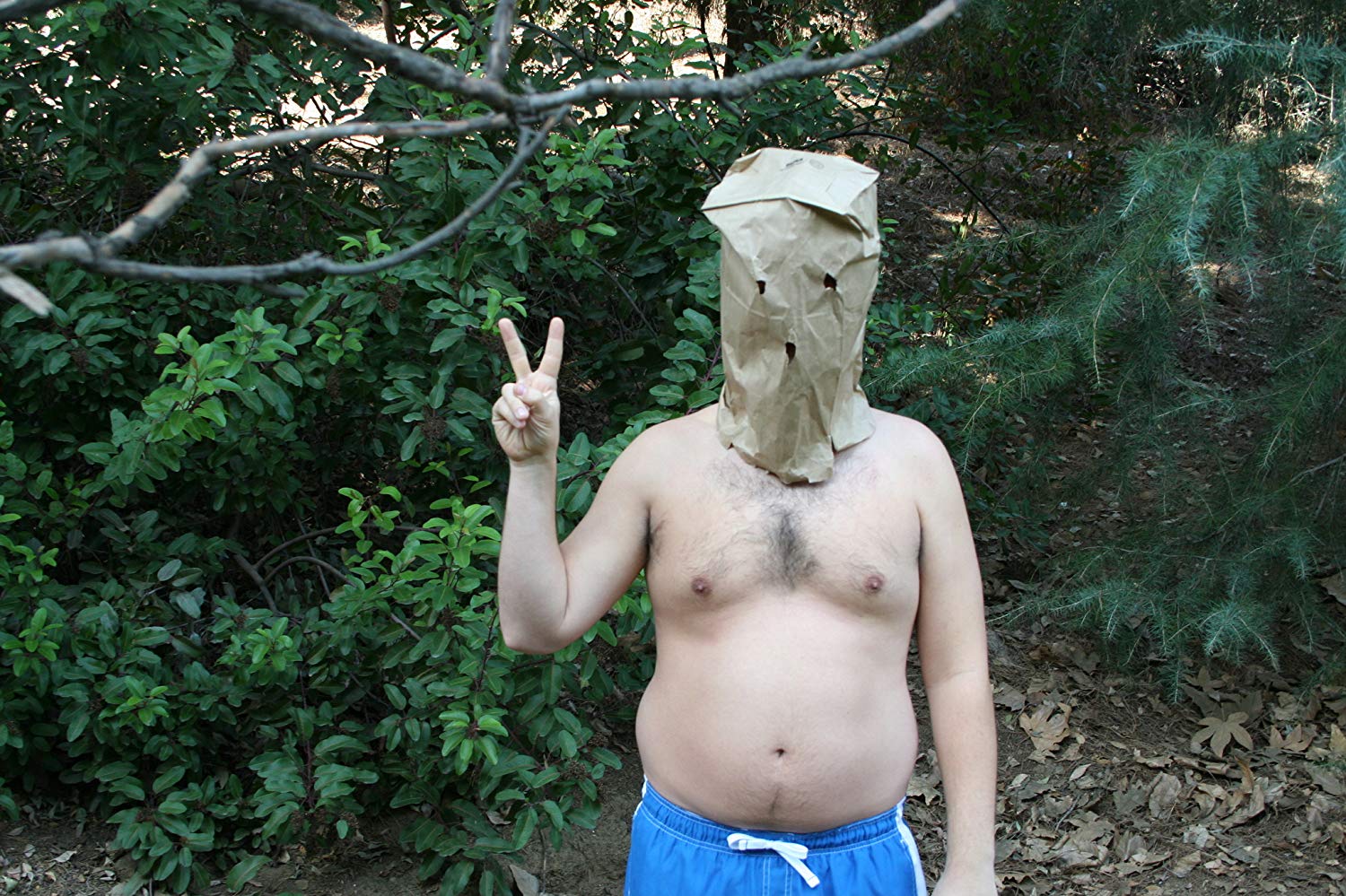 Baghead is a very improvisational film. You get the impression that it was very lightly scripted and more about the actors making up the scene between each other. Long scenes seem set up around pieces of their interactions. And this seems to be the whole of the film. The film seems to be fitfully attempting some kind of meta-fictional play between script and happenings between the actors.
Certainly, what must be said is that all four of the actors seem very much at home in their roles and play well. You could easily see any of them going on to do something else – although the only one who seems to have gained a higher profile so far is Greta Gerwig who subsequently became writer and lead actress of the acclaimed Frances Ha (2012) and director/writer of Lady Bird (2017) and Little Women (2019).
On the other hand, all of these character interactions never particularly hooked me. The humour never amounts to anything hugely amusing. Often it seems belaboured – one scene with Steve Zissis trying to get Greta Gerwig attracted to him seems to go on and on. The Duplass Brothers have next to no interest in ever allowing Baghead to kick in in terms of the conventions of the slasher or horror film. They avoid any of the cliches of the genre and anything that remotely resembles a jump or a suspense sequence. This would have been a very different film if it had been made within genre confines – instead though, they approach it more as an indie film. The revelation of Baghead's identity at the end does work with a moderate surprise.
---
---