---
Crew
Director – D.J. Caruso, Screenplay – D.J. Caruso & Wentworth Miller, Producers – Geyer Kosinski, Vincent Newman & Tucker Tooley, Photography – Rogier Stoffers, Music – Brian Tyler, Visual Effects – Somnyo Films (Supervisor – Jasen Jaz Ninnini), Special Effects Supervisor – Larry Byers, Prosthetic Makeup Effects – KNB Effects (Supervisors – Howard Berger & Greg Nicotero), Production Design – Tom Southwell. Production Company – Rogue Productions/Media Talent Group/Demarest Productions.
Cast
Kate Beckinsale (Dana Barrow), Mel Raido (David Barrow), Lucas Till (Ben Phillips Jr), Duncan Joiner (Lucas Barrow), Gerald McRaney (Judge Ernest Blacker), Marcia DeRousse (Ms. Judith), Celia Weston (Marti Morrison)
---
Plot
Architect Dana Barrow, her husband David and young son Lucas move in to the old Blacker House in sleepy Willow Glen, New York. Dana is suffering from mental health issues and recovering after the accidental death of their daughter. She becomes obsessed after finding a hidden, locked room in the house. She discovers that it is a 'disappointments room' where 19th Century families used to banish their children that were born disfigured or deformed. However, as she finds that key that opens the room, this stirs the ghosts of Judge Blacker and the daughter he kept imprisoned.
---
D.J. Caruso emerged as a tv director in the 1990s and made his film debut with The Salton Sea (2002), an excellent thriller where he demonstrated a sense of style that showed immense promise, even though the film never fully gained its due. Subsequently, Caruso frittered such promise away on the tedium-inducing likes of the serial killer thriller Taking Lives (2004), the gambling film Two for the Money (2005), the suburban paranoia thriller Disturbia (2007), the surveillance/amok A.I. film Eagle Eye (2008), the Young Adult alien visitors film I Am Number Four (2011) and subsequent to this xXx: The Return of Xander Cage (2017). In all of these, Caruso has shown himself as a director who has nothing but a technical proficiency – no interest in a credible script, no ability to create suspense or action sequences that are not mind-numbingly predictable.
The script for The Disappointments Room comes from actor Wentworth Miller, the actor known for tv series such as Prison Break (2005-9, 2017) and his appearances as Captain Cold in The Flash (2014– ) and Legends of Tomorrow (2016– ). Miller had previously written the script for Park Chan-wook's Stoker (2013).
Looking at The Disappointments Room, it is hard to think what it is about it that would have so interested investors that they would have poneyed up a $15 million budget for the film. It can hardly be D.J. Caruso who is such a negligible director that he would surely have minimal box-office traction. It can hardly be barely known or forgotten cast names like Lucas Till or Gerald McRaney. It certainly can't be the script (which I'll get to more in a minute). That must only leave the hope that the film was trying to drag in every Kate Beckinsale fan in the world.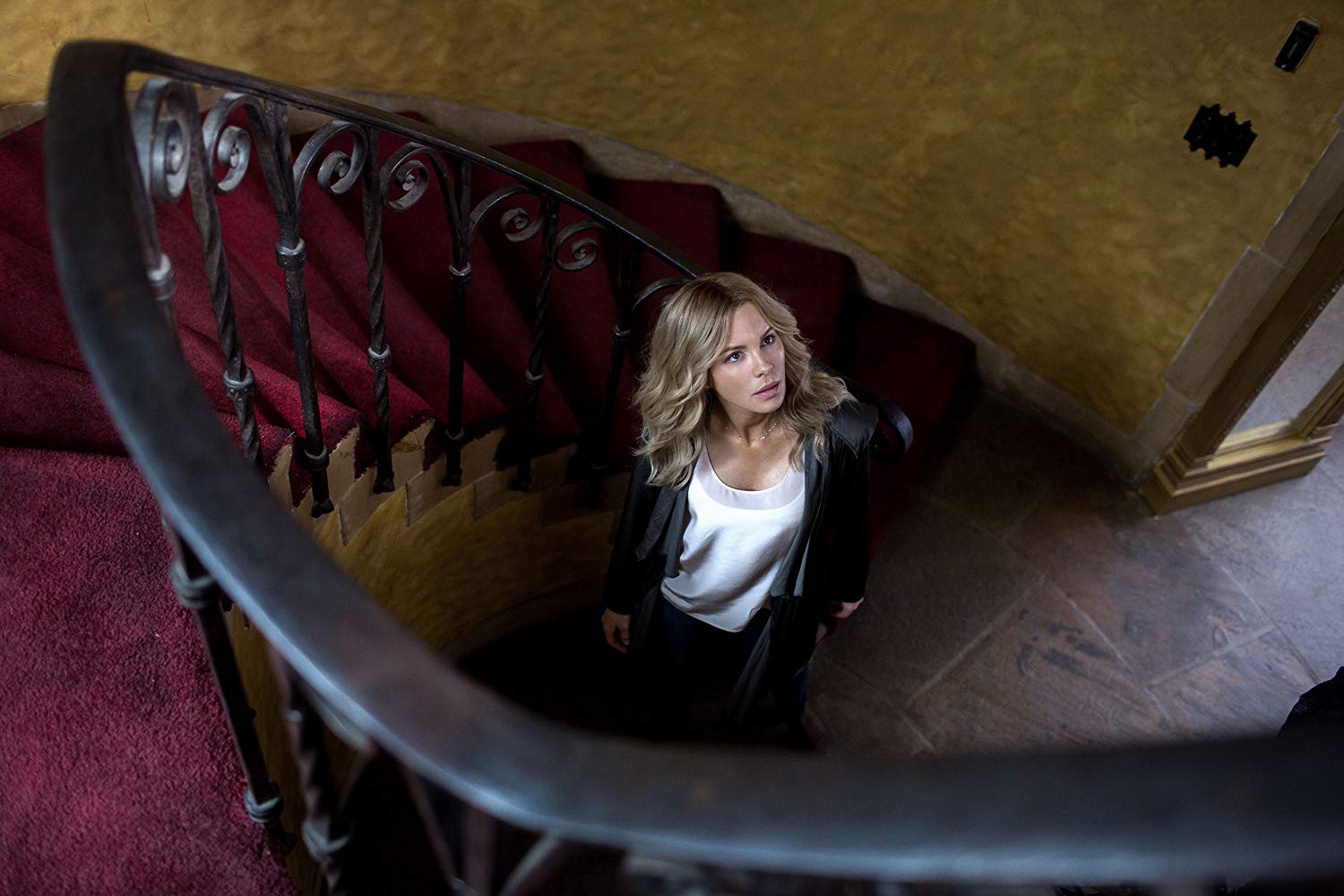 The film sat on the shelf for two years, not helped by the bankruptcy of its distributor Relativity Media (a large part of which was purportedly due to bailout funds being appropriated by, among others, Steve Mnuchin who was subsequently appointed Donald Trump's Treasury Secretary). After Relativity recapitalised, the film was eventually dumped to US theatres with no publicity where it earned only $2.2 million.
The main problem with The Disappointments Room is that it has a script that feels like it rehashes the tried and true formula of every ghost story/haunted house film out there. I can tell you from the long list of near identical and often interchangeable ghost stories that I have watched over the last few years – see the likes of Dark Remains (2005), The Haunting in Connecticut (2009), The Apparition (2012), The Black Dahlia Haunting (2012), The Unbroken (2012), A Haunting at Silver Falls (2013), Paranormal Asylum (2013), The Appearing (2014), Haunt (2014) and so on. There's the old standby of the wife with the history of psychological problems who is doubted by her husband and those around her when she starts to see things; the digging into the secrets of the past that are calling out to be laid to rest; and the invariable visit to the local historical society and the old biddy with crucial knowledge about what happened.
Even as it is, it feels like The Disappointments Room passes through its dull drama without much interest – in another more emotionally involving film, Kate Beckinsale would have been struggling to lay the spirit of the murdered girl to rest and no doubt had to fight off the murderous father (as she sort of does near the end of the film). The film winds its way through an utterly tepid telling, lacking anything that could be remotely considered spooky – for that matter anything in the way of interesting development and even less in terms of emotional engagement.
---
---