---
USA. 2014.
Crew
Director – Agnieszka Holland, Teleplay – Scott Abbott & James Wong, Based on the Novels Rosemary's Baby and Son of Rosemary by Ira Levin, Producers – Robert Bernacchi, Tom Patricia, Cisely Saldana, Mariel Saldana & Zoe Saldana, Photography – Michel Amathieu, Music – Antoni Komasa-Lazarkiewicz, Visual Effects Supervisor – Gary Beach, Special Effects Supervisor – George Demetrau, Production Design – Anne Seibel. Production Company – City Entertainment/Kippster Entertainment/Liaison Entertainment/Federation Entertainment.
Cast
Zoe Saldana (Rosemary Woodhouse), Patrick J. Adams (Guy Woodhouse), Jason Isaacs (Roman Castevet), Carole Bouquet (Margaux Castevet), Christina Cole (Julie), Olivier Rabourdin (Commissioner Fontaine), Feodor Atkine (Dr Sapirstein), Oisin Stack (Dr Bernard)
---
Plot
Rosemary Woodhouse moves to Paris as her husband Guy accepts a position with the English department at The Sorbonne. In the streets, Rosemary stops a thief from stealing a purse and returns to its owner Margaux Castevet. The Woodhouses are then welcomed as dear friends by Margaux and her husband Roman. When a fire burns the Woodhouse's apartment, the Castevets insist they move into an empty apartment in their building. Thanks to Roman's patronage, Guy is promoted to the head of his department and is then able to sell his novel to great success. He and Rosemary decide it is time to have a baby. After Rosemary becomes pregnant, she begins to fall increasingly ill. She becomes concerned about the mysterious number of deaths surrounding here and begins to suspect that the Castevets and others are members of a Satanist coven who have intents towards her baby.
---
The original Rosemary's Baby (1968) is an undisputed classic and its effect is immeasurable. Adapted from Rosemary's Baby (1967), a book by Ira Levin, the film was a huge hit and made the world at large take notice of Roman Polanski as a major director. It propelled Mia Farrow from being a daytime soap actress to a star name. It also popularised the occult and devil worship on film – for years after, there were numerous films about Satanic covens and sinister pregnancies. Without the influence of Rosemary's Baby, there would have been none of the massively successful devil children films of the 1970s, no The Exorcist (1973), no The Omen (1976).
A film that successful always attracts sequel and remake attention. There was a dull tv movie sequel Look What's Happened to Rosemary's Baby (1976). Ira Levin himself wrote a novel sequel Son of Rosemary (1997) where Rosemary wakes from a coma to deal with her now grown son on the eve of the millennium. In the 2000s, Michael Bay's Platinum Dunes, who were behind the remakes of a number of other horror classics including The Texas Chainsaw Massacre (2003), The Amityville Horror (2005), The Hitcher (2007), Friday the 13th (2009) and A Nightmare on Elm Street (2010), attempted a cinematic remake but gave up, apparently unable to think of anything new to add (not that that thinking deterred any of their other sequels).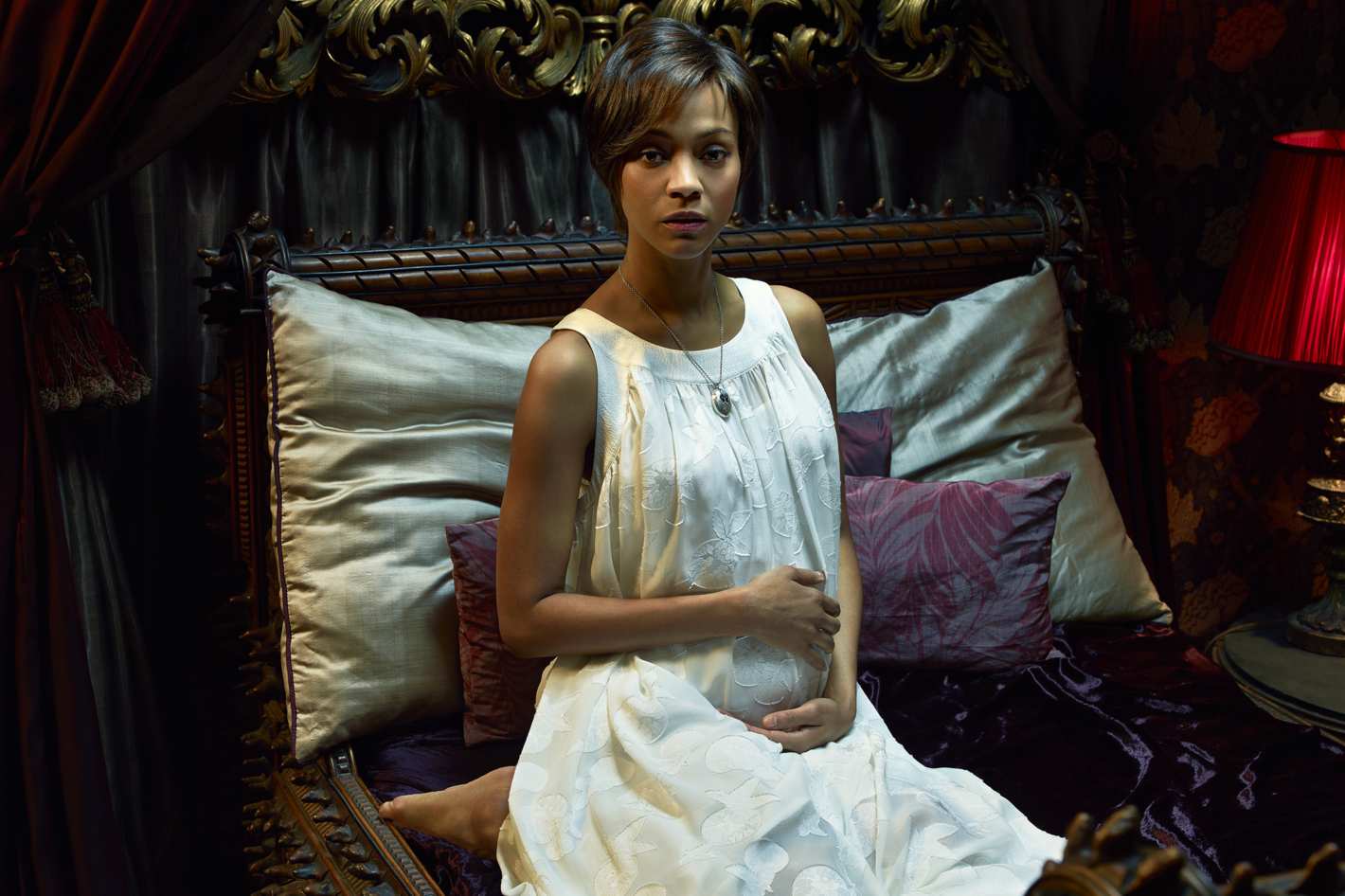 This version seems to have been personally shepherded into production by actress Zoe Saldana, of Avatar (2009) and Star Trek (2009) fame, along with most of her family who are credited as producers. The script is co-written by James Wong who with writing partner Glen Morgan delivered Penelope Spheeris's The Boys Next Door (1985) and some of the best episodes of tv series such as The X Files (1993-2002, 2016-8) and Millennium (1996-2000) and created the excellent war in space tv series Space: Above and Beyond (1995-6), before going onto movie screens with a number of works directed by Wong including Final Destination (2000), The One (2001), Willard (2003), Final Destination 3 (2006) and Black Christmas (2006) with Wong directing Dragonball: Evolution (2009) and subsequently producing The Event (2010-1), American Horror Story (2011– ), Scream Queens (2015-7) and Next (2020) on his own. The credits claim that this version is based on both Rosemary's Baby and Son of Rosemary – in fact, it is a close replication of the events from first book but curiously lacks any elements that take place in Son of Rosemary whatsoever.
The most intriguing name is that of Polish director Agnieszka Holland who made internationally acclaimed arthouse works such as To Kill a Priest (1988), Europa, Europa (1990) and Olivier, Olivier (1992) and ventured into the English language with The Secret Garden (1993), Total Eclipse (1995) and The Third Miracle (1999) and in recent years directing for US cable tv shows. Why the choice of Holland, who is more used to usually foreign-language and arthouse drama, for such a mainstream work is a mystery? Perhaps the thinking was the symmetry of replacing one expatriate Polish director who made the first version with another Polish director.
Forty-six years later, the era that Rosemary's Baby is being told in is a radically different one that the original never imagined. In the original, there was a traditional view of marriage where Guy supported them and Rosemary was the stay-at-home mom, the way it was in the 1960s. Here there is more of a modern equality with debate about it being okay for Rosemary's husband to support them because she previously supported the two of them as a dancer. It is a post-feminist, post-Roe vs Wade Rosemary's Baby where doctors can matter-of-factly suggest that one of Rosemary's options for the pregnancy is an abortion. Indeed, with decidedly ironic regard, Rosemary's paranoia throughout the middle of the show now becomes the repeated cry of "it's my baby" wherein you can see she is reinvented as a feminist character standing up against the people trying to control her to choose what she wants to do with her own body. There are modern updatings that were never around in 1968 such as the employment of ultrasound or characters casually using cellphones. Not to mention that the original was made during the heyday of the Civil Rights era whereas this has changed to the point that the remake can recast Rosemary as an African-American woman without anybody even batting an eyelid anymore.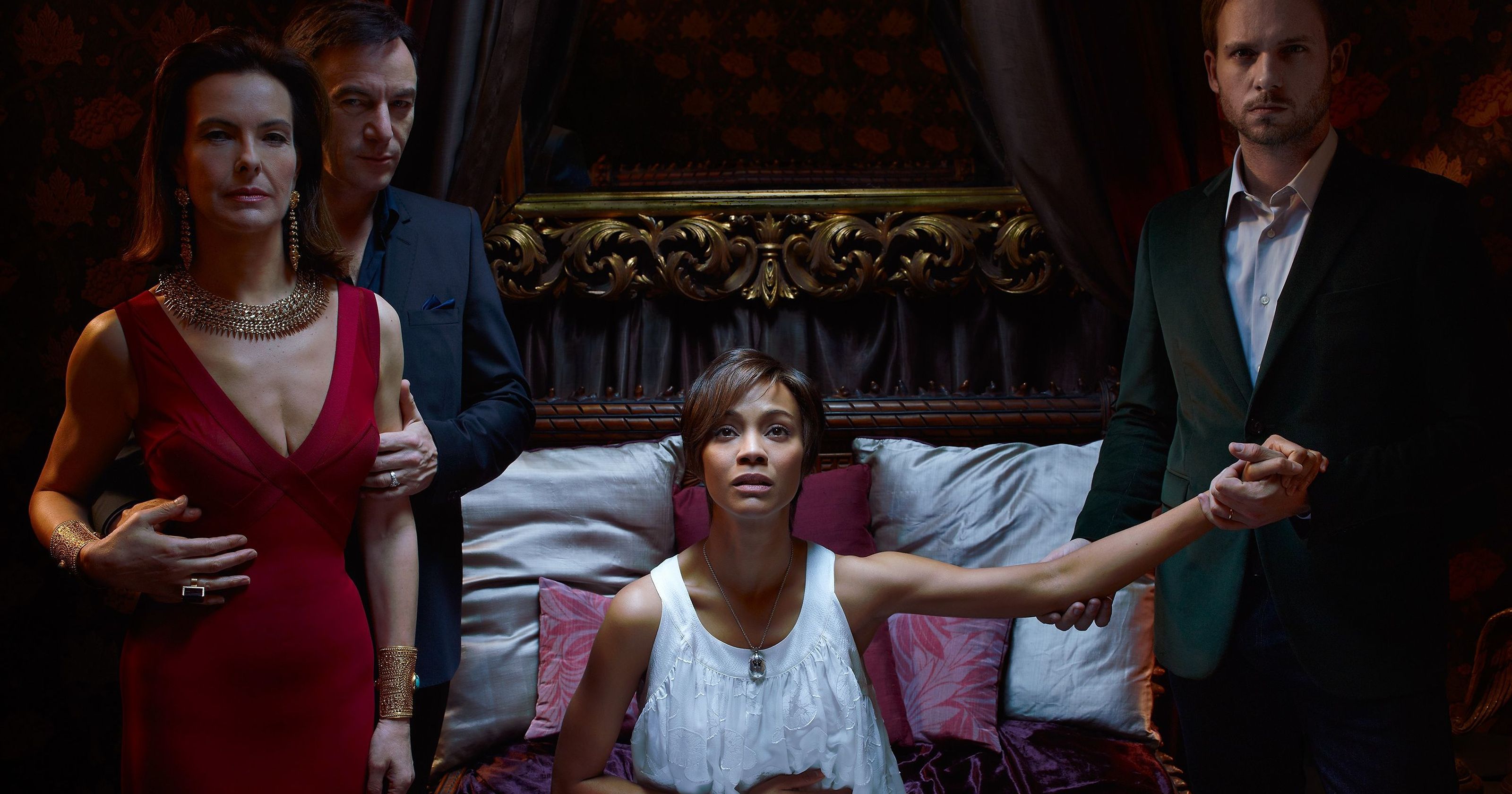 That said, aside from a few updatings and surface changes, the remake copies the original slavishly and does surprisingly little to reimagine it in any way. Indeed, where the original broke ground in terms of its depiction of the occult on film, the remake badly parrots the cliches that have set in since 1968. Agnieszka Holland is constantly cutting away to cliched shots of ominous architecture as though that in itself adds atmosphere. Most noticeably, the film follows the lead of The Omen in adding to the original plot a host of novelty deaths for anyone who stands in the way of the Devil child's plan – the helpful priest who then is found hung; the woman who is Patrick J. Adams' rival for the head of department going crazy and seeing bugs during her interview before slitting her throat; the husband of the former tenant who tries to warn them being run over by a bus; Rosemary's best friend (Christina Cole) burning herself in the chef training course.
The original's focus was on the almost comic absurdity of Rosemary's increasing paranoia about what was happening to her but here Agnieszka Holland seems only attuned to this in the most cliche ways. Perhaps the clumsiest of all is the ending where Holland misses all of Polanski's nuance and has to have Jason Isaacs actually spell out to Rosemary that her son is The Devil's child. The original was a masterpiece of edgy paranoia and subtly nuanced direction, this surely makes for a Rosemary's Baby that has been dumbed down so that everybody in the audience gets every point.
The casting seems to miss everything that made the 1968 original almost perfect. Mia Farrow made us fall in love with her fragile innocence, yet for all Zoe Saldana personally ushering the remake in, her performance is bland and without any distinction. As the Castevets, a sinisterly smiling Jason Isaacs and the aging former Bond girl Carole Bouquet seem a far cry from Sidney Blackmer and especially the cuddly old dear Ruth Gordon whose fussily over-insistent manner masked a sinister intent. All we have now are just cliches of rich, sinister patrons.
---
Trailer here
---