---
Crew
Director – Rob Malenfant, Screenplay – George Saunders, Story – George Saunders & Ken Sanders, Producers – George Saunders, Pierre David & Noel A. Zanitsch, Photography – Peter Benison, Music – Richard Bowers, Special Effects – Ultimate Effects (Supervisor – David Waine), Production Design – Craig Keller. Production Company – World International Network, LLC.
Cast
Megan Gallagher (Rebecca Rose), Brad Johnson (Jack Fletcher), Roxana Zal (Bedelia Rose), Leslie Hardy (Amy Brannigan), Ken Kercheval (Harrison Pendragon), Tony Pantierra (Alex Vincenzo)
---
Plot
Police officer Jack Fletcher is shot while trying to stop a warehouse robbery. He recovers but the bullet remains lodged in his head right next to the optic nerve, causing blindness, although doctors tell him that there is the possibility that he may regain his sight. Therapist Rebecca Rose is assigned to help Jack adjust to being blind. However, Rebecca becomes obsessed with Jack. She copies the key to his house and sneaks in to look at him with he unaware that she is there. The hood from the robbery comes to eliminate Jack as an eyewitness – however Rebecca is in the house and stabs the hood instead. She and Jack start to grow emotionally close but then Rebecca's mentally disturbed sister Bedelia grows jealous of the loss of attention and plots to upset Rebecca's infatuation.
---
Blind Obsession is another psycho-thriller from Pierre David. David has produced numerous of these – The Paper Boy (1994), Stalked (1994), The Secretary (1995), Daddy's Girl (1996), The Dentist (1996), Cupid (1997), The Landlady (1997), Man of Her Dreams (1997), The Nurse (1997), Someone is Watching (1999), The Perfect Nanny (2000), The Perfect Tenant (2000), The Perfect Wife (2001) and The Perfect Husband (2004), among many others. Most of Pierre David's psycho-thrillers fall into an easy formula, usually involving a placid middle-class household being threatened by a stranger seeking revenge. With some of his later psycho-thrillers – A Clean Kill/Her Married Lover (1999), Living in Fear (2001) and the remarkable Alone with a Stranger (2000) – David began shaking his formula up with fascinating results. Blind Obsession is one of these occasions.
Blind Obsession starts out ordinarily. The scene where Brad Johnson is shot is routine and not terribly exciting. It is not until Megan Gallagher suddenly steals the key to Brad Johnson's house that the film starts to enter the rather interesting. The scenario we are abruptly propelled into where Megan Gallagher starts secretly entering the house and simply watching Brad Johnson, with him blind and unaware of her presence, immediately obtains a compulsive grip, not to mention makes you wonder what on earth is going on.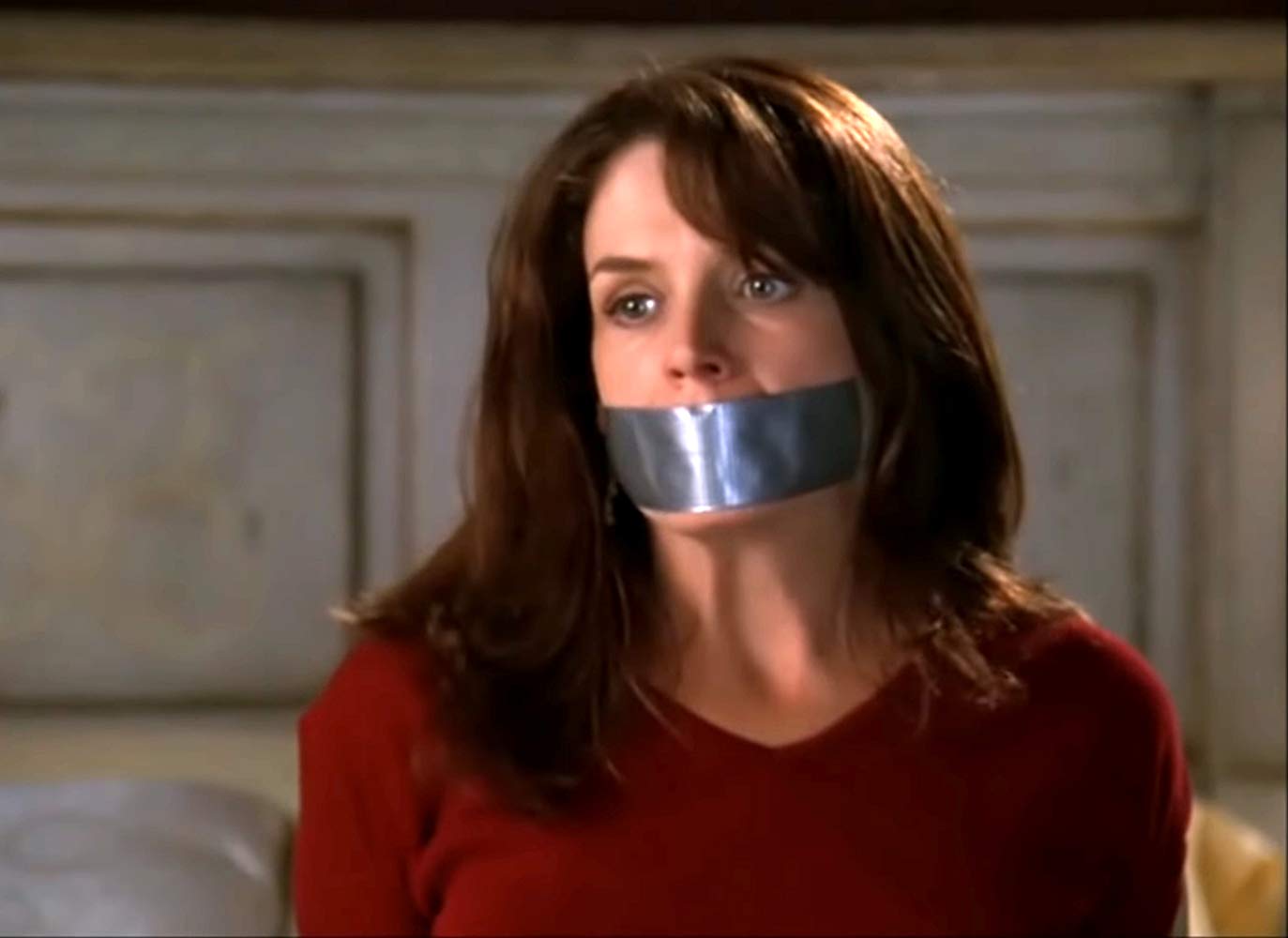 The spins the story keeps throwing on what is happening – the hitman entering the house to eliminate Brad Johnson as witness to the robbery, Megan Gallagher stabbing him with a kitchen knife and disposing of the body, all without Johnson ever knowing what is happening; or Johnson's friend (Leslie Hardy) entering the house as Gallagher is there, Gallagher having to hide but realising she has left her shoes under the chair; and then when the disturbed sister starts getting into the act – all keep one intensely engrossed.
Blind Obsession eventually becomes quite a remarkable spin on the usual Pierre David formula. There is the odd cliche – like that of the blind person who regain their eyesight during the climactic moments, which turns up in almost every blindness thriller – but mostly Blind Obsession is clever and original.
Megan Gallagher is an actress who has carved out a relatively unremarkable career, usually playing mom parts in tv movies and the occasional continuing roles in shows – as a cop on the last two seasons of Hill Street Blues (1981-7) and as Lance Henriksen's wife in the first two seasons of Millennium (1996-9). A role like this gives Gallagher a chance to stretch and show the underrated potential that one always believed she had. Brad Johnson provides solid support, albeit looking more like Tom Berenger than ever.
---
---