---
Crew
Director – Martin Kitrosser, Screenplay – Steve Pesce, Producers – Richard Brandes & Pierre David, Photography – M. David Mullen, Music – Parmer Fuller, Production Design – Brian McCabe. Production Company – Image Organization/Ventana Productions.
Cast
Gabrielle Boni (Jody Mitchell), William Katt (Don Mitchell), Michele Greene (Barbara Mitchell), Roxana Zal (Karen Connors), Peggy McCay (Grandmother Jacqueline Jones), Mimi Craven (Rachel Landers), Ruth Manning (Victoria Hemp), Whip Hubley (Mark Springer), Lindsay Ridgeway (Claire Landers), Madison Mason (William Tucker)
---
Plot
Young Jody clings to the life of happiness offered by her adopted parents Don and Barbara Mitchell. However, when Jody's school principal threatens to send her away to another school because of her bad behaviour, Jody kills her. Meanwhile, her step-parents start arguing over Barbara's having to financially support Don as he tries to fulfil his dream of designing toys. People start advising Barbara to leave Don. And so Jody decides she must kill again to protect her perfect family.
---
Daddy's Girl is one of a number of psycho-thrillers mostly made for cable tv or released direct-to-video, produced by Canada's Pierre David. Pierre David made his name producing a series of dreary sequels to David Cronenberg's Scanners (1981) and has since then relocated to the US and created the Image Organization production company that has put out such releases as Stalked (1994), The Paperboy (1994), The Nurse (1995), The Secretary (1995), The Dentist (1996), Man of Her Dreams (1996), Cupid (1997), The Landlady (1997), Alone with a Stranger (2000), The Perfect Nanny (2000), The Perfect Tenant (2000) and The Stepdaughter (2000), among the better part of 130 others.
All of Pierre David's earlier thrillers shuffle around the themes and basic formulas patented by much more successful works like Fatal Attraction (1987), The Stepfather (1987). In this case he takes inspiration from The Good Son (1993) and before that the classic killer child film The Bad Seed (1956).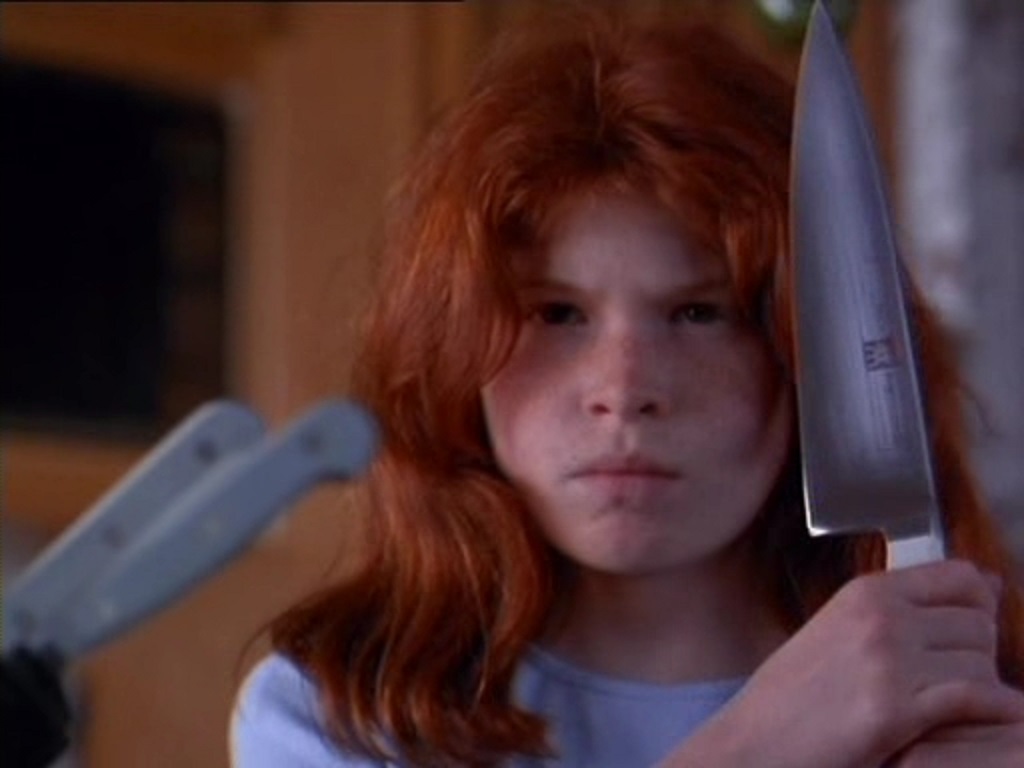 Unfortunately, most of David's earlier films are made to a plodding predictability of script and direction, seemingly irrespective of who is behind the camera. (His later ones improve to no end). Each set-up is telegraphed well in advance in a way that effectively robs them of any suspense.
Daddy's Girl is as formulaically routine as the rest of David's films from this era. At least young Gabrielle Boni in striking fire-red hair does conjure up an effective nastiness on screen.
The psycho child theme is a popular one on film and has also been conducted in the likes of Night Hair Child (1975), Who Can Kill a Child? (1976), The Godsend (1980), Bloody Birthday (1981), Mikey (1992), Relative Fear (1994), Joshua (2007), Case 39 (2009), Orphan (2009), We Need to Talk About Kevin (2011), The Boy (2015) and Better Watch Out (2016).
---
Trailer here
Full film available online here:-
---