---
Crew
Director – Justin Dix, Screenplay – Justin Dix & Jordan Prosser, Producers – Justin Dix, Matthew Graham, Steven Matusko, Steven McKinnon, Nathan Phillips & Brett Thornquest, Photography – Sky Davies, Music – Brian Cachia, Visual Effects Supervisor – Cameron Smith, Special Effects Supervisor – John Sanderson, Creature/Makeup Effects – Wicked of Oz Studios, Production Design – Otello Stolfo. Production Company – Storm Vision Entertainment/Wicked of Oz Studios/Rock Island Films/SunJive Studios/Phoenix Images.
Cast
Nathan Phillips (Nathan Sinclair), Alyssa Sutherland (Jane Prescott), Alex Cooke (Alexander Teplov), John Lloyd Fillingham (Gerard Faraday), Mark Diaco (Jimmy Bigelow), Christopher Kirby (Lydell Jackson), Ruby Isobel Hall (Mya), Robert Taylor (Captain Malone), Troy Larkin (The Patriarch), Vivienne Perry (The Matriarch), Steve Young (Haas)
---
Plot
Towards the end of World War II. A group of international soldiers have been shipwrecked in the North Atlantic. The group come upon a Nazi ship and board, finding the vessel deserted. As the group explore and uncover the secrets of the ship, they discover that the Nazis had uncovered several coffins. They inadvertently open the coffins, bringing the vampires inside back to life.
---
Justin Dix is known in the Australian film industry as an effects artist and has performed duties on Australian genre films such as Storm Warning (2007), Long Weekend (2008), Damned by Dawn (2009), The Loved Ones (2009), 100 Bloody Acres (2012), The Babadook (2014) and Scare Campaign (2016), among others. Dix made his directing/writing debut with the Greg McLean-produced Crawlspace (2012) set in a laboratory where an experiment has gone wrong. Blood Vessel was his second film as director, while he also wrote the horror film The Gates of Hell (2008).
Ever since the Nazi zombie film Shock Waves (1977), there has been a variety of horror films that have pitted Nazis up against various creatures. The Keep (1983) patented the premise of Nazis against a monster inside a forbidding fortress – a number of films subsequently borrowed the premise. The Nazi vampire film began with Nightmare in Blood (1977) and Nazi vampires feature in Frostbite (2006), Town Creek (2008), Bloodrayne: The Third Reich (2011) and Blubberella (2011). Eight months after Blood Vessel came out, there was the very similar Subferatu (2020) where shipwreck survivors encounter a vampire aboard a German U-boat, although that was played for comedy. Another work that could be said to have some influence on Blood Vessel is Death Ship (1980) about shipwreck survivors encountering an abandoned ship at sea before finding it haunted by the ghosts of Nazi atrocities. (For a greater overview see Nazis in Fantastic Cinema).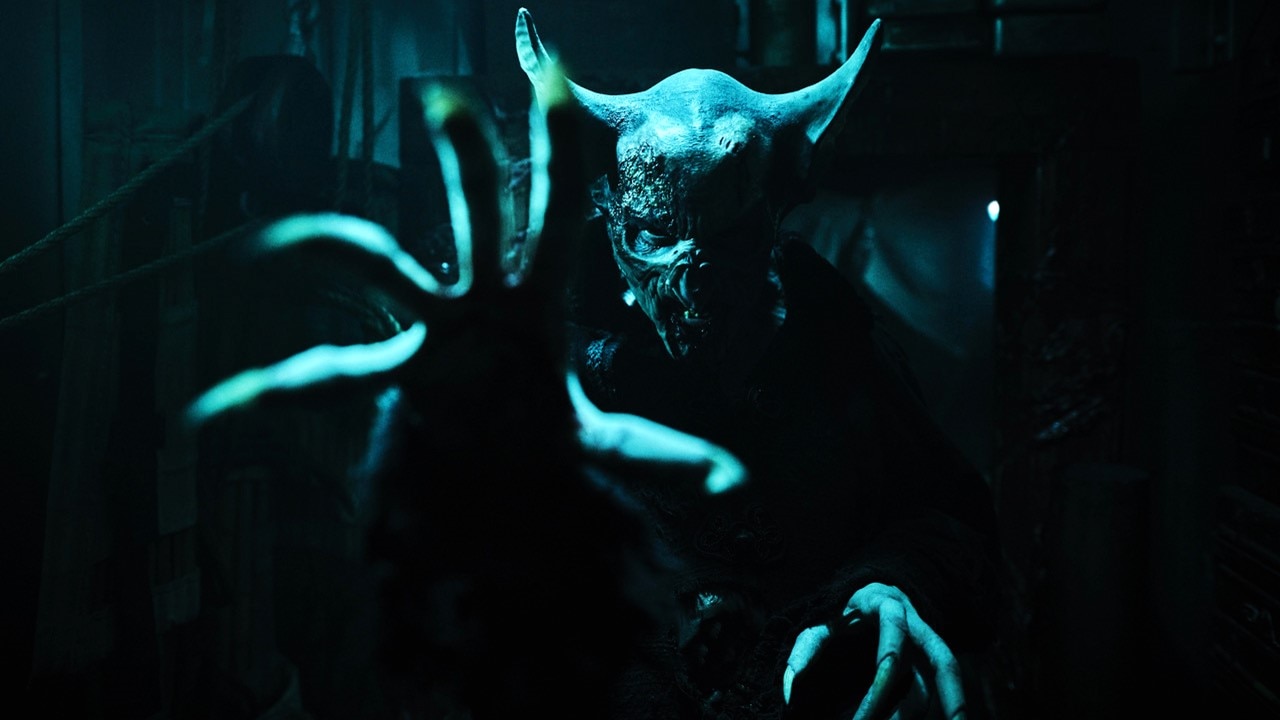 I wanted to like Blood Vessel as I thought it had potential. (The same could have been said of Crawlspace). The film sets up an assortment of international characters and has them explore the ship. These are the familiar scenes we get in almost any film about a haunted locale/monster movie/occult artefact and these feel by the playbook the entire way. Moreover, the film has told us from the outset that it is about shipwreck survivors encountering vampires on a ship thus it proves tedious when it takes the characters more than half the film to work out what it is we know from the outset.
Certainly, the vampires do look cool – seemingly the equivalent of Barlow from Salem's Lot (1979) with a massive set of bat ears that take up half their heads. The scenes with the characters fighting off the vampires are competently conducted and display what Justin Dix does best, an expertise with creature effects. On the other hand, while the Vampire Film is looking around for new directions in the post-Twilight (2008) era and has come up with some creative new directions, there is nothing here that treads new ground.
---
Trailer here
---