---
Crew
Director – Tiago Mesquita, Screenplay – Mark Morgan, Producer – Ross Otterman, Music – Drumplay, Chase Kuker, Carole Sabouraud & Ryan D. Wood, Visual Effects Supervisors – Sam Kryszek & Itai Levin, Production Design – Sophie Barbier & Noemie Gengler. Production Company – Jay-X Entertainment/Enjoy Movies/Nomenclature/Level Media.
Cast
Charlotte Beckett (Kristy Wolfe), Lindsay Lohan (Patricia Sherman), Gianni Capaldi (Lieutenant McGregor), Kristoffel Verdonck (President Richard Sherman), Domink Madani (Colin Haroosen), Reynald Biales (Frederik Forsyth), Barry Jay Minoff (Matthew Benoit), John Fanders (Harry Gladstone), Olivier Bonjour (Frank)
---
Plot
The year 2022. The European Union has been dissolved and replaced by the European Federation. In Paris, clans of werewolves and vampires hide their existence from the world. Kirsty Wolfe is a werewolf who acts as a private detective. She receives a phone call from her Uncle Harry, a werewolf member of the government of European Federation President Richard Sherman, just as Harry is shot with a silver bullet. Kristy is then hired by Patricia Sherman, wife of the president, to investigate Harry's death. This takes her into a conspiracy among the werewolf clans and the political echelons of the European Federation.
---
Among the Shadows – not to be confused with the interesting invisibility film Above the Shadows (2019) that was released the same year – is a Werewolf Film. The opening credits set up the intriguing notion that it is set in a post-EU Europe. There's also a set-up, not dissimilar to Underworld (2003) and sequels, of clans of werewolves (and vampires that are mentioned but barely make an appearance) who keep their existence hidden from the world but have infiltrated the halls of power. We've had WolfCop (2014) and sequel concerning a lycanthropic police officer, which was played as a comedy, but this offers the appealing notion (played seriously) of a protagonist who is a werewolf private detective, which must be a first for the genre.
On the other hand, Among the Shadows promptly falls down once you actually start to watch the film. It feels like an Underworld wannabe – that is if you were to take all the action, effects and much of the Gothique posing out of it. Director Tiago Mesquita's set-ups look as though they were filmed quickly because he was on a tight shooting schedule and could only do limited takes of a shot. Where the film does work is when Mesquita makes great pictorial use of the Paris (and in a few scenes Rome and Belgian) locations, which have been chosen for their pictorial quality and give the film a great look.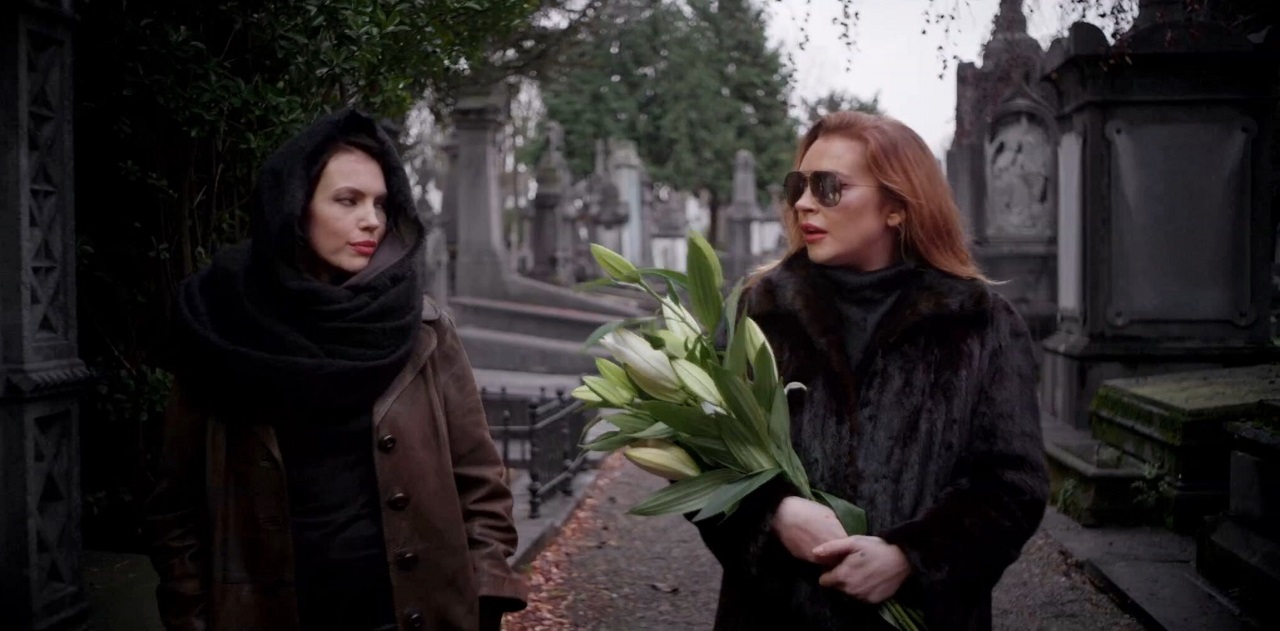 The main problem with the film is that it sets up the original idea of a werewolf private eye but the plot never kicks in as a detective story. There is a lot of happenings regarding the werewolf underground, the political machinations of the European Federation and the question of who killed Uncle Harry but none of it ever coalesces into a plot. Usually a detective story will be filled with twists, trails of clues, betrayals and so on. Here there is just people running around, some action scenes and the odd death. It is not even particularly clear why people are being killed, for instance.
Perhaps the most bizarre piece of stunt casting the film has – indeed, the only recognisable name present – is Lindsay Lohan, an actress more known for her tabloid headlines than her acting career, which at one point seemed promising. Here she is cast as, of all things, the wife of the President of the European Federation. The problem that becomes very obvious is that Lohan has only been available for a few days and so almost all of her appearances are single shots focused on her where clearly the others she is reacting to have been filmed later, or where she is just appearing on a tv monitor or computer screen or has been green-screened into a shot.
---