---
Crew
Director – John Stanley, Screenplay/Producers – Kenn Davis & John Stanley, Photography – Kenn Davis, Music – David Litwin, Makeup – James Catania, Set Design – Gary Arlington, Kent Homchick & William H. Weber. Production Company – Xeromega.
Cast
Jerry Walter (Malakai), Dan Caldwell (Professor Winslow Seabrook), John H. Cochran (Philip 'Scotty' Scott), Barrie Youngfellow (Cindy O'Flaherty), Ray K. Goman (B.B.), Hy Pyke (Harris), Irving Israel (Tobias Van Helriegen/The Avenger), Justin Bishop (Dr Carl Unworth), Morgan Upton (George Wilson), Yvonne Young (Barbara Castle), Drew Eshelman (Arlington)
---
Plot
Plans are being readied to hold the first Horrorcon at San Francisco's Palace Theater. The guest of honour is the actor Malakai who is known for playing a vampire on screen. Malakai insists on strictly maintaining the role in real life to the extent of bringing a coffin onstage and only appearing at night. As the committee prepare the convention, there are a series of deaths. Scotty comes to the realisation that Malakai is a real vampire and has raised the body snatchers Burke and Hare from the dead as his acolytes. Joined by the vampire hunter The Avenger, a survivor of The Holocaust, they try to stop Malakai.
---
I have no hesitation in saying that John Stanley is responsible for inspiring much of Moria. His The Creature Features Movie Guide (1981) was one of the first genre books I ever purchased and was the most comprehensive listing of genre titles I had in my collection. Even though it offered reviews of only a paragraph apiece and had errors, it was an invaluable bible of reference for what titles I should keep a look out for in the local tv guides and on video during the late 1980s.
Born in 1940, Stanley became the host of Creature Features (1971-84) in 1979, a late night tv show that would screen horror movies broadcast to the San Francisco area. During the show's run, Stanley brought in dozens of genre celebrities as guests to discuss their works. Out of this, Stanley published The Creature Features Movie Guide, which has undergone four updatings, as well as various other film-related books, even a novel.
Prior to signing up to Creature Features, Stanley made Nightmare in Blood over a five year period. Even then, the film was plagued by spotty distribution and is rare to find on video or dvd. One of the oddities is some of the cast names, including minor appearances from a young unknown Kathleen Quinlan and the last screen appearance of Kerwin Mathews best known for The 7th Voyage of Sinbad (1958).
What you do appreciate Nightmare in Blood for is its wry genre homage. This was way before directors like Joe Dante started dropping references to his favourite films in everything he does, way before films and tv regularly came with wry in-joking about pop culture and fandom. Although looking back at Nightmare in Blood after familiarity with these, it is a little disappointing. The Horrorcon is really more of a film festival than a convention and takes place in a theatre as opposed to a convention hall or hotel unlike almost any modern convention. There's maybe half-a-dozen film posters littered in the background whereas a film today would be overrun by background references.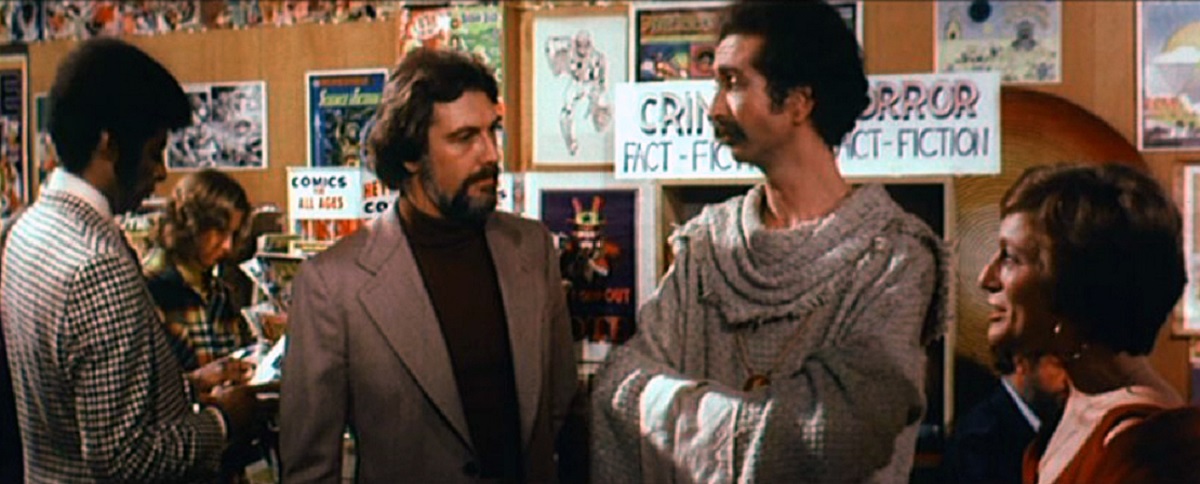 On the other hand, there are some undeniably amusing in-jokes – like the old time janitor mumbling that horror isn't what it used to be since the days of The Cabinet of Dr Caligari (1919), Lon Chaney's The Hunchback of Notre Dame (1923) and The Phantom of the Opera (1925) and John Barrymore's Dr Jekyll and Mr Hyde (1920). Or when Barrie Youngfellow opines – "Karloff, Lugosi, Price – how come you always leave out Maria Ouspenskaya?" – the Gypsy woman from The Wolf Man (1941). At another point, the characters attempt to kill the vampire's acolytes using a trap inspired by the one laid to kill the monster in The Thing from Another World (1951) – where they are notedly able to do so at a point when there was no The Thing (1982). Stanley also seems to reserve quite a degree of ire for the figures of censorship in society and for horror hosts that insist on making fun of classic films – both characters notedly end up victims of the vampire.
On the other hand, I have to say in no impolite way that John Stanley's direction is amateurish and the film dramatically inert. The plotting is even worse – I failed to find the line of reasoning that requires John H. Cochran to have to go to a comic-book store to do research or the connections he can make from Malaki having an assistant named B.B. to conclude that this he has resurrected Burke and Hare.
Nightmare in Blood was ahead of its time in many ways. Interestingly enough, it was the very film to depict a Nazi vampire – although it is somewhat dubious when Stanley uses concentration camp footage to depict Nazi mad science experiments. It is also the first film to show a world where the characters are steeped in horror cinema cliches and then find themselves having to deal with the appearance of a real vampire – there was George Romero's Martin (1976) made around the same time and this led the way to other works like Fright Night (1985) and Once Bitten (1985).
---
---