---
Crew
Director – Ray Cameron, Screenplay – Ray Cameron & Barry Cryer, Producers – Ray Cameron & John Downes, Photography – Dusty Miller & Brian West, Special Effects – Ian Rowley, Art Direction – John Sunderland. Production Company – Wildwood Productions.
Cast
Kenny Everett (Dr Lucas Manderville), Pamela Stephenson (Dr Barbara Coyle), Vincent Price (The Sinister Man), Sheila Steaphel (Sheila Finch), John Fortune (John Harrison), Gareth Hunt (Elliott), Don Warrington (Stephen), John Stephen Hill (Henry), Cleo Rocos (Deborah)
---
Plot
Twelve people from a business convention and a girl's summer camp are gruesomely killed while lodged together at Gravestone Manor. Eight years later, a team of parapsychologists headed by Dr Lucas Manderville arrive at Gravestone Manor to investigate strange radiation readings. Angered by this intrusion, a coven led by a 300-year old Devil's disciple creates demonic duplicates of the scientists to purge the house of defilers.
---
British comedian Kenny Everett had a hit with the popular risque-absurdist tv series The Kenny Everett Video Show (1978-81). He had earlier been part of the animated tv series Captain Kremmen (1978-81), a parody of a space opera that came laden with Everett's typical innuendoes. Bloodbath at the House of Death was the sole attempt to spin Everett's considerable popularity on the small screen off on film.
Bloodbath at the House of Death is a genre parody. There are a number of the gags that are amusing genre digs – like the parody of the Alien (1979) chestburster scene with Kenny Everett flailing about in the middle of a dinnertable before revealing that he is suffering from a case of bad gas; or of the ghost rape from The Entity (1982) with Pamela Stephenson and her insubstantial assailant sharing a cigarette afterwards; and a merciless dig at Piper Laurie's crucifixion by knives in Carrie (1976) with a character psychically dispatched by can opener.
There are spoofs of various horror movie stylistic cliches – the slasher movie point-of-view shots, the chopping string music from the slasher movie on the soundtrack. As always some set pieces work, some don't – Vincent Price gives what must be the worst performances of his career as the coven leader.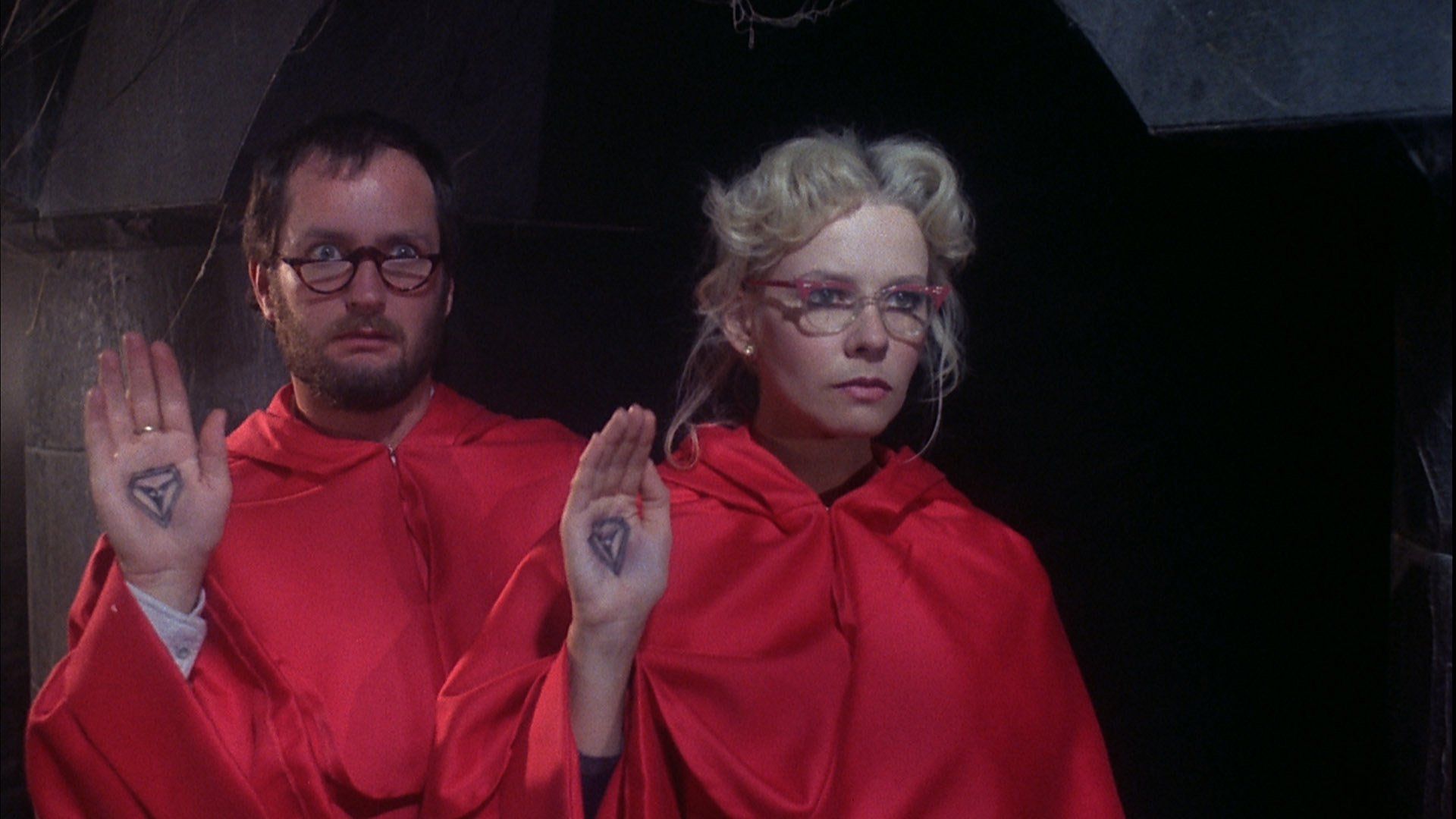 The whole affair would have been better off on Kenny Everett's tv show served up as unconnected five-minute skits – that's all there is to the film, it fails miserably when it tries to assemble the gags into anything more than that. A number of characters are introduced throughout and given amusingly strange quirks but then absolutely nothing is done with them. There is no plot to the film at all. This is something that becomes particularly evident at the end, which tapers off without any climax.
Still, how can one dislike a film with exchanges like Pamela Stephenson's cry of "Watch out – bats!" as she and Kenny Everett enter a cellar, whereupon a rain of cricket bats fall on them, and then as Everett picks one up, it causes a hidden entrance to open, which inspires the natural observation, "Hmmm, must be an opening bat."
---
---